Home and Garden Repair Service
In the unlikely event your Kärcher product needs repairing, our home and garden service is here to help. Speak to us today to get support on any of your Kärcher home and garden products.
Our products are always built to the highest standards but we know that, sometimes, things can still go wrong. When they do, we see it as our job to put it right and that means offering our Kärcher repair service to all customers.
Our home and garden service comes standard with all our machine warranties and beyond. Put your Kärcher equipment in the best hands with our in-house expertise, friendly customer service and engineers.
Our full stock of replacement parts and superior product knowledge promise a swift repair. Our promise to you includes complete refurbishment, replacement of faulty parts and thorough testing to ensure your product is returned to you in perfect condition.
For any inquiries and repair options, please contact our support team at helpline@karcher.co.uk.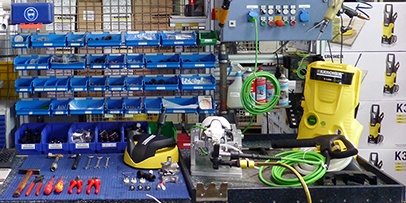 Kärcher Service
You can find detailed information all about the Home & Garden repair service here.