Kärcher Service
Our skilled service team provide personalised support over the entire service life of your Kärcher machine. Whenever you need us, we will be there to assist you - whether on-site or remotely.
Kärcher Service
We provide an expert service range that leaves no stone unturned: with over 40 of our own technicians, and a nationwide network of Kärcher-approved partners, we deliver fast, reliable operational service on-site; with all of the necessary tools, spare and wear parts; and with ideally tailored packages for inspection, maintenance and full service – which can even include your consumables and courtesy machines should the worst happen.

---
Service Training
Always up to date
Kärcher service engineers know how to help in any situation. And that is no coincidence. We take training very seriously. We see this as the key to our success. Our service engineers, as well as those of our service partners, receive specialist technical and application training, are mechanically and electronically competent and attend regular revision courses at our Kärcher Academy to ensure our expertise is always up to date and your servicing jobs can be carried out to your utmost satisfaction.
All Makes All Models
Our engineers are trained to service your entire cleaning fleet, even if it includes other manufacturers' equipment. Capable, reliable, fast and fully compliant with all standards and prescribed safety inspections - Kärcher All Brands Service.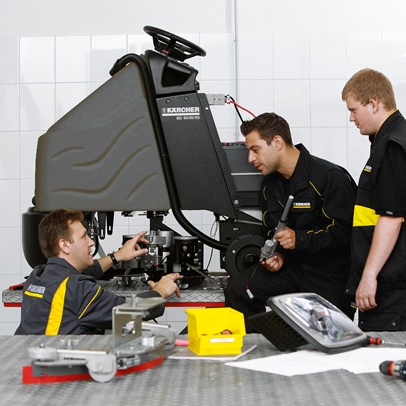 ---
Our vehicles – a travelling workshop!
Getting your machine working again as quickly as possible is paramount - which is why our fleet of fully equipped service vehicles are on standby throughout UK. Kärcher vehicles have everything on board that service technicians need for inspections, services and repairs. In addition to all of the necessary measuring instruments, standard tools and Kärcher-specific tools, our vehicles are also equipped with the most important spare and wear parts, as well as accessories and cleaning agents. Not only do our service engineers have access to all of this equipment, they also have the necessary IT solutions to access machine documentation remotely and ensure the repair process is carried out as seamlessly as possible.
If a repair cannot be carried out on-site, our service engineer will organise for the machine to be dispatched to one of our nationwide workshops – and if required provide a replacement machine via Kärcher Rental or as part of your Kärcher Full Service Plus package.
Service Engineer Request
To request an engineer:
Call: 01295 752084 (24/7 – 365 days a year)
Fax: 01295 752014
E-mail: service@karcher.co.uk
Please note: e-mails are monitored between the hours of 08:30 am to 17:00 pm Monday to Friday
Please have the following information to hand before you contact us to ensure that our technicians are as prepared as possible when they arrive to deal with your problem:
• Machine Model
• Machine Serial Number
• Detailed description of the problem
• Site Contact
• Purchase Order No.
We aim to attend all breakdowns within 48 hours of the call being logged (excluding weekends). Priority will be given to contract customers.
You can find the machine name, part number and serial number either on our service sticker, the hotline sticker or identity plate. These are affixed to the machine in a clearly visible location. Depending on the unit type, you will find the type plate on the rear, underside or inside the machine.

---
Call Out Charges
Minimum call out charge
£164.50 +vat
£90.00 call out (includes first 15 mins assessment)
£65.00 per hour labour
£9.50 incidentals
Excluding VAT
Technical (professional support only)
Expert advice - our knowledgeable technical service team will be happy to provide quick, straightforward assistance if you have any questions or would like to discuss an issue.
Our friendly and experienced Technical Team are at the end of the phone – or email – for any concerns you want to discuss; a perfect first port of call, they can talk you through any issues you are experiencing before they escalate and help inform you on optimal machine use.
Call: 01295 752086
E-mail: technical@karcher.co.uk
Please note: this service operates: 9am-1pm & 2pm-5pm Monday to Friday