GARDEN TOOLS
Whether for lawn, hedge or tree maintenance, or the removal of weeds and leaves. With Kärcher garden tools, gardens become even nicer. And, thanks to the battery operation, without any noise or bothersome cables.
BRING BACK THE WOW TO YOUR KINGDOM.
You are the ruler of your kingdom, the conqueror of the wild. Out here – at the gates of your castle – you are royalty. You reign supreme over your own little world and, with the help of the powerful battery garden tools from Kärcher, you can bring a renewed splendour to your garden: be it lawn, hedge and tree care or leaf and weed removal – bring back the WOW with Kärcher.
Conquer the autumn garden in a storm. The battery-powered Kärcher leaf blower and blower vac ensure tidy paths and gardens in no time at all.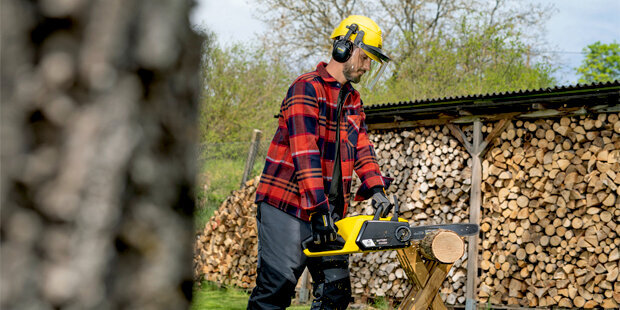 With simple chain tensioning, automatic chain lubrication and powerful cutting performance, the Kärcher battery chain saws achieve excellent results with convenient operation.
Effortless tree maintenance even in event of hard-to-access branches. No problem for the battery tree lopper from Kärcher and its high-quality bypass blade.