Mobile Outdoor cleaning
Whether you are hiking, cycling or walking your dog: Being outside and on the go is fun. And sometimes, really dirty. With the OC3 Portable Cleaner, you can leave the dirt where you found it, even while you are on the road, therefore nature stays outside where it belongs.
Kärcher to go.
Anywhere. Anytime. The Kärcher Portable Cleaner.
Thanks to an integrated battery and a 4-litre water tank, you can remove dirt quickly and easily on the spot, so the interior of your car and everything at home stays clean. Extremely practical: The Portable Cleaner can be adapted to suit any cleaning need with a variety of accessories. The adventure, bike and pet accessory box provide the right equipment to gently but thoroughly clean shoes, bicycles or pets.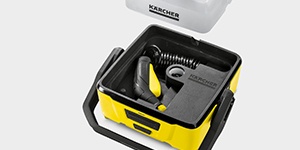 Sophisticated storage concept
Hose and spray gun can be conveniently stowed away under the water tank. So the device remains compact and easy to transport.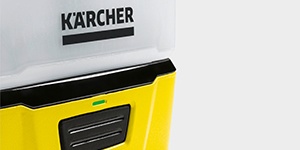 Flexible battery operation
The integrated lithium-ion battery enables mobile cleaning with no need for a power source.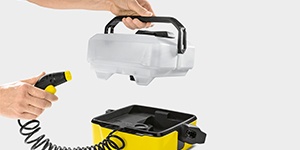 Water tank and filling level indicator
The 4-litre water tank is sufficient for up to 2 bicycles or several small objects.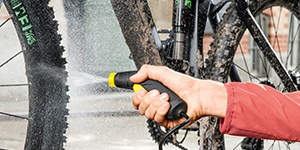 Effective low pressure
The flat stream with low pressure cleans sensitive components thoroughly and gently.
Accessories
The Mobile Outdoor Cleaner can be optimally augmented with a variety of special accessories and accessory kits. The adventure, bike and pet accessory box provide the right equipment to improce your mobile cleaning results.