Garden Irrigation –
Kärcher Rain System
No matter the weather, our flexible garden irrigation system helps maintain your garden and create optimal conditions for your plants to grow, regardless of rain or shine, size or shape.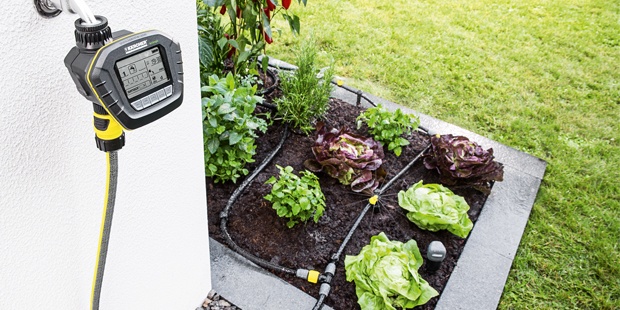 Kärcher Rain System

®

Hedges, flower beds, bushes or herbs – the new, intelligent watering system from Kärcher uses targeted, humidity-controlled distribution to supply each plant individually with precisely the volume of water it needs. The new Kärcher Rain System® combines the benefits of micro-dripping and conventional watering. The system operates at pressures up to 4 bar and includes a ½" PVC hose with drip and micro spray nozzles. A pressure reducer and filter for protection against excess pressure and dirt particles can also be installed. The Kärcher Rain System™ can be individually adapted to suit any garden and works perfectly together with the SensoTimer to provide a watering control system based on the requirements of the garden.

Kärcher Rain System® About the products
Overview
There's no need to pray for rain with a garden irrigation system from Kärcher. The Kärcher rain system is a flexible, fully integrated watering system that can be customised to suit the needs of your garden and plants, from small gardens to expansive flower beds. When used in conjunction with the SensoTimer ST6, Kärcher irrigation systems can achieve optimum results, allowing your gardens and plants to flourish.
The Kärcher rain system can be easily tailored for your garden, with compatible connections, hoses, filters and units. Start building your Kärcher rain system today, and transform your garden's irrigation forever. Find out more about the parts that make up the Kärcher rain system, from the Kärcher rain boxes and micro sprayer sets to the rain system hoses and drip nozzles.