Hard Floor Cleaner
Our Hard Floor Cleaners use continuous fresh water through the use of their self-cleaning function, meaning you can stop spreading dirty water around your floors.
Suitable for all types of hard floors.
Throw away the mop & bucket
Be prepared for anything with the revolutionary Kärcher Hard Floor Cleaner range.
Unlike traditional cleaning methods such as the mop & bucket, our Floor Cleaners moisten the rollers with a constant supply of fresh water, meaning you can stop spreading dirty water around your floors.
20% better cleaning performance**
Thanks to the automatically driven rollers, the hard floor cleaner moves over the floor almost by itself and, with 500 revolutions per minute, completes many wiping movements in just one pass. This allows you to achieve a more hygienic and more effective result in comparison to a conventional wiping mop.
** of the FC 5 compared to a conventional wiping mop with wiping cloth cover in the "Wiping" test
category. Refers to average test results for cleaning efficiency, dirt absorption and edge cleaning.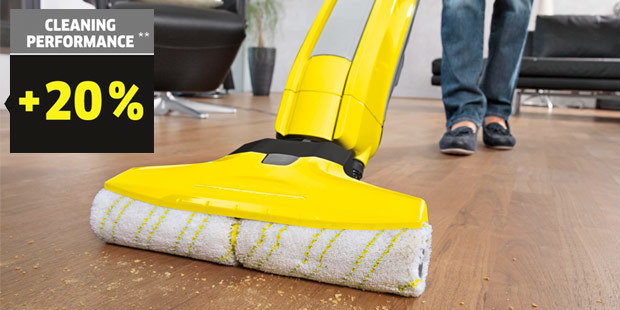 Suitable for all hard floors
Whether wood, stone or synthetic: combined with Kärcher cleaning and care products, the FC 5 cleans well on all hard floors – thanks to high-quality microfibre rollers and low residual moisture, even on sensitive parquet.
You can find a large selection of special detergents for optimal protection here.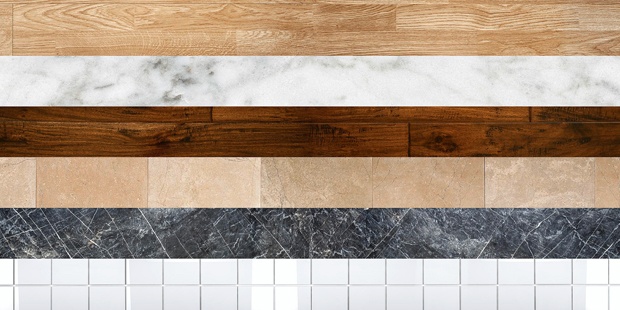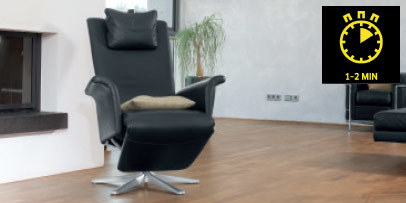 Dry in under 2 minutes
Thanks to the suctioning away dirty water, the hard floor cleaner leaves behind very little residual moisture, meaning that the wiped floor can be used again after less than 2 minutes.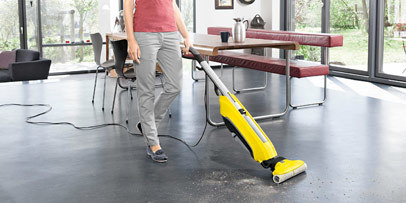 Effortless floor cleaning
With this new revolutionary hard floor cleaning concept, wiping has never been so easy and effortless – with no scrubbing!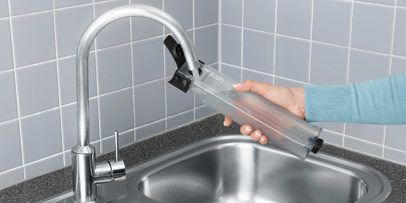 85% water saving in comparison to conventional methods
The FC 5 saves valuable water. For an apartment with an area of around 60 m², the floor cleaner needs just 600 ml of water, compared to conventional cleaning which requires at least 5 to 10 litres.
Many different home cleaning tasks
The FC 5 shines in any situation on all hard floors. Where previously you had to wipe and vacuum, now the floor cleaner can do it in just one step.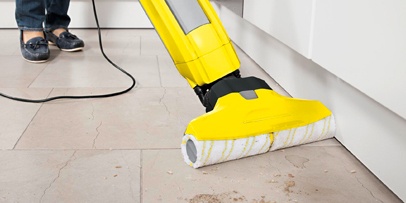 The innovative drive concept in the centre of the cleaning head allows cleaning right up to the edges – for excellent cleaning in corners and edges.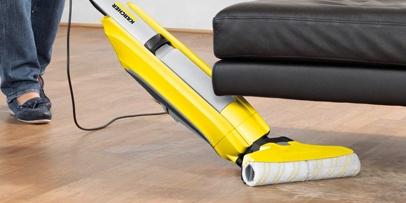 With the flexible hinge, even low furniture and tight and awkward areas are easy to clean.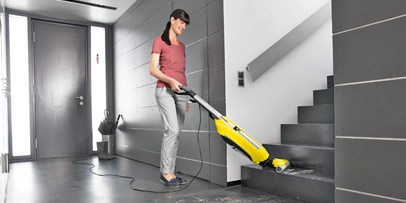 Thanks to the long cable and high flexibility, even stairs can be cleaned effortlessly.
How to use
The new floor cleaner FC 5 is easy to handle and quick to set up. Clean your floors effortless, thorough and faster - it´s as simple as that.
How it works
1) Commissioning
2) Application
3) Clean and Care
Accessories and Detergents
With the range of accessories for Kärcher hard floor cleaner, you can tailor cleaning and care perfectly to the requirements of your floors. The standard detergent, for example, is suitable for any hard floor, while special detergents for wood and stone provide these floors with additional care and protection.