High Pressure Cleaners
Kärcher professional pressure washers for commercial use. Whether it be hot-water, cold-water, petrol powered or even stationary units, we've got you covered!
Cold or hot water options available.
Patented

EASY!Force

trigger gun - zero holding force required while pressure washing.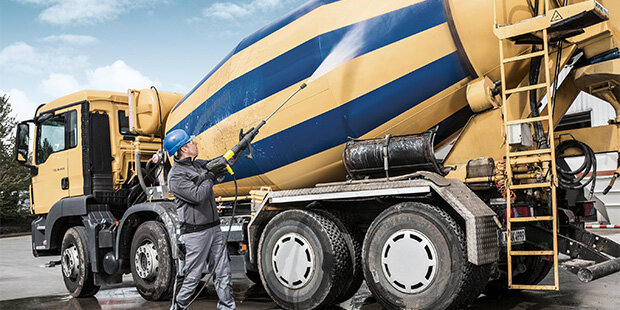 Clean machines, vehicles and buildings daily: with pressure and high capacity cold water pressure washers can also remove heavy dirt. Ideal for large surface areas.
With hot water, high-pressure cleaners clean even better with the same amount of pressure, Kärcher machines impress with the highest level of usage comfort and the most up-to-date technology.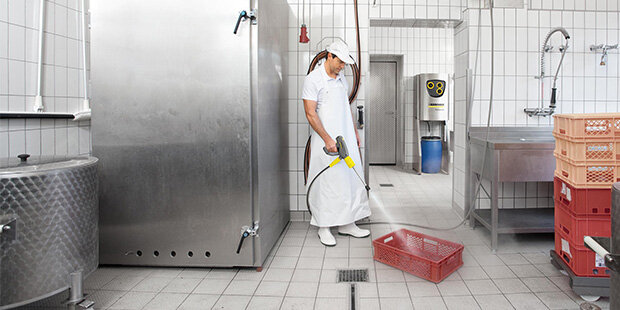 Kärcher stationary high-pressure cleaners are suitable wherever it is necessary to clean and disinfect several areas in a space-saving manner.
Hot vs. Cold Water Pressure Washers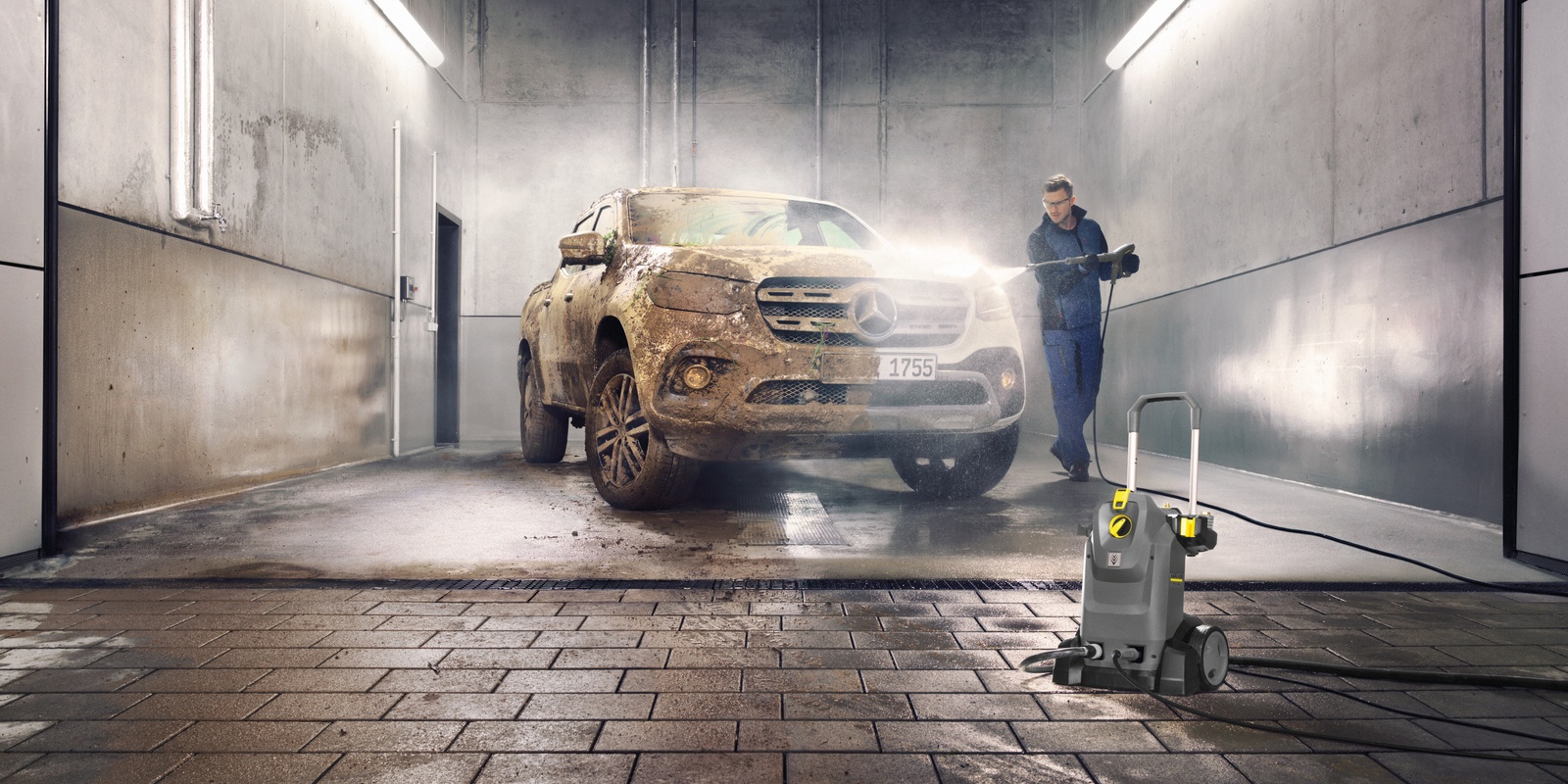 Cold Water - HD
Maximum mobility - quickly and safely transport your machine with minimal effort, whether loading into a vehicle or carrying up steps, thanks to the compact size and ergonomic design; it can also be easily stored when not in use. For larger cleaning jobs and ultimate convenience the new HD trailer pressure washer can even be towed by your vehicle.
Total independence - use even where there is no power supply, Kärcher petrol or diesel-powered pressure washers are perfect for those on the move, and with the option to directly suction water from lakes, or water bowsers these machines are ideal for use in agriculture, construction or the public sector.
Industry specific solutions - specifically designed and tailored to your requirements, Kärcher provides machines to be used in a variety of industries, from the strict hygiene requirements of the food industry to use in potentially explosive environments.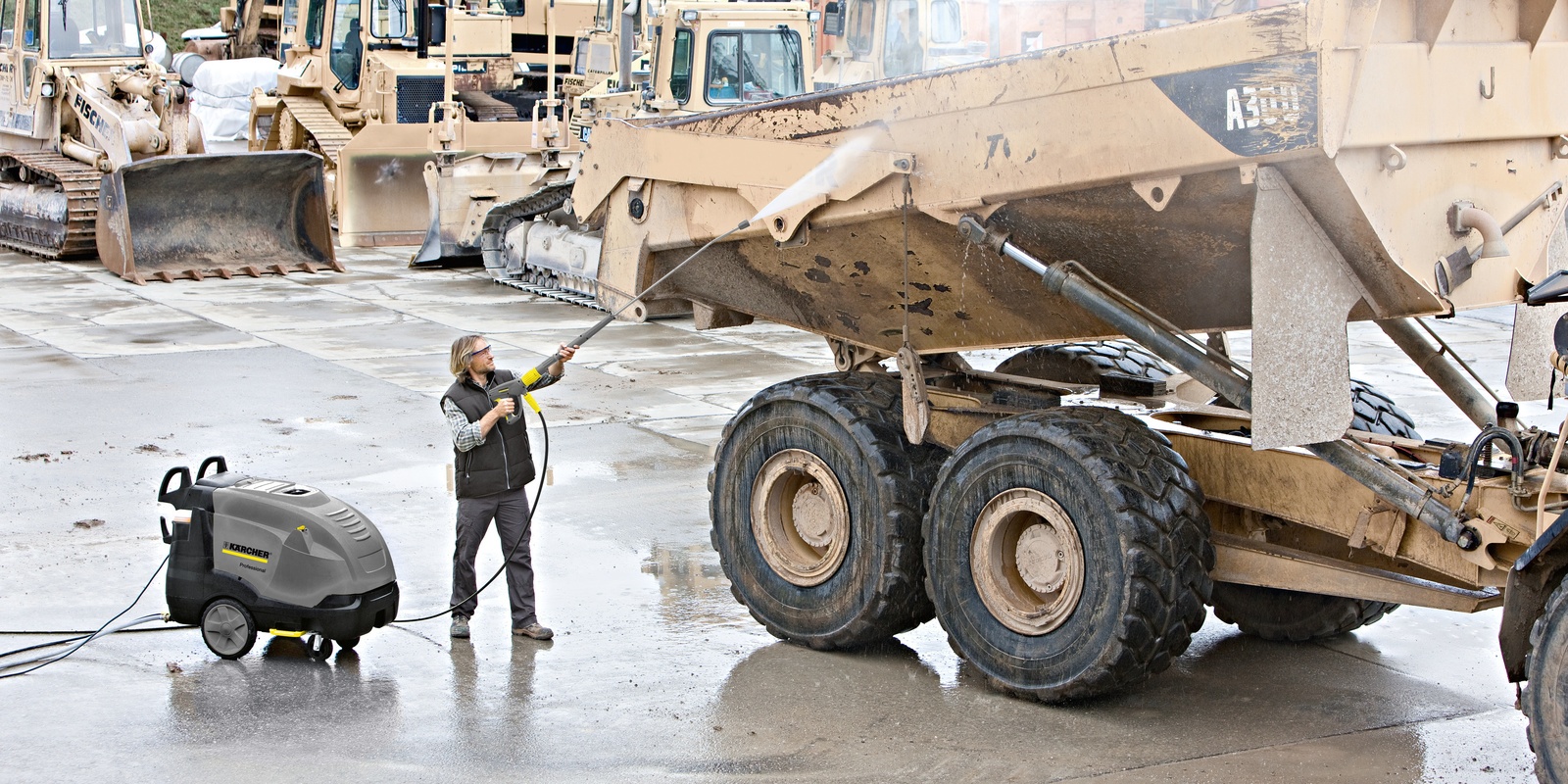 Hot Water - HDS
Faster results & shorter drying times - hot water quickly loosens and dissolves dirt, solidified oils and fats providing a time saving of up to 35%. As well as being cost-effective and economical, surfaces that are cleaned with hot water dry faster enabling them to be used sooner.
Germ-reducing effect without cleaning agents - cleaning with hot water significantly reduces the presence of germs without the need for disinfectants. This helps to protect the environment, as well as saving money and resources.
Protection of surfaces - achieve the same cleaning effect and protect sensitive surfaces by cleaning using a lower working pressure.
Heat is a key factor for more hygiene
The use of detergents and disinfectants plays an important role in cleaning processes. What many do not know: Hot water and steam also make a significant contribution and can therefore also help to combat germs, bacteria and viruses.
A study by the Thuringian State Office for Agriculture* showed that water temperature has a major impact on reducing germs and bacterial colonies. At 60˚C water temperature the number of bacterial colonies is already reduced by up to 90%. Under steam stage (155˚C) even an almost complete reduction could be achieved under the test conditions.
In order to support the contribution of hot water, the addition of disinfectant by the high-pressure cleaner is recommended.
* [Agricultural Manager March 2015]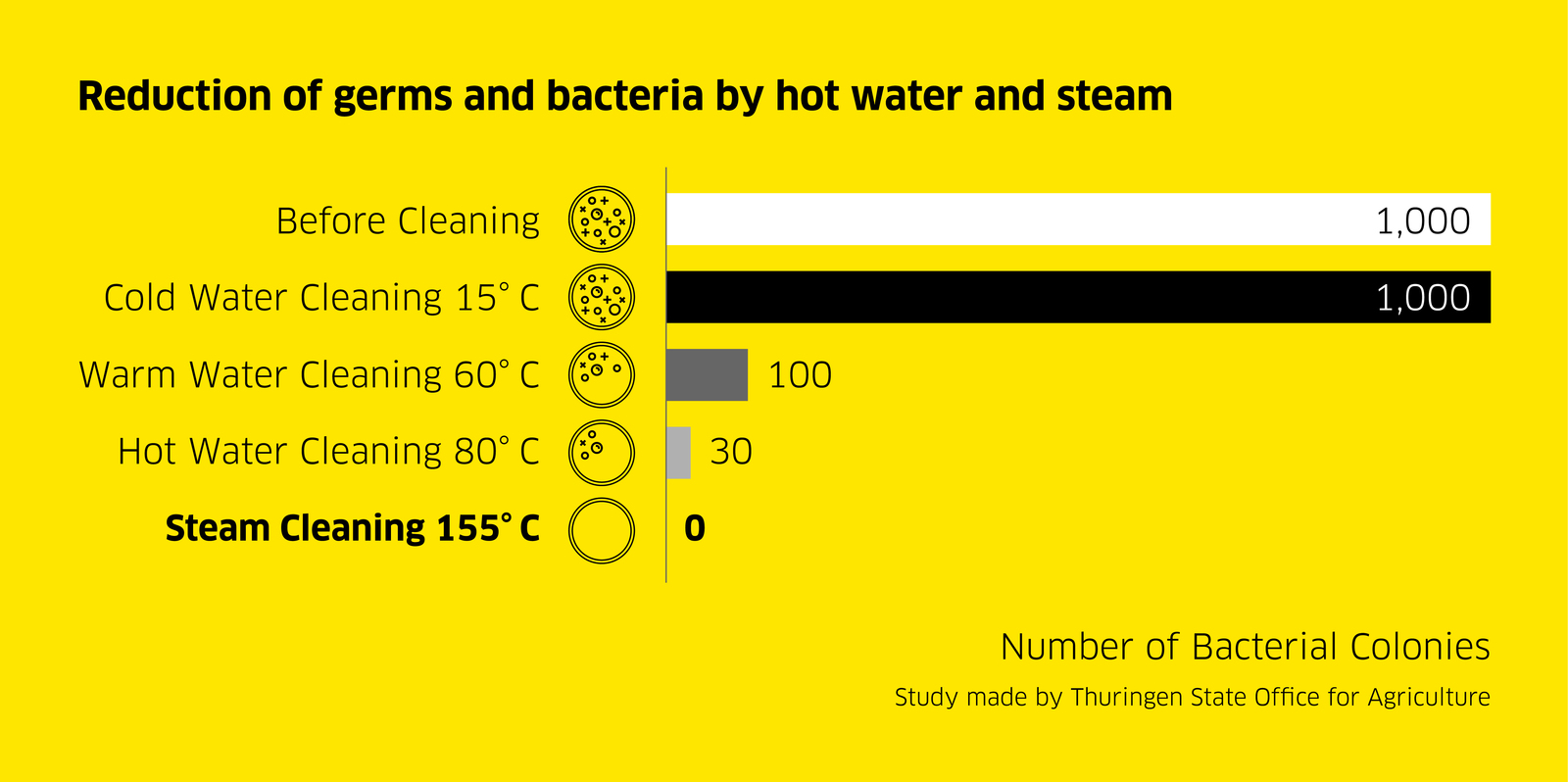 Huge Promotion On Kärcher
EASY!Force

Kits

Compatible with any M22 thread including competitor pressure washer brands and old Kärcher Pressure Washer units.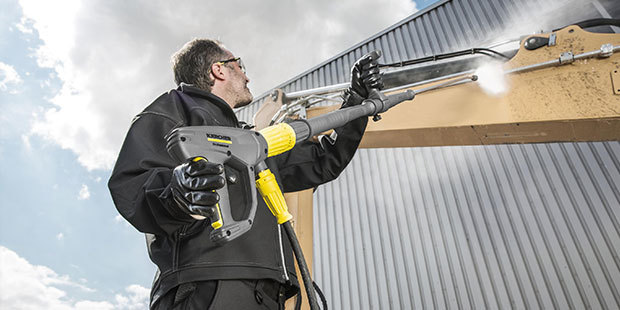 Eliminate risk of repetitive strain injury with our new
EASY!Force

trigger gun
The EASY!Force gun is designed so that the water control trigger is at the band of the handle instead of the front. The recoil from the water pushes the trigger into the middle of the hand, eliminating the need to form a fist and squeeze as you do with a conventional trigger gun. This means zero holding force is needed to operate the pressure washer!
The EASY!Force trigger also boasts:
Improved ergonomics for easier cleaning.
Full ceramic valve for a longer lifetime.
Intuitive trigger for safe working.
Patented

EASY!Lock

for 5x faster connection.
The EASY!Force trigger is compatible with all Kärcher professional pressure washers - experience pressure cleaning in comfort today!
Which class of pressure washer is right for me?
Compact
The right choice for operators who need a mobile pressure washer on an almost daily basis for different locations: a high-performance machine that is easy to transport.
Middle
Perfect for daily cleaning of machinery or large areas Middle class pressure washers make it easy to clean hard-to-reach areas and take up little space in the yard or workshop.
Super
Kärcher Super class pressure washers are the perfect choice for operators who need to continuously perform cleaning tasks involving large amounts of stubborn dirt.
Portable
Compact and lightweight our portable range is incredibly easy to transport - even up steps or ladders. These tough machines can be used in a vertical or horizontal position, making them safer for use at height or on uneven ground.
Combustion
Available in hot and cold variants, combustion models deliver several hours' continuous use on a single tank of fuel and are ideal for demanding cleaning applications where no power supply is available.
Trailer
Designed for daily use and built to last, Kärcher's hot water pressure washer trailers provide the ultimate mobile cleaning solution whether on a construction site or in a park. These versatile all-rounders can be towed by or mounted within your existing vehicle.
Special
Suited to those special cleaning tasks that require performance, safety and hygiene and need extremely high pressure to remove the most stubborn dirt or large water volumes for two-lance operation.
Universal Cleaning Machines
Pressure washers with petrol or diesel engines as well as machines for special target groups complete the product portfolio.
Cleaning agents for high-pressure cleaning
Kärcher's detergents and care agents for high-pressure cleaners are designed to achieve maximum cleaning results with the minimum of energy and time. At the same time, they reduce the level of waste water pollution caused by mineral oil residues thanks to their special formulas that are easy to filter and separate.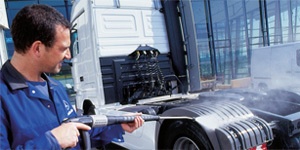 Cleaning and protecting commercial vehicles
High-performance cleaning agents for powerful cleaning of stubborn dirt on roads and building sites - can be used with cold and hot water high-pressure cleaners.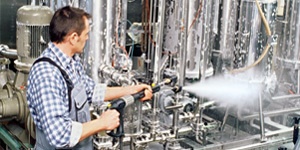 Versatility for industrial applications
Fast-acting, gentle cleaning agents which also remove stubborn dirt such as oils, grease and rust.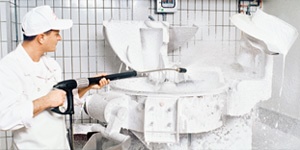 Cleanliness and hygiene in the food industry
Effective cleaning agents and disinfectants with approval for use with foodstuffs in accordance with the DGHM (German Society for Hygiene and Microbiology) and DVG (German Association of Gas and Water) disinfectant lists.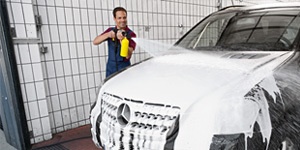 Polished surfaces for the entrance to your car dealership
Showroom sheen and value retention on any car, even under the hood, thanks to gentle cleaners for all kinds of surfaces and materials.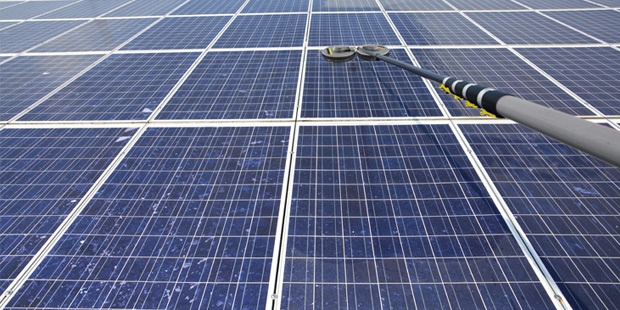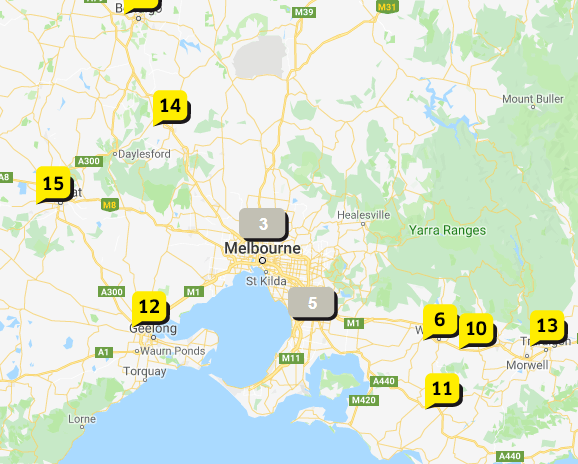 Find a Kärcher Dealer near you
We have a network of Authorised Kärcher Dealers right across Australia. If you would like to find the closest one to you, you can do so by using our Authorised Kärcher Dealer search tool here.