Zero Force. Full Power. The new
EASY!Force

trigger gun.

You have the power! Try our new EASY!Force and EASY!Lock features of our revolutionary trigger gun and stay ahead of the game whilst pressure washing.
Zero holding force required - no repetitive strain injury!
Compatible with any M22 thread - even competitor pressure washers.
Huge Promotion On Kärcher
EASY!Force

Kits

Compatible with any M22 thread including competitor pressure washer brands and old Kärcher Pressure Washer units.
Promotion also available at all Kärcher Professional Dealers. Click below to find your closest.
What makes the
EASY!Force

gun different?

The EASY!Force trigger gun is revolutionising high-pressure cleaning with its game changing mechanical design and benefits to the user. The EASY!Force trigger gun is built in a way which sees:
The water control trigger at the back of the handle instead of the front.
Recoil from the water pushes the trigger on the back of the handle into the middle of the hand.
This eliminates the need to form a fist and pull a trigger which makes for a zero holding force required.
Ergonomic study -
EASY!Force

vs. conventional trigger guns.

We recently ran an ergonomic study in Germany comparing our EASY!Force trigger gun to conventional trigger guns and the results have been verified by the Association of Electrical Engineering and also the German Agricultural Society.

You can view more details on the study via the downloadable link below.
Why conduct an ergonomic study?
Working with high-pressure cleaners is physically demanding, especially as the professional machines are commonly used for prolonged periods of time. Constantly clenching your hand into a fist to pull the trigger of a conventional trigger gun can lead to repetitive strain injury in the fingers, hand and wrist and can also damage the working posture in your shoulder and back.
These health issues are why we conducted an ergonomic study on the use of a conventional trigger gun versus the use of our new EASY!Force trigger gun.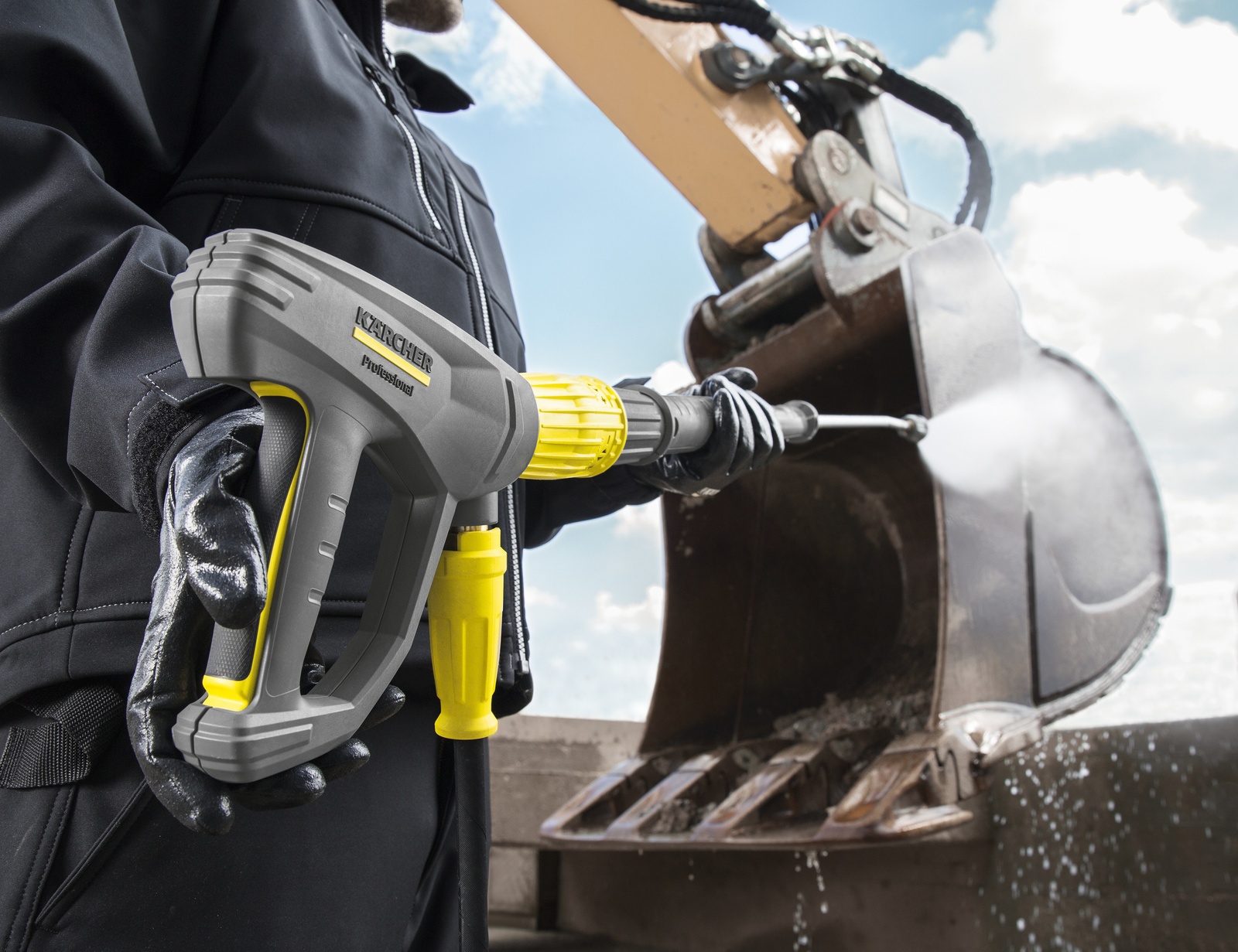 Results of study.
EASY!Force trigger gun primary muscles used:
Conventional trigger gun primary muscles used:
Hand and fingers.
Forearm.
The study confirmed that when using a conventional trigger gun, the smaller muscle groups such as the hand and fingers do the heavy lifting. This leads to rapid fatigue as only a small number of motor units can be used to reach the goal.
Conversely, when using the EASY!Force trigger gun the larger muscle groups of the upper arm take over to activate and control the gun. This leads to fatigue-free, long-lasting holding force power, since motor units can be activated up to the maximum amount of an arm.
Post-study it is now expertly estimated that compared to conventional trigger guns the EASY!Force trigger presents:
58.3% less risk of repetitive strain injury to the fingers.
32.3% less risk in the back.
11.6% less risk in the ball of the thumb.
These added safety features of the EASY!Force trigger gun are not only beneficial to the user of the pressure washer but also present a way for employers to maintain a safer working environment for their employees.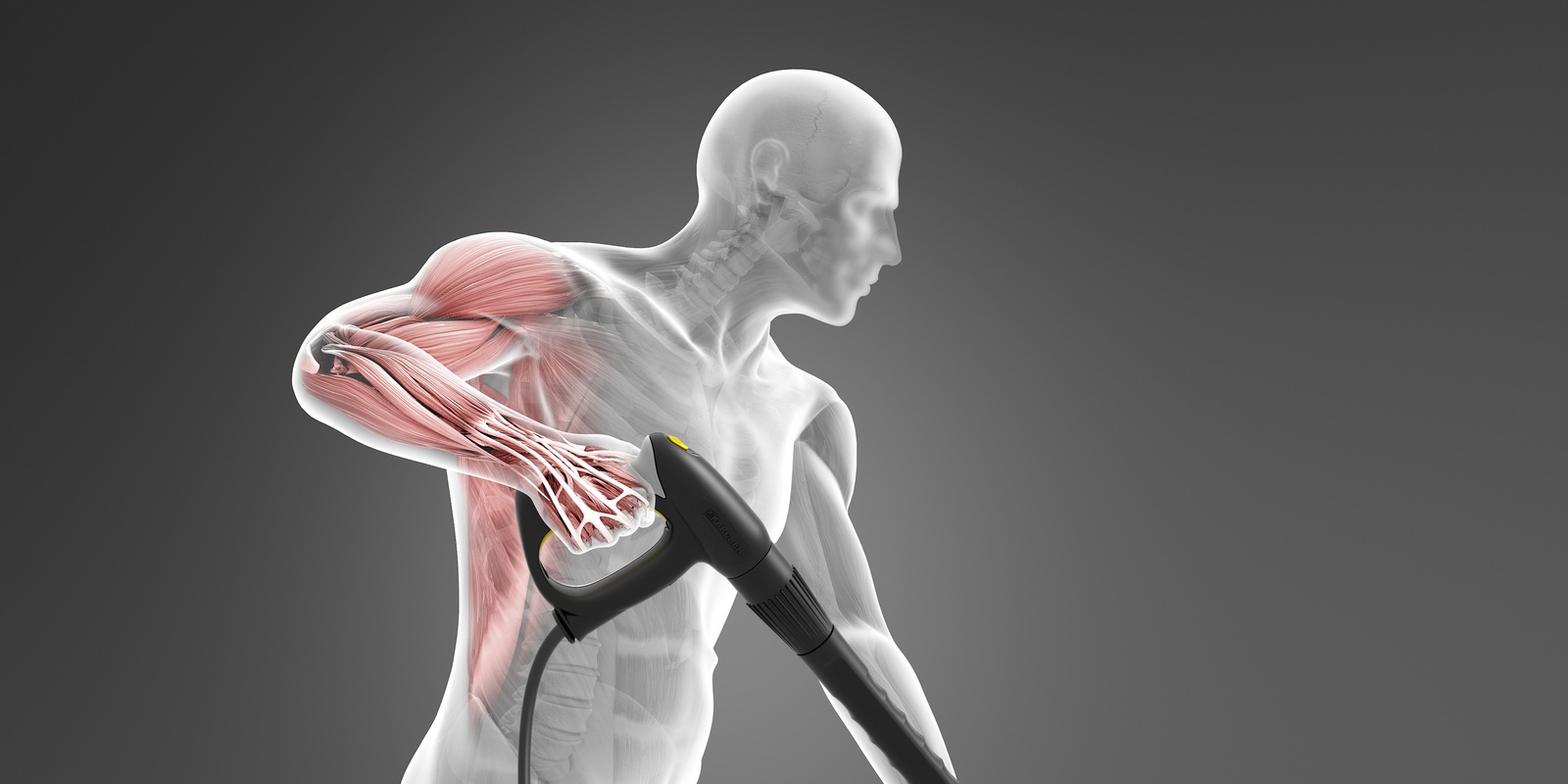 The red section in the above image highlights all areas that are under stress when using a conventional trigger gun.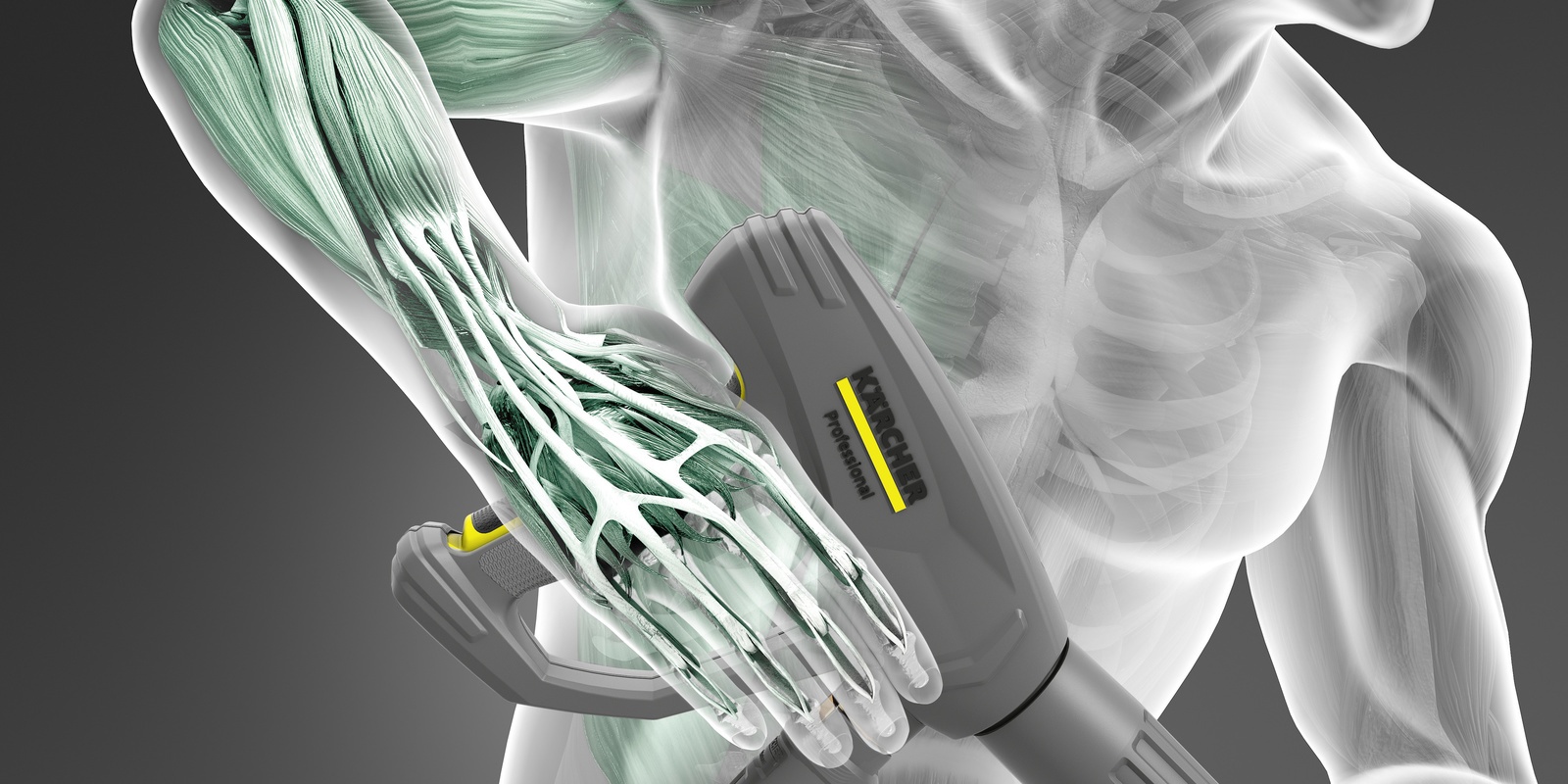 The green section in the above image highlights parts of the body that are under less stress due to the open-hand nature of pressing the water-control trigger.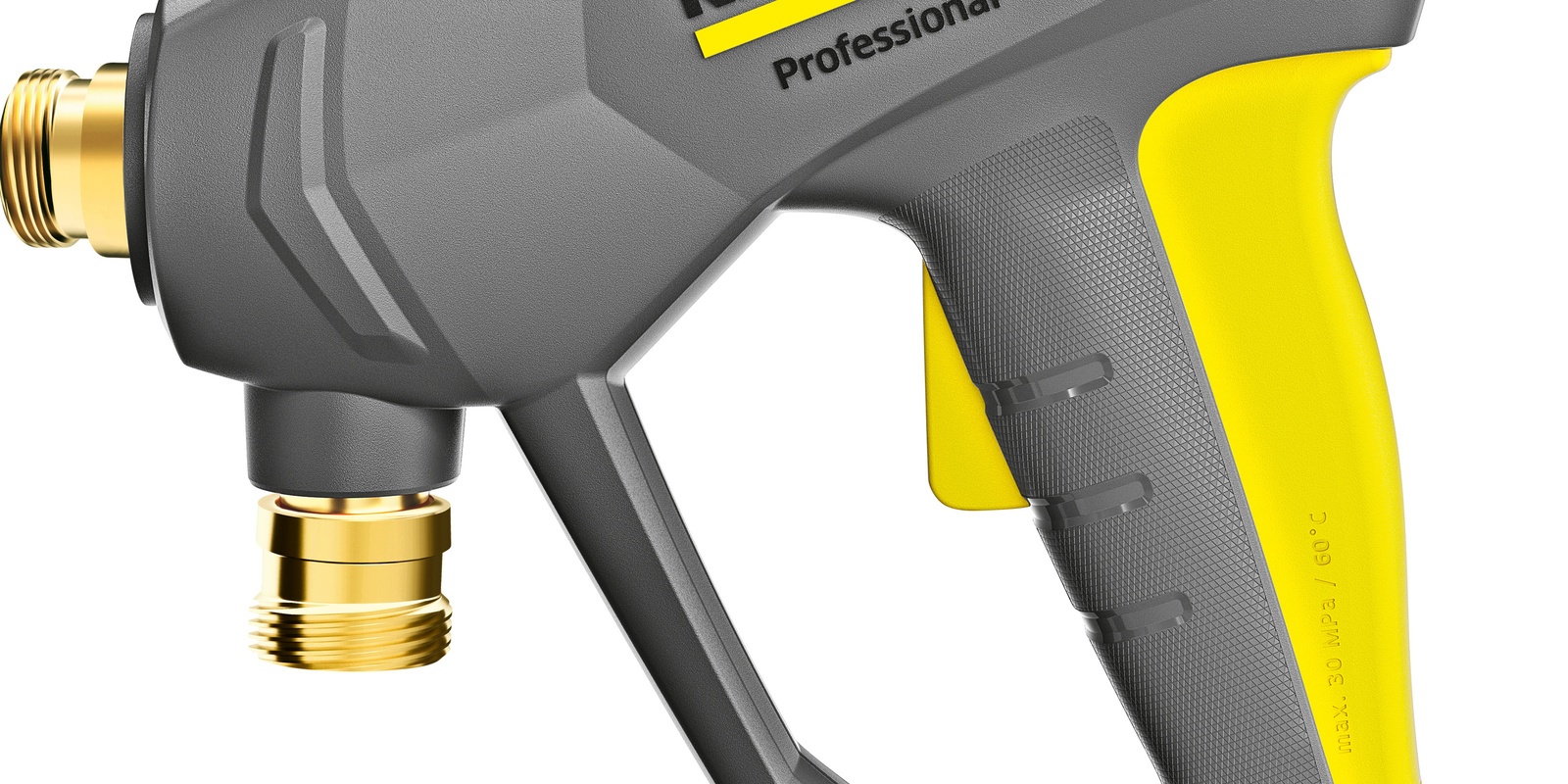 The smaller trigger at the front of the handle is a lock which when pressed, unlocks the water-control trigger at the back and allows it to used.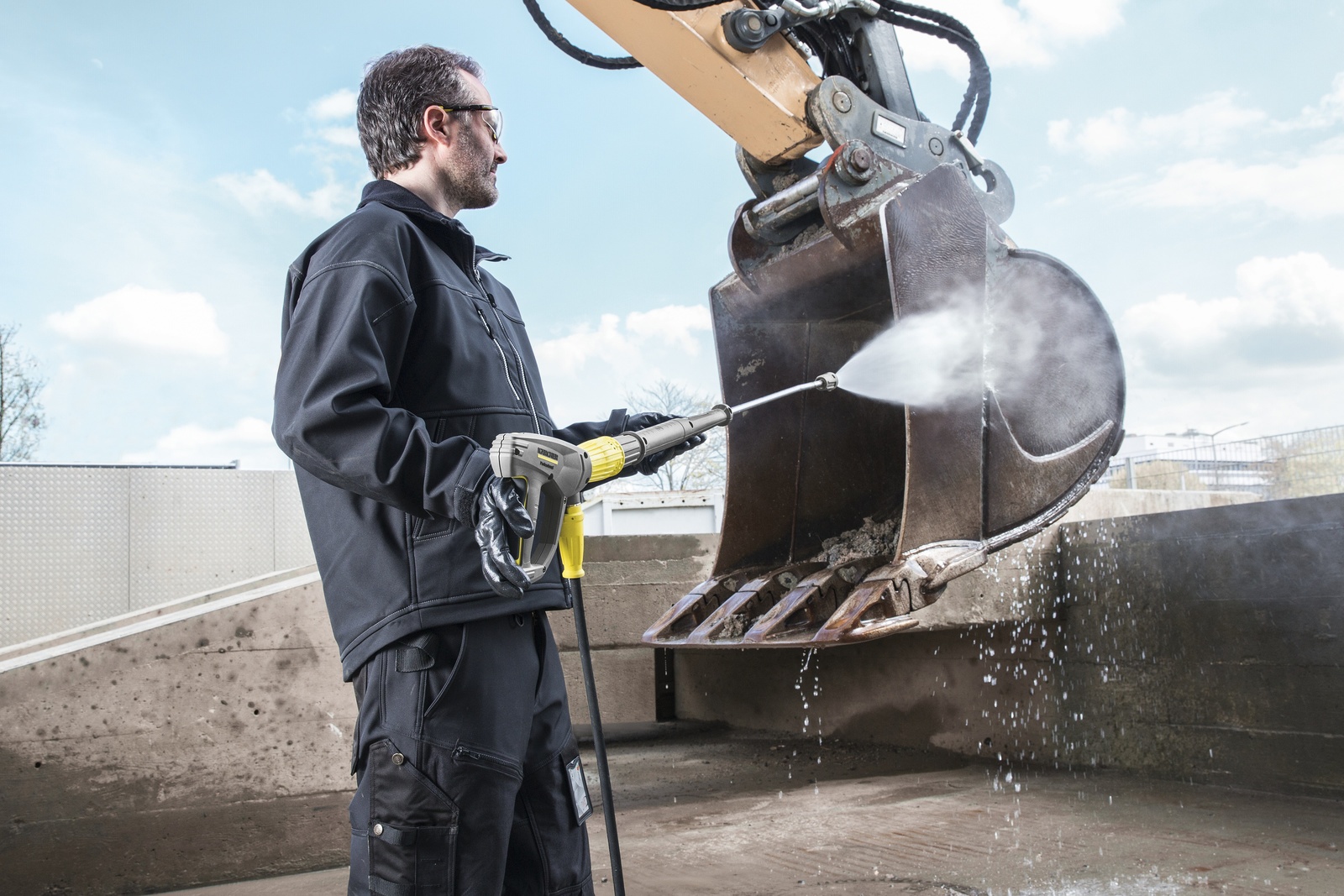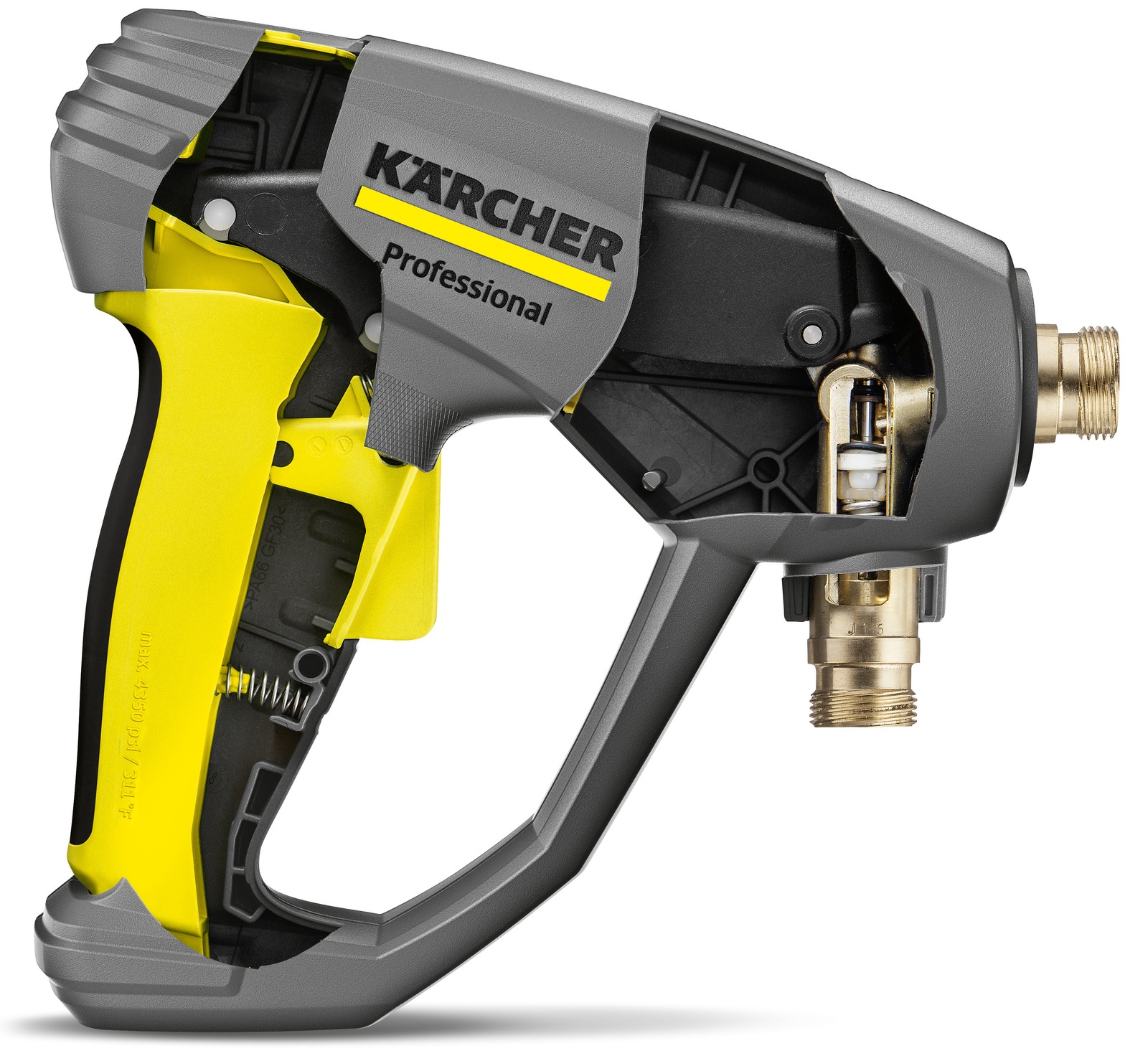 Full safety ensured.
The trigger safety of the new EASY!Force trigger gun prevents unintentional operation and offers maximum safety during use – without compromising on ease of use.
Trigger lock at front of the handle which releases lock on the water control trigger at the back.
Press lock once to unlock water-control trigger.
Water-control trigger remains open as long as the trigger is pressed. When trigger is released, it automatically locks and switches off again.
Longer lasting than conventional trigger guns.
When high-pressure guns fail, it is largely due to faulty valves damaged by particles. Our EASY!Force puts an end to this:
Our

EASY!Force

valve consists of a ceramic ball with a ceramic sealing seat that is resistant to any particles liable to cause potential damage.
This gives it a lifetime 5 times longer than trigger guns with conventional valve.
Comfortable in any situation.
We take care of the ergonomics so that you are comfortable in any situation.
Offers optimal mechanical design for ease of use in any working position.
Extra handles can be attached for when working overhead or are targeting hard to reach places to ensure maintained comfort when holding the lance.
360° rotatable spray lance meaning handle can be simply turned whilst working for greater flexibility.
Two additional gripping zones, whether you are right or left-handed.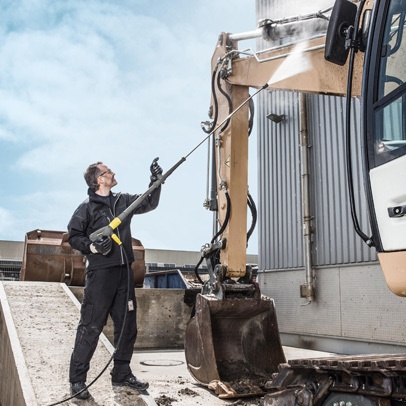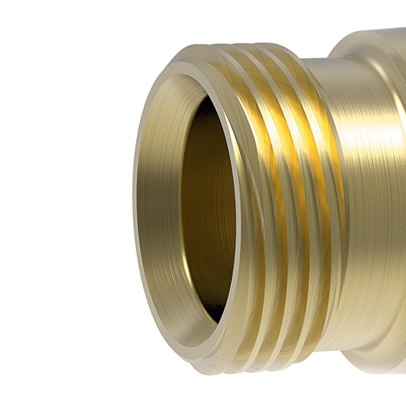 What is
EASY!Lock

and what are the benefits?

The EASY!Lock system requires one 360° twist to connect all high-pressure cleaner accessories and nozzles; combining the speed advantages of quick coupling with the strength advantages of a screw connection. These are locked via a multiple thread with insertion aid - the thread is locked via a cone.
Combines speed with strength.
Time saving of up to 80% compared to swapping and attaching accessories and nozzles on conventional trigger guns.
Maintains the same strength as a screw connection but reduces change over time.
Added performance yet no added weight.
With our innovative EASY!Lock system, weight is not an issue – it weighs no more than conventional screw connections. This now sits radially directly in front of the retaining thread, which makes the seal far more durable and captive. This is small mechanical change on the nozzle seal of the spray lance for a big effect.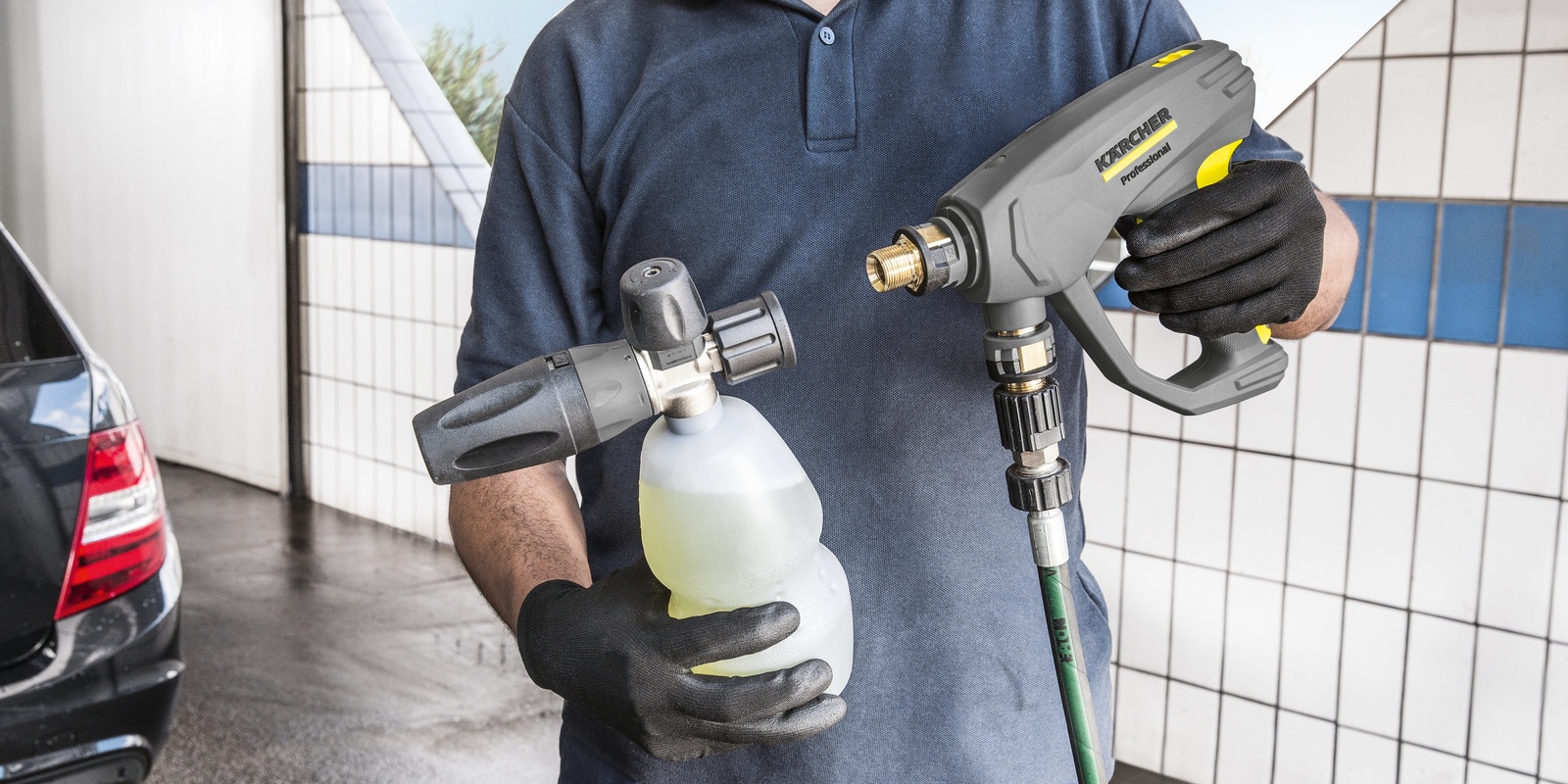 Detatch unwanted nozzle with one 360° twist.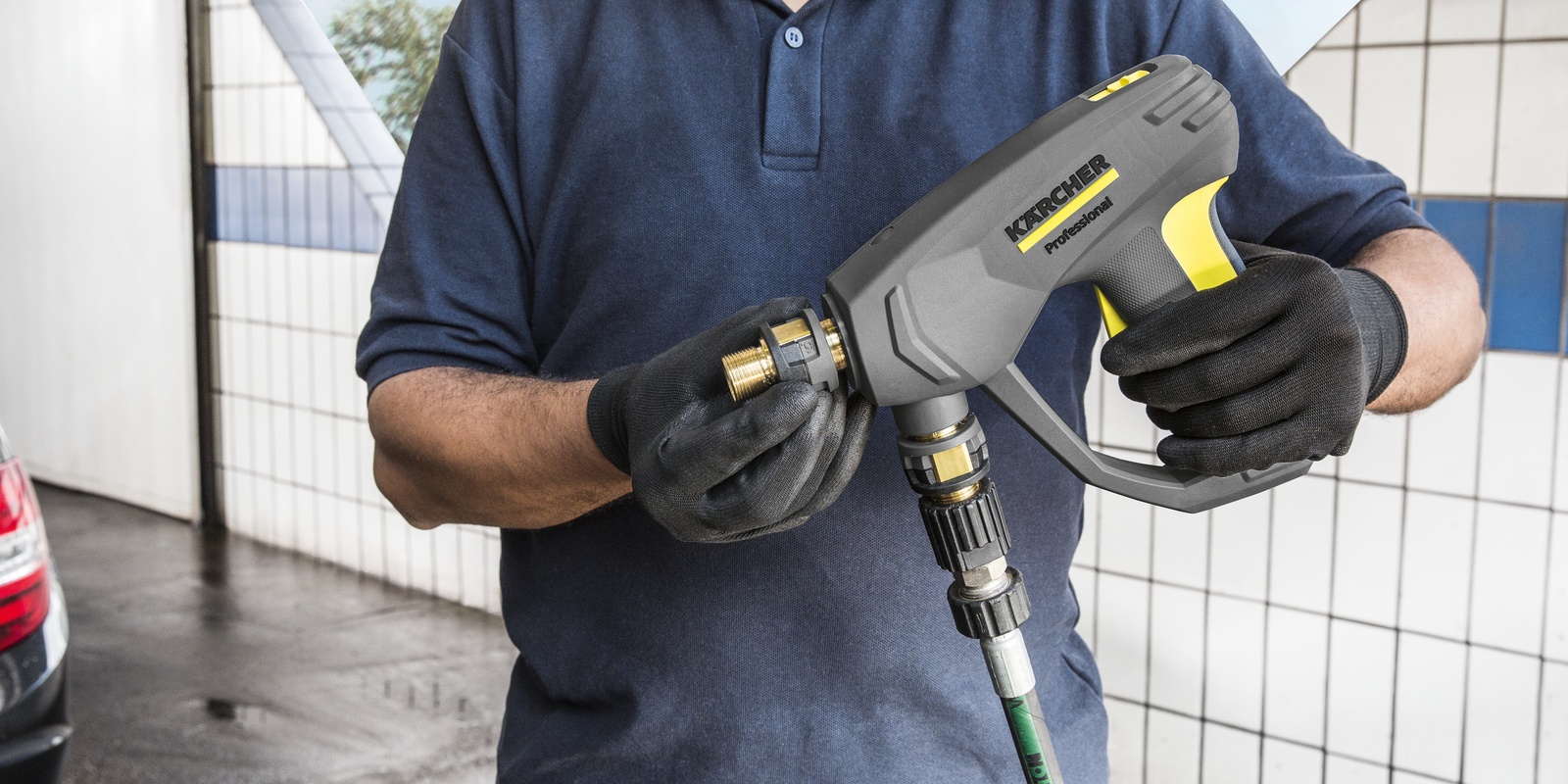 EASY!Lock ready for new accessory.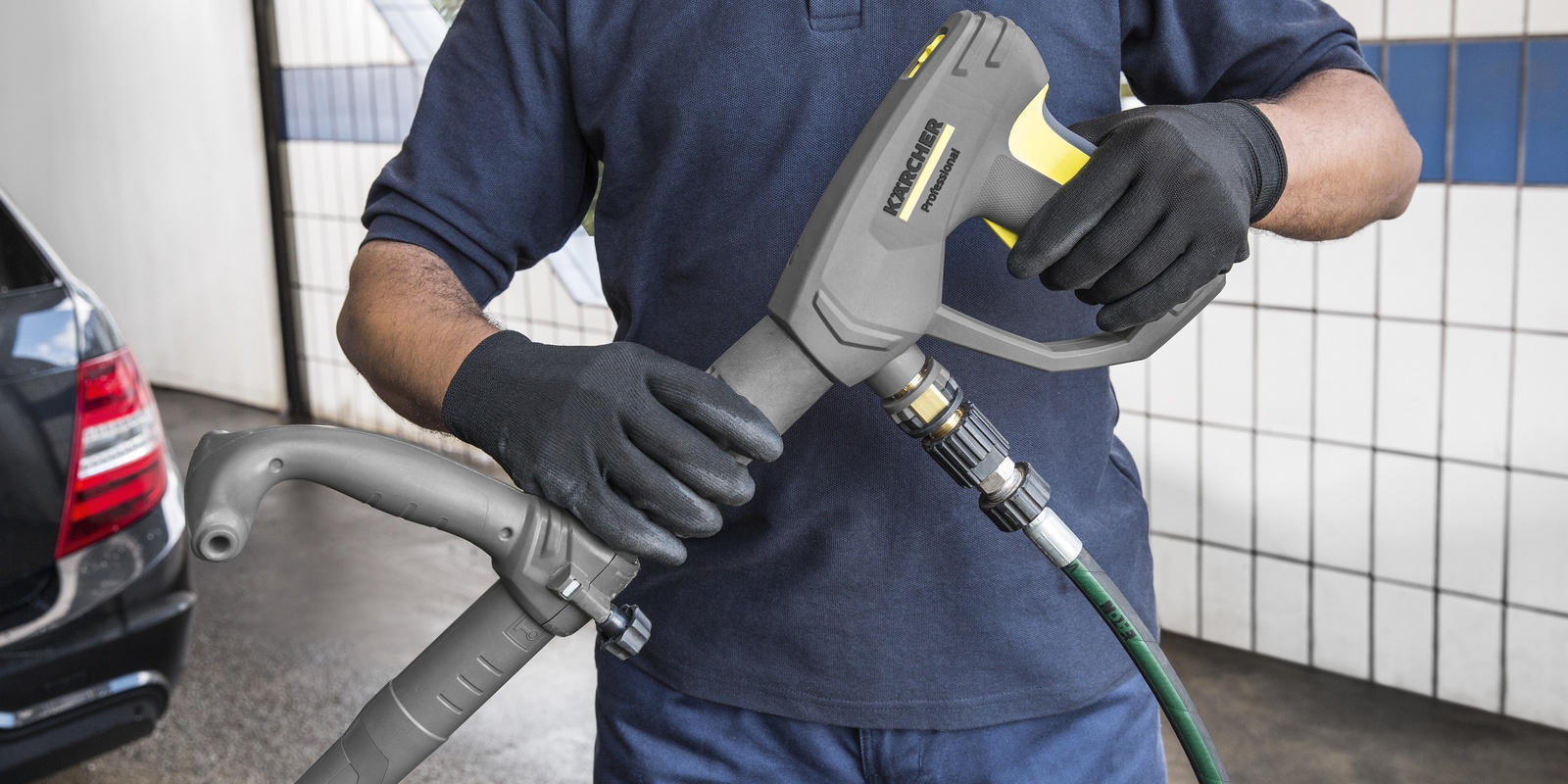 Connect new nozzle with one 360° twist.
What perfect connections look like
In order to cover the various interfaces, from the highpressure cleaner to the nozzle, as well as forward and backward compatibility, a total of 8 different adaptors are available. This ensures that all existing machines and accessories can continue to be used together with the new machines and accessories with EASY!Lock connections. In our adaptor finder there are all adaptors listed with their respective application. For example, any high-pressure cleaner with M 22 × 1.5 connection can quickly be converted to the new EASY!Lock system with adaptor 2.