STEAM CLEANERS & STEAM VACUUM CLEANERS
Hygienic cleaning without cleaning agents Kärcher commercial and industrial steamers clean economically and hygienically, killing 99.99% of bacteria - without chemicals.
Hygienic cleaning using only water.
Kärcher Professional Steam Cleaners kill 99.999% of enveloped viruses such as coronavirus & influenza.**
Perfect for bathrooms, kitchens, retail shops and other commercial settings.
Hygienic, cost-effective and environmentally friendly: Kärcher steam cleaners clean all hard surfaces without chemical cleaning agents.
Kärcher steam vacuum cleaners feature high operating comfort and effective cleaning performance on all hard surfaces. The extensive range of accessories ensures targeted cleaning.
Heat is a key factor for more hygiene
The use of detergents and disinfectants plays an important role in cleaning processes. What many do not know: Hot water and steam also make a significant contribution and can therefore also help to combat germs, bacteria and viruses.
A study by the Thuringian State Office for Agriculture* showed that water temperature has a major impact on reducing germs and bacterial colonies. At 60˚C water temperature the number of bacterial colonies is already reduced by up to 90%. Under steam stage (155˚C) even an almost complete reduction could be achieved under the test conditions.
In order to support the contribution of hot water, the addition of disinfectant by the high-pressure cleaner is recommended.
* [Agricultural Manager March 2015]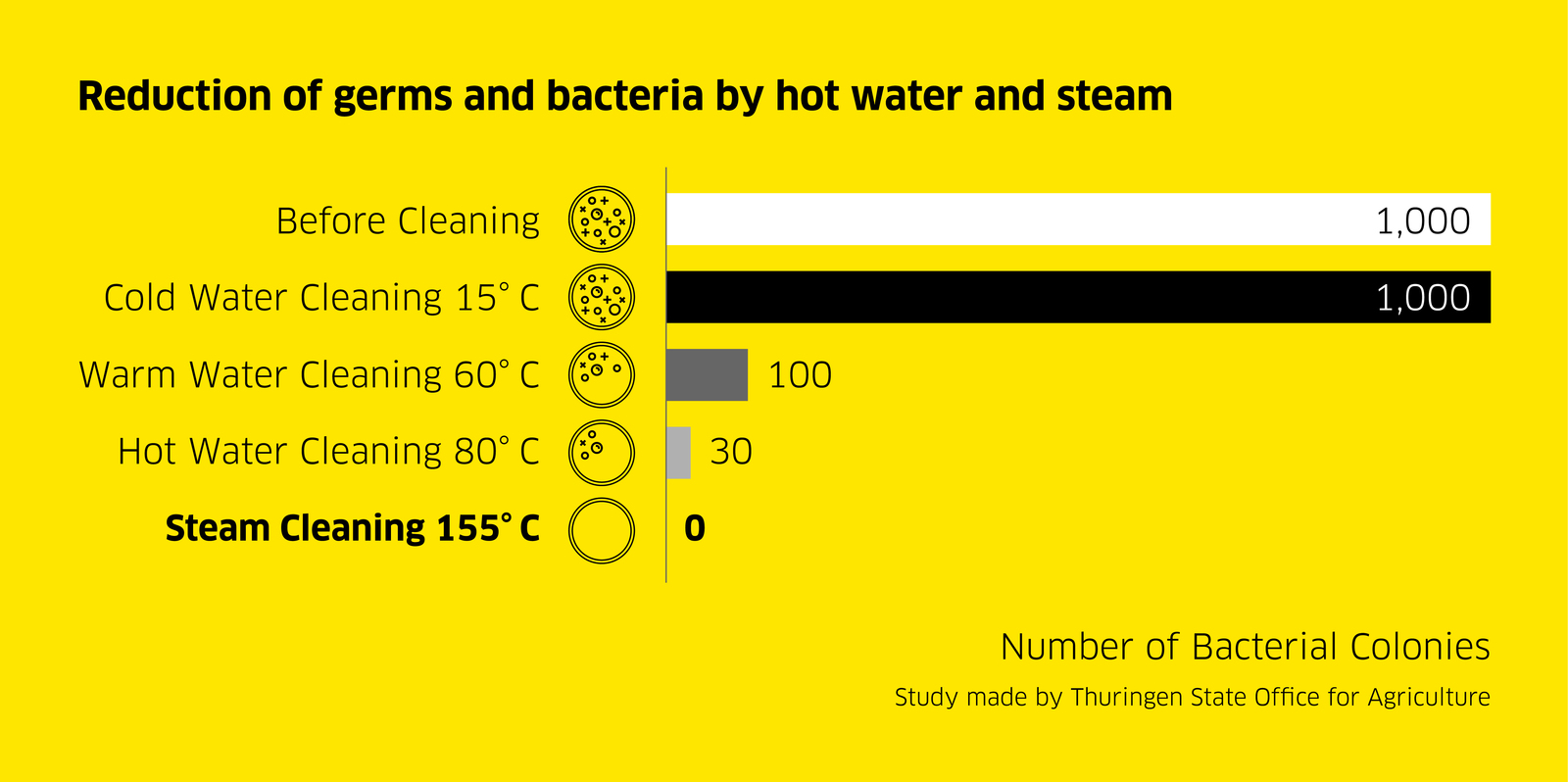 Videos Of Our Range In Action
SGV 8/5 - Steam Vacuum Cleaner
* As per EN 16615, PVC surface, test machines SG 4/4 and SGV 6/5 (SGV 8/5 by analogy), test germ: MVA, murines norovirus, adenovirus (except hepatitis B), under low organic strain
** With selective cleaning, i.e. with a steaming duration of 30 seconds at the maximum steam stage with direct contact with the surface being cleaned, 99.999 % of the enveloped viruses, such as coronavirus or influenza viruses (except the hepatitis B virus) can be eliminated on smooth, hard surfaces (test germ: modified vaccinia virus Ankara). **When cleaning at a cleaning speed of 30 cm/s at the maximum steam stage and with direct contact with the surface to be cleaned, 99.99 % of all common household bacteria on smooth, hard household surfaces are killed (test germ: Enterococcus hirae).
For more information, click here.