Kärcher Wet & Dry Vacuums: The Ultimate Cleaning Solution
Discover the power and efficiency of Kärcher Wet & Dry Vacuums. Designed for tough cleaning tasks, these vacuums handle mud, liquids, glass, and gyprock.
They are ideal for use both indoors or outdoors & are perfect for use in workshops.
Warranted against plaster dust & gyprock.
Power tool take-off on select models.
Diverse application possibilities
Multifunctionality is ingrained in the DNA of our wet and dry vacuum cleaners. These strong multi-taskers get cleaning done, in the cellar, the garage, your hobby workshop or the garden. For renovation work, vacuuming the car, getting rid of shards or spilled water. It doesn't matter whether the dirt is dry, wet, coarse or fine – these powerful devices even deal reliably with large amounts of water.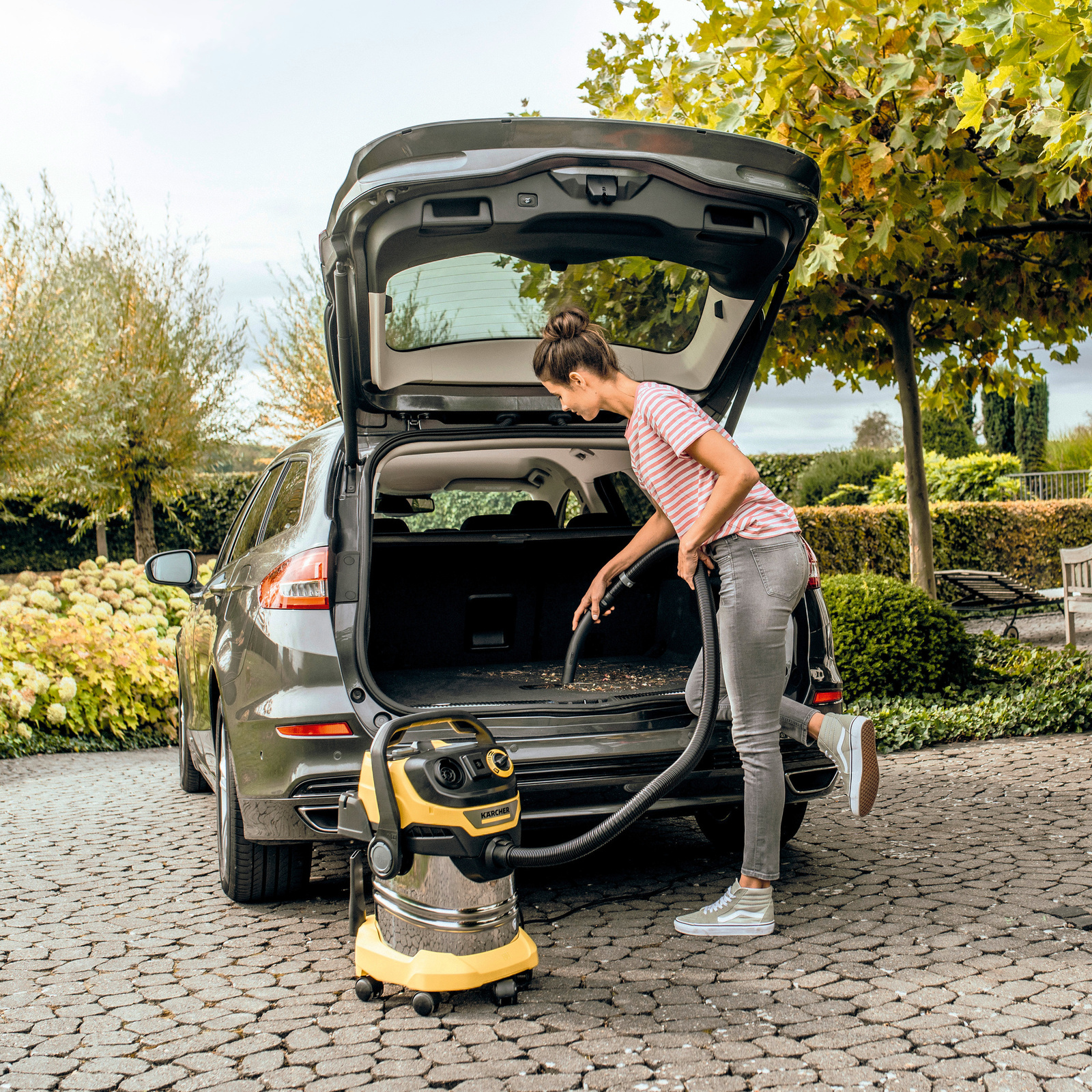 Superior cleaning performance and suction power
Where conventional household vacuum cleaners struggle, Kärcher wet and dry vacuum cleaners really get going. With powerful suction combined with outstanding energy efficiency, wet and dry vacuum cleaners provide ideal dirt pick-up thanks to perfectly coordinated devices and accessories, achieving quick and thorough cleaning results. Using the suction tool when sawing, sanding and much more reduces exposure to dust and dirt, keeping your workspace clean.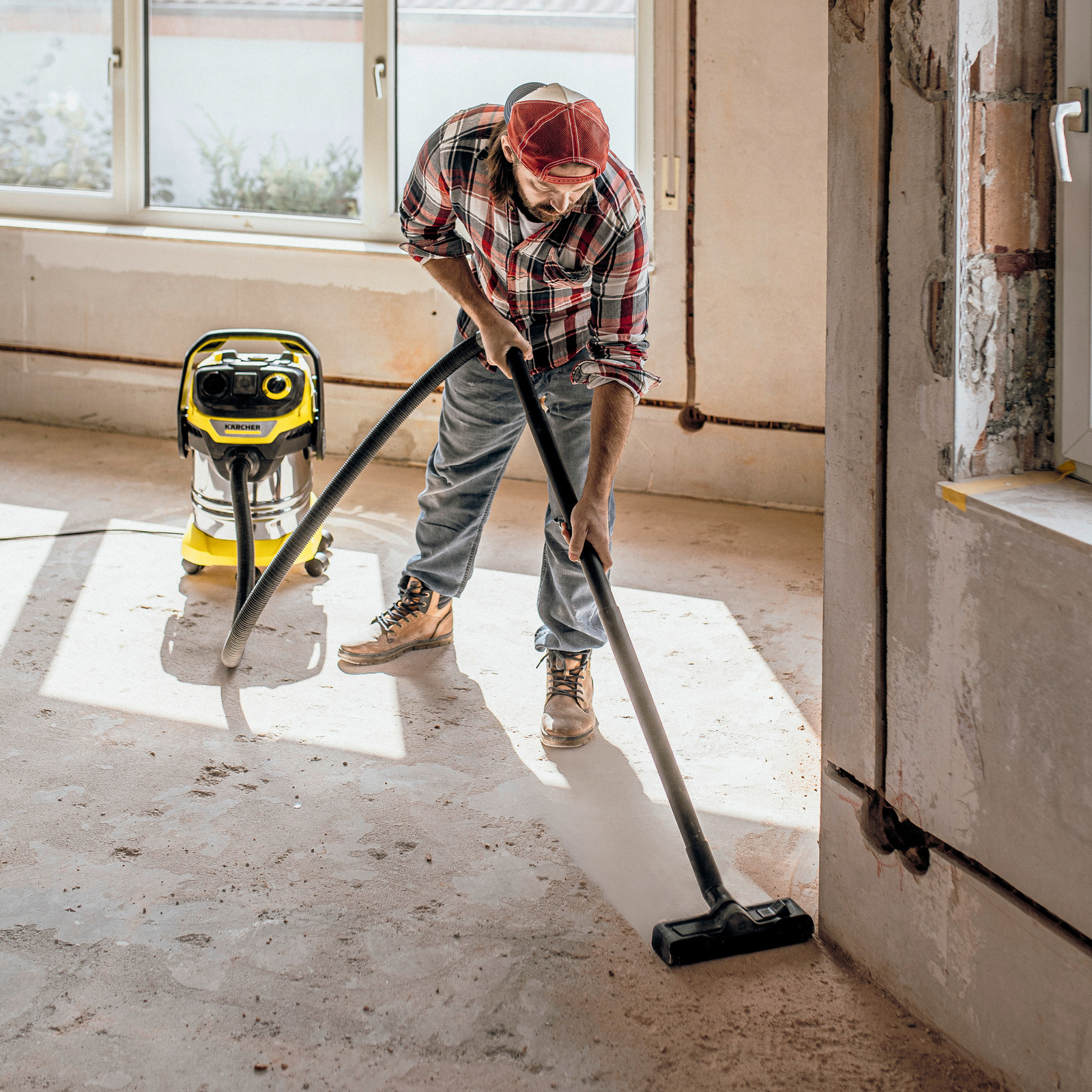 Even more convenience
Next-level convenience: the compact design takes little space to store. It allows the hose and accessories to be stored directly on the device. Innovative filter designs make the wet and dry vacuum cleaners convenient to use – without any contact with dirt at all. What's more, their long lifetimes thanks to a high level of quality and robustness set the wet and dry vacuum cleaners apart.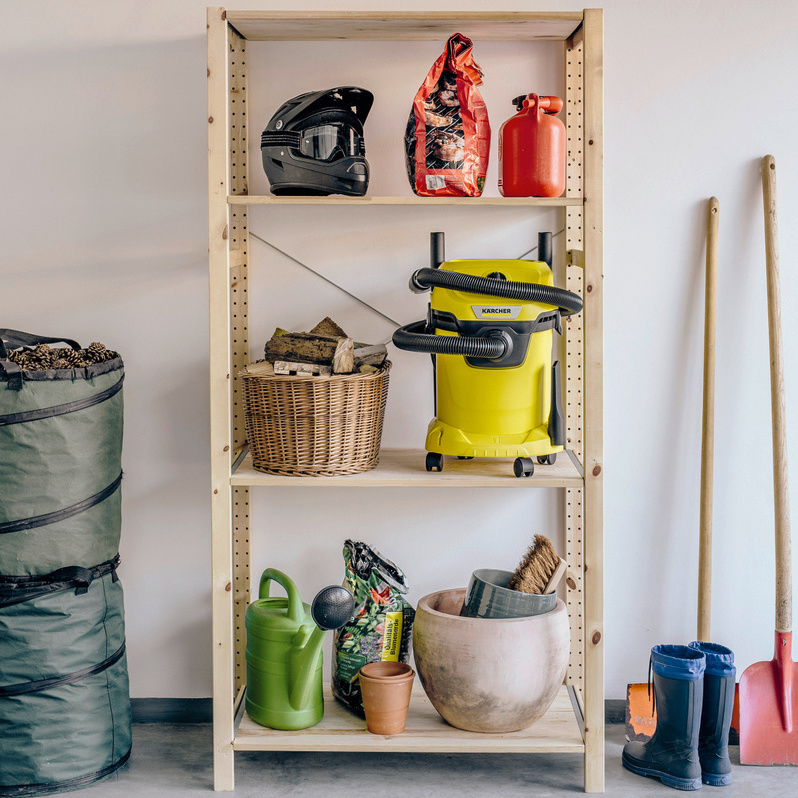 Features of the Kärcher Wet & Dry Vac Range
With a range of Wet & Dry Vacs available on the market, it's important to select the right one for your needs. Here are some key features that set the Kärcher Wet & Dry Vac range apart:
German Engineering
Kärcher products are known for their quality and craftsmanship, and the Wet & Dry Vacs are no exception. Engineered in Germany, these vacuums are built to deliver superior performance and durability.
Warranted against Plaster Dust and Gyprock
When working with materials like plaster and gyprock, dust can be a major concern. The Kärcher Wet & Dry Vacs come with a warranty that ensures they can handle the challenges of these materials, providing reliable and efficient cleaning.
Power Tool Take-off and Integrated Power Source
Select models of the Kärcher Wet & Dry Vacs feature a power tool take-off function. This allows you to connect your power tools directly to the vacuum cleaner, creating a convenient integrated power source. With this feature, you can work efficiently and keep your workspace clean simultaneously.
Cyclonic Suction System
The Wet & Dry Vacs from Kärcher are equipped with a cyclonic suction system that is economically engineered for ultimate suction power. This ensures that even the most stubborn dirt and debris are effectively removed, leaving your surfaces spotless.
Hands-free Filter Cleaning System
Maintaining the performance of your vacuum cleaner is made easy with the hands-free filter cleaning system. This innovative feature allows you to clean the filter without any manual intervention, ensuring optimal suction power and reducing maintenance time.
The Ultimate Cleaning Solution
Kärcher Wet & Dry Vacuums offer the ultimate cleaning solution for a wide range of applications. With their powerful suction, versatile capabilities, and a host of innovative features, these vacuums are designed to make your cleaning tasks easier and more efficient. Whether you need to clean up after a construction project or maintain a tidy workshop, Kärcher has the right Wet & Dry Vac for you. Choose the trusted brand and experience the difference in performance and reliability.
Takes whatever you can throw at it!
There are some jobs stick vacs just can't handle - so whilst Kärcher Wet & Dry Vacs are more than capable of your standard indoor cleaning, they are also built to handle the tough jobs.
Here are a few things Kärcher Wet & Dry Vacs can vacuum: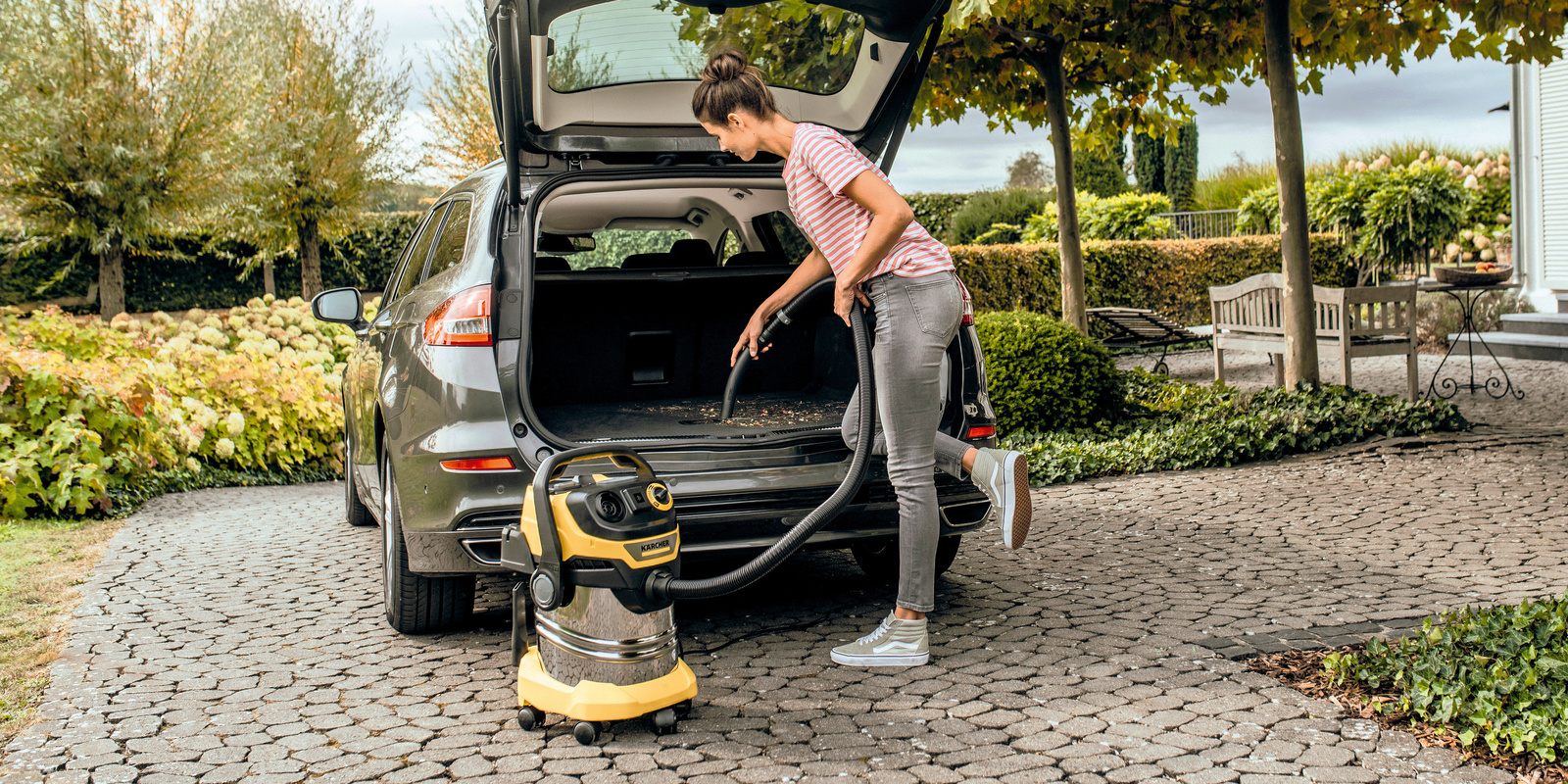 Car cleaning
Clean your car thoroughly with a Kärcher wet and dry vacuum cleaner. Its extensive range of accessories allows you to clean between seats and places that are difficult to reach.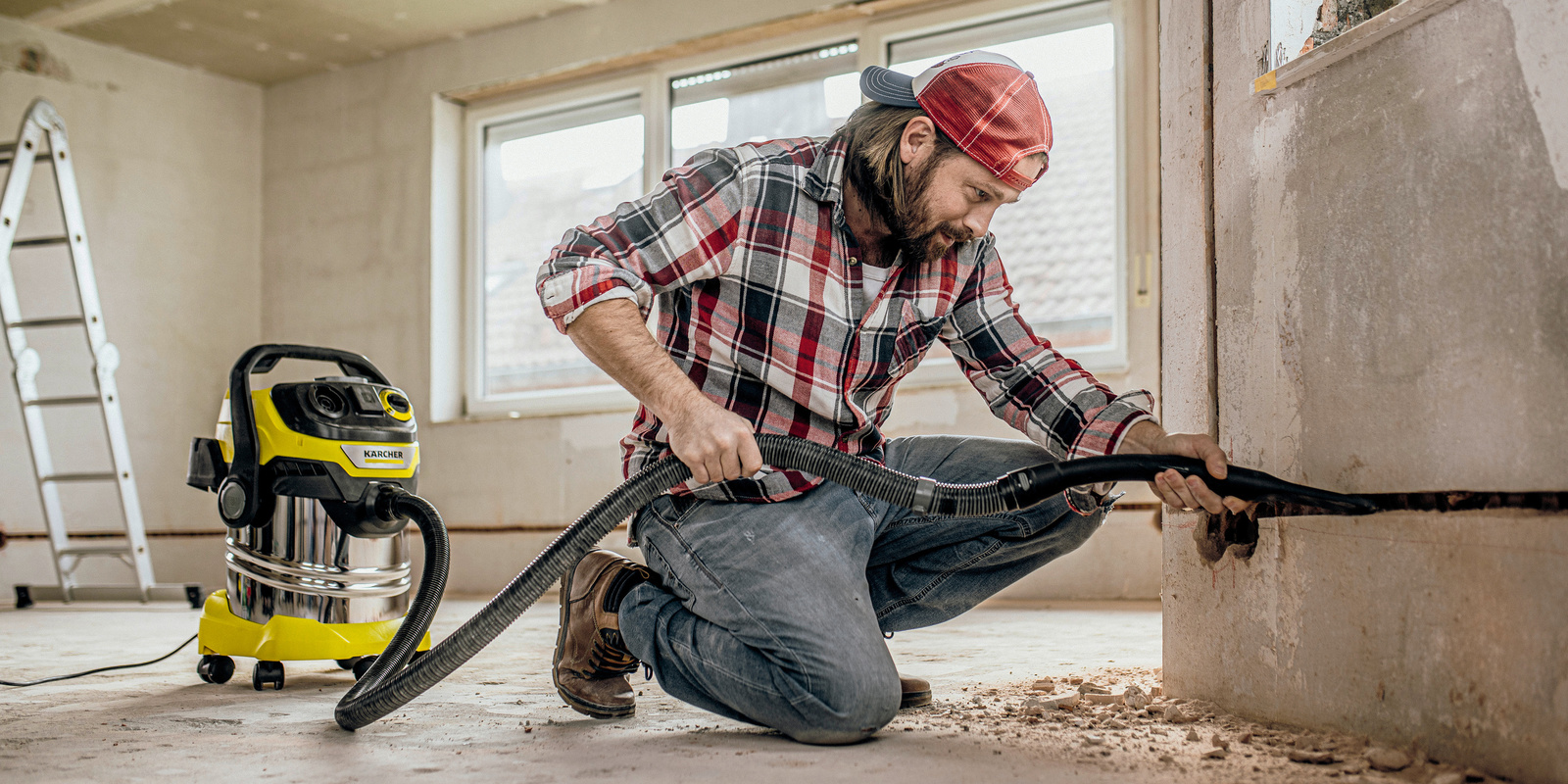 Renovation
The Kärcher wet and dry vacuum cleaners can also manage coarse rubble. The innovative filter system and consistently high suction power simplify the cleaning process and make it possible to work with low energy consumption. Even wet or damp rubble does not pose a problem.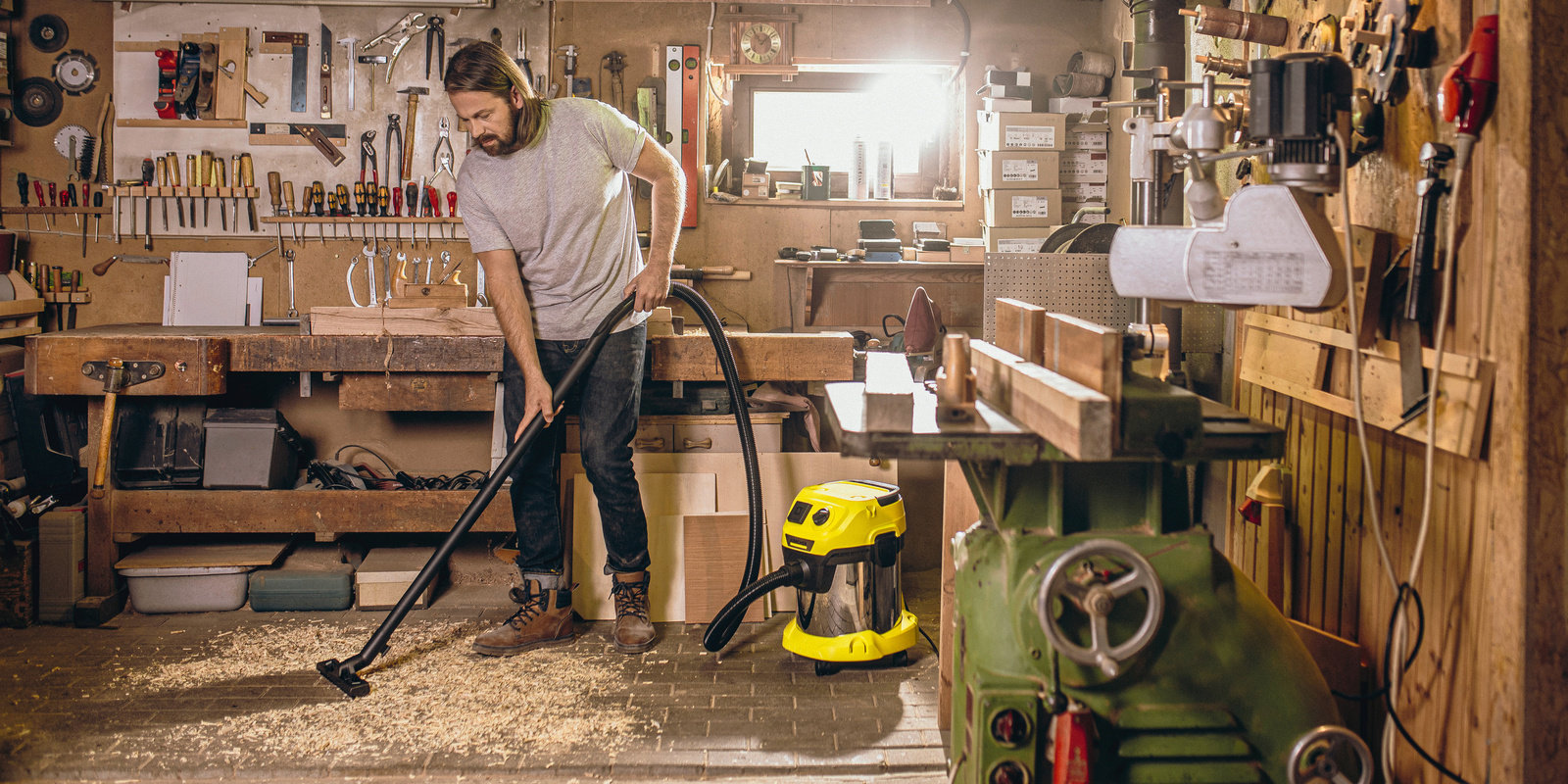 Workshop
Convenient dust removal for woodwork and work in the workshop. On models with a built-in power outlet, electric devices can be plugged directly into the wet and dry vacuum cleaner, which vacuums wood chips automatically as soon as you begin sawing.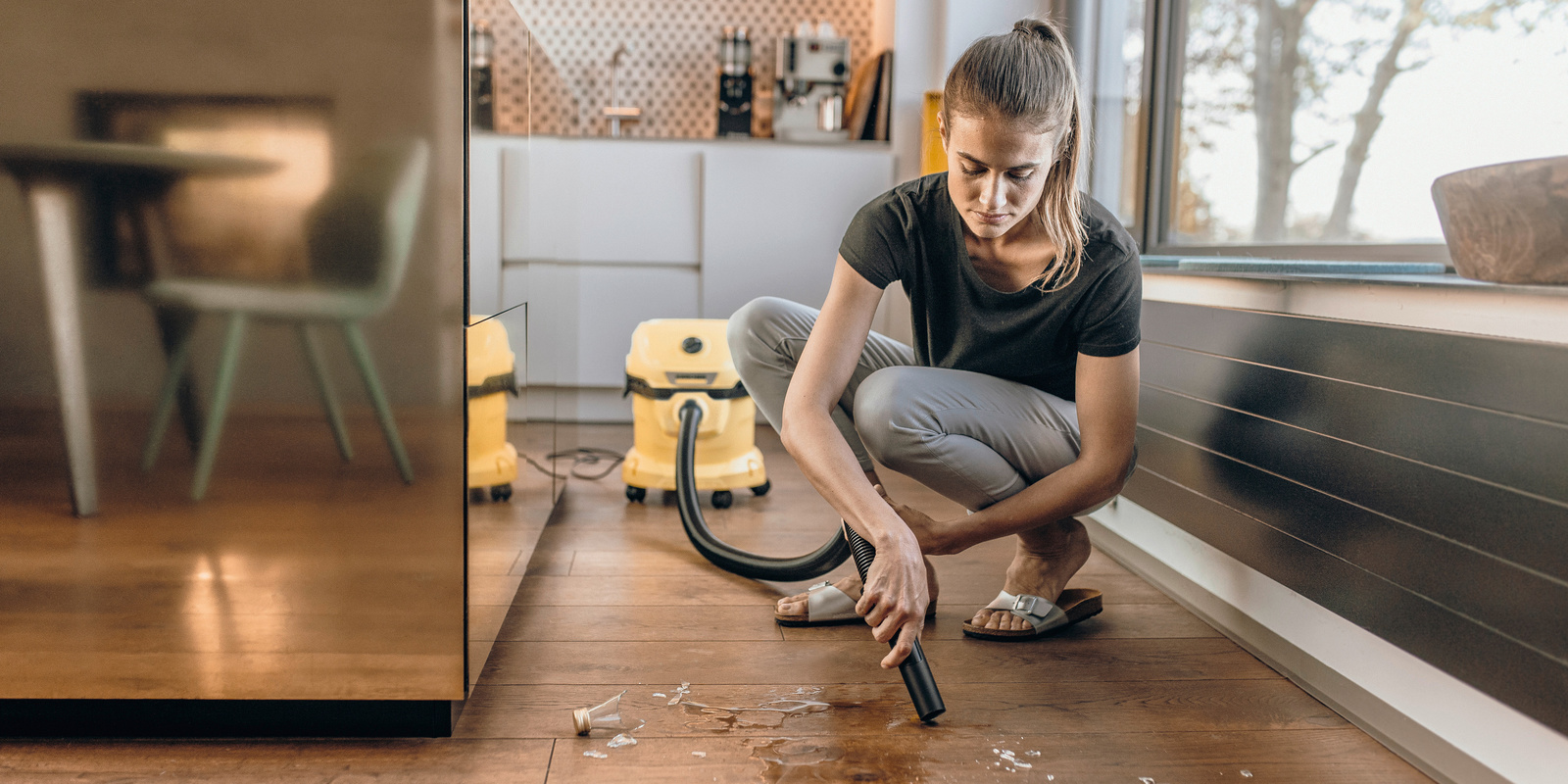 Liquids and shards
With our wet and dry vacuum cleaners, the name speaks for itself. Broken drinking bottles, small puddles or damp dirt are no problem at all, thanks to the high suction power, robust container and option to vacuum without a filter bag.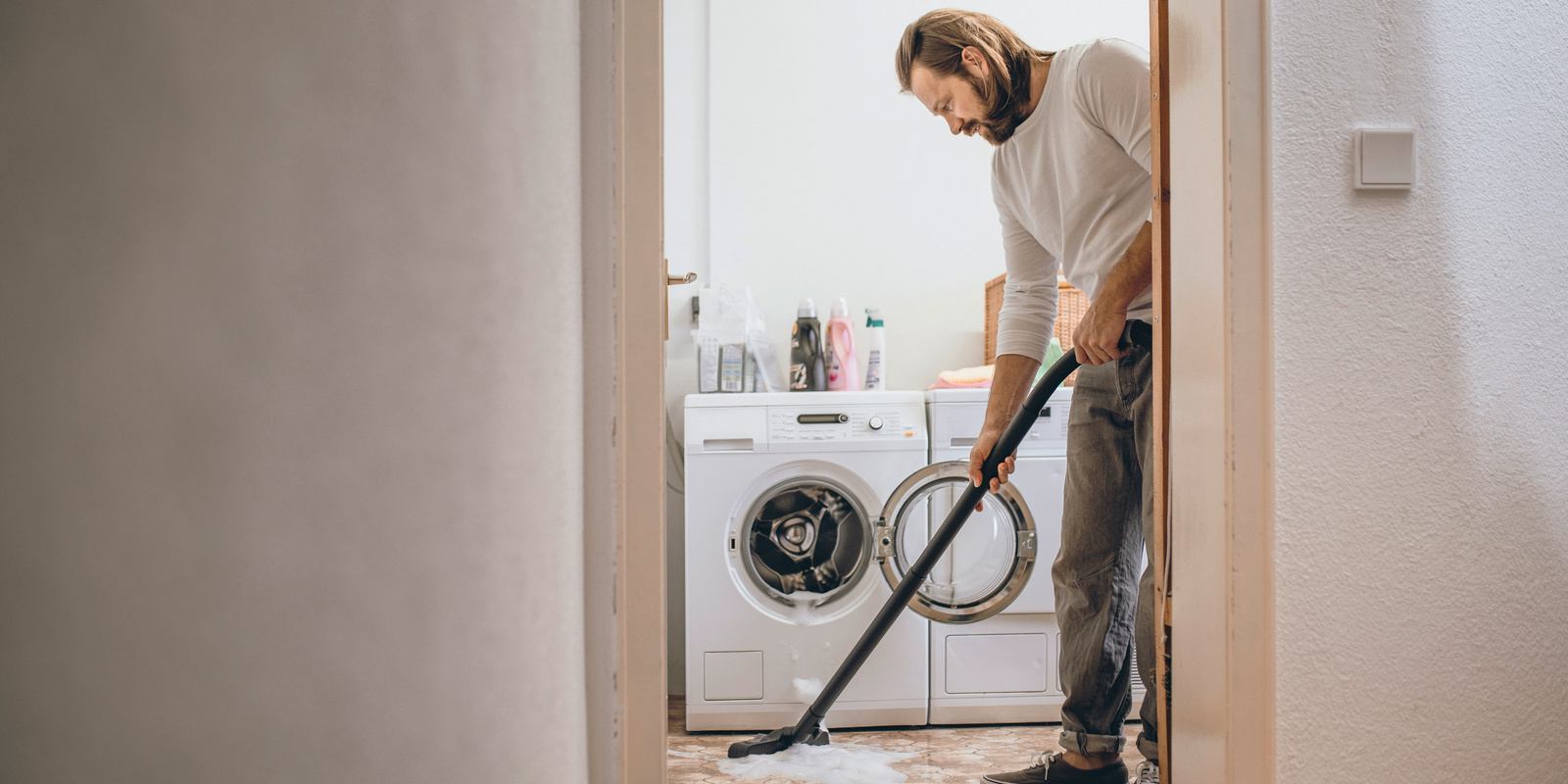 Leaked or spilled water
Large puddles have a variety of causes, yet in each case can be removed thoroughly with a Kärcher wet and dry vacuum cleaner. The large container ensures you can vacuum for long periods, as well as pick up large accumulations of water swiftly and effortlessly.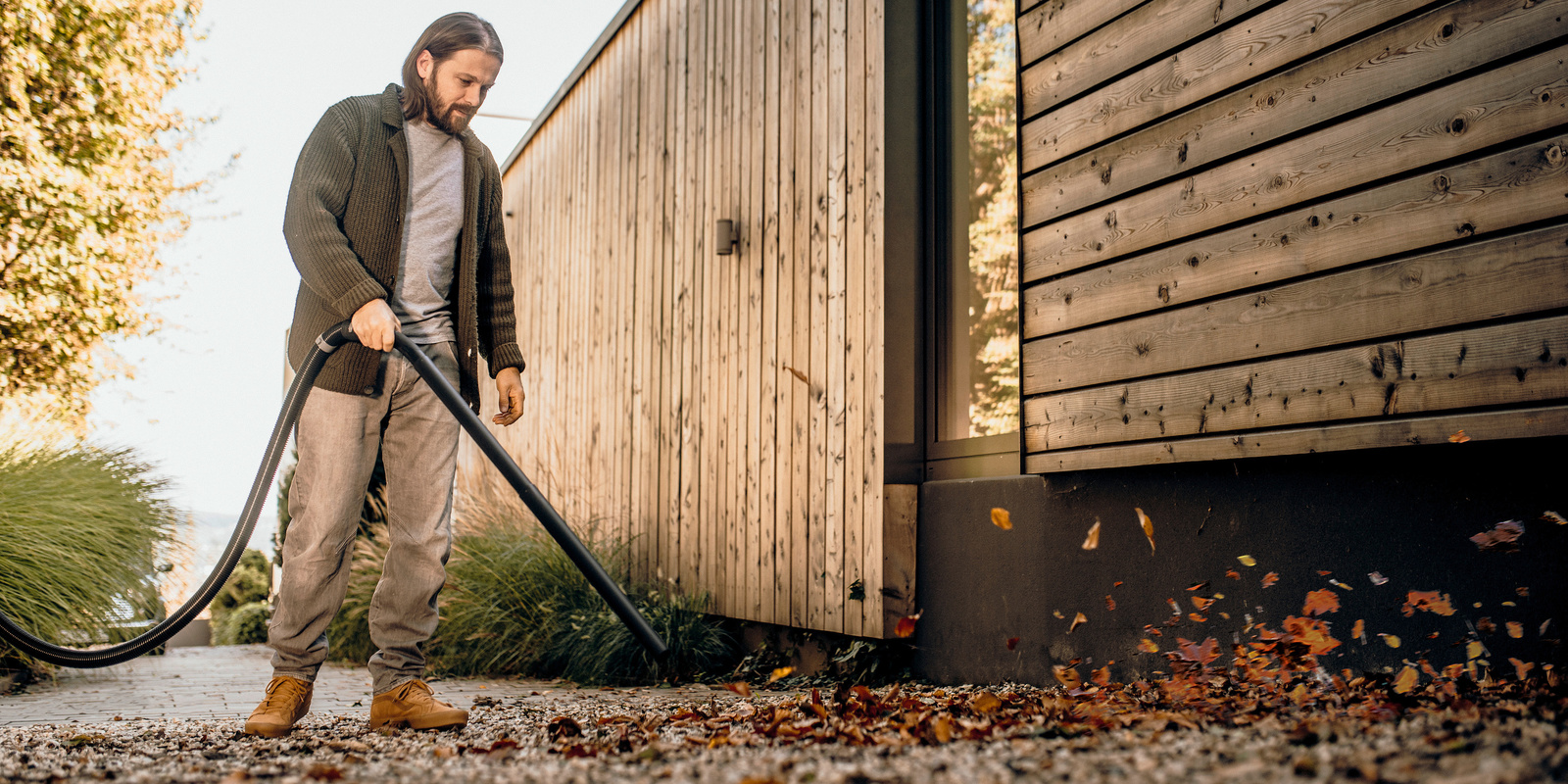 Garden
A wet and dry vacuum cleaner is a real help, even in the garden. Easily vacuum small twigs, gravel, leaves, or blow them aside using the blower function.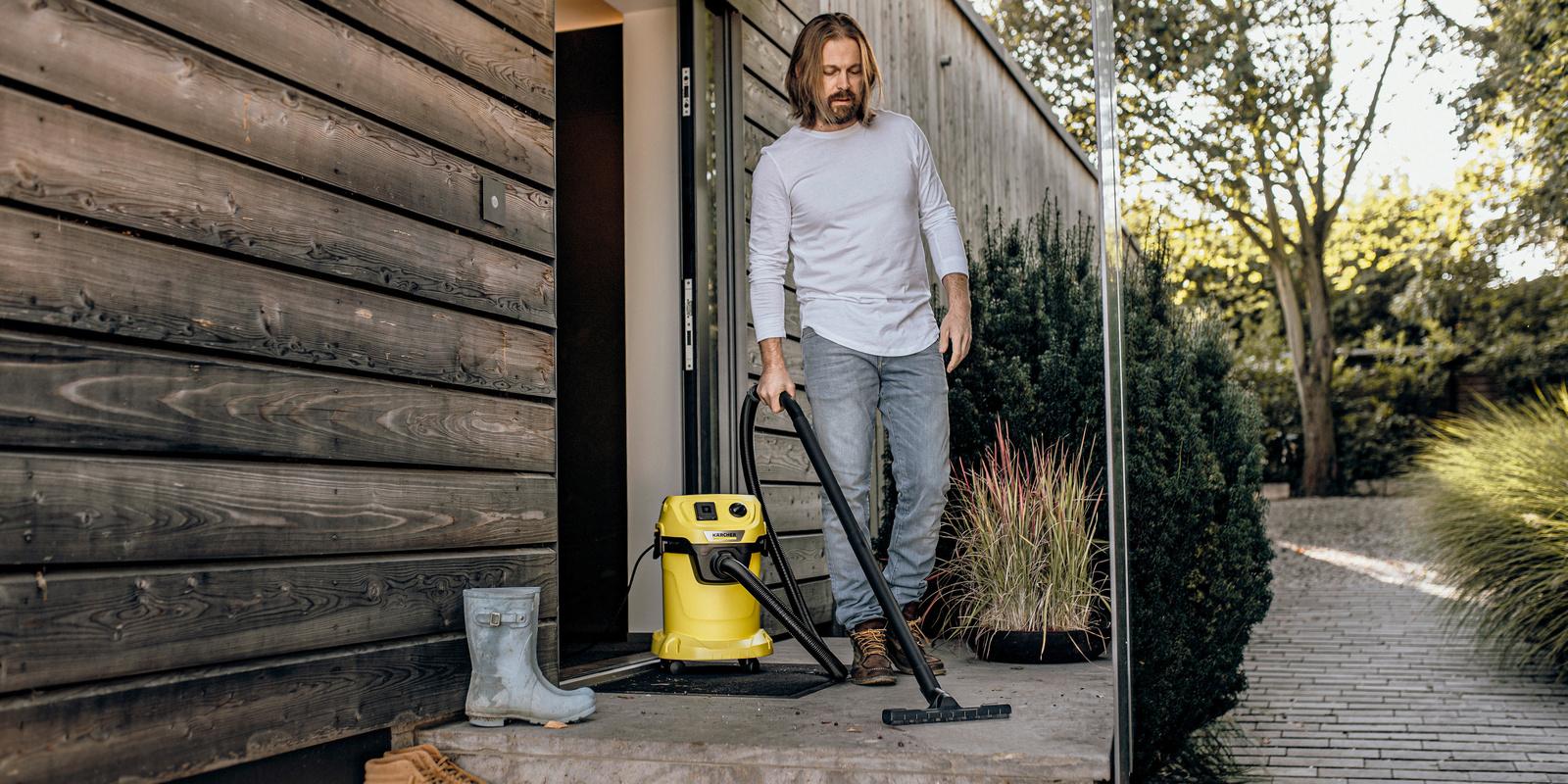 Outside area
Patios, garages, house entrances and stairs are clean again in no time with the wet and dry vacuum cleaners.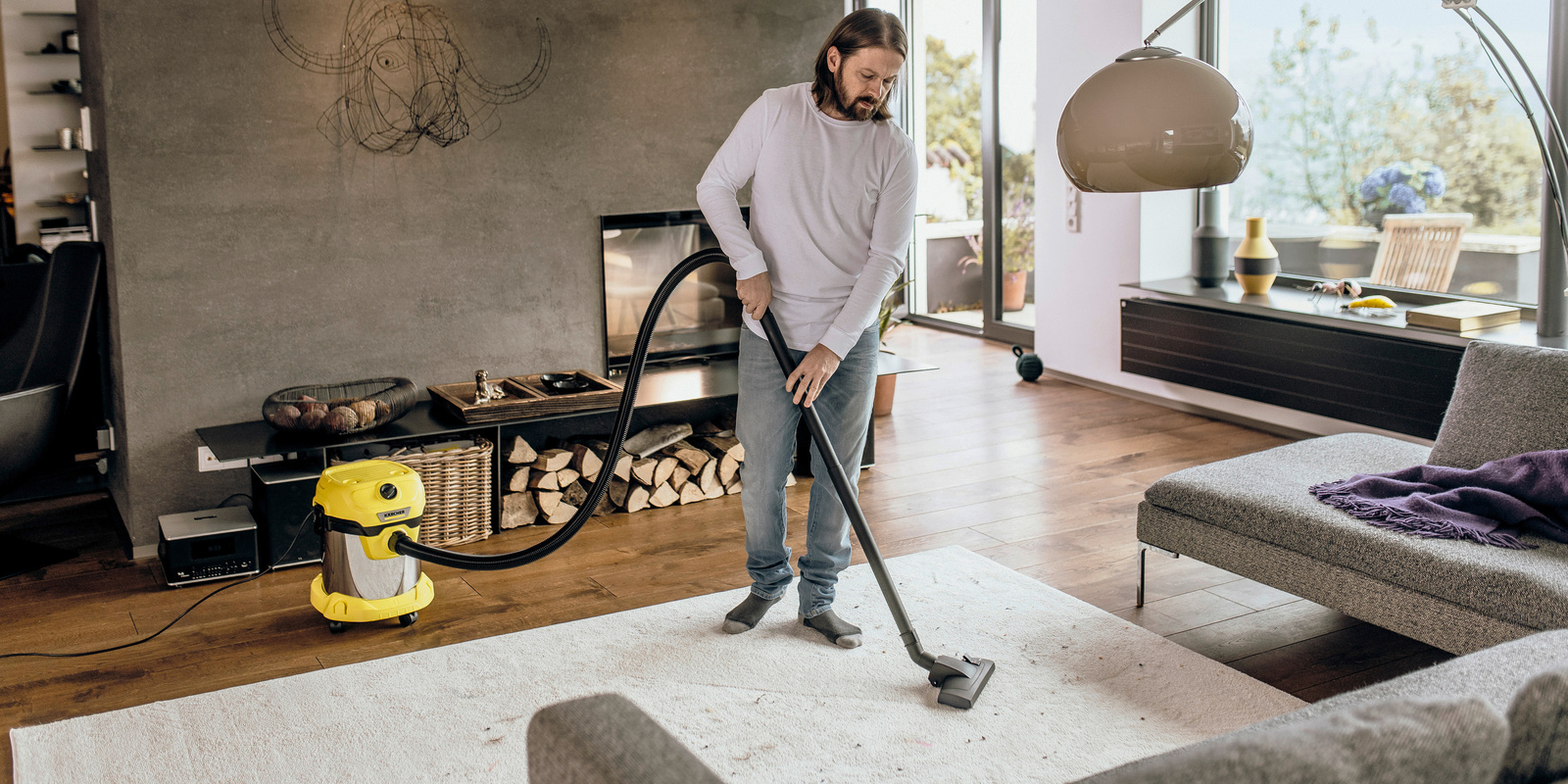 Inside area
WDs can be used just like normal vacuum cleaners for vacuuming in living spaces, offering the best cleaning results thanks to special accessories, such as the carpet nozzle.
Frequently Asked Questions
Level up your Kärcher Wet & Dry Vac With Our Accessory Range
If you're looking to level up your Kärcher Wet & Dry Vac, then our accessory range is for you!
Use the link below to browse:
Car cleaning kits
Soft brushes
Power tool kits
Nozzles
Extensions hoses
Filters & vacuum bags
Looking For A Tradie Vac Option?
If you're in need of a vacuum cleaner that can handle the mess around worksites, the Kärcher Tradie Vac is the perfect choice. It's specifically designed to tackle sawdust, plaster, rocks, rubble, and any other unwanted mess that comes with trade work. With a 2-year trade warranty, wet or dry vacuuming capabilities, and a generous 30L tank capacity, the Kärcher Tradie Vac is built to handle the demands of the job. Additionally, it boasts very low maintenance and operating costs, ensuring that you can focus on your work without worrying about the upkeep of your vacuum cleaner.