Cleaning garden furniture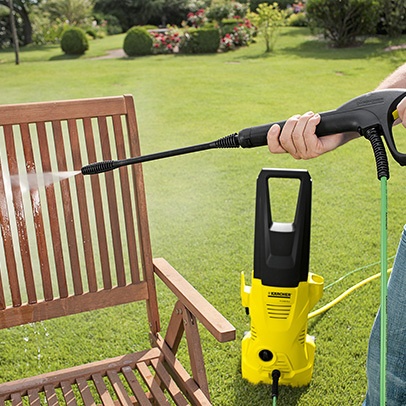 Pressure washing garden furniture
Cleaning garden furniture is one of those jobs that's easy to put off, but using a pressure washer makes it easy, quick and fun.
Pressure washing can also save you money and water: a garden hose with 4 bar pressure uses around 3,500 litres of water per hour, while a pressure washer with 100 bar pressure uses just 400 litres per hour.
Our Full Control models have an innovative trigger gun that makes it easy to adjust the pressure from gentle cleaning for delicate wooden garden furniture, or a more powerful spray for plastic. A wash brush like the WB60 can also be used to remove dirt from any garden furniture.
When cleaning wooden garden furniture, it's best to start with the nozzle further away and slowly move closer until you find distance for removing the dirt and bringing your garden furniture back to life.
Suitable devices and accessories