Industrial vacuum
IVS 100/55 M Z22
The IVS 100/55 M Z22 is a robust industrial vacuum, developed especially for dusts in Zone 22. It is driven by a side channel blower, which allows this machine to be used continuously.
The IV 60/30 is a very robust industrial vacuum. It is a partially mobile vacuum cleaner which finds versatile use in many target groups. Thanks to its construction and the many available industrial accessories, it can be used for a wide range of cleaning tasks. Its side channel blower ensures high suction power. Due to the type of motor, this machine is often used continuously. The side channel blower the machine employs boasts a long service life. The construction type and size of the machine make it mobile, allowing it to be used in multiple locations. If the vacuum cleaner needs to be switched off on a slope, two castors with brakes keep the machine in place. A removable dirt container with castors allows easy disposal of the vacuumed dirt. The built-in cyclone pre-separator filters out the majority of the dust when it enters the vacuum cleaner, thereby extending the filter's servicelife significantly. A filter with a large filter area and excellent separation performance (material M certified) allows long work intervals without interruptions. The accessories holder on the front of the machine allows convenient storage of all of the vacuum accessories. Small accessories or tools can be stored conveniently in the built-in accessory compartment. On the built-in cable hook, the cable can be securely stored while moving the machine, or slack cable stored during work. Manual, external filter cleaning ensures long work intervals and a long filter service life.
Features and benefits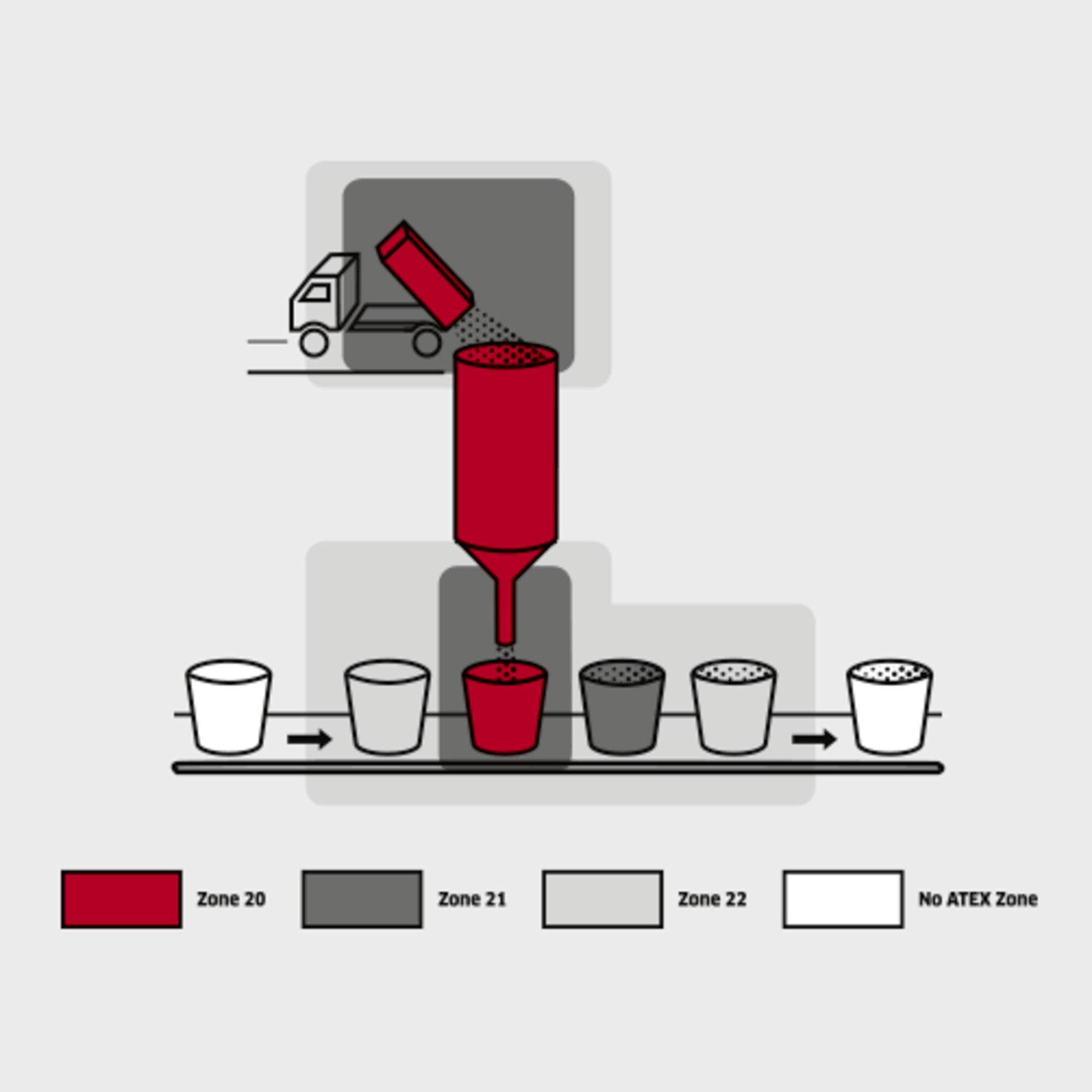 Suitable for zone 22
IVS Ex vacuums guarantee the highest level of safety thanks to the latest technology. Reliable vacuuming of health-endangering dusts, such as explosive dusts.
Power-saving soft start
Low starting current prevents power supply voltage dips. Low energy peaks ensure lower energy costs. Only low machine fuse protection necessary. (Up to 5.5 A,16 A fuse protection is sufficient.)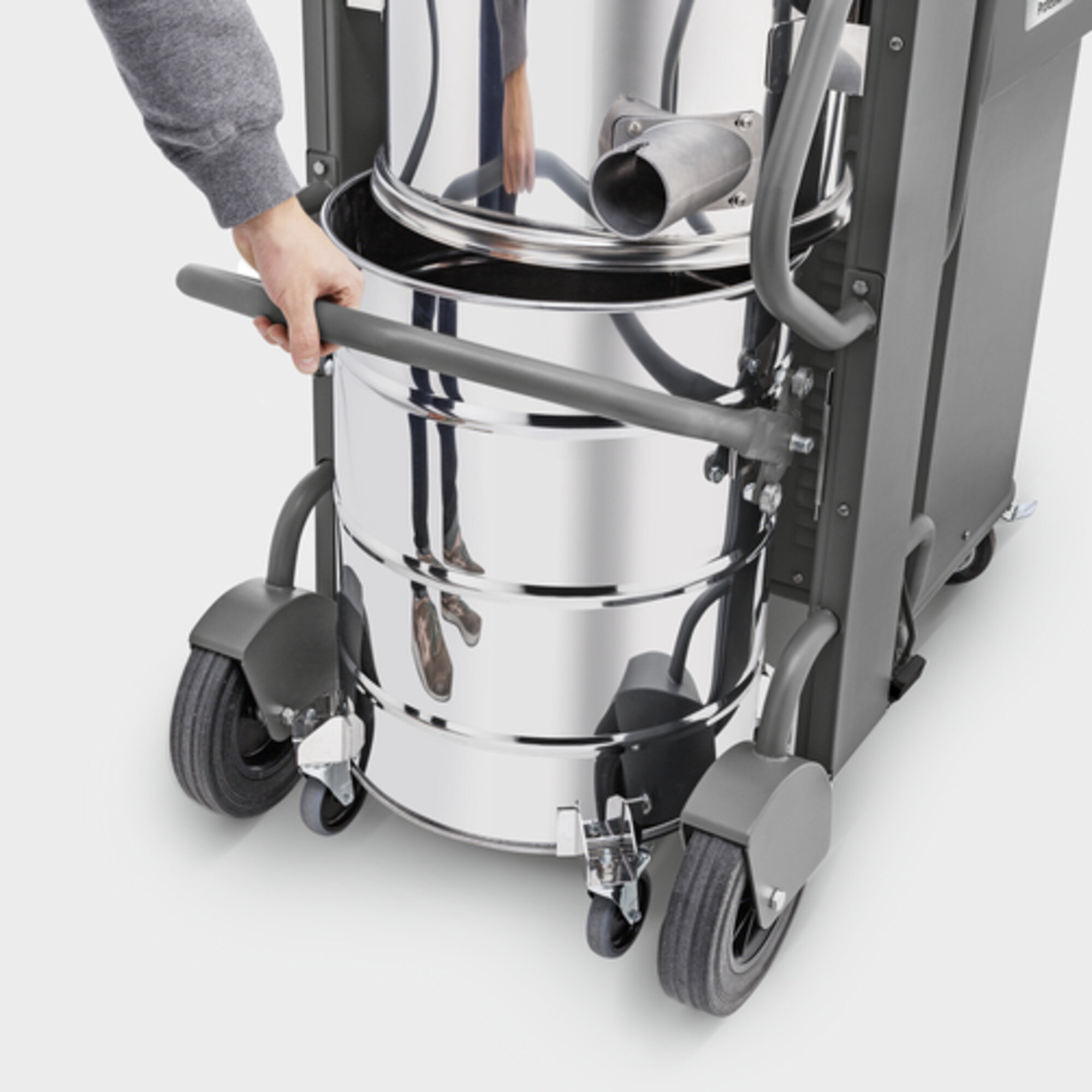 User-friendly set-down mechanism
Easy and time-saving container removal directly on the handle. The practical container handle serves as an aid for pulling and pushing the machine to the emptying point. Large industrial rollers ensure maximum mobility even on uneven floors and under heavy load.
User-friendly machine handling
Hose hook and accessory storage ensure fast tool access and tidy storage.
Integrated cable hook for secure cable storage.
Optional remote control
Convenient, time-saving operation of the machine in a single forward movement.
Optimal space utilisation: the vacuum cleaner can be stored in unused or safety areas.
Specifications
Technical data
Current type (Ph/V/

Hz

)
3 / 400 / 50
Air flow (l/s/m³/h)
138 / 500
Vacuum (mbar/kPa)
240 / 24
Container content (l)
100
Rated input power (kW)
5.5
Filter area (m²)
2
Nominal size
ID 70
Accessory nominal size
ID 70 ID 50
Sound pressure level (dB(A))
77
Weight without accessories (kg)
157
Weight incl. packaging (kg)
168.5
Dimensions (L × W × H) (mm)
1202 x 686 x 1500
Equipment
Accessories included with machine, no
Container emptying, Set down chassis