Agriculture
Cleaner solutions for greater success. Effectiveness and efficiency, cleanliness and hygiene, functionality and quality. As diverse as the requirements of animal husbandry, fish farming, arable farming, viticulture and forestry are – with innovative Kärcher cleaning appliances you can fulfil them all.
All Cleaning Great and Small
See our cleaning solutions for Agriculture in action:
From the biggest diesel-fired hot water pressure washer to the smallest compact yet powerful cold water machine - and a wide range of innovative products in between - Kärcher machines quickly and efficiently clean farm vehicles, yards and equipment, reducing risk of infections such as swine dysentery and salmonella.
Hygienically clean. Outstandingly fast.
High standards of hygiene are an indispensable component in professional animal husbandry, because assured quality is the first step towards optimal operating results. Regular, thorough cleaning of animal accommodation – pre-cleaning, disinfection and interim cleaning – are therefore essential to protect animals from germs and vermin. With Kärcher high-pressure cleaners and innovative 2K disinfection systems, these cleaning tasks can be completed quickly, easily, efficiently and effectively. As a result, you benefit not only from improved levels of hygiene and healthy livestock, but above all you save time and money on expensive medications.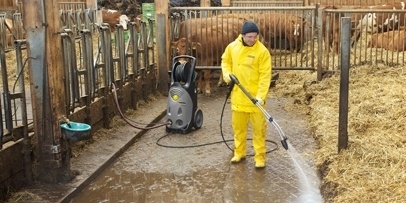 Cattle Farming
Ideal coarse cleaning with high pressure, for example for faeces and food remains in calf igloos and resting areas.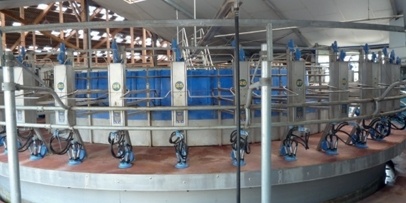 Dairy Cows
Hygiene is paramount wherever germs gather. That's why our high-pressure units and patented foam disinfection are the first choice in milk storage rooms and rotary milking parlours.


Pig Farming
Cleanliness and hygiene are what count when it comes to rearing animals. Kärcher cleaning and disinfection systems are ideal for stable facilities, both during animal rearing and before animals are relocated.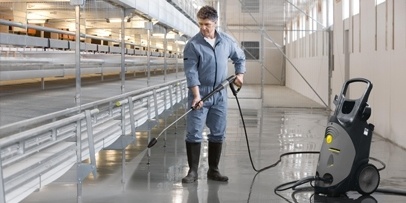 Poultry Farming
Don't give bacteria, viruses and pests a chance: effective disinfection for poultry production and rearing young animals, as well as final cleaning during the service period of egg production and hatchery disinfection.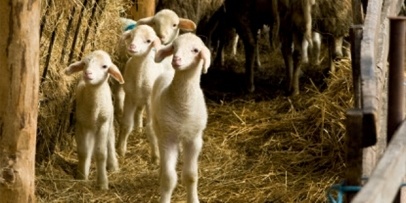 Sheep, goat and horse rearing
Our high-pressure cleaners are ideal for deep cleaning barns and stables. Droppings and dirty bedding can be removed easily.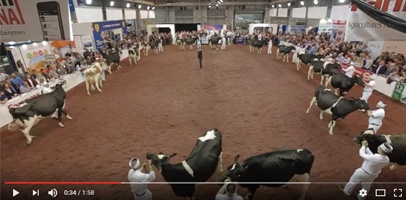 UK Dairy Day
We have a strong presence across the Agriculture show grounds throughout the summer session, often we go beyond just exhibiting and provide the event venues with our machines so they can quickly clean up and hand the venue back over to the organisers. See what we did to help out UK Dairy Day show: click here
Our products for animal husbandry – pigs/pig rearing
Our products for animal husbandry – cattle/rearing/dairy cattle
Our products for animal husbandry – poultry/rearing/eggs
Cleaning to retain value
Professional production requires high-quality machines that can be relied on for years. It is therefore essential – particularly for high-performance machines for arable farming and viticulture – to preserve their functionality in the long term through regular cleaning and maintenance. With Kärcher, retaining the value of your systems is easy: effective cleaning systems, a diverse range of applications, a full range of accessories and last but not least, lots of innovations, e.g. the time-saving BC 14/12 barrel cleaner, help you to protect your investments. Consequently, our machines guarantee not just clean systems, but also fewer costs, since expensive new acquisitions are deferred.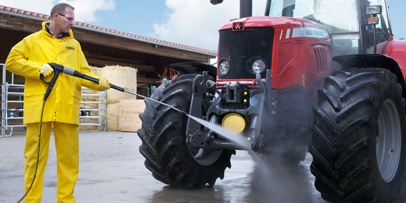 Machine cleaning
Agricultural machines have to deal with a huge amount of mud. When used with hot water, Kärcher high-pressure cleaners thoroughly remove stubborn crusts, oil and grease residues, while also protecting against corrosion.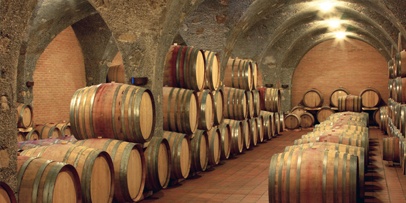 Barrel cleaning
Easily achieve a barrel that looks as good as new: with the Kärcher BC 14/12 you can clean your barrique barrels practically and quickly without having to awkwardly reposition them. All deposits from the processes of fermentation, ripening or years of storage are efficiently removed without residues.
Our products for arable farming
Our products for viticulture
No challenge too great.
Exceptional challenges call for exceptional solutions: whether this means fulfilling legal requirements in the fish farming industry or tackling difficult jobs in forestry, with Kärcher you will be ready for anything. We offer solutions for disinfection of your rearing tanks, complete hygienic cleaning of transportation vehicles with special disinfection requirements, and easy removal of bark and cambium. Our advanced and efficient machines will enable you to work even more quickly and effectively, no matter what cleaning challenge you have to tackle.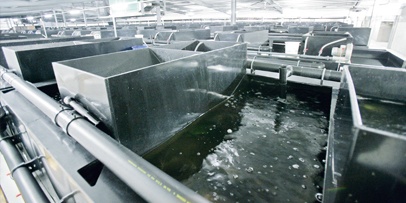 Fish farming
Every surface hygienically clean: with our 2K system, you can quickly and efficiently disinfect breeding/storage tanks, as well as your vehicles and containers before and after transport. Two components work efficiently and in an environmentally friendly way in the high-pressure foam process to combat bacteria, viruses and vermin. And all of this with a low dosage, at almost any temperature and in an extremely short period of time.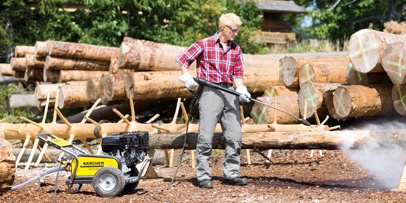 Forestry
Avoid pest infestations, accelerate drying – with Kärcher high-pressure cleaners you can reduce timber loss during debarking and increase efficiency. Our robust cage machines for difficult terrain are most suitable here. Once you have completed your work you can clean your vehicles and machines on your company premises using stationary high-pressure cleaners.
Our products for fish farming
Our products for forestry