Food industry
As a world leader in cleaning technology, we offer technical and cost-effective solutions for food processing in every area of production, as well as office areas and outdoor facilities, from standard machines to complete custom-made solutions and from consulting and planning to initial start-up and full service.
Meat, poultry and fish processing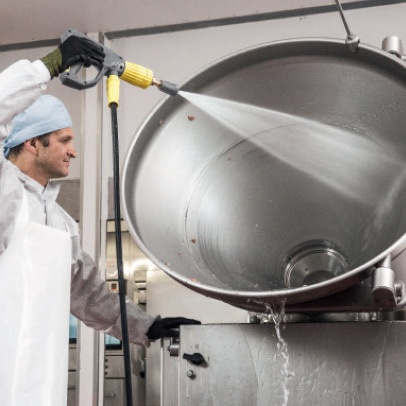 Cleanliness without compromise
Being thorough, fulfilling hygiene requirements and time are what counts when cleaning in abattoirs. And this is no easy task given the stubborn dirt such as blood, fats and proteins.
Hygiene starts in the delivery area. Use our hot water high-pressure cleaners and 80 °C hot water here. Cleaning with hot rather than cold water at the same pressure is far more effective, as proteins, fats and oils are also removed. You achieve better cleaning results with hot water at the same pressure and save up to 35 % in working time, while also significantly reducing the amount of germs using little or no disinfectant and protecting the environment. Our hot water high-pressure cleaners can raise the water temperature to as much as 155 °C in the steam stage.
Slaughter floors and cutting rooms
Kärcher cleaning agents are made for deep cleaning, and reliably remove blood, fats and proteins. To this end, our mobile, stainless steel Hygiene high-pressure cleaner, with abrasion-resistant hose and EASY!Force Food high-pressure gun – which uses the high-pressure jet's recoil force and reduces the holding force to zero – are ideal. Using the Inno Foam Set with dual spray lance, you can apply the cleaning agent and rinse it clean with water after the contact time in a single pass. You can use our disinfectant and disinfection cleaning agent to reduce the bacterial count.
Cold storage rooms
Cleaning the cooling fins with our steam cleaners can greatly increase the efficiency and lifetime of your cold storage rooms. Our steam vacuum cleaners and steam cleaners are HACCP-certified and can often achieve first-class cleaning results entirely without cleaning agents. The automatic self-cleaning action also prevents the formation of germs inside the machine upon completion of the work.
Baked goods and confectionery production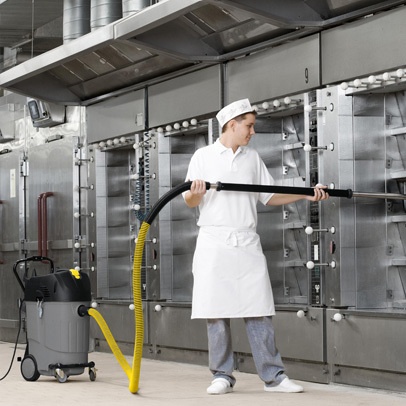 Much more than simply vacuuming
So that you can overcome various types of dirt such as fine flour and sugar dust, sticky pastry and confectionary leftovers or stubborn encrustations, we offer you the complete range of cleaning solutions in the Kärcher System.
From delivery of the raw materials right up to dispatch by vehicle. For flour silos without integrated cleaning systems, you can choose one of our modular system solutions for tank and silo cleaning, which we can adapt to your individual requirements.
Pastry and confectionary processing
Our tailor-made dust vacuuming units suck up flour and sugar dust directly at the source, meaning other units are not made dirty and your production line runs seamlessly and without any downtime. You can also use our mobile vacuum cleaner for dust classes L/M/H as well as for potentially explosive atmospheres (Zone 22).
Ovens
Thanks to our Oven Set, you no longer need to allow hot ovens to cool down before cleaning. The plastic container is acid, lye and heat resistant.
Cleaning without water
Conveyor belts, installations with electrical components and all areas which must be dry cleaned or are a direct part of the production process can be freed of stubborn dirt with dry ice – and all without a single drop of water. No dismantling is necessary, as the process involves using compressed air to discharge pellets of carbon dioxide frozen at -79 °C. When these pellets come into contact with the surface to be cleaned, the surface will cool and the protective film will melt away. The pellets disappear quickly and you can simply vacuum up the dirt.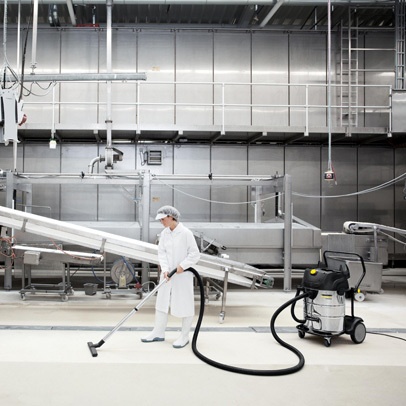 Cleanliness is essential
Ready meals are complex recipes for which the cleanliness and hygiene requirements are very high during production.
When producing ready meals, raw materials and ingredients with the most diverse properties are combined. The danger of cross-contamination grows with the complexity of this process, which you can only prevent through optimal cleanliness and hygiene. For the reliable removal of large quantities of dirt from conveyor belts, production systems and floors, our powerful wet/dry vacuum cleaners with two motors, stainless steel containers and electronic filling level monitoring are ideal. You can also use our Hygiene high-pressure cleaners in rustproof stainless steel, which are resistant to hot water up to 85°C and have two detergent tanks with rinsing functions. All brass parts coming into contact with water are food safe.
Spotless surface areas
Large surfaces can be cleaned economically and efficiently with our individually adjustable vacuum sweepers and scrubber driers in various sizes and models. Our ride-on vacuum sweepers with Tact automatic filter cleaning achieve optimal cleaning results. The roller brush on the rear axle ensures that high kerbs can be driven over easily. And our step-on or ride-on scrubber driers not only save time, thanks to automatic fresh water filling, but also significant amounts of cleaning agent thanks to Dose, the precise, consistent cleaning agent dosing unit which is adjustable from 0 to 3 %.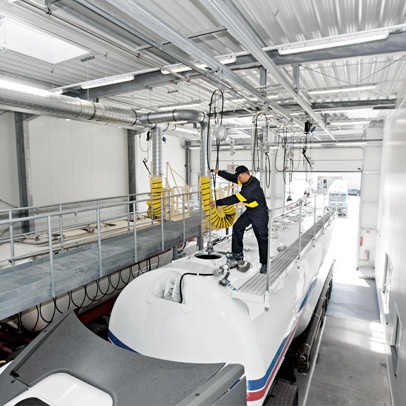 Hygienic and germ-free
Dairy products are particularly susceptible to contamination. Professional cleaning and disinfection are indispensable in all areas in dairies.
Ensure cleanliness and hygiene with our system solutions for the professional, complete cleaning of milk tankers, with the outside being cleaned by commercial vehicle washes with specific cleaning agents and environmentally friendly water treatment systems. Our TB commercial vehicle wash is reliable, economical and flexible, while the system offers you durable, low-maintenance technology, unlimited modularity and easy operation. For interior cleaning, you have at your disposal our modular system with customer-specific spray heads and subsequent drying, thus reducing your cleaning time and downtime.
No spot is left untouched
Our high-pressure pump and rotating pipe cleaning nozzle system is the ideal fit for pipelines. With our white Hygiene high-pressure cleaner and accompanying accessories, such as the Inno Foam Set, cleaning and disinfecting your production systems are quick and effective. And using a curved high-pressure lance, you can remove dirt, for example from pipes on the ceiling, with ease. To remove water and lime residue from underneath machines and from hard-to-reach areas, the flat Surface Cleaner with suction fits the bill, cleaning surfaces quickly without splashing and automatically vacuuming the dirty water.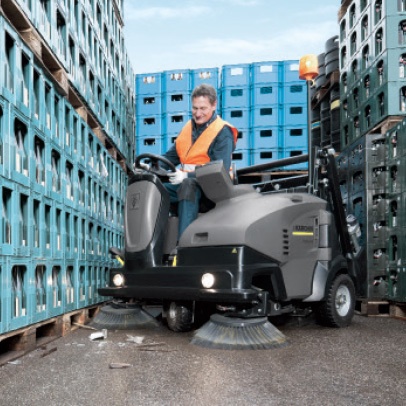 Refreshing cleanliness
In order to produce drinks of a consistent quality and impeccable taste, cleaning must be optimally carried out in the manufacturing process.
Using our ride-on vacuum sweepers with sweeping crescent side brushes, you can protect goods in outside and storage areas against dirt. Large areas and corners can be swept with ease and in no time in only a few passes. Further advantages are offered in the shape of electrohydraulic high container emptying, fully automatic Tact filter cleaning for virtually dust-free cleaning, and the Kärcher Intelligent Key System, which allows you to assign different rights to different users. Tanks, containers and pipelines can be cleaned with our mobile high-pressure cleaners as well as our stationary high-pressure units with several points of use. Stationary highpressure units can be made ready to use any time at the push of a button, without set-up times and without having to transport mobile machines. And with accessories such as the pipe cleaning hose and nozzle, pipes are clean inside and out. The hose works its way through the pipe using the pipe cleaning nozzle, with four nozzles set at a 30° angle.
Deep cleaning with steam
High humidity in the drinks production process encourages the formation of mould. By cleaning critical areas with our steam cleaners, you can achieve effective disinfection entirely without chemicals – as certified by an independent laboratory. Our stainless steel Surface Cleaner with automatic dirty water suction also allows you to clean walls with hot water up to 85 °C. For narrow corridors and storage areas, our fully configurable scrubber driers are available – brush heads, squeegees, mains or battery operation and additional equipment details can be added according to your requirements.
Fruit and vegetable processing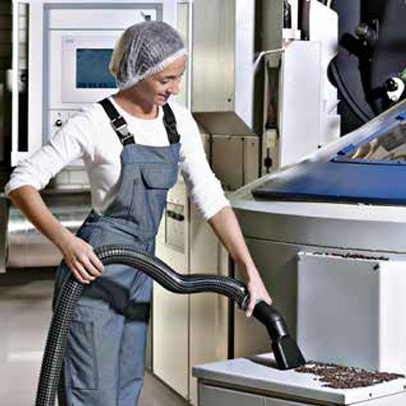 Clean as a whistle
When processing fruit and vegetables, avoiding crosscontamination, grime and corrosion are essential cleaning tasks.
Natural products often bring dirt in during delivery, but with our individually configurable machine carriers you can clean outside areas quickly and thoroughly. The toolless quick-change system for a variety of implements allows you to convert your sweeper for mowing the grass or winter service in no time at all. In interior areas you can use our manoeuvrable ride-on scrubber driers for floor cleaning, with a V-shape squeegee blade ensuring any dirt is removed. What's more, you achieve even better hygiene with the optional tank rinsing system, and see water savings of up to 70 % compared with cleaning with a water hose.
Hygiene in production and filling
Clean and disinfect your production systems quickly and effectively with our white Hygiene high-pressure cleaner with integrated hose reel, food-grade high-pressure hose, grey, robust wheels and accessories suited to the task. You can choose between high- pressure point stream, high-pressure flat stream (25°) and low-pressure flat stream (40°). The low-pressure flat stream (40°) is used for applying cleaning agent, while the cup foam lance is the right accessory for cleaning production systems. Our barrel cleaner offers a modular system with cleaning heads for up to 200 bar operating pressure, water temperatures up to 90 °C and alkaline or acidic cleaning agents for the cleaning of barrels, stainless steel containers and intermediate bulk containers. Large quantities of fruit and vegetable waste can be easily cleared with our wet/dry vacuum cleaners, and liquids can be thoroughly picked up using the wide nozzle. Finally, you can empty the container with ease thanks to the drain hose.
Grease and oil processing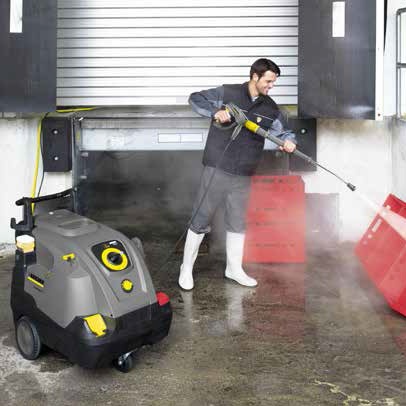 Hot solution against oil and grease
Grease and oils are stubborn residues due to their consistency and staying power. We provide you with the solutions for residue-free removal.
Using hot water gives instantly measurable results, softening congealed oil and grease and improving emulsification, making them very easy to remove. Cleaning agents are largely a thing of the past. Where required, the combination of our cleaning agent and the precise cleaning agent dosing unit with rinsing function ensure consumption is kept to a minimum. In addition, the proven germ reduction step follows cleaning with hot water, which also meets many hygiene requirements without disinfectant. The significantly quicker dirt loosening gives you a time saving of up to 35 %. Our stationary and mobile hot water high-pressure cleaners are fitted with innovative burner engineering for high heating output and are extremely user-friendly, with the best example being the infinitely variable water pressure and water flow regulation with Servo Control on the high-pressure lance. For the cleaning of production systems and conveyor belts, our stationary hot water high-pressure units with very high heating output are the most efficient solution. An automatic stainless steel hose reel on the point of use allows you to reach any area to be cleaned.
Powerful cleaning with easy operation
Yet stubborn dirt can also be removed by the cold – our Dry Ice Blaster uses dry ice pellets formed from carbon dioxide frozen at -79 °C.
The result is perfect cleanliness.
And when it comes to vacuuming large amounts of fluids, it is best to use our highquality industrial vacuum with an easy-to-clean stainless steel container.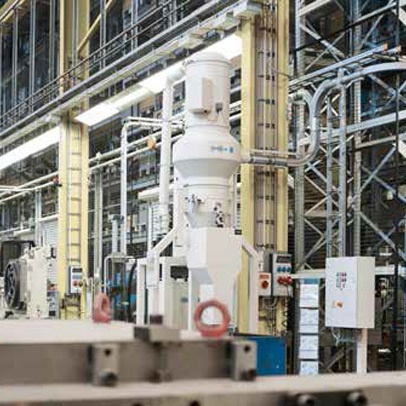 Clean feed for all animals
The manufacture of highquality feed for working animals and pets sets high requirements with regard to cleanliness and hygiene in production.
Large quantities of dust – be they dry, sticky or wet – are released during the production of dry feed. If needed for mobile use, our industrial vacuum cleaners with stainless steel container mean you are well prepared. For example, our stationary dust removal and extraction systems with static dissipative hoses and various nozzles are tried and tested, allowing you to remove vast amounts of dust quickly, even during shift operation. You can also clean silos and tanks hygienically using our modular system solutions configured according to your needs. Our components can be combined as desired: interior cleaning heads, high-pres sure pumps, hot water generators, controls, accessories and cleaning agents.
Online fleet management in real time
With Kärcher Fleet, you have the latest in fleet management technology for cleaning machines and can optimise the efficiency and lifetime of your equipment. Our machines are also compatible with products from other manufacturers.
Healthy working conditions
Due to the often hot and dry air in production areas, your employees must drink regularly. Our configurable WPD water dispensers make five different hygienic, food-grade water types available: still water, ambient or chilled carbonated water, hot or extra hot.
REQUEST A DEMO \ GET IN TOUCH