Steam vacuum cleaner
Kärcher steam vacuum cleaners feature high operating comfort and effective cleaning performance on all hard surfaces. The extensive range of accessories ensures targeted cleaning.


Meeting the highest standards. And setting new ones.
When the job is hygienically cleaning up stubborn dirt, the right answer is Kärcher SGV steam vacuum cleaners. In many cases they can achieve top-class cleaning results even without detergents. On hard floors, stainless steel surfaces, fittings, kitchen appliances, industrial systems and in glass cleaning. When it comes to sustainability, the SGV 8/5 is breaking new ground. Innovative self-cleaning reliably removes deposits inside the machine itself, prolonging the life of the steam vacuum cleaner.
Easy right from the start
The manual tool guarantees easy and fast handling without long training
times. Operating an SGV steam vacuum cleaner is intuitive, with no need
for special training.

All there, all protected
The high-quality accessories are integrated directly in or on the machine
– protected against loss and dirt, well organised, and always within reach.
Ventilation slots in the cover allow the accessories to dry completely after
use. Accessories are stored for easy access and protected against loss.
The accessories basket makes it easy for operators to remove and clean
nozzle accessories.
All programs at a glance
The ergonomic push handle and perfectly positioned EASY operation panel
make working with Kärcher SGV steam vacuum cleaners wonderfully simple
and easy. The programs can be selected individually for each application
case.
Fast filling, easy emptying
The tanks for fresh water and detergent are readily accessible and easy to
carry for convenient filling and emptying.
Dirty water tank
The dirty water tank is integrated into the side of the machine for quick
access and can be removed very easily with just one hand.
In demand everywhere. Can go anywhere
With their large wheels, Kärcher SGV steam vacuum cleaners take stairs in
their stride, eliminating hurdles for hygiene.
Self-cleaning? Of course!
The self-cleaning function automatically rinses the inside of the steam
vacuum cleaner after each use, which can significantly prolong the life of
the machine.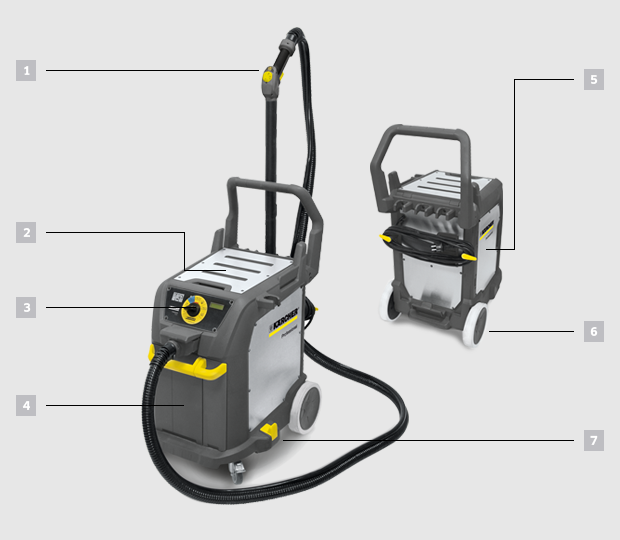 Full steam ahead for hygiene.
The new SGV 6/5 and SGV 8/5 steam vacuum cleaners are the resolute positive to customer requirements in areas where hygiene is a key consideration: health care, food, contract cleaning services and the hospitality industry. Kärcher SGV steam vacuum cleaners combine the functions and features of wet and dry vacuum cleaners and steam cleaners. These innovative cleaning machines also feature a compact design, a wide variety of possible applications, high quality, robustness and stability.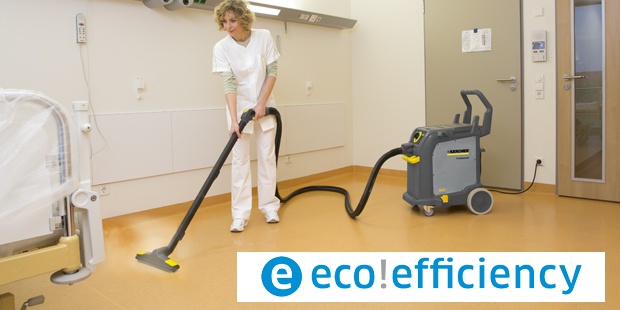 eco!efficiency

for economical hygiene

The eco!efficiency mode reduces power consumption to reduce operating costs, and at the same time the noise level is signifi cantly lowered to 64 dB(A). This makes SGV steam vacuum cleaners ideal for use in noisesensitive areas such as retirement homes and care facilities, canteens and hotels.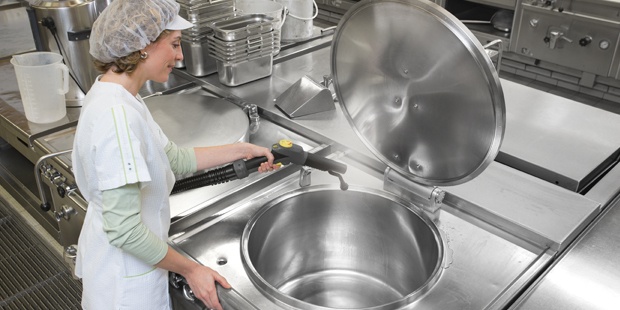 Hygienically clean down to the last detail
Accessory brushes made from brass, stainless steel or Pekalon loosen even the most stubborn dirt. Crevices are cleaned quickly thanks to pinpoint steam output.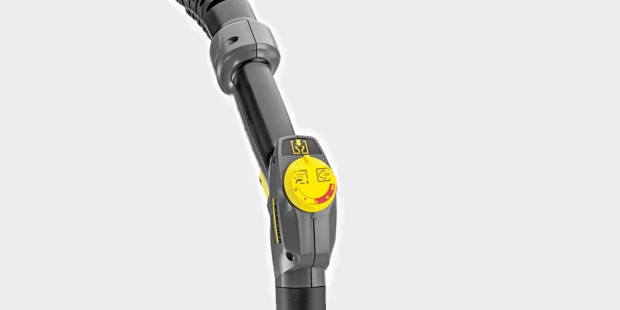 Adjustable at the handle
Water/steam adjustment and a vacuum on/off switch directly on the handle give the operator full control during use.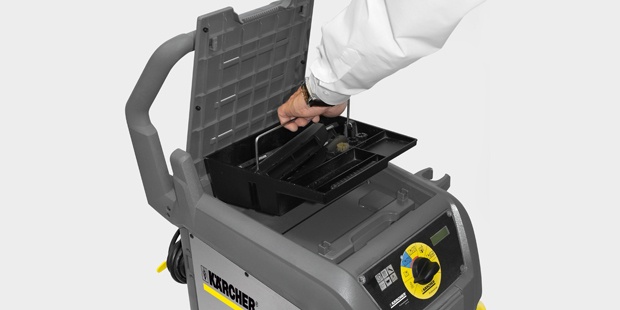 Perfectly integrated accessories
The accessories are carried on the machine, protected against loss and dirt, in a detachable accessories basket. Well organised, always accessible and neatly stored.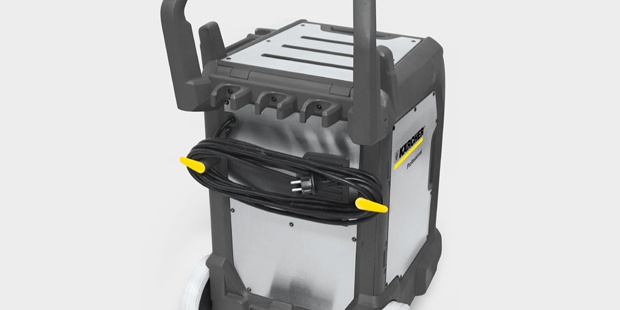 Cord and accessory attachment
Pivoting hooks allow the power cord to be quickly extended and easily stored. The steam suction pipes are reliably held on the back of the machine.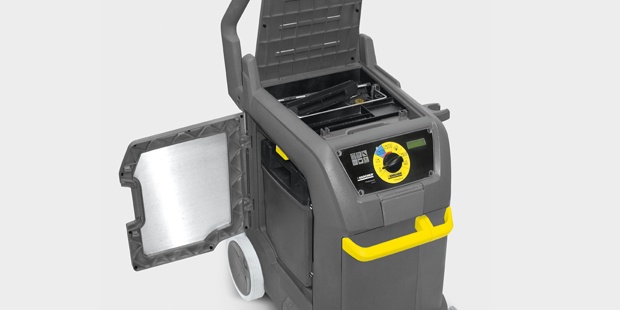 Dirty water tank
The integrated recessed grip and practical handle make emptying the container very easy and convenient.
The right accessory for every application.
Every SGV steam vacuum cleaner comes with an extensive accessory kit that enables hygienic cleaning in an extremely wide variety of application areas.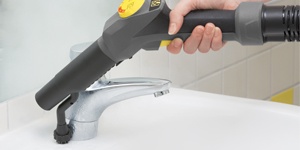 Adapter and brushes
Calcification in sanitary areas is quickly removed. Fittings shine like new.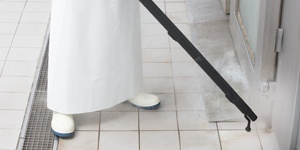 Steam suction pipe and adapter for round brushes
Two steam suction pipes extend the operator's reach and facilitate ergonomic working. The round brush adapter enables dirt removal down to the deepest layers – ideal for joints in tiled surfaces.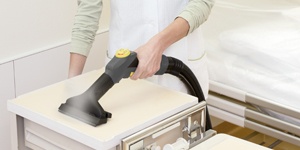 Manual nozzle with squeegee
Steam vacuum cleaning allows surfaces to be cleaned in a single operation. Ideal even for narrow surfaces.
Triangular floor nozzle
With this floor nozzle, even difficult to reach areas such as corners and edges can be cleaned and vacuumed reliably.