Vacuum sweeper
KM 90/60 R Bp
Very agile, manoeuvrable and compactly constructed: Our KM 90/60 R Bp ride-on vacuum sweeper impresses with its perfect handling and automatic round filter cleaning system.
Logistics centres, car parks and production halls are the typical areas of use for our battery powered, robust KM 90/60 R Bp ride-on vacuum sweeper with rotating side brush. The manoeuvrable machine masters even tighter spaces, thanks to its outstanding handling, effortlessly high cleaning requirements. The unique, automatic and highly efficient round filter cleaning system for dust-free work without loss of suction is particularly helpful in this regard. Carrying further cleaning utensils is uncomplicated with the practical pick-up area and Home Base attachment kit, while our EASY Operation system makes it very easy to operate the KM 90/60 R Bp.
Features and benefits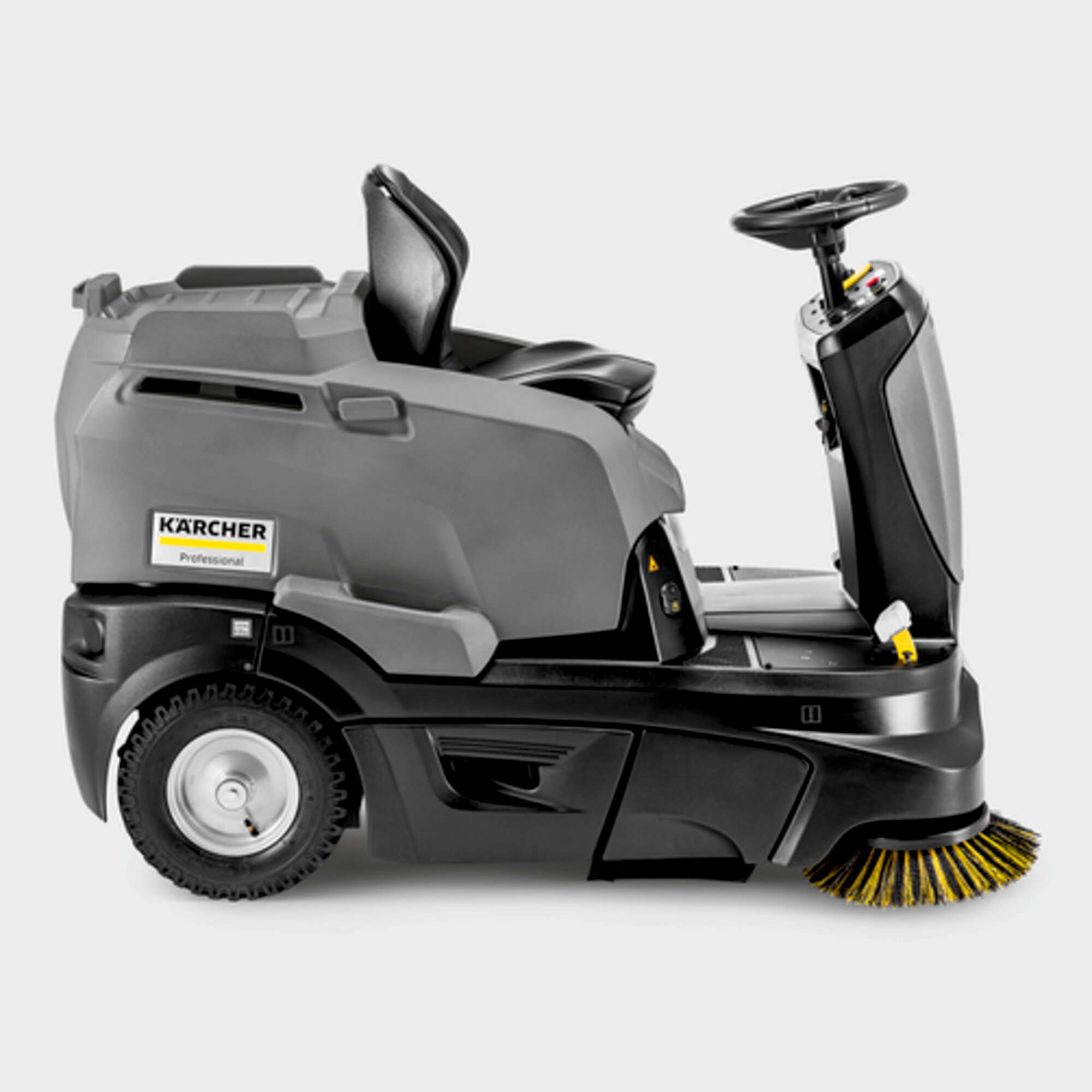 Robust, compact design with pick-up area
Built to last, highly reliable. Safety and manoeuvrability Additional components, e.g. spare canister or manual cleaning attachments can be securely fixed on-board.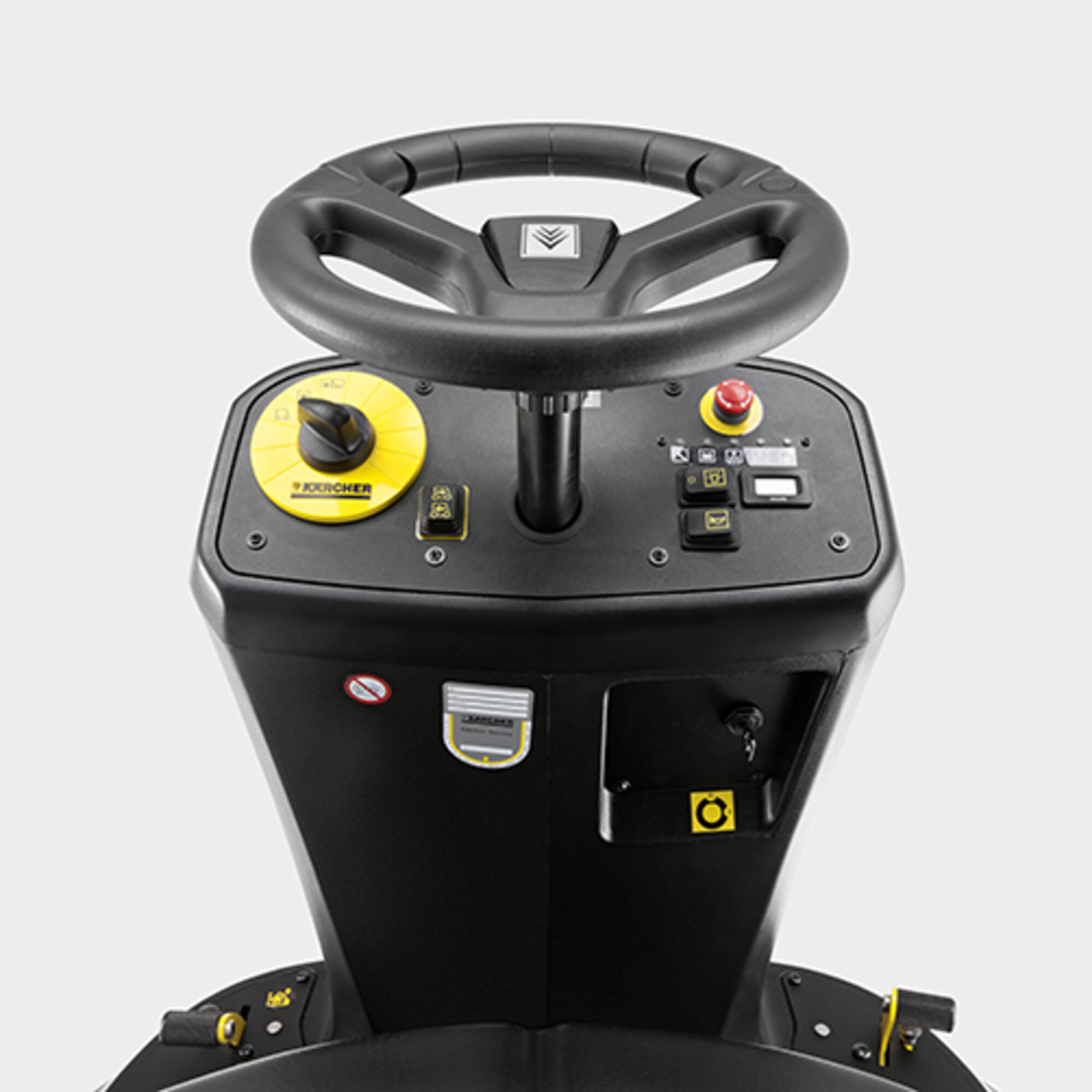 EASY-Operation concept
Logical and clear. All controls are clearly arranged and easy to access.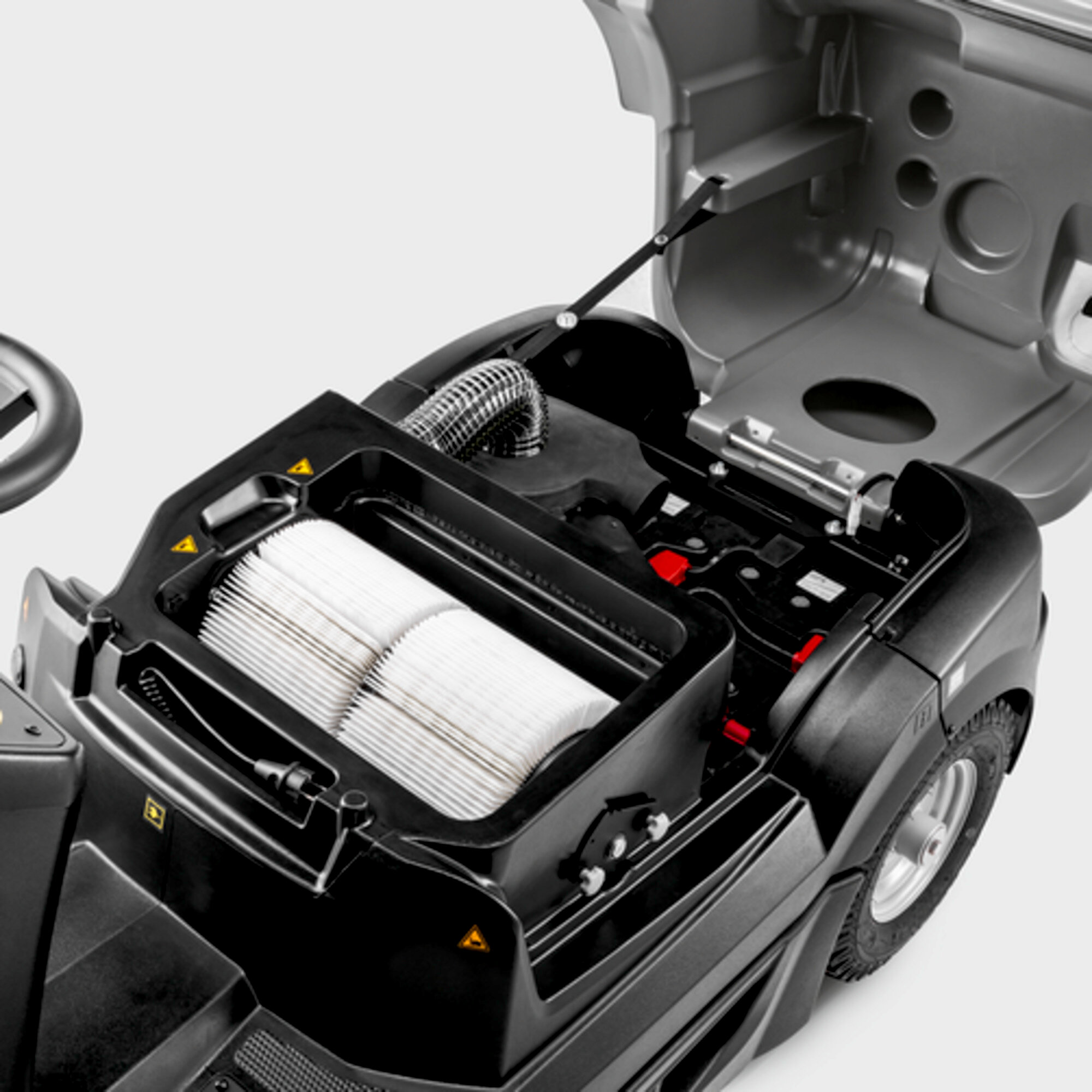 Large filter area with automatic filter cleaning system
The filter is automatically cleaned when the machine is switched off - for continuous low-dust sweeping for long periods of uninterrupted use. Filter cleaning can also take place manually. Filter replacement without tools.
Cleaning tool kit base for greater flexibility
Different practical connections for other accessories.
Easy to carry, for example, a litter picker, brush or an additional container.
Specifications
Technical data
| | |
| --- | --- |
| Drive – power (kW) | 1.2 |
| Drive type | Electric |
| Max. Area Performance (m²/h) | 5400 |
| Working width (mm) | 615 |
| Working width with 1 side brush (mm) | 900 |
| Working width with 2 side brushes (mm) | 1150 |
| Battery runtime (h) | max. 2.5 |
| Waste Container (l) | 60 |
| Hill climbing ability (%) | 12 |
| Operating speed (km/h) | 6 |
| Filter area (m²) | 4 |
| Weight (with accessories) (kg) | 205 |
| Weight, ready to operate (kg) | 330 |
| Weight incl. packaging (kg) | 206 |
| Dimensions (L × W × H) (mm) | 1695 x 1060 x 1260 |
Equipment
Round polyester filter
Manual filter cleaning system
Automatic filter cleaning
Floating main roller brush
Adjustable suction power
Bulk waste flap
Overthrow sweeping principle
Travel drive - forward
Travel drive, reverse
Vacuum
Outdoor applications
Indoor applications
State-of-charge indicator
Operating hour meter
Sweep function (can be switched off)
Side brush pneumatically controlled
Home Base fastening option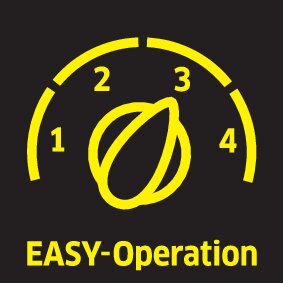 Application areas
Logistic Centers
Multi-storey car parks
Hotel complexes
Production halls
Smaller parks and parking areas