WOMA
Hydropower as an instrument. The power of water has been used by mankind since ancient times. Hydropower has powered mills and lifted heavy loads. Hydropower is an important regenerative energy source. But water can be much more.
The revolutionary idea of using the mechanical effects of running water to clean with a huge pressure formed the foundation of Woma in 1962. Since then, this idea has become the driving force behind the company.
Woma is one of the leading manufacturers of high-pressure pumps, high pressure systems and accessories.
Our constant research and development has ensured today's systems can deliver up to 4000 bar - quadruple the pressures found at the deepest point of the ocean.
As part of the Kärcher Group, Woma provides a comprehensive worldwide dealer and service network.

ABOUT WOMA
For over 50 years, our engineers have always deeply absorbed in the fascinating possibilities of hydropower. This has made us a leading manufacturer of high-pressure water jet technology.
A member of the Kärcher Group since 2011, we develop and manufacture customised solutions for all sectors of industry and commerce. Our products excel in terms of quality, reliability and economic efficiency and our service network ensures that you always have a contact person at your disposal - at any time, anywhere in the world.
Our solutions in ultra high pressure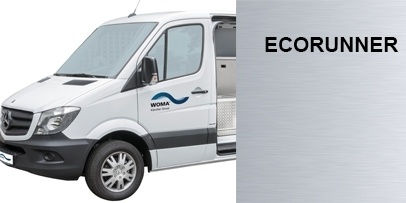 Concrete restoration - Industrial cleaning for sewers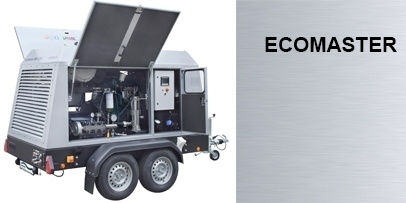 Concrete restoration - removal of coatings and paints - separation and cutting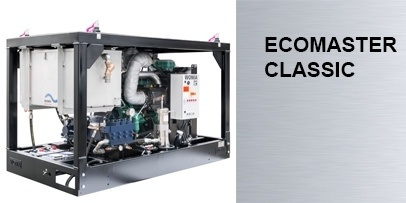 Concrete Restoration - industrial cleaning - tank cleaning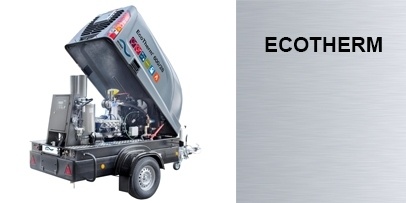 Removal of oil and fats - removal of paint - cleaning of surfaces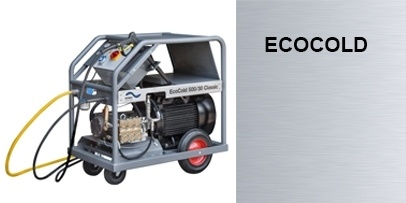 General cleaning - removal of organic growth on ship hulls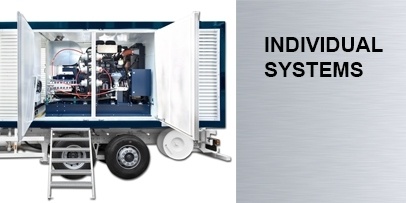 Tailor-made ​​designs - in addition to our standard solutions we also produce client-specific solutions
ECOMaster MK3
The Ecomaster MK3 is a compact powerhouse for the maintenance of large buildings and industrial plants but also for many other applications in industry , construction and municipal services. Ultra - high pressure water jet unit comes as a mobile trailer with diesel drive.

The advantages :
Particularly suitable for the removal of coatings and concrete renovation , as well as for the separation and cutting of various materials
Available in three variants with a pressure of 2,500 to 3,000 bar
The easy to operate WOMATIC 4 Control operational status monitoring , pressure control and pressure circulation increase reliability and provide low wear and long service life and low fuel consumption.
Highest environmental standards : Potential leaks of operational liquids can be prevented by a safety standard supplied trough.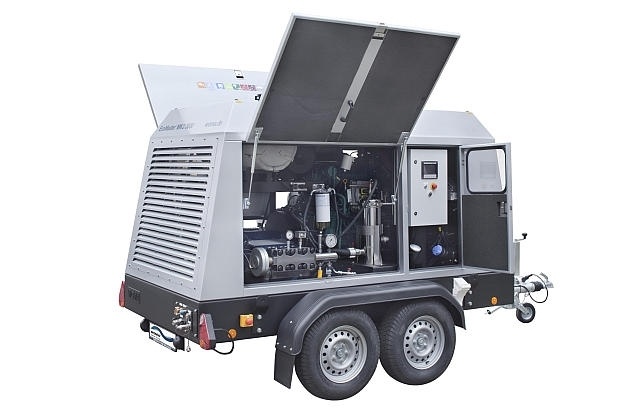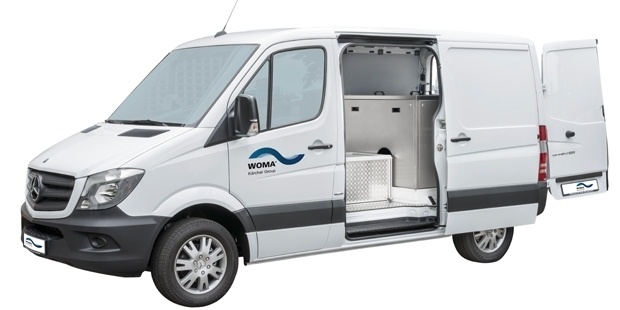 ECORunner
The new Ecorunner brings pressure quickly to where it is needed. The vehicle and the waterjet combination unites the transport and operation of ultra-high pressure technology in a single device. This modular design allows fast and flexible conversion for all high pressure water jetting applications.
The advantages:
The modular high pressure unit is quickly and easily changed using a forklift. This simple "plug and spray" concept allows the vehicle to quickly provide a deployable high pressure unit capable of delivering up to 3000 bar and 235 l / min.
The high-pressure unit is driven by the engine of the vehicle via an integral split shaft gear box. This saves space and weight, as additional engine and the fuel tank is no longer necessary.
Low noise thanks to the entire housing of the high pressure unit and the engine of the vehicle.
An electric 24-volt device with an E-EXI interface is included in the high-pressure unit for use in areas falling under the heading of "explosion".
A Class B EU driving license is sufficient for the operation of the vehicle, which has a total weight of about 3.5 tonnes.


Find out more here
ECOMaster CLASSIC
The Ecomaster classic has been specifically developed for use in harsh conditions. It has a compact design, a robust and low-maintenance design and easy operation. The high-pressure units are diverse, flexible and usable, even in extreme climates or difficult environmental conditions.
The advantages:
The Ecomaster 250M D classic offers the optimum material for the remodeling and removal of concrete or coatings, and separating and cutting various materials.
For particular ingrained dirt and residue in the industry which is often found in heat exchangers, screens, filters and pipes. The Ecomaster D 250Z Classic has for this type of work has long been proven up to 1,500 bar.
The Ecomaster D 1502 Classic is ideal for external cleaning of tanks to remove dirt and corrosion, and removal of coatings.
The application of the EcoMaster D 150Z Classic are the internal cleaning of tanks, containers and cleaning of large pipes.
All devices are equipped with robust, low maintenance and strong Woma high pressure pumps.

Find out more here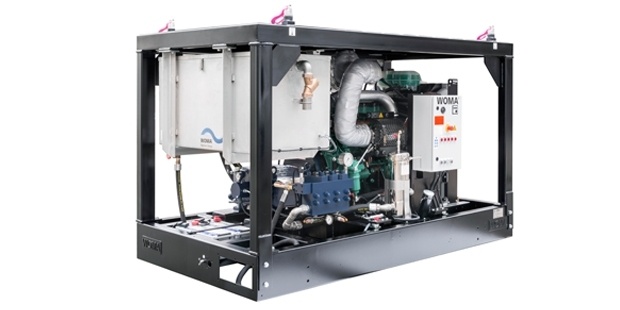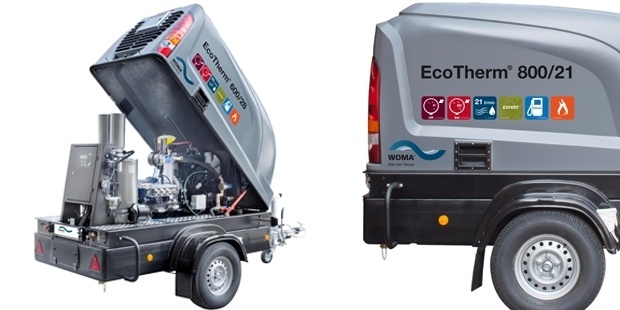 ECOTHERM
The hot - trailer EcoTherm excels in its performance ! Cleaning with hot water is in some cases more effective than with cold water . This means there is less pressure is needed to carry out similar cleaning .
The advantages:
With up to 98 ° C facades, small tubes , easy to clean industrial floors and other surfaces , oil and grease can be washed off easily and can be easily removed coatings.
The compact and lightweight trailer can be transported through almost any midsize car.
Robust diesel engine (38 kW) and a stable design.
The tank system with 5 bedrooms including a safety trough which ensures that no operating fluids such as fuel, oil or plasticizers , can escape.
The highly accessible and long-life high-pressure pump 70Y has a compact construction and a low weight.
ECOCOLD 500/30 CLASSIC
The compact and mobile EcoCold 500/30 Classic removes dirt from the smallest corners. The high-pressure water unit has been specifically developed by Woma for use in the professional high-pressure cleaning. It provides pressure up to 500 bar and a capacity of up to 30 l / min , as well as many opportunities to work efficiently and safely.
The advantages :
Suitable for cleaning : concrete formwork, facades, cleaning of filters in the industry and the removal of organic growths on ship hulls and buoys.
The pressure controlled switch off the power when there is no water supply, to prevent dry operation .
The slow start of the electric motor can slowly initiate the motor and the pump. This prevents leakage and increases service life.
The wheels and control of the machine are equipped with brakes so that the EcoCold also can drive on up slopes.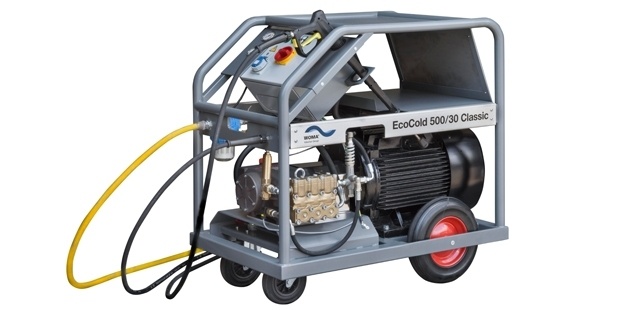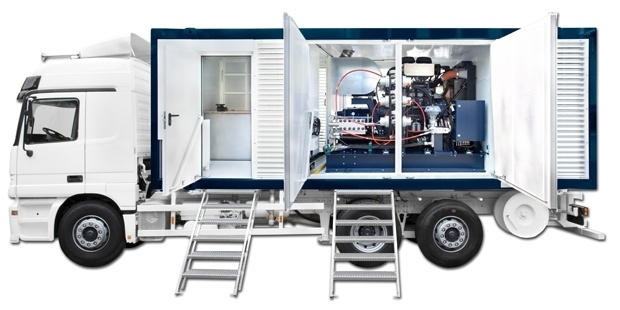 Customised Units
Like the standard units , we design and produce also individual high pressure spray apparatus in accordance with the needs of our customers. The configuration is flexible being requirements. Whether it be mobile or stationary , diesel or electric - our experts to find the best solution, even for complex applications or problematic environments.
The advantages:
The fundamental construction is modular and can be either stationary as a skid- unit with container housing, or can be used as a mobile trailer, such as a truck - installation , or as a flat car .
All pressure stages and flow rates of the pumps Woma Woma program are available with up to 3000 bar and about 1700 l / min.
Powered by a diesel engine with EU emissions 3A and 4FINAL or alternatives with electronic traction.
Woma sponsor of the project "Major maintenance Noorderkroon"
Major maintenance Noorderkroon.
Saturday, December 20, 2014 was a special day for Urk Zeekadetkorps. After a long preparation period, the corps ship arrived in the port of Urk. The Northern Crown is a former Norwegian Fjords seaworthy vessel, which was used to supply the various islands off the Norwegian coast. After that the ship years as a training vessel hazards to the Judicial Service of the Dutch government, which also explains the old Austro-color scheme of the ship. Precisely this last function of the vessel makes it ideally suited to serve for the Urk Zeekadetkorps as a platform, through the ample accommodation and facilities on the ship.
Woma Netherlands along with many voluntary capacity have begun on August 21, 2015 with the renovation of the Northern Crown. Thanks to the provided equipment consisting of a Ecomaster MK3 and EcoCold 500/30 Classic ship within the shortest times stripped of its coating. Watch the video.