When Soap Dispensers Schedule Operations
What is needed to clean a building? A cleaner, cleaning technology and a work schedule. Nothing else? Cleanliness is currently very important, and at the same time in many places there is a lack of cleaning personnel. The key to success is efficiency, even in the cleaning sector. How the use of sensors is leading to chatty soap dispensers, what artificial intelligence (AI) can do for work scheduling, and how cleaners get their jobs via their smartphones in real time.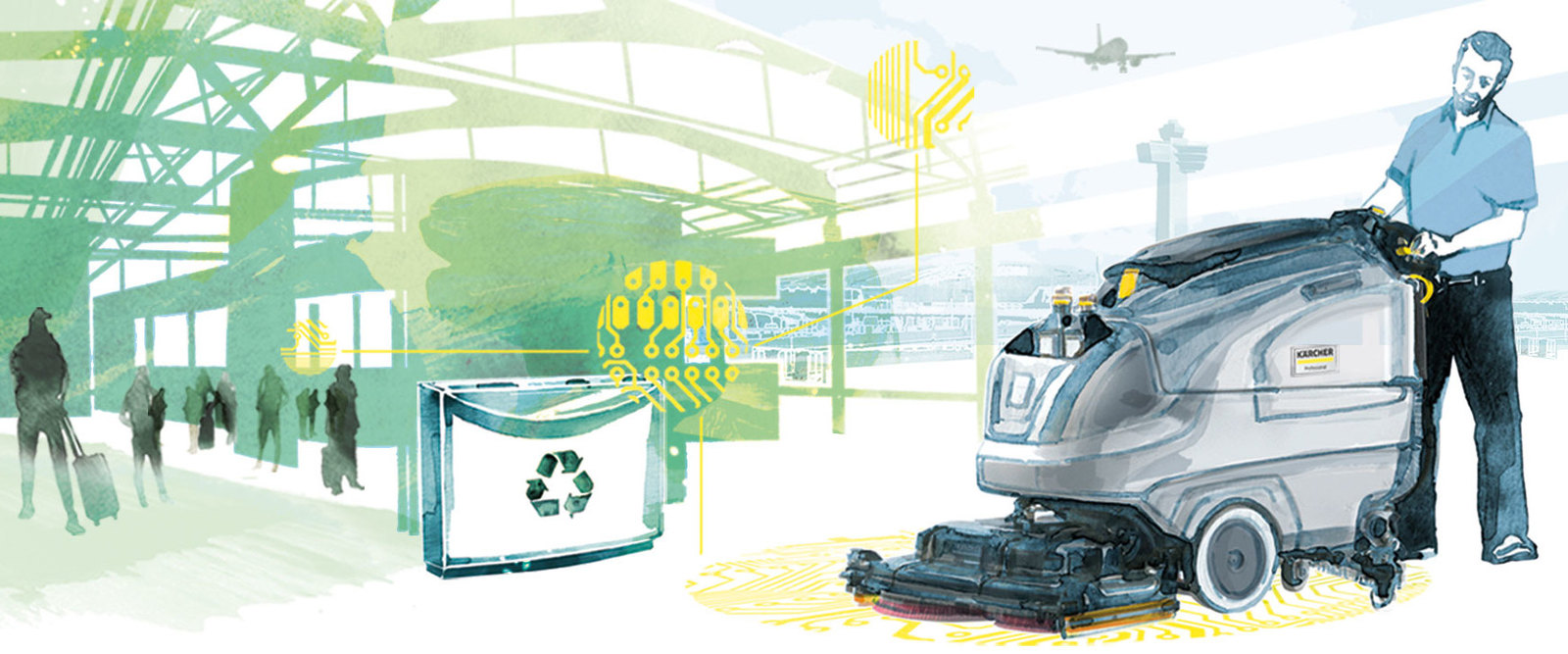 "A good third of cleaning tours are usually unnecessary"
Take John F. Kennedy Airport in New York. Its overall terminal surface area is over 350 hectares. Even with clever work scheduling, cleaners sometimes have to walk long distances from one work location to the next. At the same time, the cleaning work is mostly performed in accordance with the visual control principle. "I am out and about for quite a while just checking that the rooms are clean and the soap or hand towel dispensers are still full," explains Sri Sridharan, CPO of Zan Compute Inc. The AI specialist from Santa Clara (California) aims to make unnecessary trips and work visible for their customers and thus reduce them.
The concept of needs-oriented cleaning can be implemented with the clever use of sensors and artificial intelligence. "Our sensors record the footfall in a room and measure the filling levels of consumables," says Sridharan. In order to ensure anonymity, reliable radar sensors monitor the number of visitors – no photos are taken.
"Our AI uses the information collected to calculate recurring patterns and a dynamic cleaning schedule. It reduces the time spent on unnecessary tasks and tours by up to 30 per cent." Real-time adjustments are possible at any time. Thus, for example, if there is an increase in footfall in an area that is usually less frequented, the system immediately reports the resulting cleaning requirements.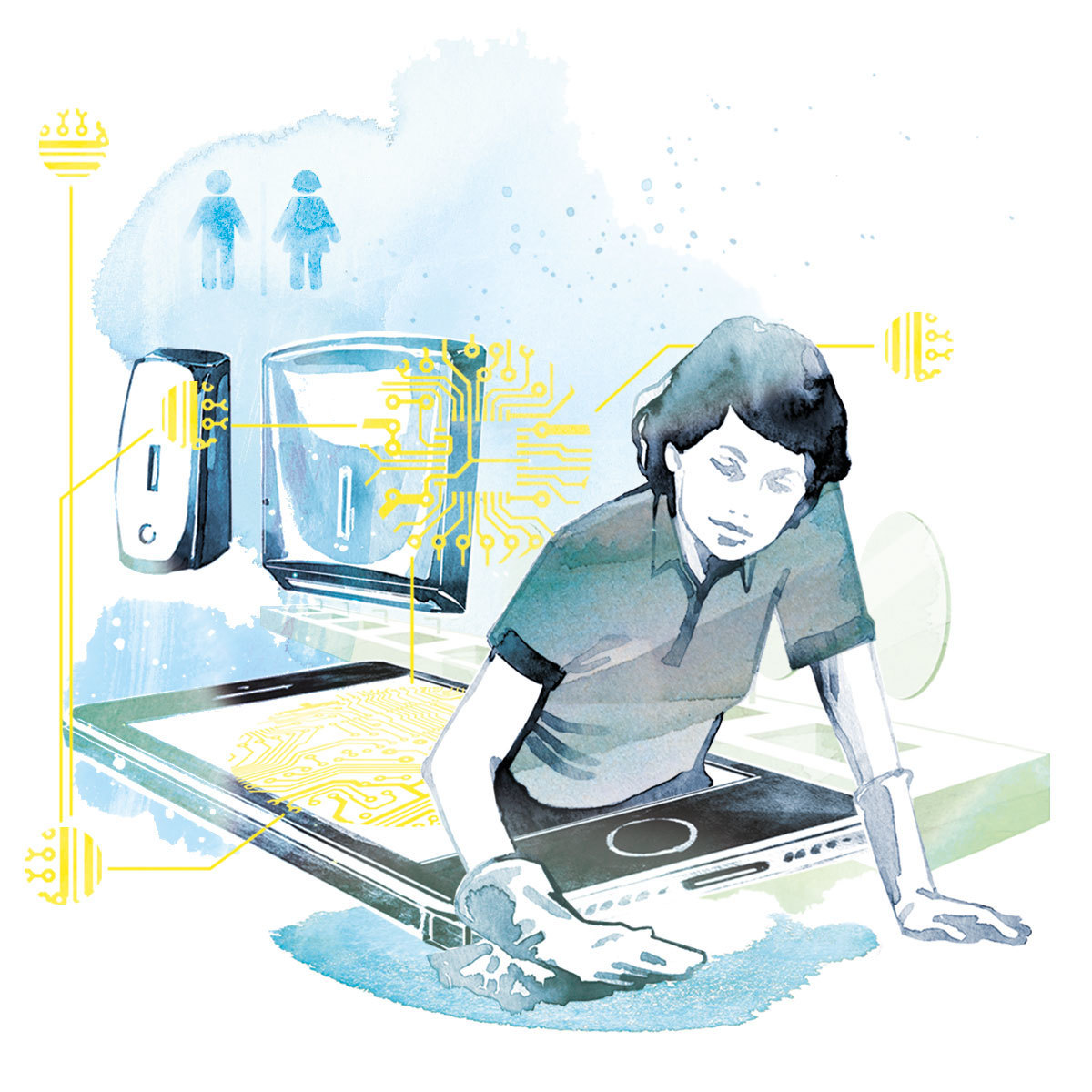 "Even a detail such as a refuse bag is relevant"
Meanwhile, 15,000 sensors have been installed by Zan Compute in the USA alone. The data evaluation for various buildings has shown that every minor detail plays a role. "Refuse bags are often replaced even though they are only half full or less," explains Sridharan. "If the specification states they should be replaced only when 70 per cent full, time and consumables are saved. In combination with the information as to how often sanitary facilities are frequented and must therefore be cleaned, in one large building we were able to reduce the working time for inspection tours by 50 per cent."
"Things are easier when everything is digital"
Besides more needs-oriented building cleaning, efficient work scheduling and control play an important role. In many companies, a significant amount of organisation is still based on paper notes and instructions, i. e., passing around performance specifications or manually documented working times that subsequently have to be entered into a PC. Such media discontinuities take up a lot of time and cost money.
"Previously there was no comprehensive solution that small companies could also afford. Our mission is to organise the digital management of buildings, employees and work assignments," states Philipp Andernach, managing director of SoniQ. "Building managers have to keep track of so many things. We help them to concentrate on the quality of the cleaning service.!
"The complete process from A to Z"
In contrast to already available solutions, which cover only part of the process, the SoniQ solution has the entire process in view. On the basis of building data and performance specifications, a building manager can assign employees via a PC or an app – taking into account hours already worked, qualifications, availability on site, illness or holidays.
The cleaner can be navigated to the assigned work location, log in and out at the start and end of work, and accept new assignments by app. The photographic documentation of completed jobs increases transparency for the customer. "That's a competitive advantage because activity that the customer can follow increases customer satisfaction," says Andernach. "At the same time, our solution is so intuitive and simple to use that no training is necessary."
"When I'm desperately looking for building managers ..."
Administration is necessary, but unnecessary time-consuming activity lowers productivity – nowadays hardly any company can afford this. On average, users of the SoniQ solution save 30 per cent of the working time for administrative tasks, and thus around 20 per cent of the costs. Experience proves that small companies can keep their administration lean enough so that one back-office worker can implement all the process steps without any problems. "With large companies, the lack of specialised personnel is particularly apparent," explains Andernach. "When I'm desperately looking for building managers, I'm glad if I can save the working time of up to three building managers through the use of software. Not because I want to cut back on staff, but because I can't find them."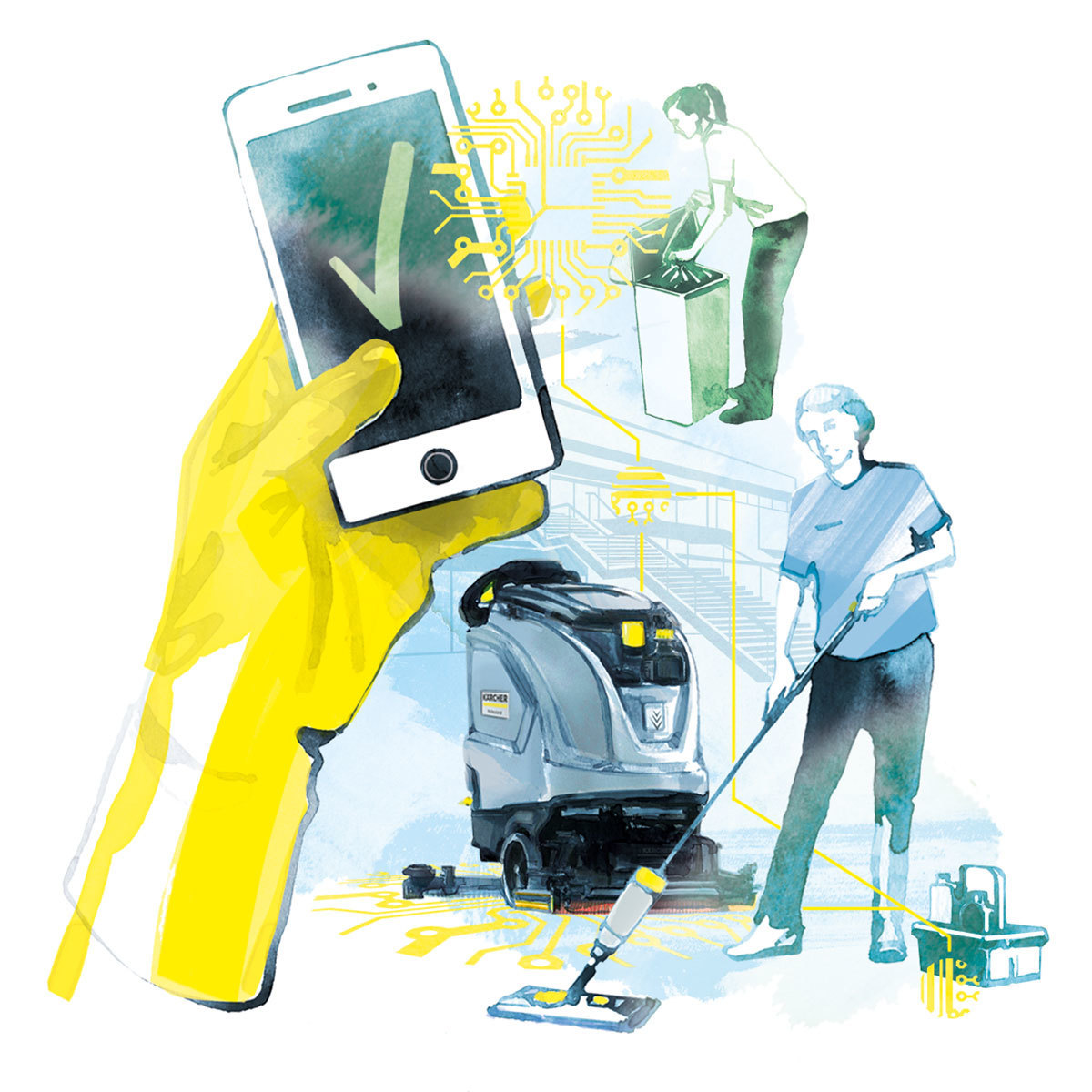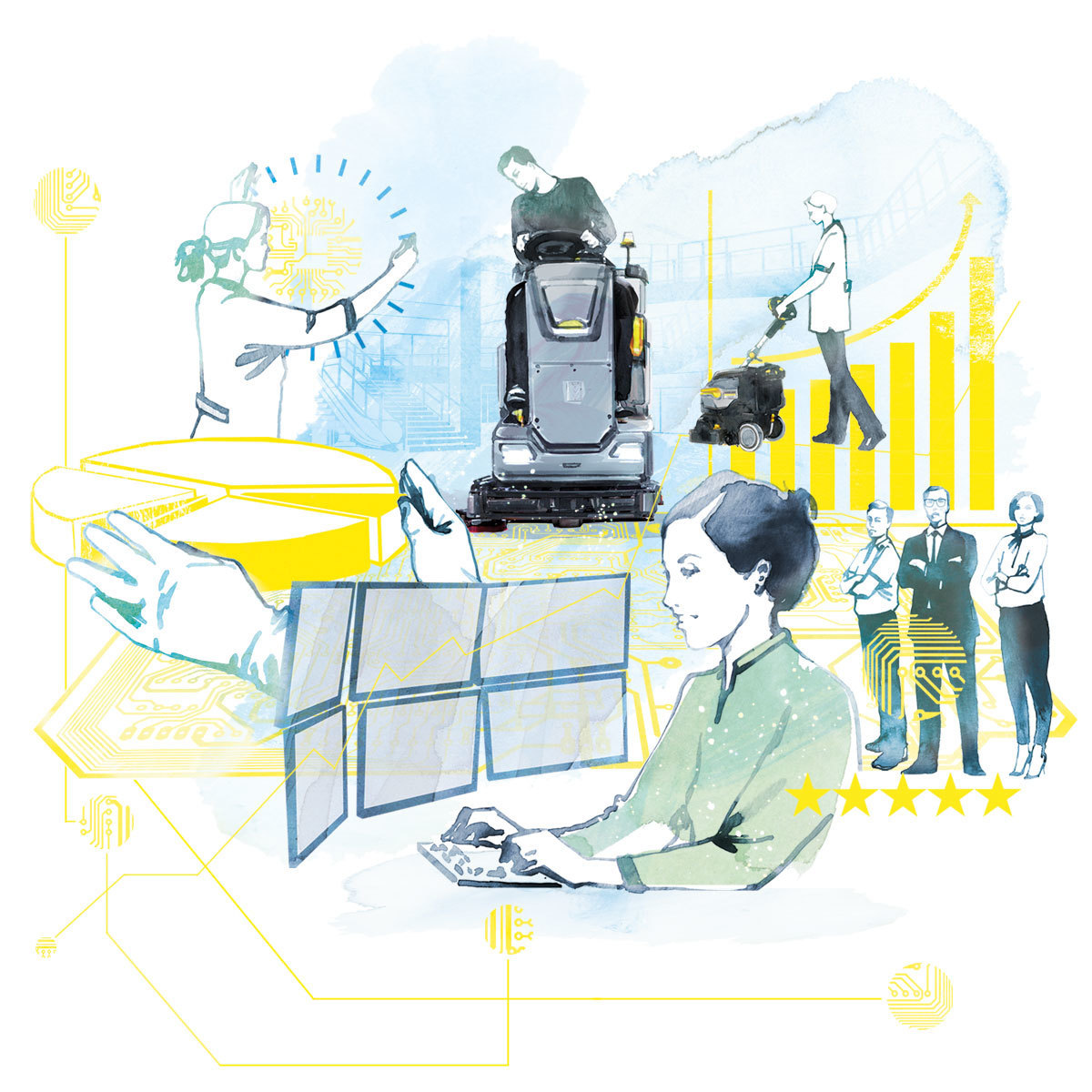 "When a smiley shows appreciation ..."
Were you satisfied with the level of cleanliness? Building users are increasingly confronted with this question, for example, when they leave sanitary facilities. Meanwhile, the operation of such systems is contact-free in order to avoid unnecessary contact with surfaces – and they make an additional contribution to visualising the result of cleaning. "Of course, it's always about working efficiently and making a company economically fit," sums up Andernach. "But the transparency that is now possible through digitalisation also achieves something else entirely. A simple smiley helps to make the appreciation of cleaning services visible and to encourage it."
"In the end, everything will be digital - almost"
Even in a world characterised by physical work and hands-on activity, digital tools bring progress if they are used correctly. The fewer different systems have to be combined with each other, and the more strictly a solution is applied, the better. This is exactly where SoniQ is going, explains Philipp Andernach: "Our objective is ultimately to make all digital offerings available for building service providers and other users via the [SQ] ONE platform." When a user-friendly, multilingual interface can provide access to crossmanufacturer fleet management, to the control of needs-oriented cleaning, to the recording of building user satisfaction and to the digital control of all business processes – then everything is digital, except the cleaning itself. Welcome to the future.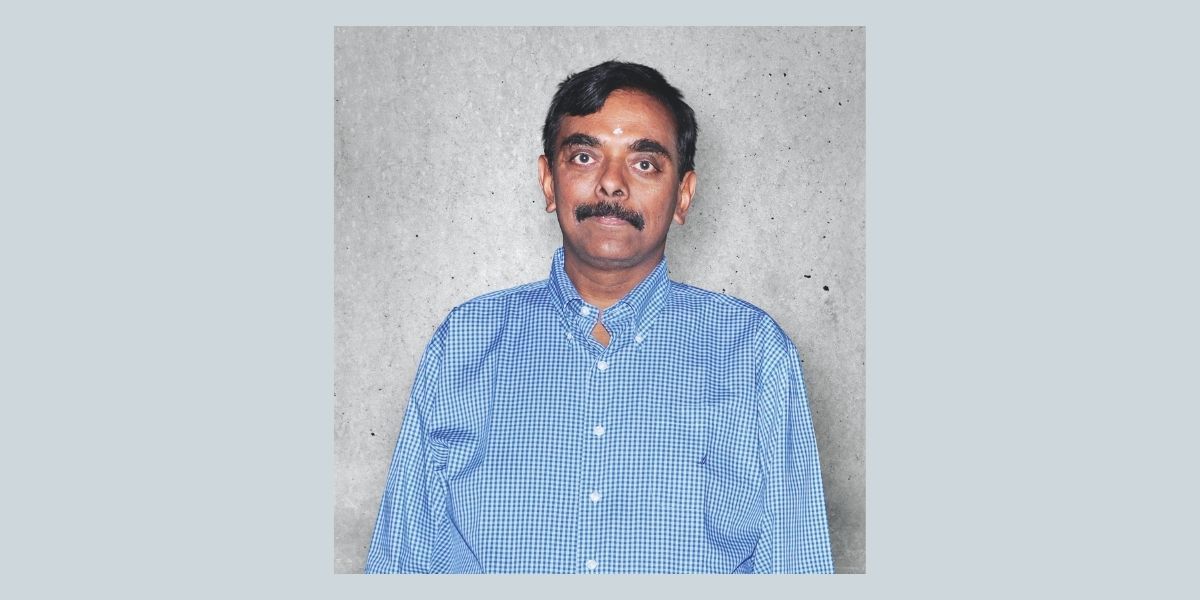 Sri Sridharan
Sri Sridharan is a partner and CPO (chief product officer) at Zan Compute Inc. As an expert in software development, he was employed by the Intel Corporation for 26 years, built up extensive expertise there and obtained numerous patents. He studied at the Indian Institute of Technology (IIT Madras) and has qualifications including master's degrees in chemical engineering and computer science from Southern Illinois University. Privately, Sridharan founded the Sankara Eye Foundation, which fights treatable eye diseases in India.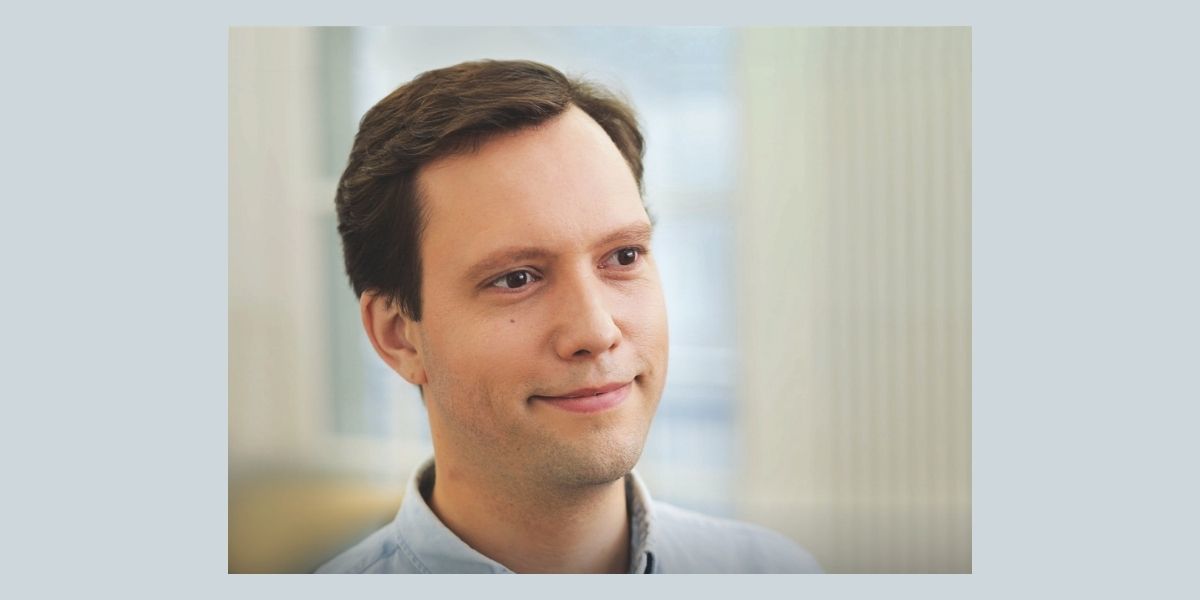 Philipp Andernach
Philipp Andernach is managing director of SoniQ Services GmbH. The manager and tech entrepreneur has extensive experience in the area of mobile and cloud services and has built up various technology start-ups. He has worked for Home24 SE, Rocket Internet SE and Axel Springer SE, amongst other places. Andernach studied business management, law and political sciences in London, Berlin, Paris and Munich and has an M. Sc. in business management/ market economics from ESCP Europe.
You may also be interested in: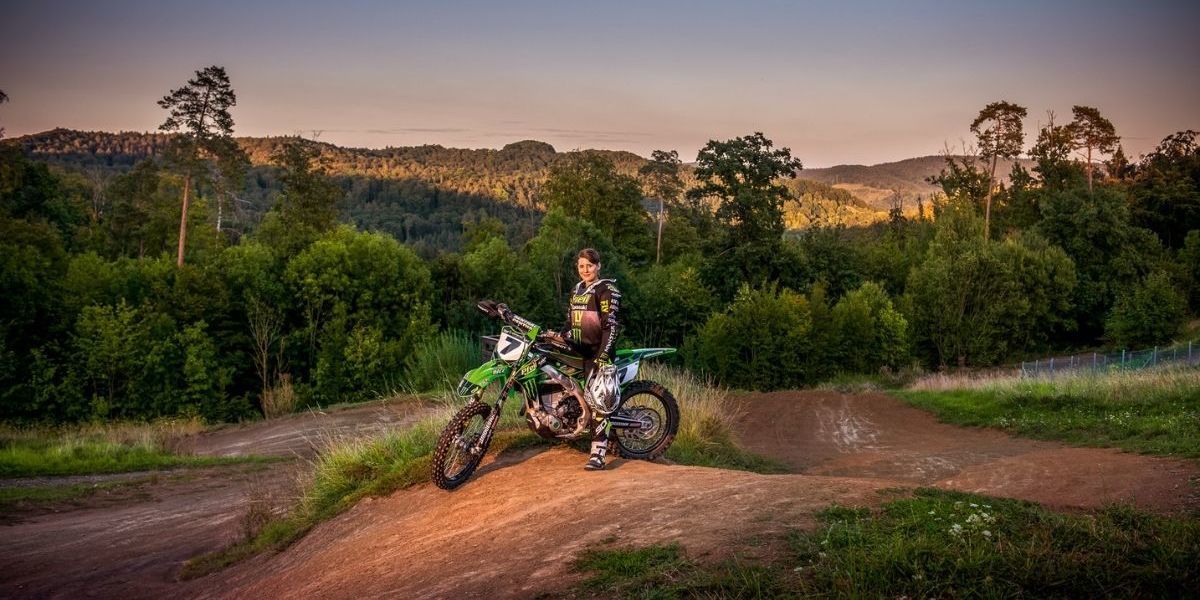 Riding across the terrain at more than 50 hp, you would cut a very athletic figure. But it takes much more than that to race over hills and tackle steep curves on a motocross bike like Kärcher employee Vanessa Helpert: with a great deal of discipline, skill and perseverance, the enthusiastic motorcyclist has been doing laps on the racetrack since the age of three.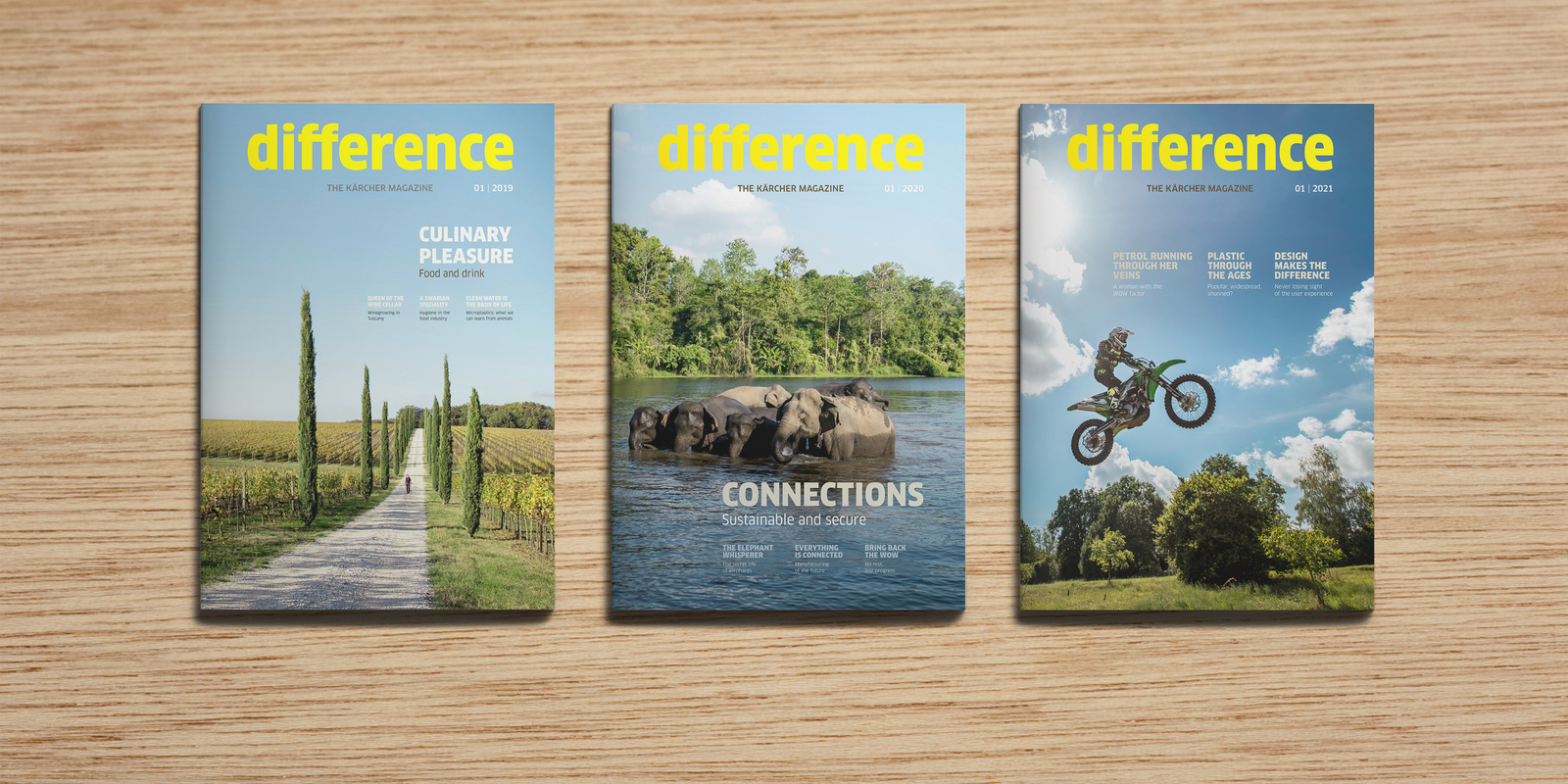 difference aims to show you how we make a difference – with our cleaning solutions and beyond. Join us on our journey through the world of Kärcher.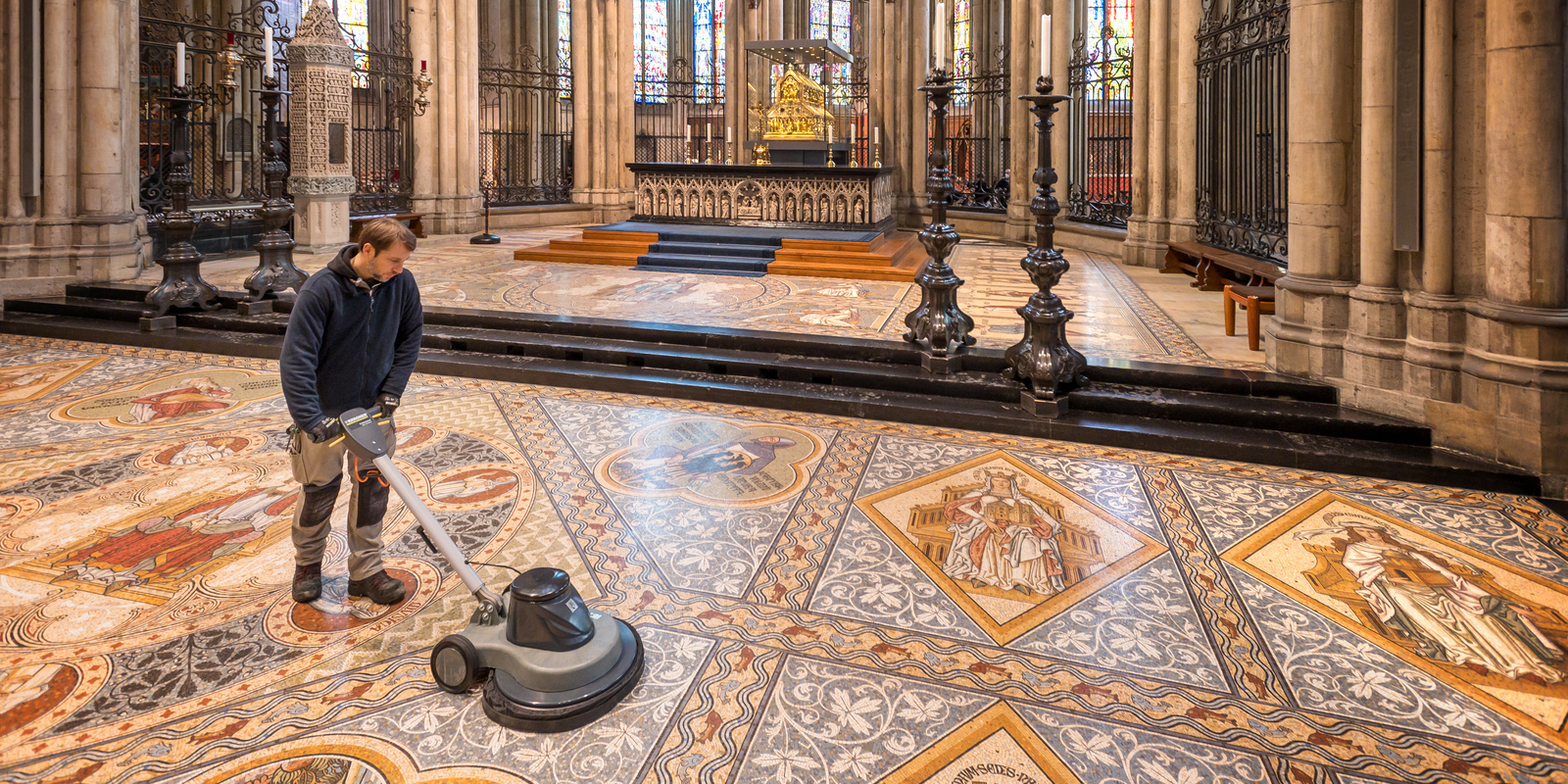 Kärcher is supporting large-scale deep cleaning and maintenance cleaning for the historic sandstone and mosaic floor in Cologne Cathedral. This is the second project for which Kärcher is working in collaboration with the Cologne Cathedral workshop. Here is an overview of the challenges posed when carrying out cleaning tasks in one of Europe's most famous buildings.