G 3200 OC Petrol Pressure Washer
Kärcher's G 3200 OC is a compact petrol pressure washer generates 3200 psi, more than 60 times as much pressure as a typical garden hose.
Kärcher
G 3200 OC
11072590
https://www.kaercher.com/au/home-garden/petrol-high-pressure-washers/g-3200-oc-11072590.html
Kärcher's G 3200 OC is a compact powerhouse that generates 3200 psi, more than 60 times as much pressure as a typical garden hose.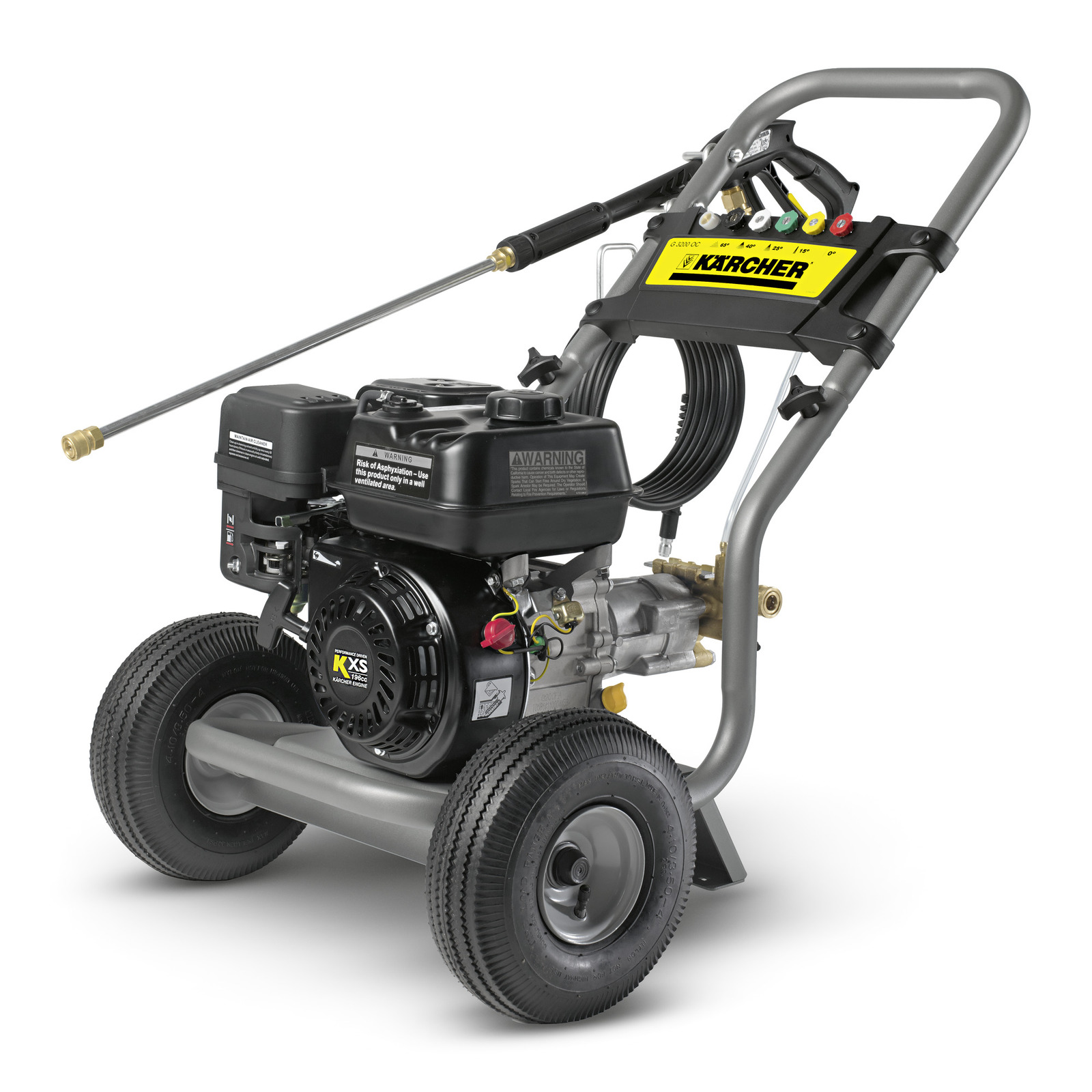 Kärcher's G 3200 OC is a compact powerhouse that generates 3200 psi, more than 60 times as much pressure as a typical garden hose. An uncluttered design with easy access to the 196cc engine and pump offers unrivaled ease of use and serviceability. The G 3200 OC uses technology borrowed from Kärcher's commercial products, including a German engineered, commercial-grade pump with brass head. Built with a durable welded frame that outlasts typical riveted/bolted frames, pneumatic tires with metal wheels and Quick Connect throughout, the G 3200 OC is a dedicated work horse that delivers on the Kärcher Promise: Cleaner. Quicker.
Specifications
Technical data
| | |
| --- | --- |
| Pressure (PSI) | max. 3200 |
| Flow rate (l/min) | 9.5 |
| Max. feed temperature (°C) | max. 60 |
| Cylinder capacity | 196 |
| Weight without accessories (kg) | 30 |
| Dimensions (L x W x H) (cm) | 56 x 59 x 89 |
Equipment
High Pressure Hose with

Quick Connect

Couplings, 7.6 m
Commercial-grade Trigger Gun with Child Safety Lock
Zinc coated spray wand with

Quick Connect

adapter
Integrated Hose, Trigger Gun and Spray Wand Holder
Cleaning agent hose, With filter
G 3200 OC
is rated out of
5
by
7
.
Rated

5

out of

5
by
Charlie 123
from
Works great, but some care is needed
Last year I used it once or twice. I put it in the basement in early fall to avoid any damage from the cold winter weather. Regrettably it had no pressure when I went to use it this April. After 2 hours of watching all sorts of friendly videos on pressure washers that have no pressure. I was able to fix it. If you use your pressure washer only 2 or 3 times in the summer it would be wise to use a product put out by Briggs & Stratton for pressure washer pumps after each use and before you put it away for the winter. These pumps have a number of tiny valves that can corrode and crud up. The product Briggs makes is in an aerosol can and has a fitting that screws into the inlet. Spray it for 2 seconds and give the machine several pulls on the starter until it and water sprays out. If you do not do this and you have a no pressure situation remove the overload valve. It has a large black knob that is turned to adjust output pressure. So the problem could be a clogged inlet screen where the hose attaches. Visually inspect. The next potential culprit is the quick release output fitting. Unscrew it. There is a small piston and spring. If this piston has corroded it will clog the outlet hole. Clean it and lube the parts with silicon grease that you can get at the hardware store. Lastly take apart the overload valve. Unscrew the black plastic handle. Remove the sprin and steel button. With an adjustable wrench unscrew the large hex fitting That is part of the valve body. The he'd nut is clearly visible after you unscrew the black plastic knob. With the valve body removed place it in a vice use a straight screw driver and a small open end wrench to unscrew the slotted screw visible from the top of the valve body. Note the direction and orientation of al, the parts. Remove the screw and stem from body and ball shaped valve end. Clean everything. Apply silicon grease to everything, especially all Theo rings and threads. Reassemble. This should get you machine producing pressure It is unfortunate that Karcher does not explain the simple things necessary to keep you pump running well or to provide an exploded view of parts or to explain some of the common problems and remedy. So it is a good machine. Pressure washers have lots of tiny valves offices and o rings that are subject to corrosion and blockages. Use a product like the Briggs product to save yourself a lot of grief.
Date published: 2018-04-25
Rated

2

out of

5
by
Jschneider74
from
Ok for the price
I've had the unit 2 years and the pump went bad already. Can't seem to find the replacement pump. Maybe i will buy a different brand
Date published: 2018-02-04
Rated

5

out of

5
by
Sammmy
from
Great
Very powerful enough to do the jobs done ..oh and nothing to worried about the pump "no" check valve kit to buy ..
Date published: 2017-10-20
Rated

5

out of

5
by
Austin
from
Great product!
I bought this power washer new on April 28 and it is now October. For the price of this power washer you can not get a better product. I have used more than a dozen of these over the years. Easy to assemble and started on the first pull. I have used it on numerous occasions and it runs great. I like that the gas throttle is adjustable which adjusts the pressure too. Full throttle will clean anything that have tried it on but be careful with wood fences. It is very powerful and will damage wood. Best to turn the throttle down.
Date published: 2016-10-13
Rated

5

out of

5
by
Hector
from
Started on first pull
Great overall pressure washer; my community enforces clean driveways and sidewalks. Here in south Florida we get a lot of mold and everything 4 months or so, you either hire someone or clean it yourself. I paid less than $300 for this beauty, so in a couple of washes, it has more than paid for itself. I was a bit worried that it would take me many attempts to get it started, but no, works every time. Just make sure to not leave gasoline in the system during storage and check your oil level before starting it.
Date published: 2016-07-24
Rated

5

out of

5
by
Jimmy
from
great home owner product
Only used it once so far.Cleaned a long run of pt stairs to ready for sealer. Easily completed that chore.! Breeze to use. Happy with result.! Runs great, more than enough pressure
Date published: 2016-07-18
Rated

2

out of

5
by
EddieD
from
Great Purchase-New BFF-Work Horse-Happy Customer
Good Price. Easy to put together. I followed the instructions and I did read the entire operators manual. Filled the power washer with oil and gas. SHE STARTED ON THE FIRST PULL. I have never used a power wash in my life. Karcher made it easy. Now I'm a pro at my house. I just finished power washing my 800 sqft cedar deck multi levels. 8 years old now looks like its new. I love it. Next my giant 8 foot cedar fence. I'm sure it will look great. Happy American Consumers. Thanks Karcher
Date published: 2016-06-08