Cleaning with a pressure washer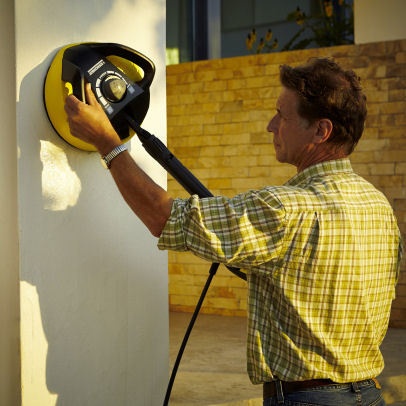 Power washing with the wow factor
A Karcher high pressure washer is one of the most versatile cleaning products you'll ever own - it's not until you have one that you'll realise how many things you can clean with it, and how easy it is to use!
It's a fact of life that anything left open to the elements will inevitably pick up dirt and debris - you probably have a cleaning routine inside the home, but if you neglect the exterior it can soon start to show. Using the right tools can make any task easier and when it comes to all-round exterior cleaning we can supply all the equipment and attachments you need.
Pressure Washers can help make light work of major tasks, whether it's an annual deep-clean, a weekly wash or occasional cleaning of bikes and cars. From patios and decking to garage doors, garden furniture, windows and conservatories; there's a tool to suit any cleaning task. With the new Full Control range from Kärcher, you can be sure to get the best possible clean for your home. The LED display trigger gun guides you to the correct pressure setting every surface, ensuring you get the best results. Our wide range of handy attachments makes Kärcher pressure washers even more versatile.
For example, the T450 Patio Cleaner uses twin-jet rotating arms to make light work of cleaning large surface areas like decking and paving, and a special protection grid means you can also use it for cleaning gravel paths. The telescopic jet pipe attachment cleans difficult to reach areas like building facades, and the Quick Connect hose system means fitting the right attachment is a quick and easy process.
Suitable devices and accessories