How to clean patio and decking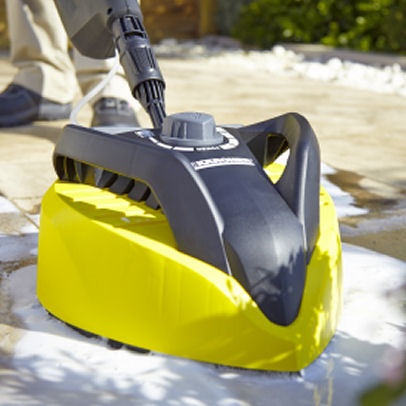 Learn how to clean patio and decking with a Kärcher pressure washer
Keeping your patio or deck looking spotless doesn't need to be a chore. Eliminate elbow grease and save time cleaning away the dirt, grime and pollutants your patio and deck can collect throughout the seasons with a Kärcher pressure washer.
Periodic cleaning, especially after the winter months, will help your deck or patio retain its brand new appearance. Whether using it for preventative maintenance or washing away unexpected spills and stains from summer BBQ's, a Kärcher pressure washer will add years of life to your patio or deck, saving you valuable time and money.
Our T-Racer patio cleaners ensure optimum cleaning results with a gentle action, over large and small areas. The innovative combination of high-pressure and height-adjustable nozzles creates a hovercraft effect which allows the patio cleaner to hover over the ground, giving you uniform results without any spray, thereby protecting both you and surrounding areas from dirt.
The power scrubber can also be used to clean your patios and decking. With three integrated high pressure nozzles, stubborn dirt can be quickly and easily removed. The integrated squeegee blade is ideal for removing any dirty water. Perfect for stairs and edges, the integrated bristles make it perfect for getting into the grooves of your decking.
Here are some of our tips on how to clean your patio and decking:
Remove any outdoor furniture, flower pots and other items from the surface you want to clean. This will give you more uniform results.
Sweep or remove loose or large debris.
Connect up your pressure washer, or take a look at our range of pressure washers to find the right one for you.
Add stone or wood detergent to your Kärcher pressure washer.
Start with a low pressure setting, especially on wooden surfaces, engaging the trigger gun away from the surface initially.
Using a sweeping motion, clean your deck or patio surface using long sweeps that overlap each other. This prevents inconsistent results once dry.
Other good to knows:
When cleaning wooden decking, always clean in the direction of the wood grain.
Corners are best cleaned when you aim the trigger into the corner, spraying any debris out in a long "L" shaped sweep.
Suitable devices and accessories