Water Timer Units
Whether you're a weekend gardener or a seasoned veteran, the Kärcher range of timer control units help you get watering right, even when you're away.
SensoTimer

ST6

eco!ogic

- watering made easy.

The SensoTimer ST6 eco!ogic water timers from Kärcher start and stop watering automatically. This saves you the chore of watering by hand and leaves you more time to look after and enjoy your garden. A further advantage is that it uses precisely the volume of water that is actually required. The sensor measures the soil moisture and activates watering as soon as it falls below the specified moisture level. This ensures water is used only when absolutely necessary, making it both economical and environmentally friendly.

How does the ST6 eco!logic work?

The SensoTimer ST6 eco!ogic provides moisture-controlled watering. The in-built sensor measures the soil moisture and communicates wirelessly to the SensoTimer base unit every 30 minutes. The SensoTimer has a choice of five moisture levels. Watering starts automatically at the next preset time if the soil moisture falls below the chosen level. Programming is easy thanks to the removable control panel and five simple operation buttons. You can set the system to twice a day with a maximum watering duration of 90 minutes. The eco!ogic function also allows the watering to be delayed for up to 7 days. Manual watering is possible at any time and the integrated stop button interrupts the watering programmes for 24 hours, meaning water is water is used only when absolutely necessary.

About the SensoTimer ST6 eco!ogic

The SensoTimer ST6 Duo eco!ogic allows two separate areas of the garden with separate watering requirements to be watered individually.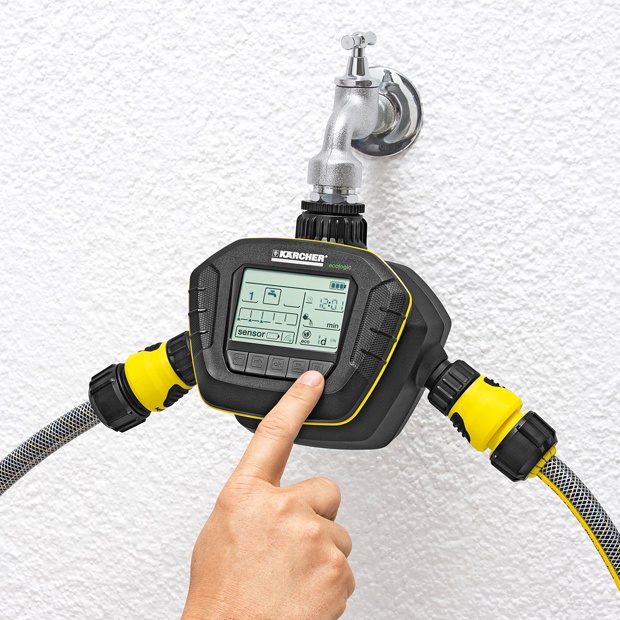 Overview
From exotic flowerbeds to simple lawns, watering is one of the most important elements of gardening. While sprinklers and hose pipes contribute to making this task simpler, timers are essential to getting it right.
To some garden lovers, the idea of going on holiday can be a worrying thought. With a Kärcher water timer, however, this needn't be the case. Our timers can help you keep your gardening schedule running like clockwork, even in your absence.
Intelligently designed, these handy tools make watering easier. Whether maintaining a small patch of grass or an elaborate botanical garden, a water timer is an essential item.
Our timers are easy to use and far more practical for your garden than a hose pipe alone. Combined with our sprinklers, a water timer is capable of delivering the kind of quality system that is essential to growing the perfect garden.