Spray-extraction cleaner

Puzzi

8/1 C
Powerful cleaning specialist for upholstery, as well as for stain removal on textile surfaces: Puzzi 8/1 spray extraction cleaner with an ergonomic, particularly short upholstery nozzle.
Robust, durable, efficient: The Puzzi 8/1 spray extraction cleaner from Kärcher impressively cleans upholstery and removes stains from textile surfaces with outstanding and hygienic cleaning results and high efficiency. The compact spray extraction machine sprays the cleaning solution deep into the textile fibres and then removes it again with the dislodged dirt. This excellent back suction performance also ensures quick drying and means that the textile surfaces can be used again quickly – ideal for the high demands of cleaning professionals in the hotel and hospitality sector or in vehicle interior cleaning. The standard, extra-short upholstery nozzle for convenient, ergonomic cleaning of narrow spaces can also be used. Thanks to its very low weight and ergonomic carrying handle, the spray extraction cleaner can easily be transported with one hand. Large push-buttons that can be operated by hand or foot also increase convenience for the user. The appliance lid and the hand nozzle are transparent for a better view of the dirty water.
Features and benefits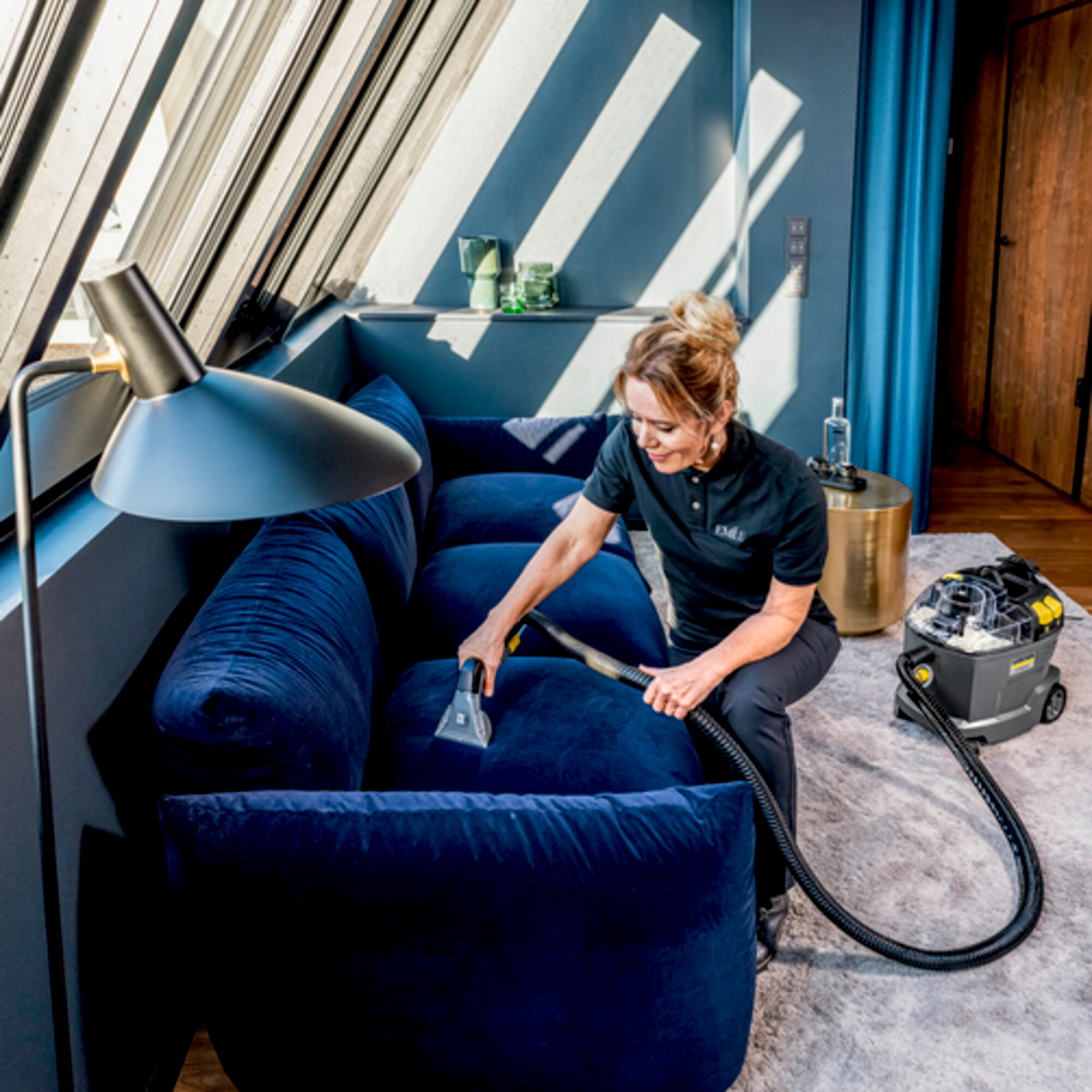 Outstanding cleaning performance
Perfect fibre-deep cleaning of textile surfaces. Fast drying means that surfaces can quickly be used again thanks to the excellent back suction performance. Excellent cleaning result with visible before-and-after effect.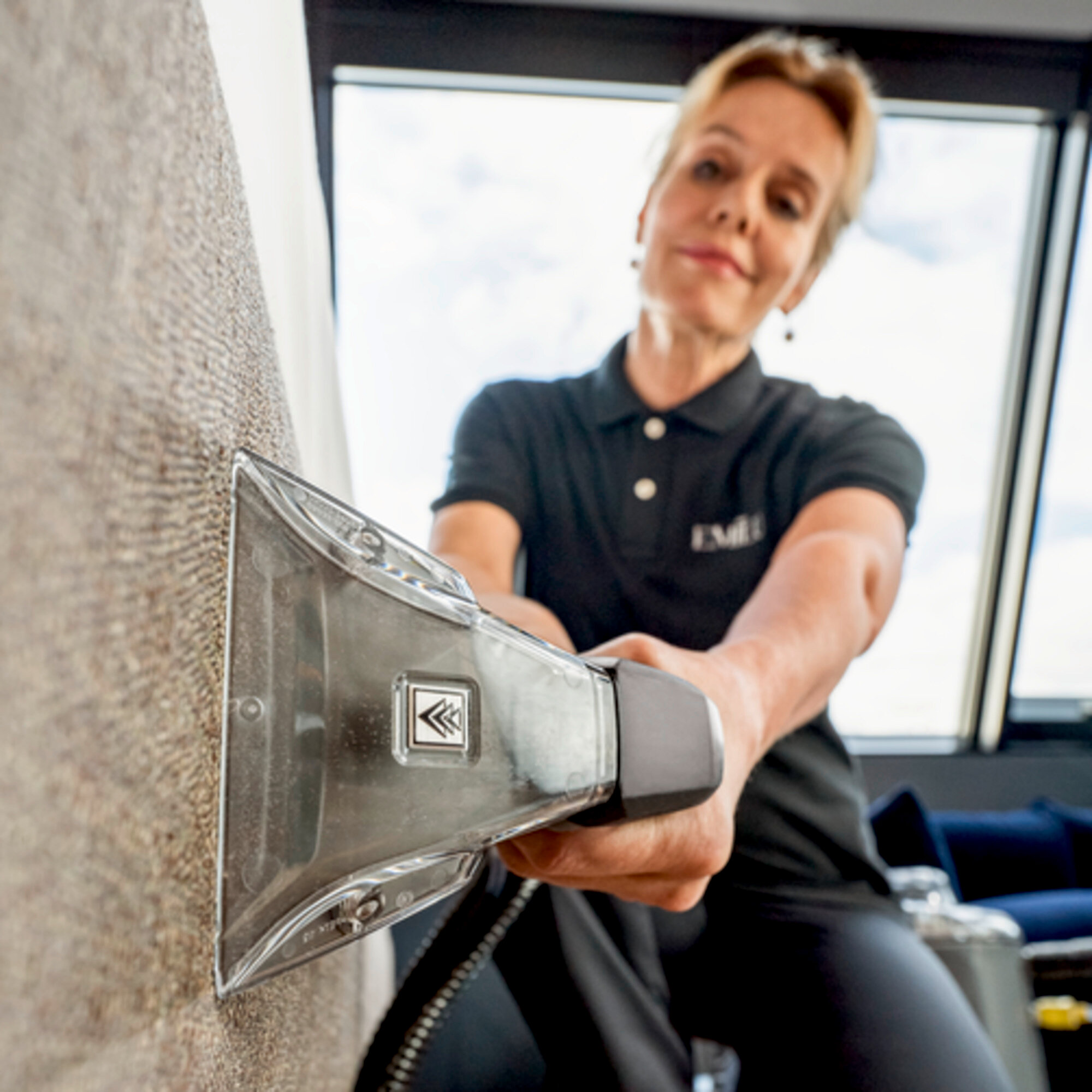 Ergonomically designed and extra-short upholstery nozzle
Handle and pressure switches can be operated with just one finger. Practical knob shape allows different holding positions. Red nozzle mouthpiece ensures efficient water consumption.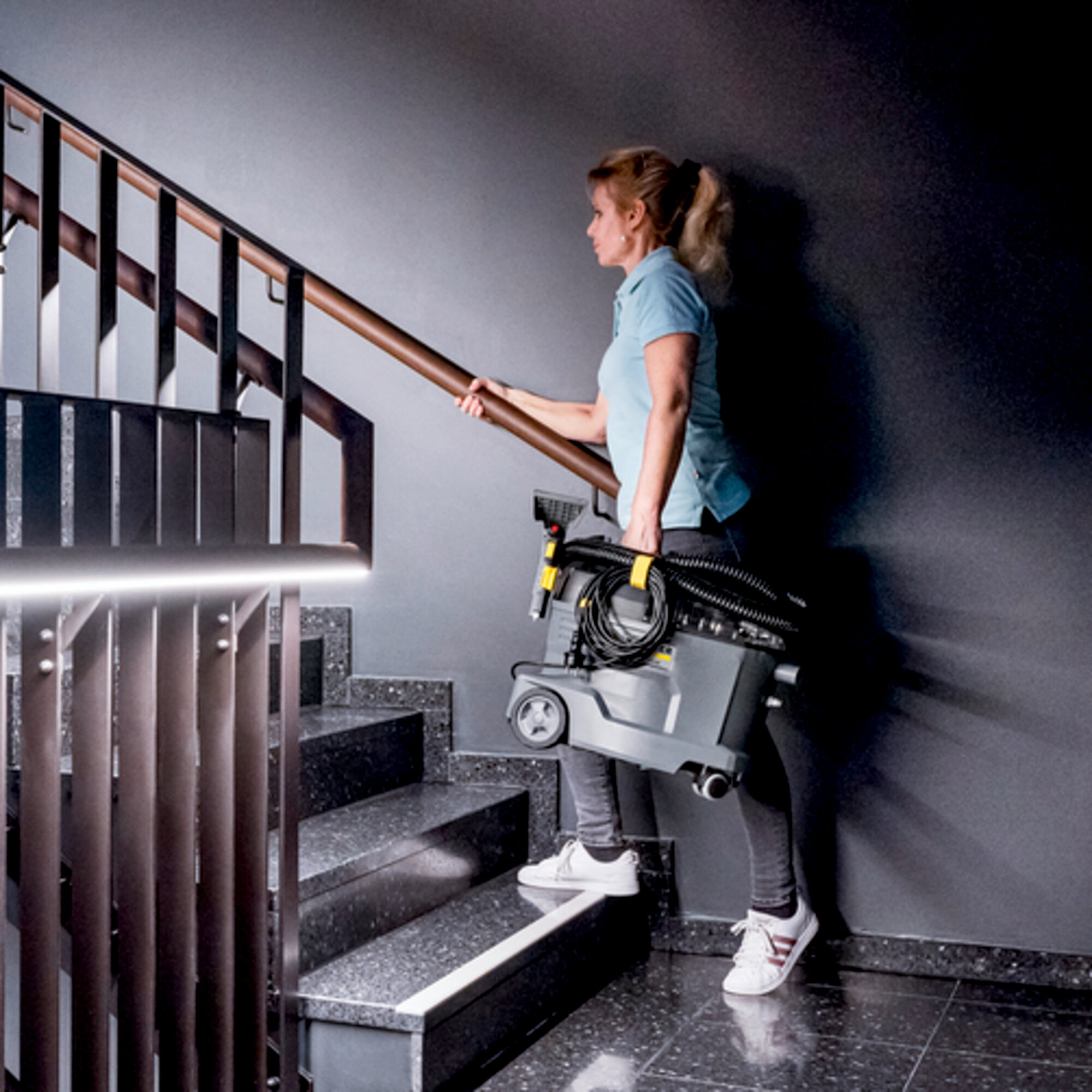 Light weight and compact, robust design
Effortless, also one-handed transport over ledges and steps. Designed for long periods of fatigue-free use. Long service life ensures high efficiency.
Removable, smart 2-in-1 container
Quick and simple to fill the fresh water tank.
Convenient and simple to remove dirty water.
Quick-start illustration for simple operation.
Easy to operate thanks to two large push-buttons
No need to bend down: on/off foot switch for speed and ease of use.
Quick 1-step method: combined spraying and vacuuming in one operation.
2-step method: Spray on fibres and leave to soak in – then vacuum off.
Large rear wheels and flexible 360° steering rollers
Easy manoeuvring even on uneven surfaces.
Particularly manoeuvrable and flexible to handle when cleaning.
Folding cable hook
For safe storage of the power cable.
Practical and protects the cables.
Large, open, fresh water filling opening
Convenient, safe and quickly filled with fresh water.
Clearly visible maximum level indicator.
No spillage when dragging or pushing back the machine.
Integrated storage for the upholstery nozzle
Thanks to the clip design, the upholstery nozzle is always within reach.
Secure storage even during transport.
Specifications
Technical data
Max. Area Performance (m²/h)
12 - 18
Air flow (l/s)
71
Vacuum (mbar/kPa)
270 / 27
Spray rate (l/min)
1
Spray pressure (bar)
1
Fresh/dirty water tank (l)
8 / 7
Power rating fan (W)
1200
Power rating, pump (W)
40
Current type (Ph/V/

Hz

)
1 / 220 - 240 / 50 - 60
Weight without accessories (kg)
8.6
Weight incl. packaging (kg)
13.6
Dimensions (L × W × H) (mm)
524 x 332 x 442
Equipment
Power cable: 7.5 m
Spray suction hose: 2.5 m
Integrated accessory storage for upholstery/crevice nozzle
Integrated accessory storage for floor nozzle
Removable 2-in-1 container
Spray extraction tube: 1 Piece(s)
Application areas
For intensive fibre-deep cleaning of upholstery and upholstered furniture
For targeted stain removal on textile surfaces
For cleaning all textile surfaces – including car interiors
For intensive fibre-deep cleaning of upholstered car seats
For targeted upholstery cleaning in hygienically sensitive areas