Offices
Offices are highly exposed areas with high footfall making them vulnerable to dirt build-up and cross contamination. It is important that floor coverings whether they are carpeted or tiled are cleaned thoroughly; to stop the spread of dirt and grime. It is crucial that every day hygiene critical touch points such as key boards and desks are cleaned to a high standard; these are key items where contamination can occur. Don't just stop there, blinds and soft furnishings are often forgotten about during daily maintenance cleaning, it's essential that these are thoroughly cleaned too. Maintaining good hygiene in the working environment is essential to help keep the workforce protected, especially in a time where hygiene matters most.

TIP: It is important to remember that cleaning has to be carried out before disinfecting.
It is important to remember that cleaning has to be carried out before the disinfection process can occur. Cleaning by using water and detergent is an effective process to remove impurities such as dust and dirt; once the area has been cleaned disinfection can take place. Disinfection is a process that reduces the number of pathogenic micro-organisms through destruction or deactivation, by reducing the number of harmful micro-organisms surfaces are left hygienically clean.
Always use personal protective equipment PPE when carrying out cleaning tasks - disposable gloves and aprons as a minimum.
Always use detergent, sanitizer or disinfectant as directed by the label.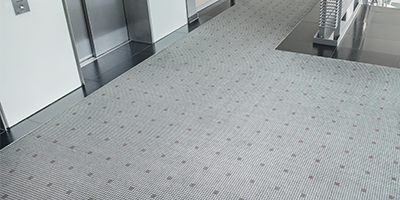 Carpets
Bacteria, germs, viruses and other micro-organisms bond to dust particles and use this as a means of transport. It is therefore critical that carpets are cleaned thoroughly. Dry vacuuming is a perfect method for cleaning and removing dust from carpets. For a deeper clean, use a dry vacuum with a roller brush to agitate the carpet pile, this helps to significantly increase the amount of dust removed.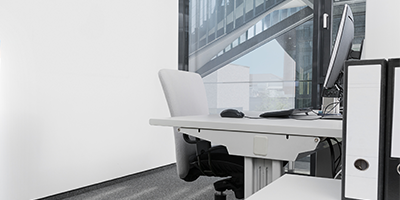 Desks
Desks offer a personal working environment for many employees, it is therefore important that they feel that their work environment is hygienically clean and safe. A microfibre cloth and detergent, sanitiser or disinfectant can be used to clean down the surface of a desk, phone, keyboard, mouse and chair arm rests to reduce or kill most bacteria or germs. It is important that these areas are cleaned daily to reduce the transmission of germs.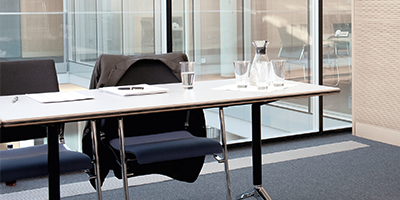 Other surfaces
Other surfaces such as doors, handles, switches etc. can also be cleaned by using microfibre clothes and detergent, sanitiser or disinfectant. For glass surfaces, the Kärcher Professional Window Vac is ideal; it allows edge to edge cleaning leaving a streak free finish.
Key touch points to consider
Telephones, computers including tablets and touch displays, desks, door handles, switches, stationary, chair armrests, printers and fax machines.
Suggested Machines
For daily cleaning of carpets, Kärcher's T 10/1 Adv Professional Tub Vac is ideal. For large carpeted areas, like corridors or open plan offices, the Kärcher CV 60/2 RS Ride-On Vacuum Cleaner, cleans large areas quickly and efficiently. For interim and deep carpet cleaners the Puzzi 10/1 or BRC 40/22 Carpet Cleaner offer deep cleaning into the pile of the carpets. For surface cleaning, Kärcher offers a wide range of manual cleaning tools, like Trollies, Textile Cloths and Detergents. It's important to find the right machine for your need to ensure you clean deeply into the fibres and remove the dirt left behind by both employees and visitors alike.