Cordless leaf blowers and leaf blower vacs
Leaves. While nice to look at in autumn, someone has to remove them – from pavements and driveways for safety reasons, and from lawns to prevent damage. Brooms and rakes powered by nothing but the strength of our muscles quickly reach their limits. But this is not the case for the powerful, battery leaf blowers from Kärcher! They are always there when you need them, regardless of where that might be, fit comfortably in the hand and remove leaves quickly and thoroughly.
Features of Kärcher cordless leaf blowers and garden vacs
Removable components
Thanks to the cordless leaf blower and blower vac's removable parts, the weight of the device can be reduced if necessary. The suction and blowing tubes as well as the guide rollers are individually removable. In addition, the two-handle ensures that the weight of the unit is distributed as evenly as possible during operation.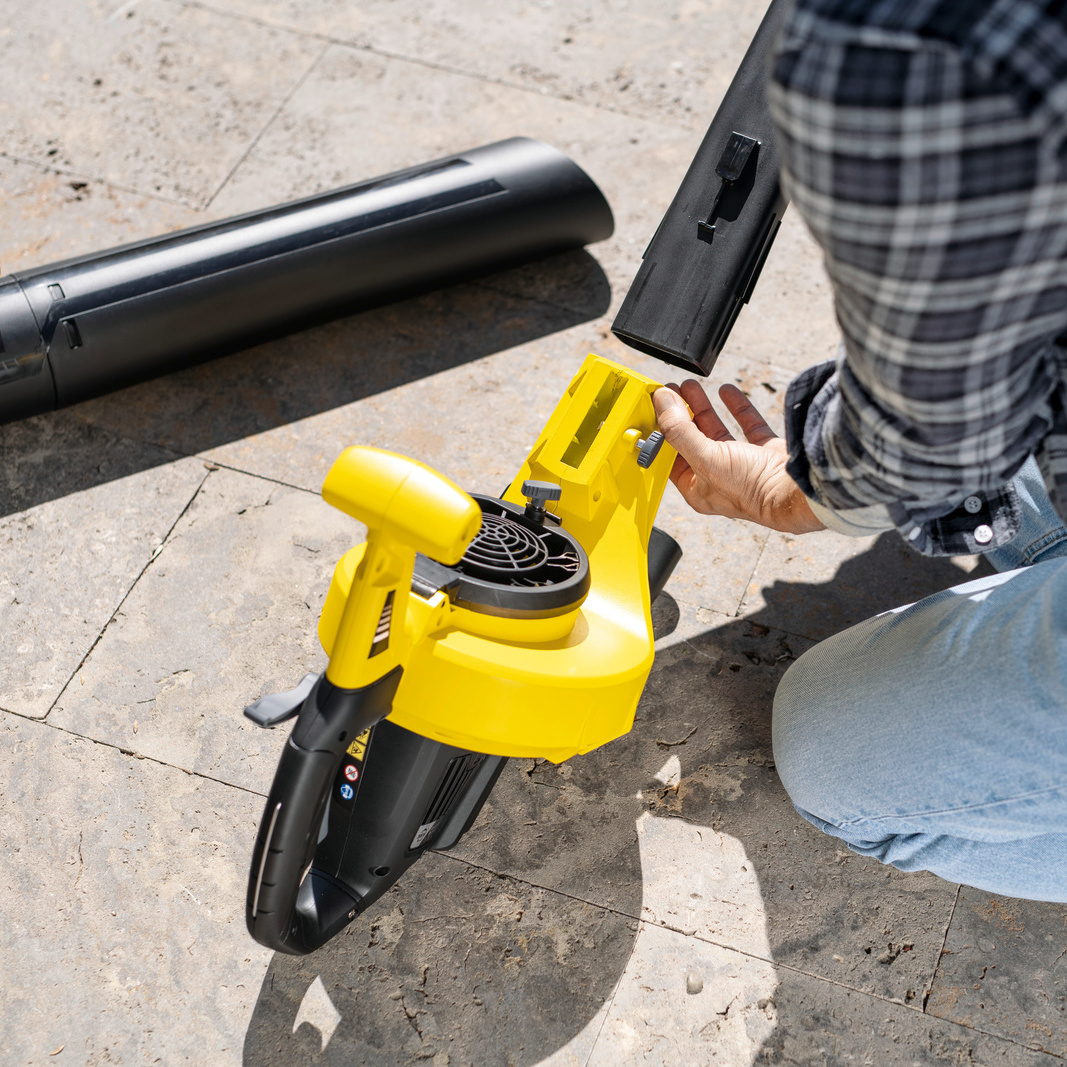 Powerful and thorough removal of leaves
When muscle power or other aids reach their limits, our cordless leaf blowers impress with up to 240 km/h air speed and maximum user comfort, quickly and thoroughly ensuring leaf-free surfaces. The Turbo Boost, which increases the power of the device for a short time, saves even more time.
Stepless adjustment
The lever can be used to switch continuously between the blowing, suction or even a combination of both functions with just one flick of the wrist.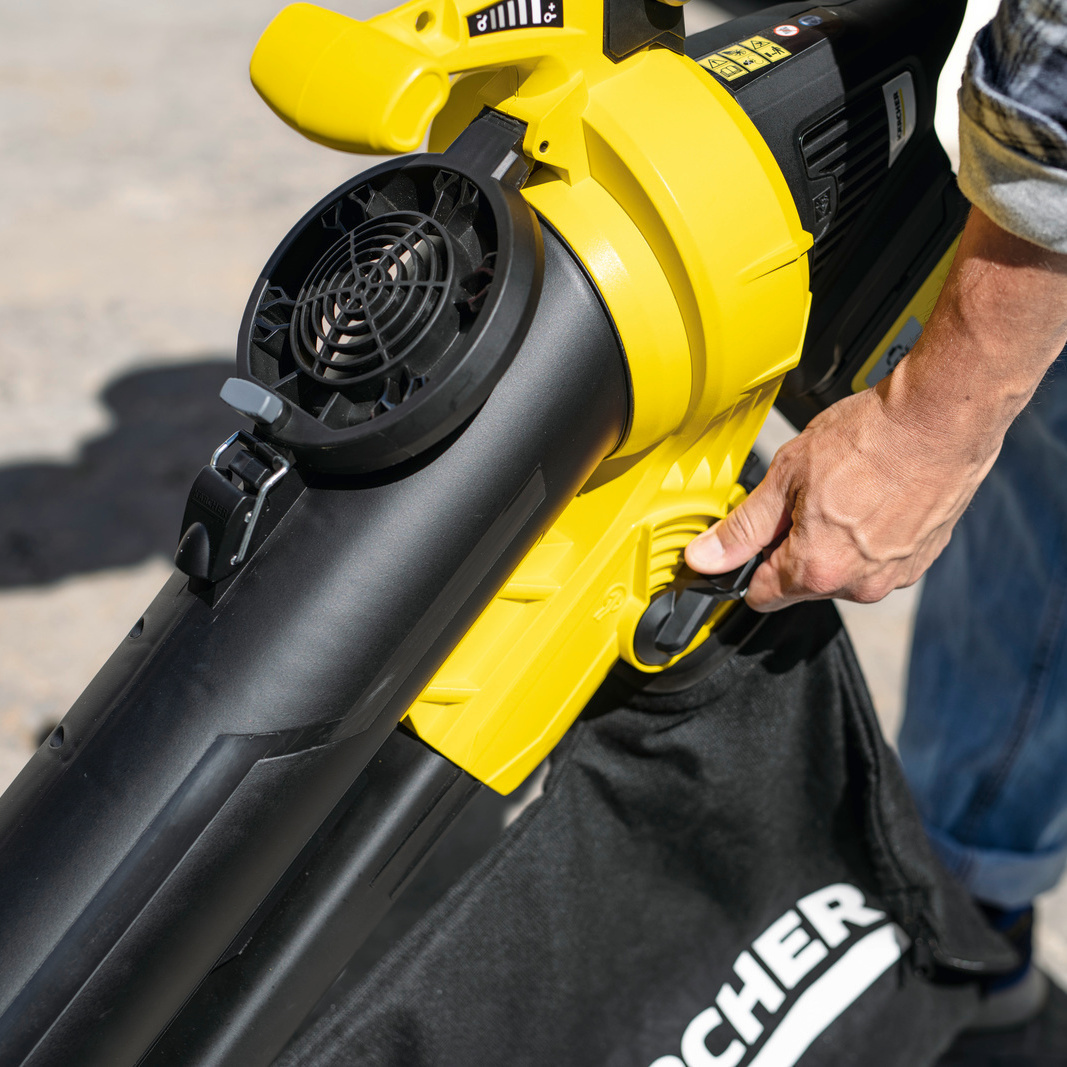 The cordless leaf blower and garden vac also has the following functions: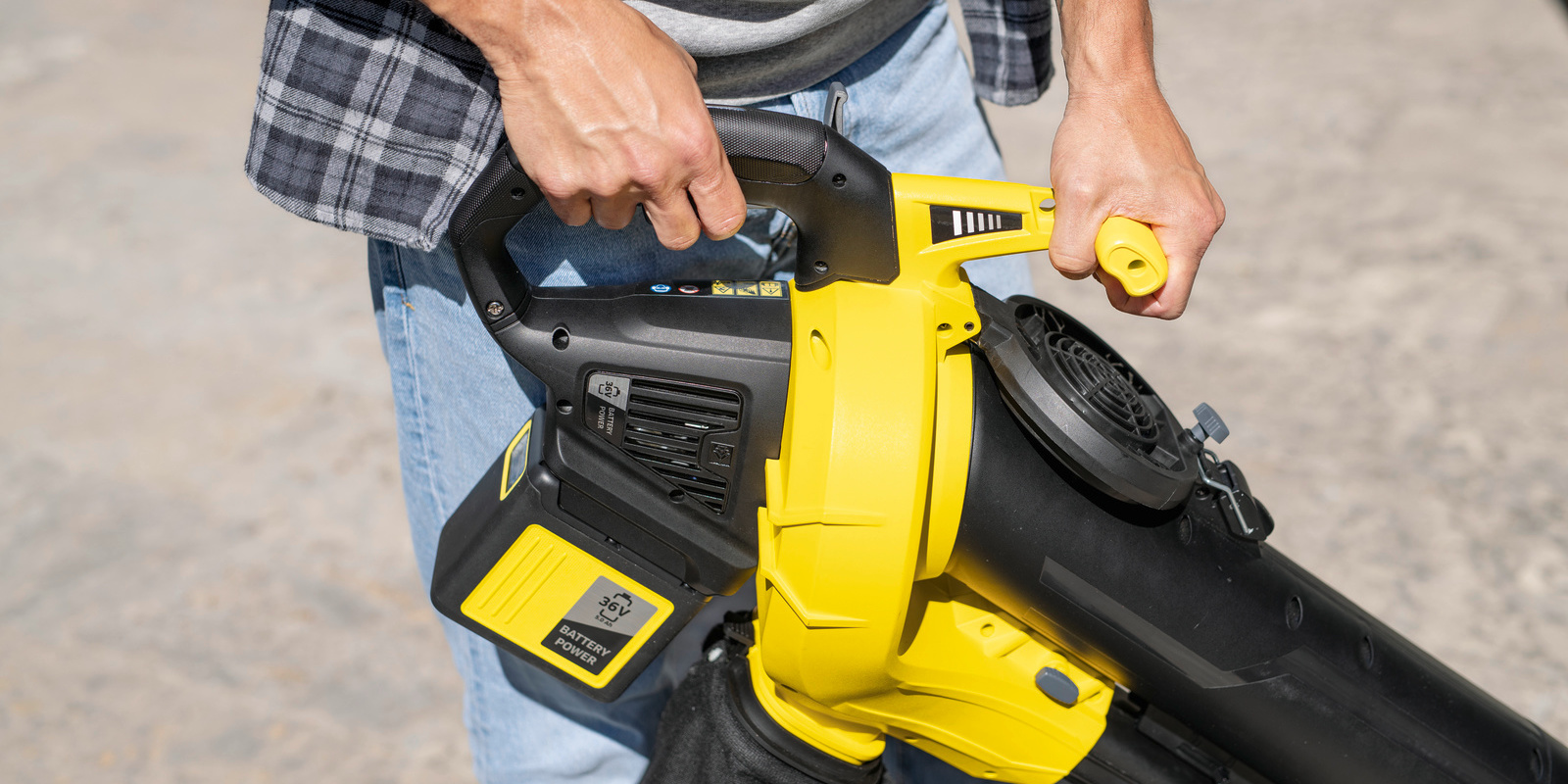 Two-handed grip
Ensures an ideal weight distribution and easy handling.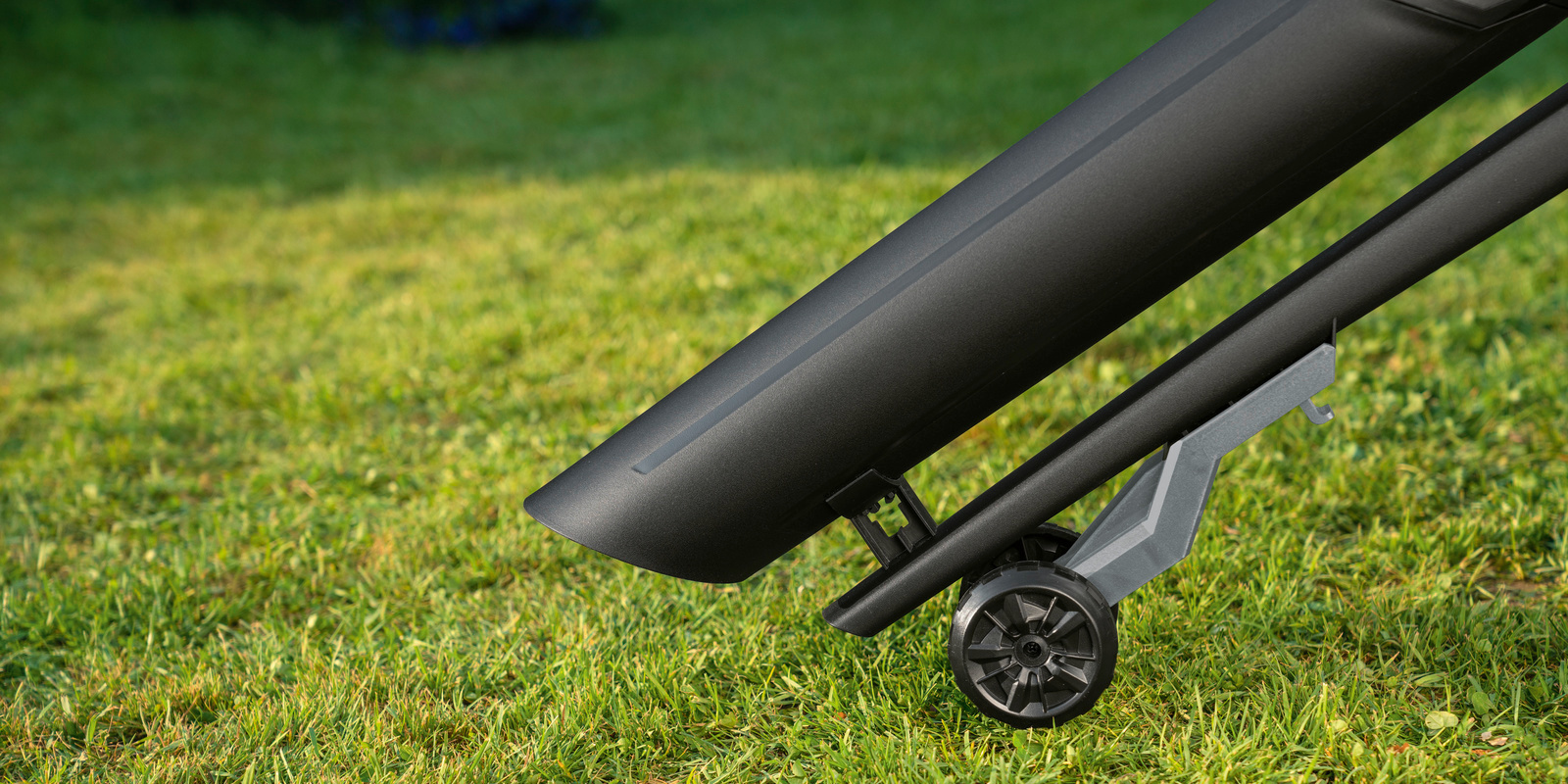 Removable guide rollers
Makes work simpler and more efficient.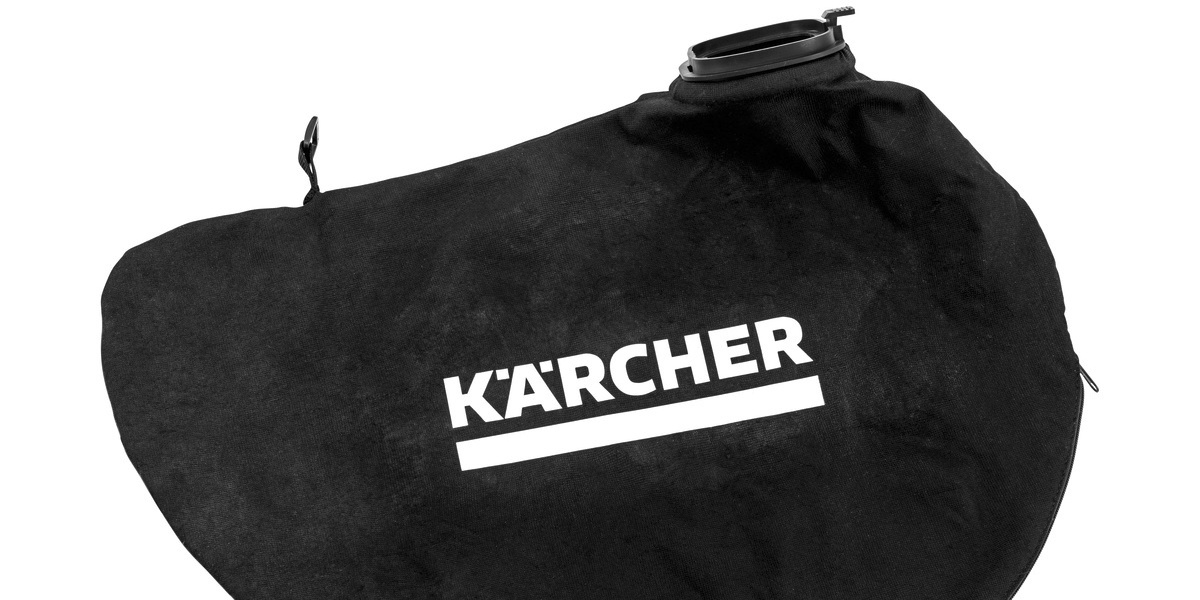 45-litre bag volume
Guarantees uninterrupted working for long periods.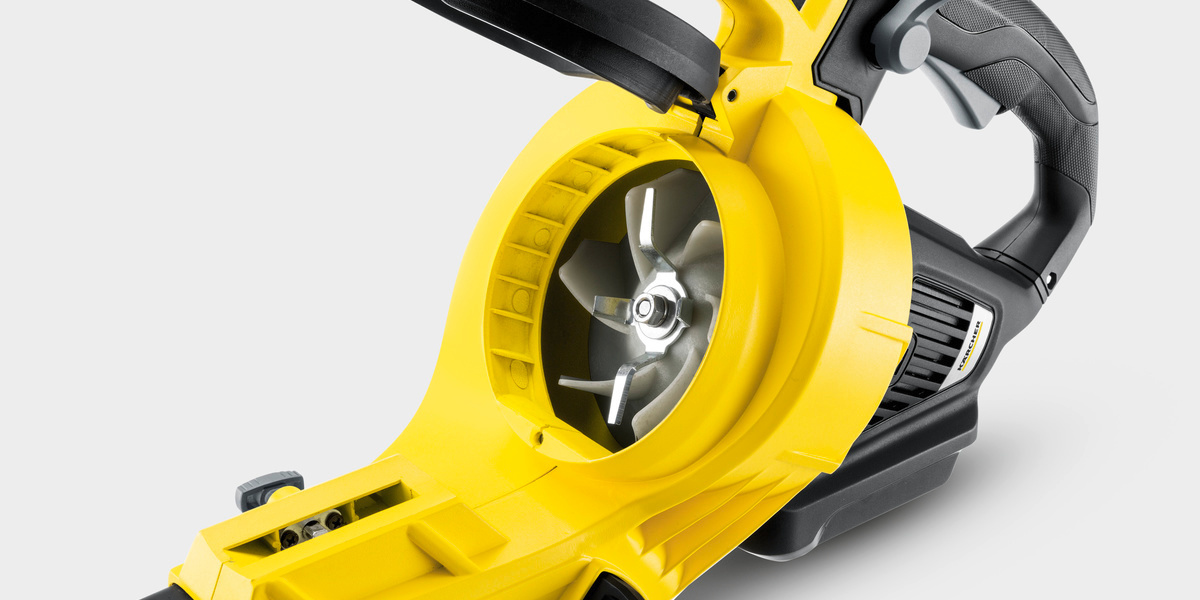 Brushless motor
For longer runtime and improved service life of the device.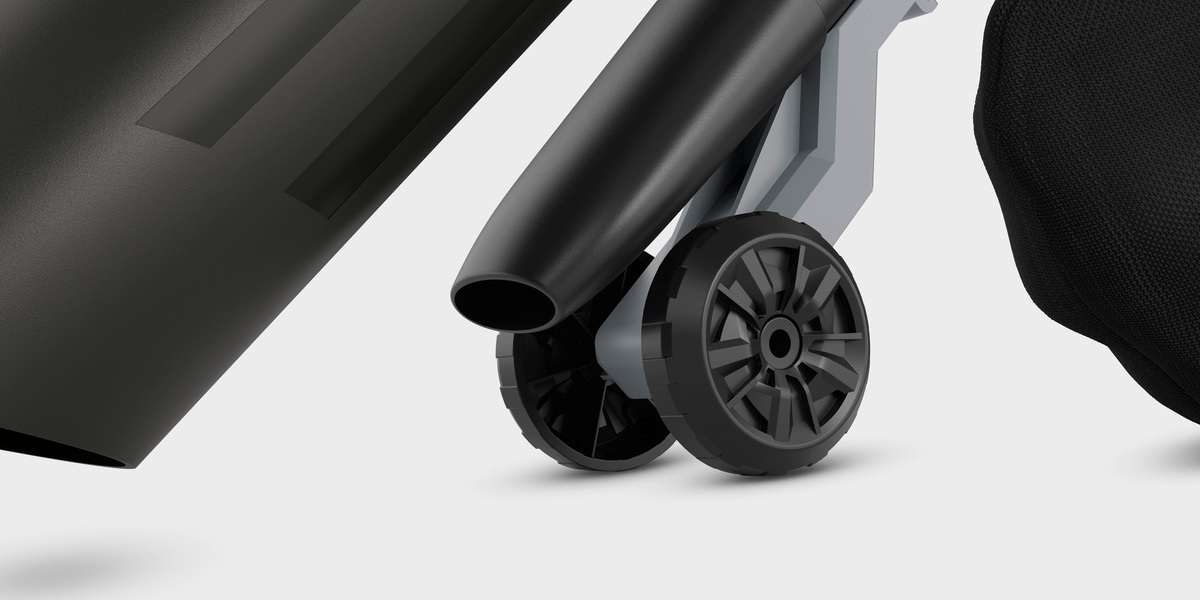 Detachable flat nozzle
For precise and spot cleaning. The leaves can, for example, be specifically blown into a pile.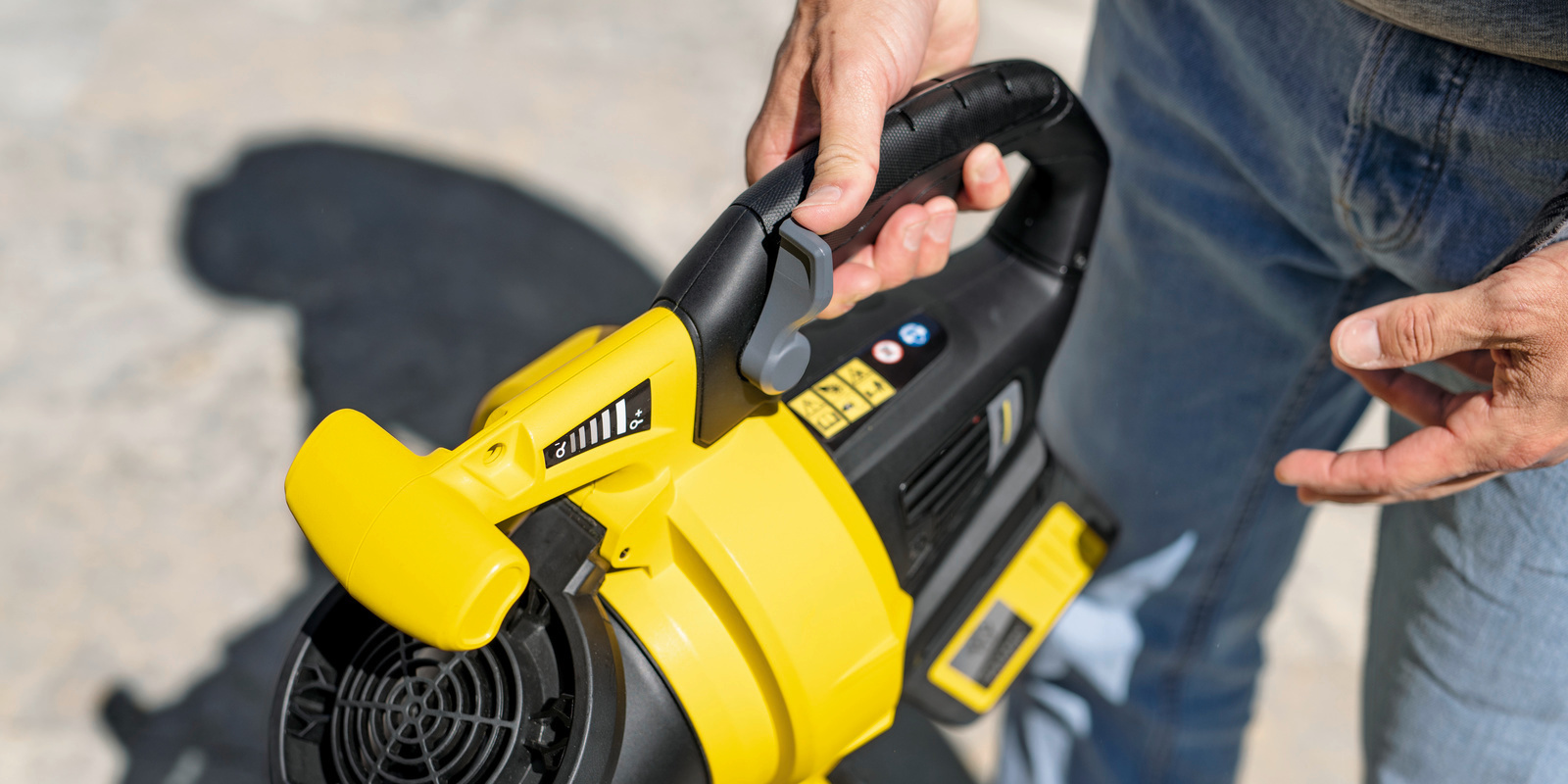 Variable speed regulation
Makes it possible to continuously adapt the speed depending on the task.
Highlights of the cordless leaf blower and garden vacuum
Features of the cordless leaf blower
Maximum freedom of movement
The cordless leaf blower allows the best possible freedom of movement without an annoying power cable getting in the way. It also offers a perfect balance so that longer and more complex jobs can be carried out effortlessly.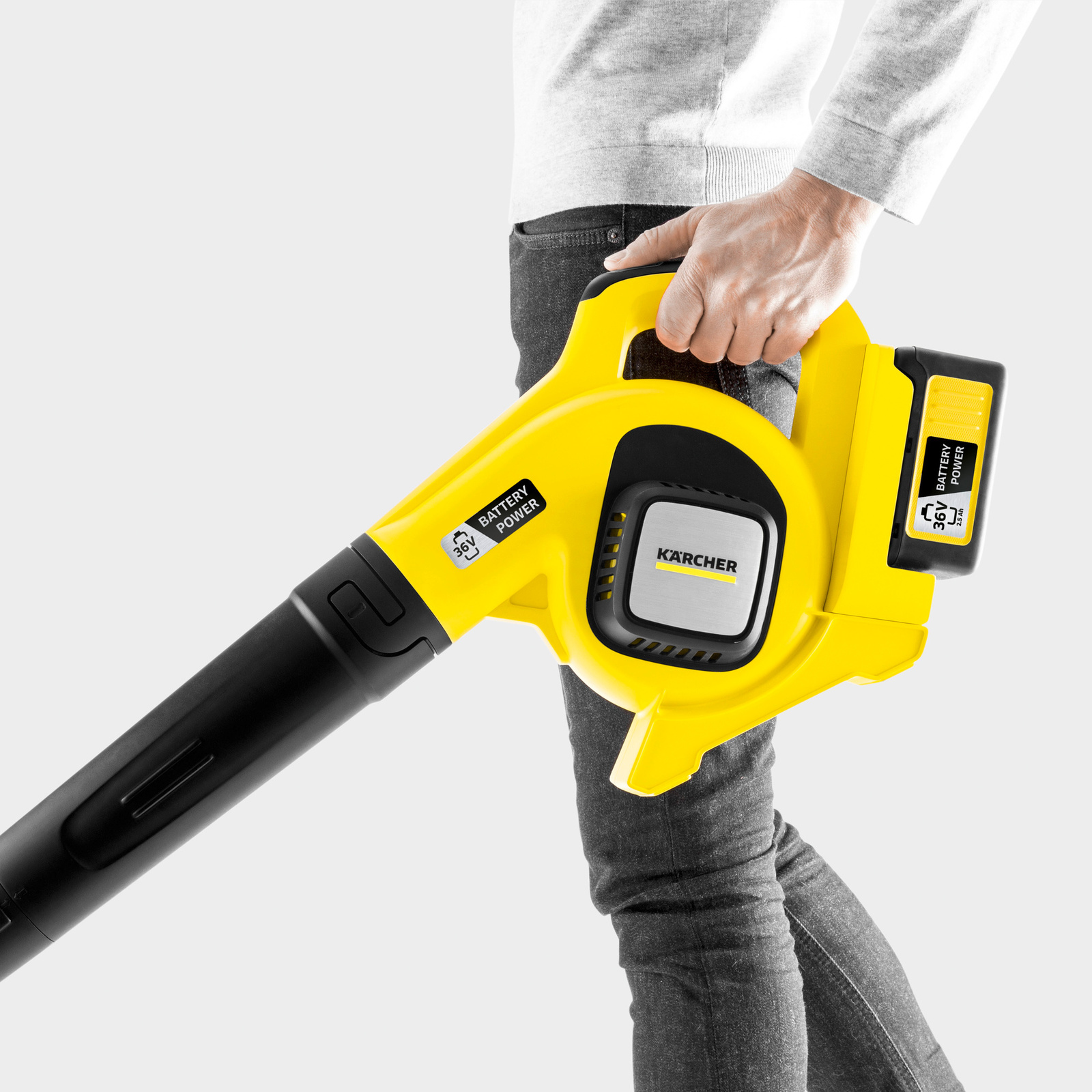 Removable flat nozzle
Not every surface to be cleaned is exposed to the same weather conditions. Rain and wetness in particular can make the removal of leaves difficult. Thanks to the removable flat nozzle with integrated scraper edge, the cordless leaf blower also frees the desired surfaces from wet leaves and trampled dirt.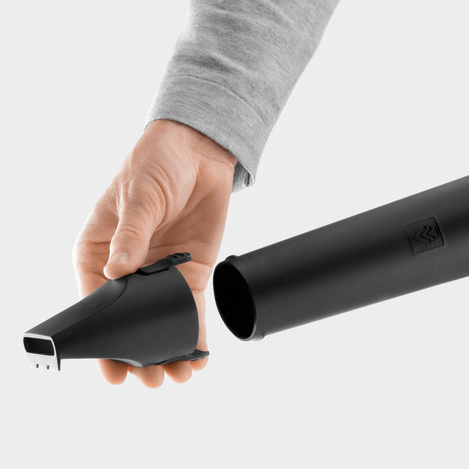 Ergonomic handle
Thanks to the conveniently placed speed control, the device is particularly easy to operate. In addition, the ergonomic handle ensures that the cordless leaf blower fits comfortably in the hand.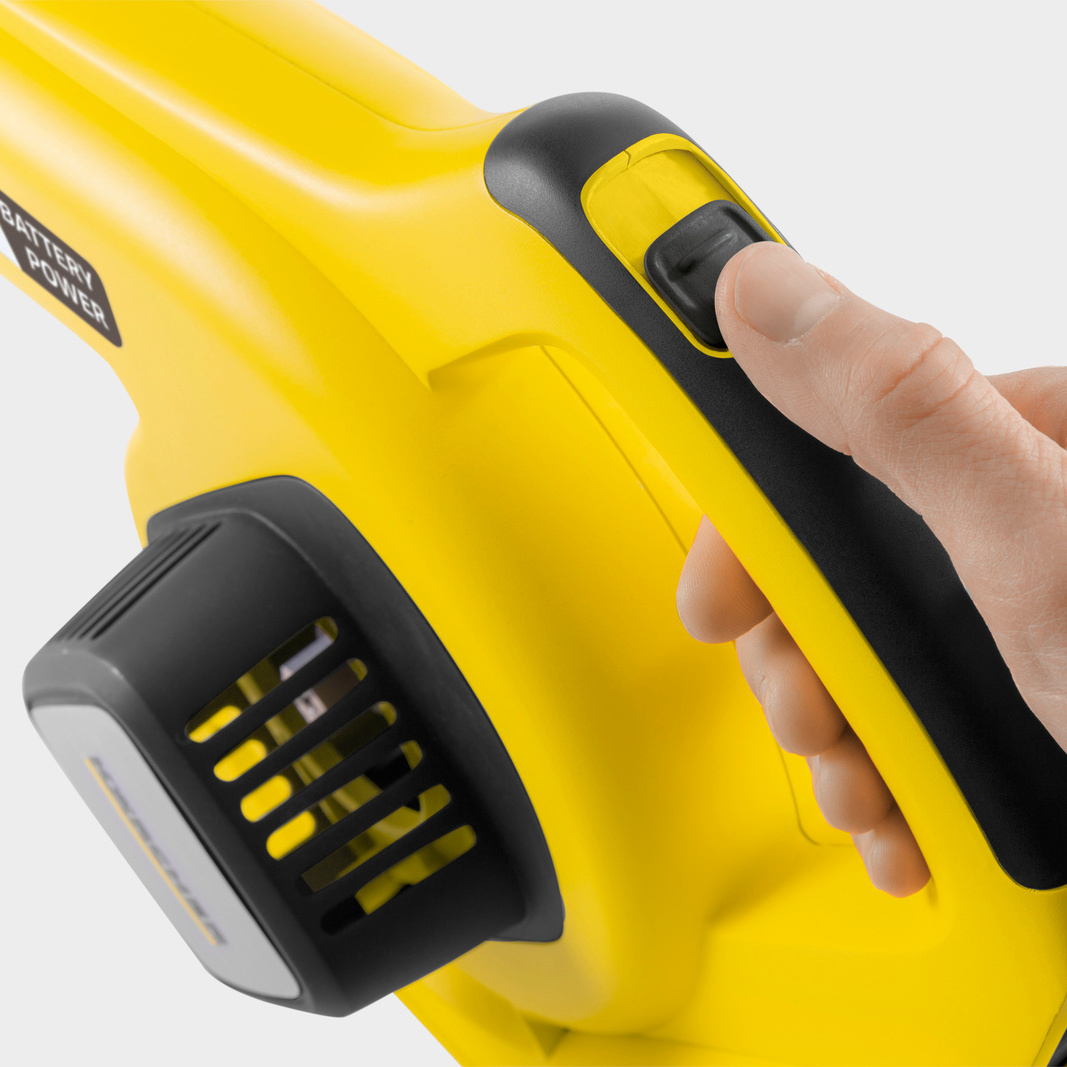 The cordless leaf blower also has the following functions: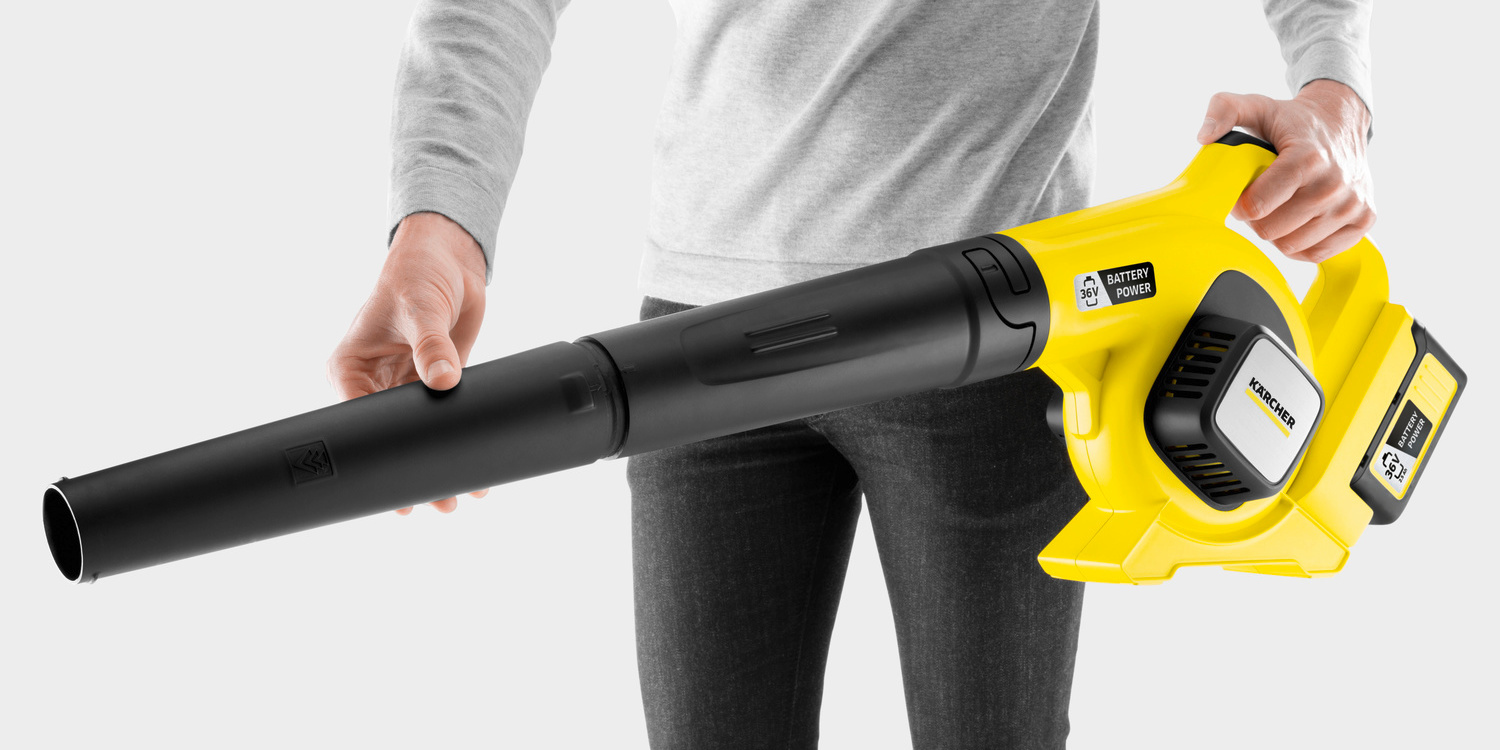 Removable elements
Removable two-part tube for optimum adaptation to the situation and space-saving storage when not in use.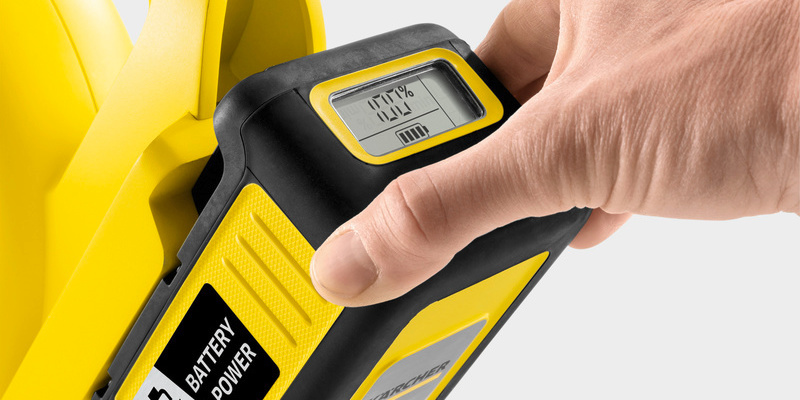 Modern display
Real Time Technology with LCD battery display: remaining running time, remaining charging time and battery capacity.
Cordless leaf blower highlights
36 V Kärcher Battery Power
LBL 4 Battery Set
No matter where leaves pile up in autumn, the battery-powered LBL 4 Battery leaf blower powerfully and effectively clears them aside. When muscle strength or other tools reach their limits, it impresses thanks to two-stage power control and maximum user convenience.
Voltage: 36 V
Air speed: Max. 250 km/h
Air throughput: Max. 330 m³/h
Performance per battery charge*: Max. 550 m²
Weight: 2.2 kg
Blow tube: Two-part
Flat nozzle incl. scraper edge: Yes
Power control: Two-stage
Battery charger: Kärcher Battery Power 36 V fast charger
Battery included: 36 V/2.5 Ah
* Maximum performance with a 36 V/2.5 Ah Kärcher Battery Power exchangeable battery.
BLV 36-240 Battery
Leaves, lawn cuttings, hedge cuttings and green waste don't stand a chance against the battery powered BLV 36-240 Battery leaf blower and garden vac with its brushless and extremely efficient motor. The practical 3-in-1 function not only blows all leaves and cuttings together but also immediately vacuums them up and chops them.
Air speed in blower mode: Max. 240 km/h
Performance per battery charge in blower mode*: Max. 550 m²
Air speed in suction mode: Max. 130 km/h
Performance per battery charge in suction mode*: Max. 75 litres
Weight without accessories: 4.2 kg
Battery and battery charger: Not included in the scope of supply
* Maximum performance with a 36 V/2.5 Ah Kärcher Battery Power exchangeable battery.
Kärcher Battery Power battery platforms