Battery blower vac BLV 36-240 Battery
The powerful blower vac BLV 36-240 Battery blows, vacuums and chops garden waste, also wet green waste, at up to 240 km/h. The suction and blow tubes can be removed separately.
Wet leaves, grass and hedge trimmings stick to the ground like wallpaper. Wet plant remains are difficult to get out, especially from corners. An entire cleaning crew is needed in order to remove these deposits quickly. Or the battery powered BLV 36-240 Battery, which can manage it alone. With high power and an air flow rate of 770 m³/h, the powerful blower vac removes even wet garden waste. The energy required can be steplessly adjusted via the speed so that a choice can be made between maximum battery running time or power. Another selection lever allows a change between the blow or vacuum settings, which can also be used in combination. When vacuuming the large leaf bag is used where all green waste is chopped up small. So that the operator does not tire when using the device with extended work intervals, attention was paid to wear comfort by means of an ergonomic two-handed grip for optimal weight distribution and removable guide rollers. This makes the work easy and efficient. The suction and blow tubes can also be removed separately. A battery is not included in the set.
Features and benefits
Suction and blow tubes can be removed individually
Fatigue-free work thanks to weight reduction with parts that can be removed separately.
Detachable flat nozzle
For precise and spot cleaning. The leaves can, for example, be specifically blown into a pile.
Variable speed regulation
Makes it possible to continuously adapt the speed depending on the task.
Selector lever for setting the function
Continuous adjustment between vacuuming and blowing, also with the option of a combined function.
Two-handed grip
Ensures an ideal weight distribution and easy handling.
Removable guide rollers
Makes work simpler and more efficient at the same time.
45-litre bag volume
Guarantees uninterrupted working for long periods.
36 V Kärcher Battery Power battery platform
Compatible with the 36 V/2.5 Ah and 36 V/5.0 Ah batteries in the 36 V Kärcher Battery Power battery platform.
Metal shredding wheel
Improves chopping output and extends the lifetime of the device.
Brushless motor
For a longer running time and improved lifetime for the device.
Specifications
Technical data
| | |
| --- | --- |
| Battery powered device | |
| Battery platform | 36 V battery platform |
| Drive | Brushless motor |
| Turbo boost button | no |
| Speed regulation | yes |
| Operating noise level (dB(A)) | 104 |
| Blower mode, air speed (km/h) | max. 240 |
| Suction mode speed (km/h) | max. 130 |
| catcher bag volume (l) | 45 |
| Voltage (V) | 36 |
| Power per battery charging - Blowing mode (m²) | max. 550 (2.5 Ah) / max. 1100 (5.0 Ah) |
| Power per battery charging - Suction mode (l) | max. 75 (2.5 Ah) / max. 150 (5.0 Ah) |
| Runtime per battery charging (min) | max. 10 (2.5 Ah) / max. 20 (5.0 Ah) |
| Weight without accessories (kg) | 4.6 |
| Weight incl. packaging (kg) | 6.7 |
| Dimensions (L x W x H) (mm) | 1290 x 230 x 380 |
Equipment
Variant: Battery and charger not included
Detachable flat nozzle
grass collection box
Removable guide rollers
Shoulder belt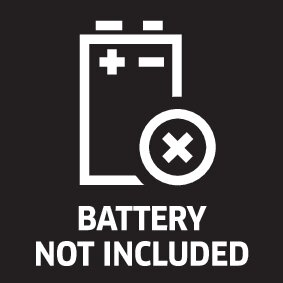 Application areas
Removal of leaves, cuttings and other green waste around the house and garden
Chopped material can be used directly for mulching
Removing green waste after shrub and hedge trimming
Clearing weeds after weeding
Remove cut grass
All products that match the battery