DUST EXTRACTION
Don't let your lungs be the filter: Kärcher's new wet and dry safety vacuums feature improved filter technology, to help control dust and protect you and others around you.
Kärcher's New H-Class Vacuum
Dangerous dusts on worksites can cause great harm to our health when inhaled. New workplace safety standards outline that H-Class filtration in professional vacuum cleaners is required when working with certain materials or on certain worksites. Kärcher has responded by launching a brand new H-Class Wet & Dry Professional Vacuum.
The NT 40/1 Tact Te H features:
Re-usable H-class Filter for guaranteed dust filtration efficiency of 99.995%.
Power tool take off that complies with Australian Standards.
Triggered Airdraft Cleaning Technology (TACT) for sensor controlled filter cleaning.
What is construction dust?
Construction dust is a general term used to describe the types of dusts typically encountered when working in the construction industry. As well as being a nuisance, when not correctly controlled, these dusts can seriously affect your breathing, damage your health, and with prolonged exposure some types can cause life-changing lung diseases and even kill.
We are all familiar with the day-to-day fine dust particles found in the atmosphere, such as: human skin cells, textile fibres and even burnt meteorite particles, however workers in the construction trade are faced with layers of more extreme varieties of dust.
Typically there are three main types, these are created when cutting, filing, grinding or otherwise disturbing these materials: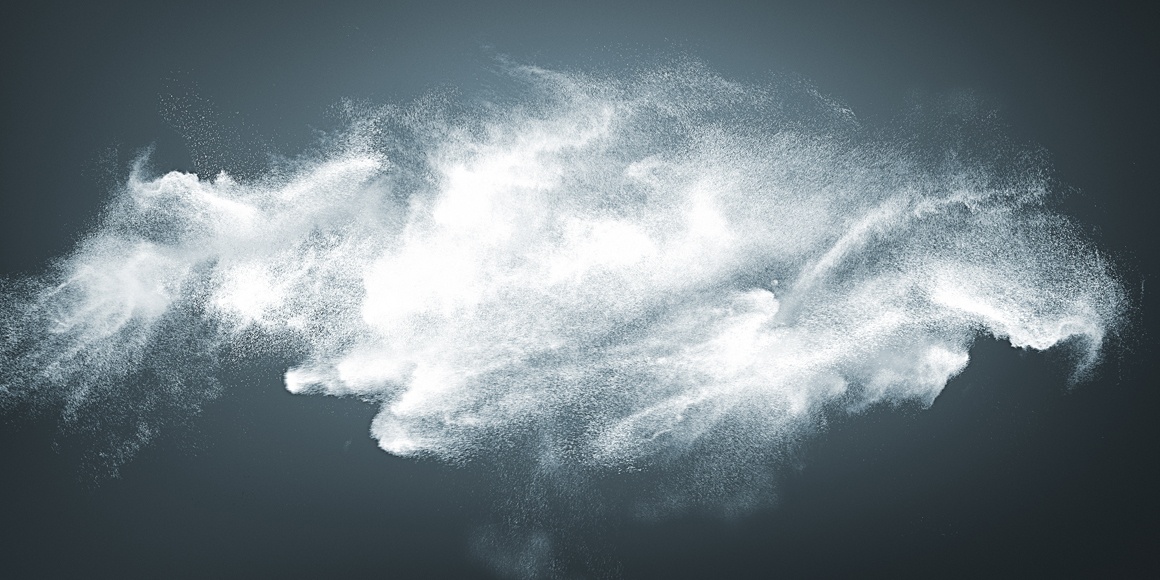 Silica dust
Concrete, bricks, tiles, mortar and sandstone (also known as Respirable Crystalline Silica or RCS)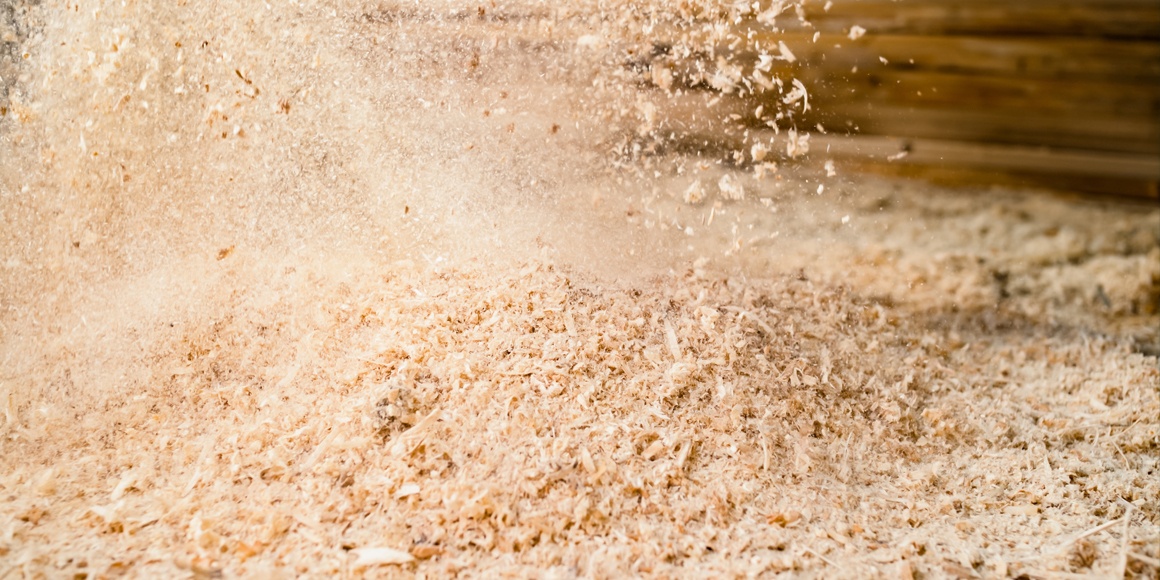 Wood dust
Softwood, hardwood and wood-based products like MDF and plywood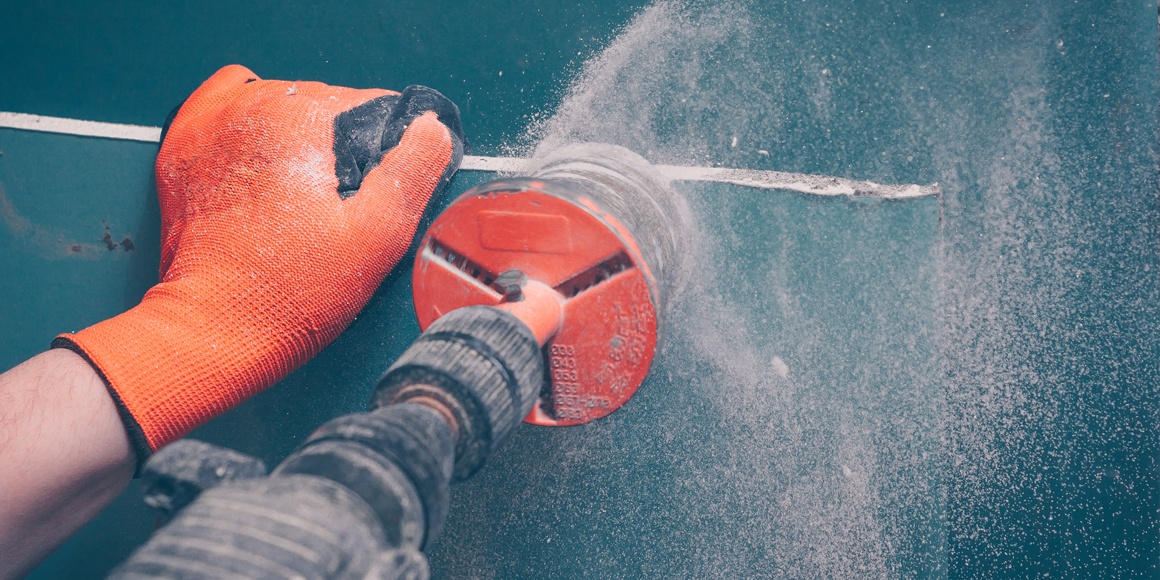 Lower toxicity dusts
Gypsum (e.g. in plasterboard), limestone, marble and dolomite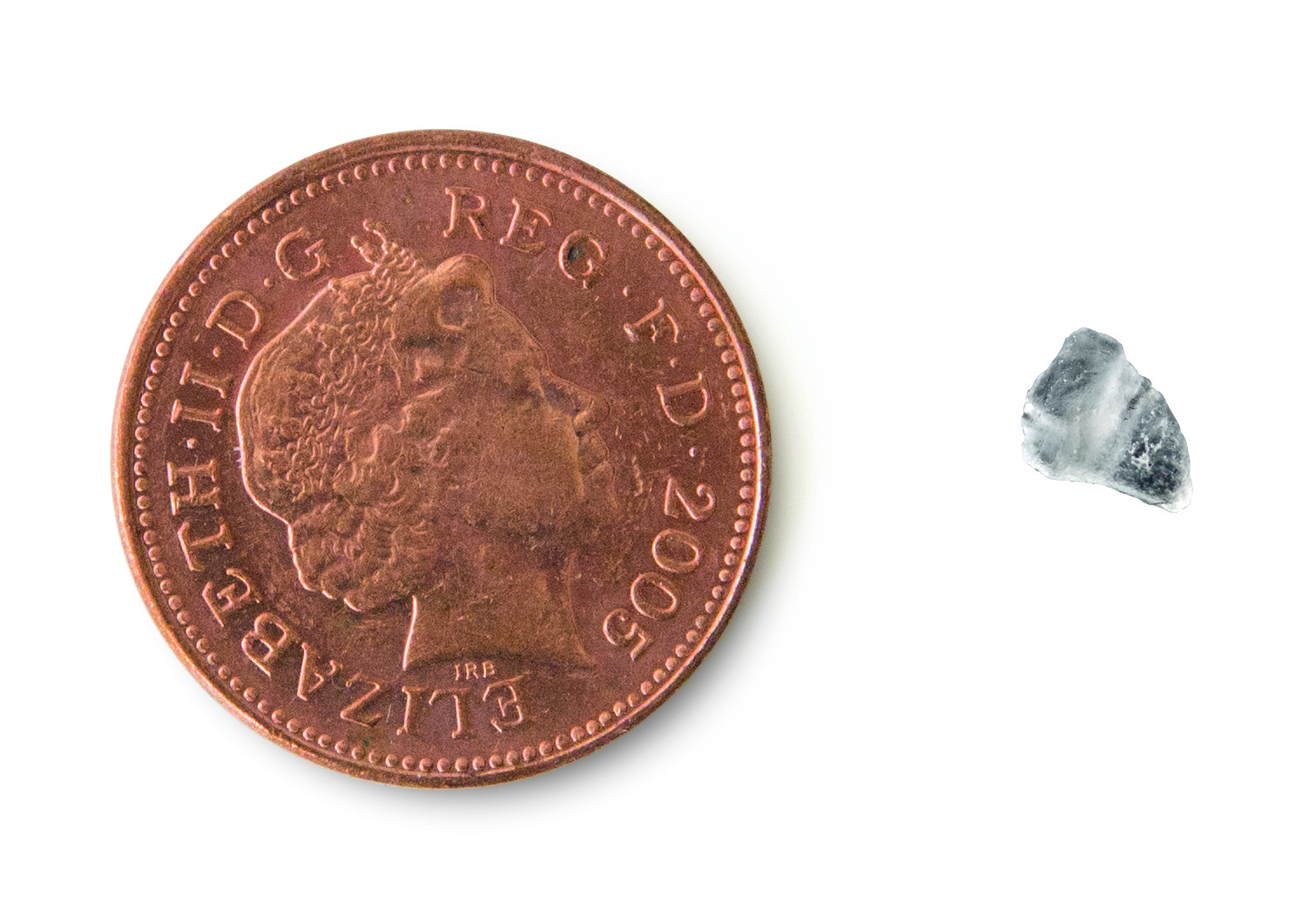 Silica dust - the new asbestos?
Silica dust only requires a small amount to be airborne to create a health hazard. The harmful particles are not visible to the human eye, meaning that many workers are not aware they have even breathed this substance in. When this dust is inhaled, it can seriously damage the lungs, kidneys and airways, causing life-changing diseases including: lung cancer, silicosis, chronic obstructive pulmonary disease (COPD) and asthma - in some cases it can even kill.
When working in a dusty environment without protection typically the body will breathe out 95% of the dust, but 5% of fine dust will remain in the lungs, which is harmful.
Silica dust remains in the lungs which causes inflammation, and leads to an increased chance of suffering from lung damage and scarring; it can also enter into the circulatory system and affect other organs such as the brain, heart and bones – the diagnosis often being silicosis.
Silicosis is an irreversible, progressive, disabling, and often fatal lung disease as the result of heavy and prolonged exposure to respirable size crystalline silica dust - a common mineral found in many materials on construction sites, including: concrete, rock, sand and granite.
The amounts needed to cause this damage are not large, please see below example. This shows the maximum amount of silica someone should be breathing in a day after using the right controls.
Over 500 construction workers are believed to die from exposure to silica dust every year, with silicosis an Australian government-recognised industrial disease – it is therefore vital the risk from silica dust is taken seriously and exposure adequately controlled.
Control dust and avoid ill health in the workplace
Exposure to all dusts should be prevented or, where this is not reasonable practical, adequately controlled. SafeWork Australia outlines how those exposed to dust, should assess, control and review to minimise health risks. But what does this actually mean?
1. Practise special cutting techniques rather than grinding, or sawing, or use wet-cutting processes: water provided at the right level damps down dust clouds
2. Reduce the emission of dust at source with on-tool extraction
3. Ensure that Respiratory Protective Equipment (RPE) and Personal Protective Equipment (PPE) are available and correctly worn
4. Use sheeting or temporary screens to prevent dust from escaping
5. Properly maintain equipment/tools that are used so they continue to operate at maximum efficiency
6. Work with silica-free abrasives which reduce the risks when blasting
7. Make certain that there is adequate ventilation within the workplace
8. Access onsite washing facilities to remove dust before leaving the job, to avoid transferring dust into vehicles and homes
9. Ensure a COSHH assessment has been carried out to determine the levels of risk and that correct procedures are in place to ensure safe working
10. Look at using dust lamps, which provide a powerful beam of light, to show whether very fine dust is present and to help pin point the source
---
Safety, it's a matter of
Tact
We want to help protect those who work in the construction industry against the dangers of fine dust. As a result, we have developed a range of vacuum cleaners capable of picking up wet and dry dirt and dust, with the option to immediately collect it at source with a power tool take off. Now we have taken it one step further with our latest generation of Tact H and M class wet and dry vacuum cleaners.
What is Tact? Triggered Air-draft Cleaning Technology
Equipped with a host of features including our new sensor-controlled, automatic filter cleaning system (Tact), Kärcher's Professional wet and dry vacuum cleaners detect when the flat pleated filter needs to be cleaned and quickly reverses the air flow, to blow air through the filter, enabling continuous operation for the user without any loss of suction power. This revolutionary system enables unprecedented amounts of dust to be vacuumed without manual filter cleaning and has significantly reduced levels of noise when small amounts of dust occur.
These powerful Tact vacuum cleaners are suitable for both typical as well as hazardous dust thanks to their highly efficient filter cleaning. Their unique filter service life of 180 kg fine dust (mineral dust category A) captured the filter needs to be changed means even longer periods of uninterrupted operation with constant suction power and better protection against fine dust.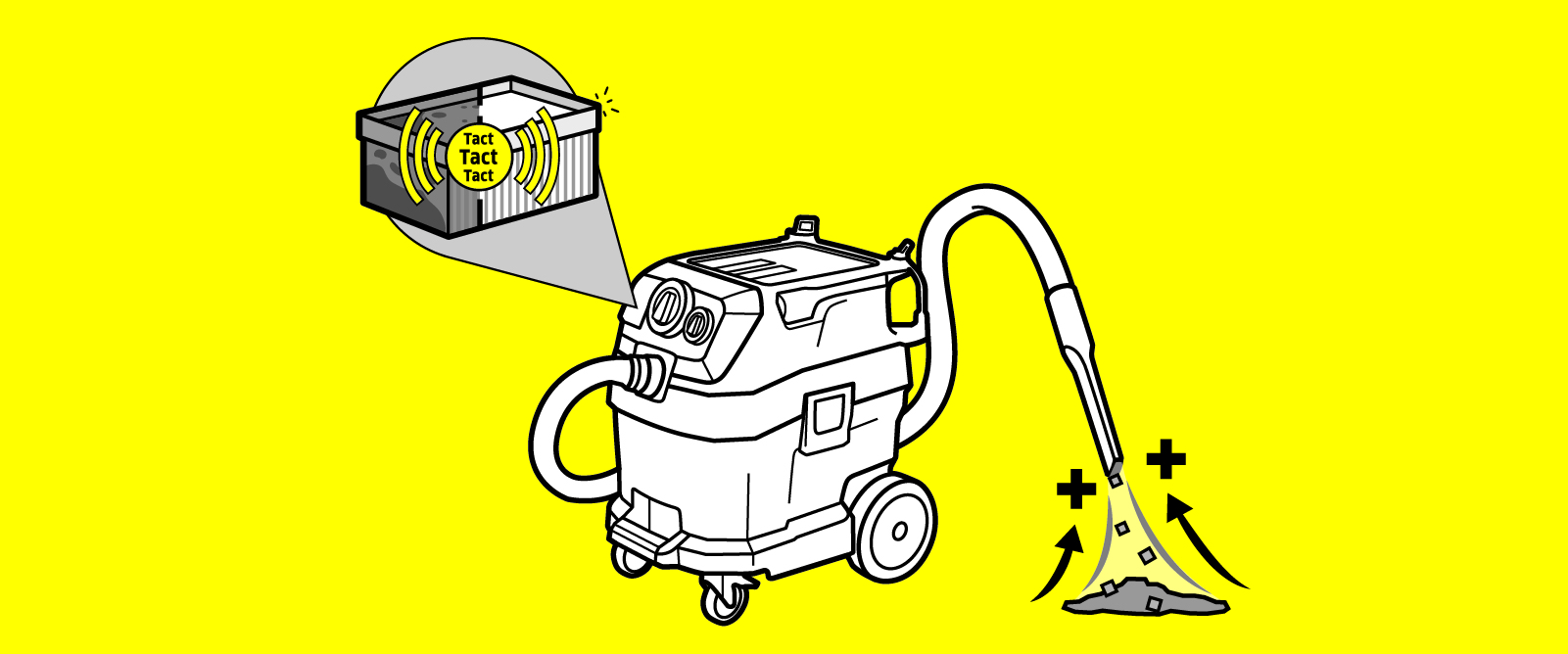 ---
What do L, M and H classes mean?
Dusts are categorised into L, M or H classes according to the danger level they pose.
L Class
L class vacuum cleaners are ideal for extracting dust and debris from soft woods, lime and gypsum dusts. Dusts in L class present a moderate risk and there are no special precautions for the disposal of them.
Kärcher NT vacuum cleaners in this class include:
Protection against an electrostatic charge, which can occur when vacuuming dry dusts, thanks to its grounding conductor and conductive accessories
Power take-off tool so you can directly plug your power tool into the extractor, with auto start-up when the power tool is turned on
Delayed shut off by 10 seconds when the equipment is stopped to allow the dust to be cleared from both the tool and hose
Tact system for auto cleaning of the filter
M Class
The upgrade from L class, suitable for vacuuming dust and debris from hard woods, board materials, paint dust particles, ceramic, concrete and brick dusts - M Class is the minimum legal requirement when working on a construction site.
Kärcher NT vacuum cleaners in this class include:
All the features of L class machines
A warning signal sounds indicating when the suction rate decreases, a blockage occurs or the container is full
Electronic filter detection and air flow monitoring meaning the vacuum cleaner only starts when the filter is correctly installed
H Class
H class vacuum cleaners are suitable for the absorption of large volumes of safe as well as hazardous/highly carcinogenic substances, such as asbestos dust, lead, coal, nickel, cobalt, copper and cadmium and mould.
Kärcher NT vacuum cleaners in this class include:
All the features of L and M class machines
The PTFE-H flat pleated filter (HEPA 13) used in the H class models, is the first cleanable filter in a wet and dry vacuum cleaner for this dust class
Equipped with special safety filter bags for the reliable removal of substances harmful to health when emptying the machine
Dust class
L
Max. permeation level
≤ 1.0%
Suitable for
Dusts with MAC values > 1mg/m3
Material
---
Dust class
M
Max. permeation level
< 0.1%
Suitable for
Dusts with MAC values ≥ 0.1mg/m3
Wood dusts up to 1200 W/50 I
Material
Wood dusts (beech, oak)
Paint dust particles
Ceramic dusts
Dusts from plastics
---
Dust class
H
Max. permeation level
< 0.005%
Suitable for
Dusts with MAC values < 0.1mg/m3
Carcinogenic dusts (Section 35 GeStoffV (German Ordinace on Hazardous Substances)
Pathogenic dusts
Material
Carcinogenic dusts (lead, coal, cobalt, nickel, tar, copper, cadmium, etc.)
Mould, bacteria
Germs
Formaldehyde
---