TACT Class Industrial Vacuum Cleaners
Industrial Wet & Dry Vacuum range - built tough.
Wet or dry vacuuming capabilities.
Patented TACT automatic filter cleaning allows you to clean for longer without interuption.
Ideal for construction sites, automotive workshops and other commercial areas where tough vacuuming is needed.
Chat with Our Experts and Get Your Commercial & Industrial Cleaning Machines and Solutions Sorted
Industry customised solutions tailored to your specific cleaning challenges
Expert advice and support from our team of experienced professionals
Environmentally friendly and energy-efficient cleaning technologies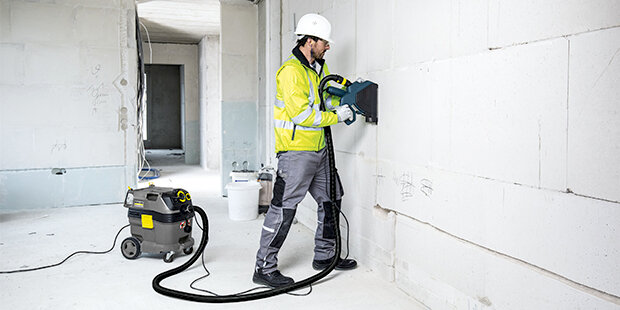 NT vacuums with patented Tact system for uninterrupted use with consistently high suction power - even for large amounts of fine dust. The filter cleans itself with powerful blasts of air. Tact vacuums meet the highest user requirements on construction sites and in workshops.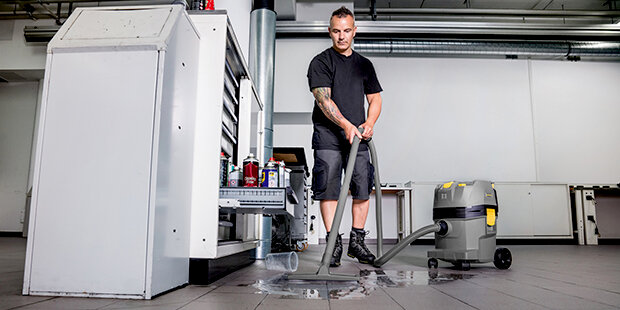 The strong allround vacuum cleaners of the Ap class remove liquid and moist dirt, as well as medium-fine dust. Thanks to semi-automatic filter cleaning, the filter remains clear and the suction power high. For long and efficient working periods.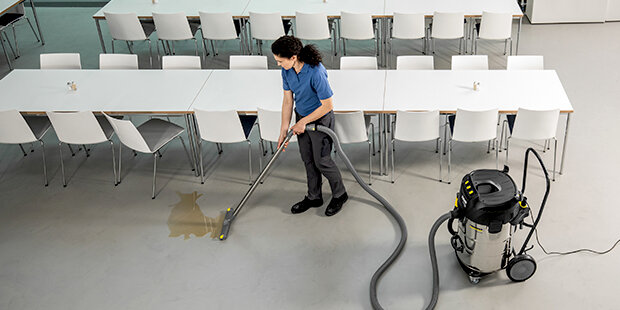 The standard class vacuum cleaners have been designed specifically for coarse dirt and large liquid volumes. These extremely robust, durable and easy to handle machines are used by contract cleaners on a daily basis.
Kärcher wet and dry vacuum cleaners: designed for professional, commercial use
The NT Tact vacuum cleaners have been developed for the most demanding applications in industry and trade, making your day-to-day work easier with maximum power. Self-cleaning filter systems for industrial vacuums provide strong suction power, even for large amounts of fine dust.

The Ap class commercial vacuums are all-rounders, eliminating dirt, whether it is dry, damp or wet. For example, they are ideally suited to all cleaning tasks in the car industry.

Durability and user-friendliness is where the robust standard class scores highly. The standard class machines are mostly used to vacuum liquids in building cleaning, as well as in hotels and restaurants.

Our special vacuums offer tailored solutions for particular applications, such as vacuum cleaners with built-in disposal pumps for fire brigades and construction companies, as well as our vacuum cleaner for bakeries.

The safety vacuum cleaners ensure that health is protected wherever users are exposed to respirable dusts in dust class M or hazardous dusts in dust class H. What's more, our range includes explosion-proof NT vacuum cleaners for hazard class zone 22.
Fine dust vacuum cleaners with filter cleaning
Top quality does not happen by accident – it's hard work. Especially on construction sites and in workshops, large quantities of dry dust accumulate, sawdust is generated, material residues fall onto the floor and get stuck in machines. Our fine dust vacuum cleaners are tailored to suit precisely these challenges. The patented Tact filter cleaning technology makes it possible to vacuum large amounts of fine dust without the need for a filter bag. This allows the whole size of the suction container to be used, plus there are no costs for filter bags. Suction power remains consistently high so that you can work at the height of efficiency without interruptions – for both vacuuming directly on the power tool, as well as removing dust deposits.
Our Ap class vacuum cleaners have been designed with semi-automatic filter cleaning for small to medium quantities of fine dust. Of course, they are also brilliant at handling coarse dirt and liquids – a true all-rounder.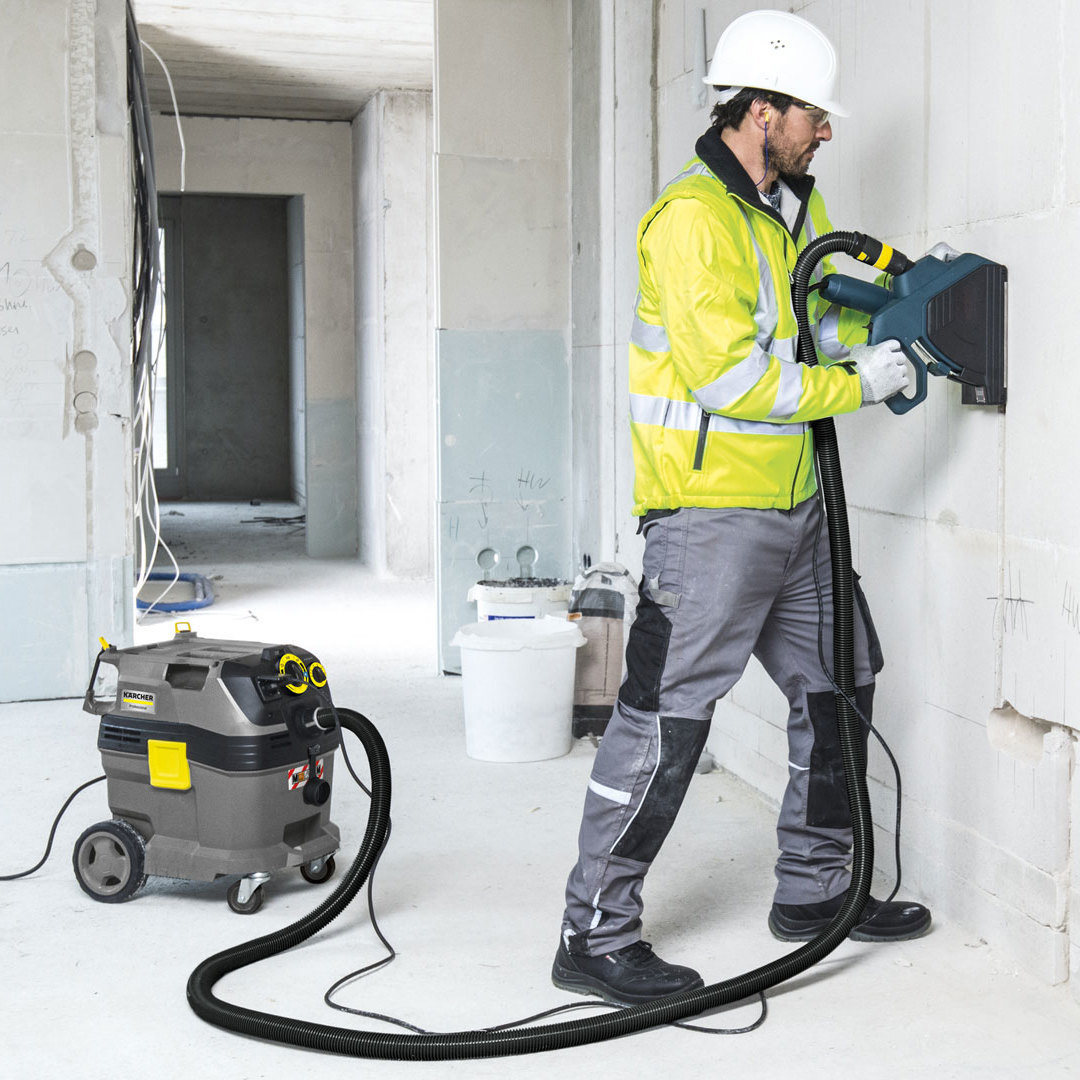 Wet vacuum cleaners
Large fluid volumes are difficult to remove without a wet vacuum cleaner. Moisture damages the floor and may cause accidents due to the slipping hazard. These challenges are fun to tackle with our wet vacuum cleaners. Whether you're using them to deep clean floors or remove spilled liquids, it doesn't matter – all of our wet and dry vacuum cleaners eliminate small to large fluid volumes quickly and reliably. If you need a machine primarily for wet vacuum cleaning, our standard class vacuum cleaners are the right choice for you.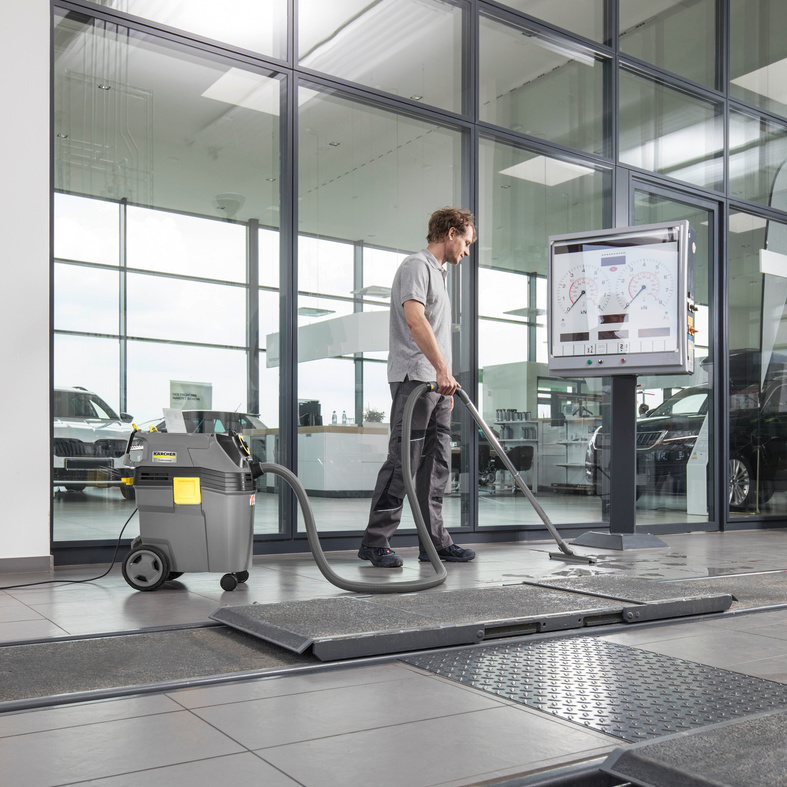 Safety vacuum cleaners: easily vacuum harmful substances
Safety vacuum cleaners give you peace of mind. Use them to vacuum hazardous dirt easily – and in the correct way. If you work in an environment with respirable dusts, have anything to do with carcinogenic materials or have even been exposed to asbestos, Kärcher safety vacuum cleaners are your saving grace, allowing you to work in a sustainable and healthy way. Certified flat pleated filters of dust class H keep the vacuumed substances where they should be – inside the vacuum cleaner. Our patented Tact filter cleaning system allows you to vacuum for long periods with powerful suction. When you can easily and safely vacuum up harmful substances, you can concentrate on the important stuff, your work.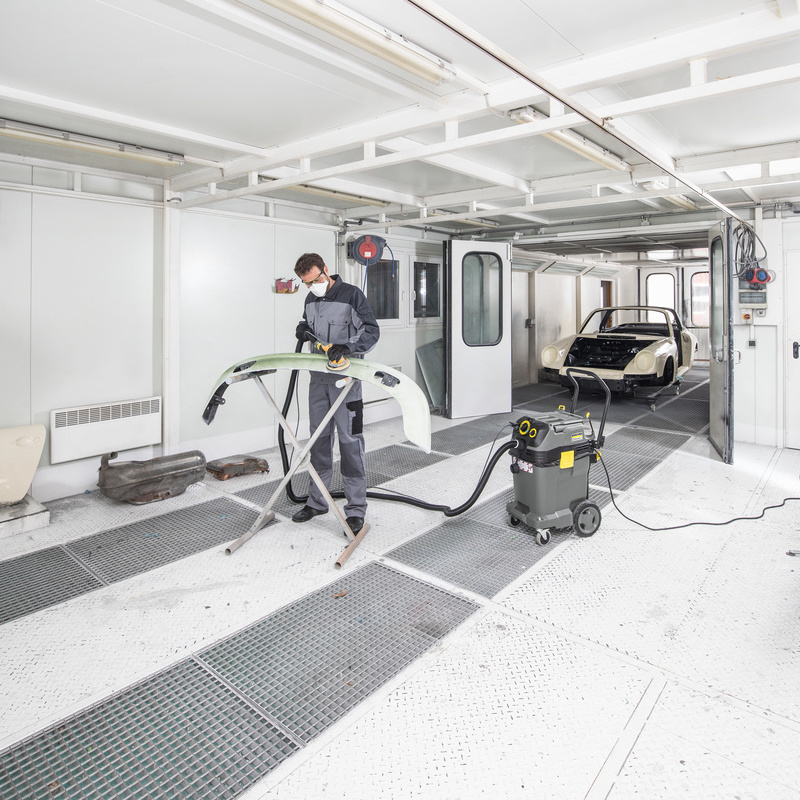 Frequently Asked Questions
How it works for wet dirt
The liquid is transported into the container via a suction hose thanks to the bypass blower vacuum generated in the container. To prevent liquids reaching the fan in the event of overfilling, a mechanical float system interrupts the air stream, whereby a float blocks the suction channel or an electronic automatic cutoff switches off the vacuum cleaner.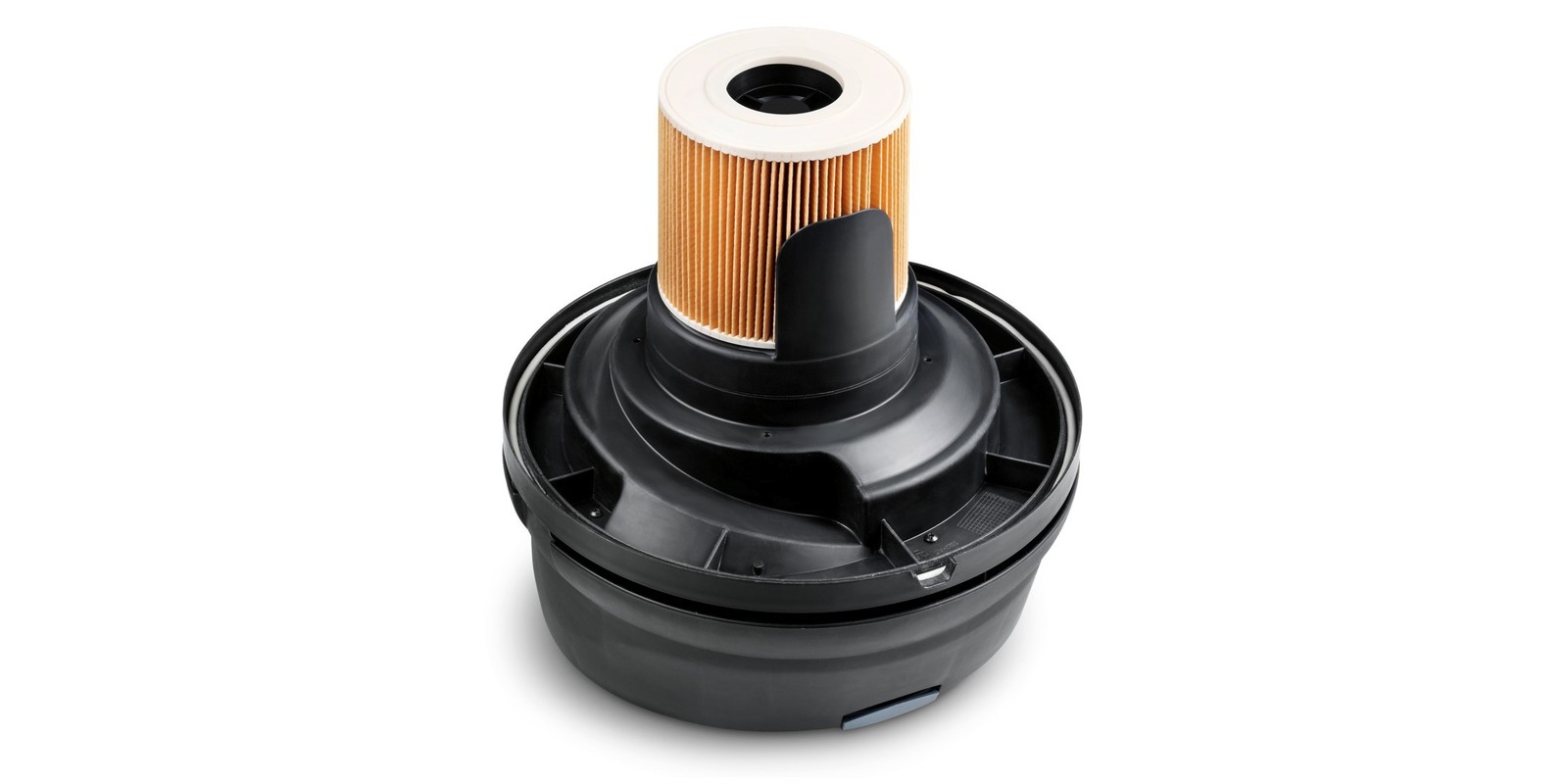 Mechanical float systems
When the liquid in the container increases, the system pushes the float upwards until it blocks the suction channel, preventing overfilling that would lead to the suction blower being flooded.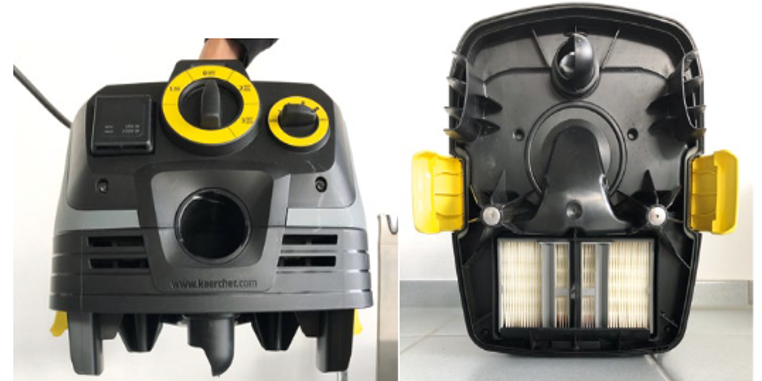 Electronic float systems
If the liquid in the container joins the electrically conductive contacts, the machine switches off to prevent overfilling.
How it works for dry dirt
A vacuum is generated in the container by a bypass blower, which transports dusts inside the container through a hose. As a result, the dirt is separated or filtered through a flat filter or cartridge filter. Over time, dust will clog into the filter, reducing the suction power. To prevent this, there are models with the option of cleaning the filter semi-automatically or fully automatically. For a short period, an air flow is generated that flows through the filter from the clean side, which cleans the filter. Thanks to the design of the suction hose port on the container, the dirt is made to rotate and heavy, coarse particles settle directly on the container floor, like a cyclone.
What are the benefits of semi-automatic or fully automatic filter cleaning?
When vacuuming dust without using a filter bag, the filter has to be cleaned regularly to minimise loss of suction power. Many vacuum cleaners have integrated filter cleaning to do this conveniently.
Advantages of automatic filter cleaning
Consistently high suction power
No need to remove the filter
No contact with dirt
No breathing in dust during filter cleaning
No mechanical strain, e.g. from knocking out dirt
Work time savings
Reduction of incorrect use
Cost savings since no filter bags need to be used
Making full use of the whole container volume (in contrast to use with a filter bag)
This means that the container does not need to be emptied as often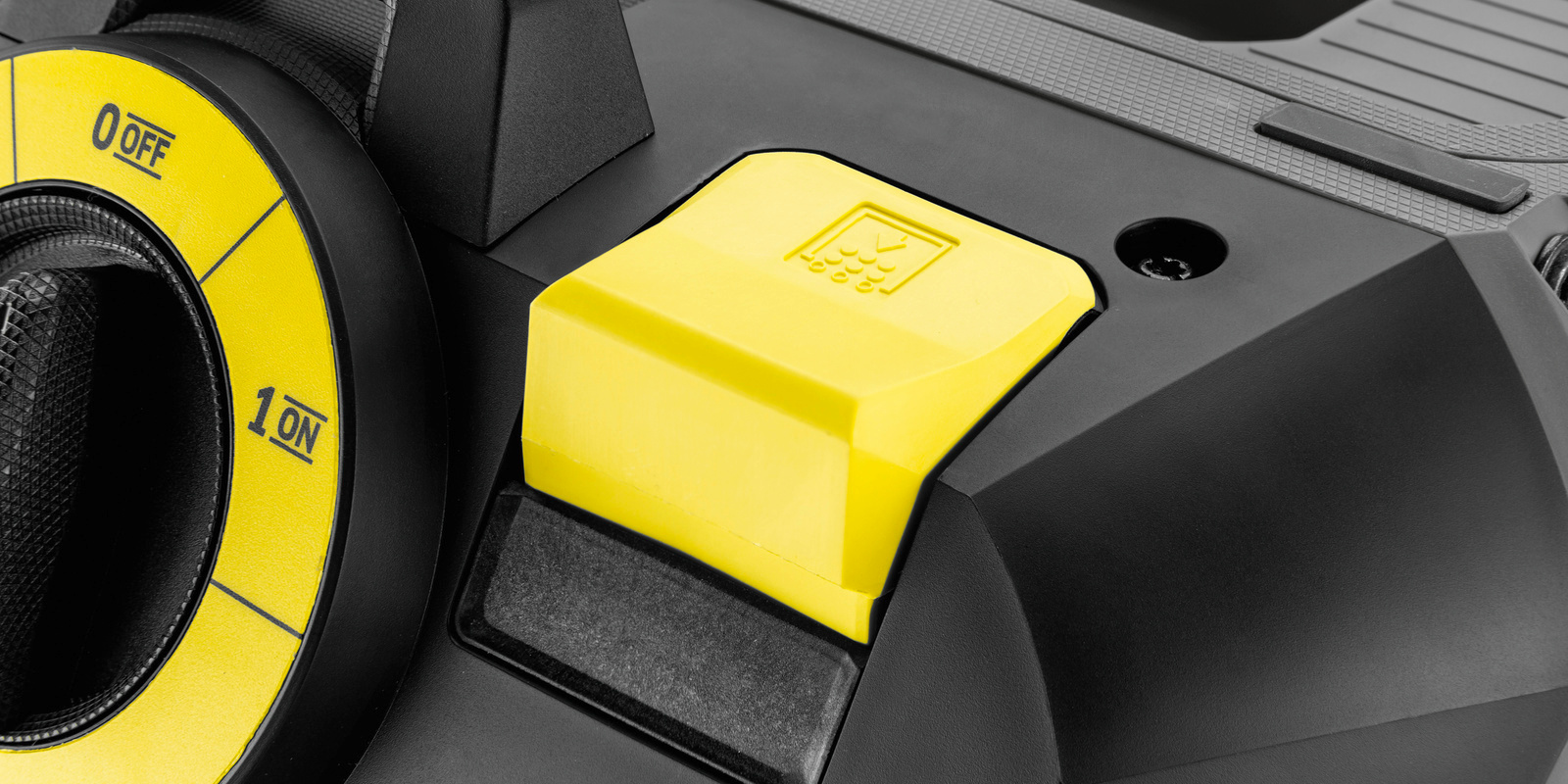 AP
All-purpose
With semi-automatic Ap filter cleaning, users can determine the cleaning intervals themselves. To do so, press the button three times in quick succession when the machine is switched on – preferably with the suction hose port closed (power cleaning).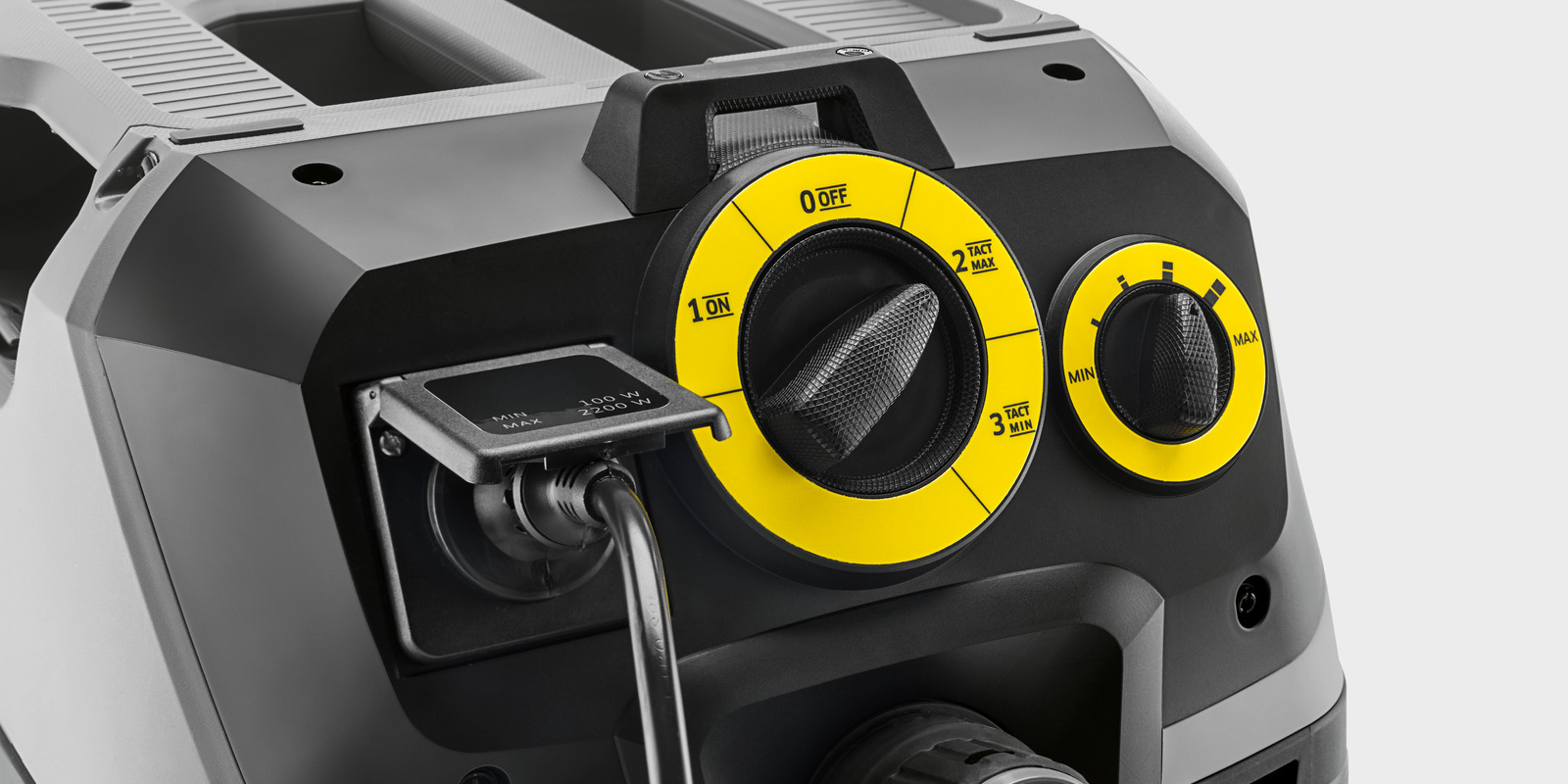 Tact dust class L
Triggered air cleaning technology
On machines in dust class L, the filter cleaning interval for automatic filter cleaning can be set in two stages. At the MIN setting (3), cleaning happens every 60 seconds. At the MAX setting (2), cleaning happens every 15 seconds. When vacuuming liquids or working with filter bags, the Tact function remains switched off (1).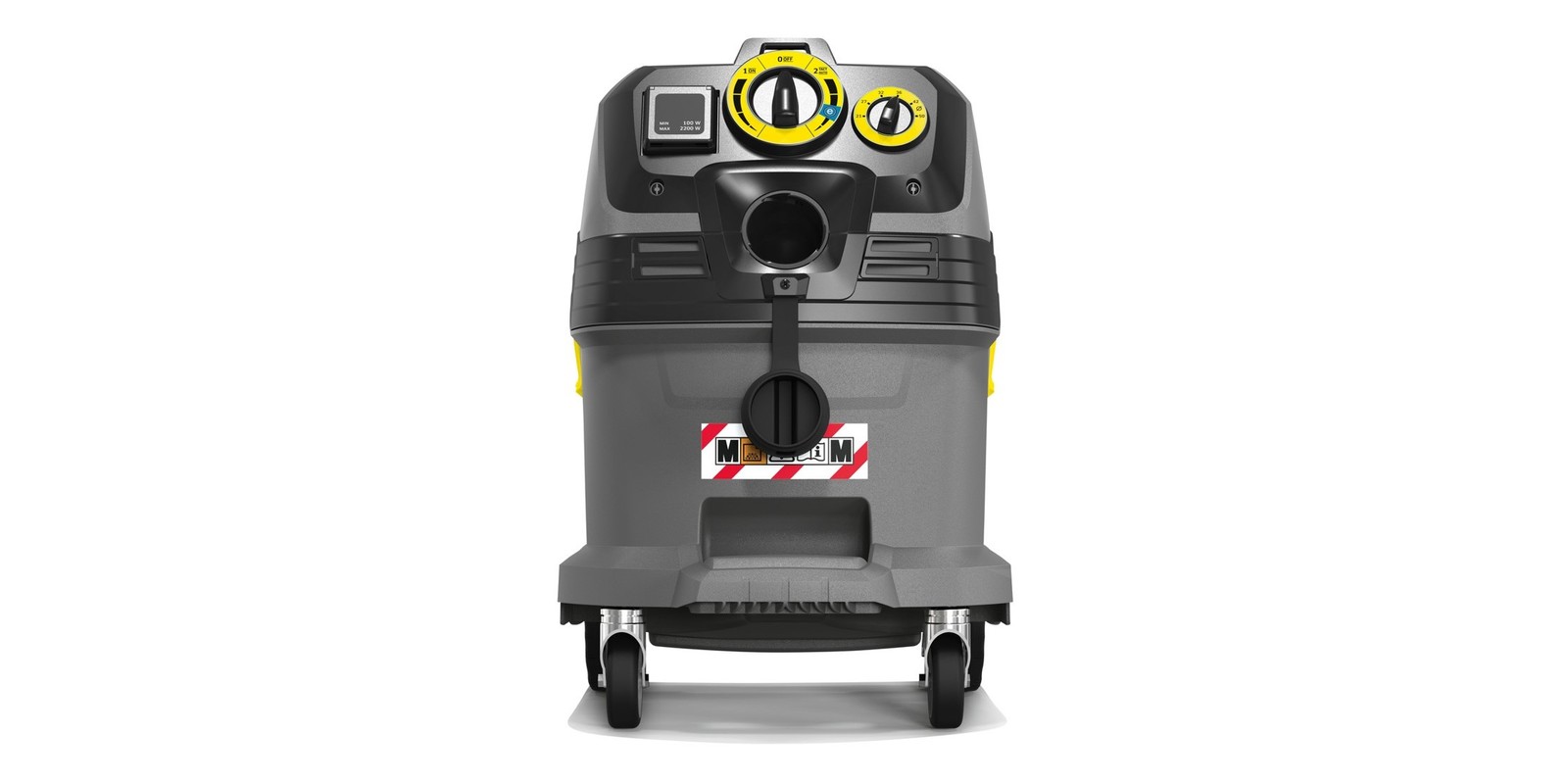 Tact dust class M/H
Triggered air cleaning technology
With automatic filter cleaning, the machine selects the perfect filter cleaning interval itself on machines in dust classes M and H. An electronic differential pressure measurement decides whether cleaning takes places every 7, 15, or 60 seconds, or not at all.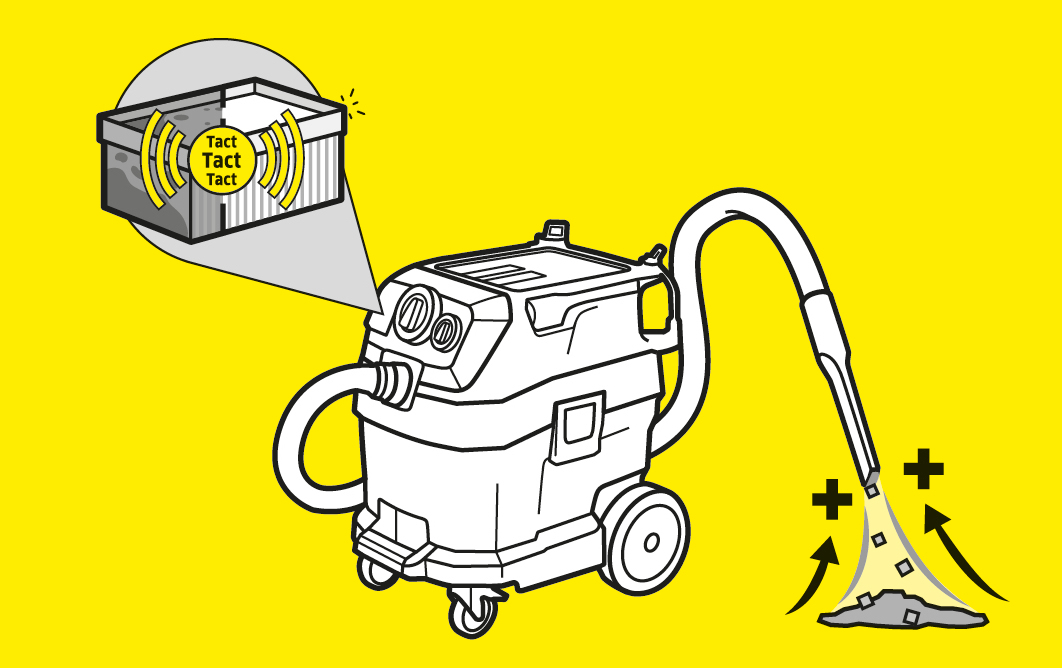 Safety is a matter of Tact
We want to do our bit to protect workers in the construction industry from the dangers of fine dust. So, we've developed a range of vacuum cleaners for removing wet and dry dirt and dust – with the option of vacuuming directly at the dust source thanks to chip and dust suction. We've gone one step further with our latest generation of wet and dry vacuum cleaners in the Tact H and M class.
What does "Tact" stand for? Triggered air cleaning technology
Thanks to a range of functions such as our new, sensor-controlled automatic filter cleaning system (Tact), Kärcher Professional vacuum cleaners and dry vacuum cleaners detect when the flat pleated filter needs cleaning – then they briefly reverse the air flow and blow air through the filter. As a result, users can work without losing any suction power and without any interruptions. This revolutionary system leads to never-seen-before quantities of dust that can be vacuumed without manual filter cleaning, as well as significantly reduced noise if only small amounts of dust are present.
Thanks to this highly efficient filter cleaning, the powerful Tact vacuum cleaners are perfect for both typical and hazardous dusts. The filters have an unparalleled service life – they only need changing after vacuuming 180 kilograms of fine dust (category A mineral dust). As a result, you can enjoy longer periods of uninterrupted work with consistent suction power, as well as better protection against fine dust.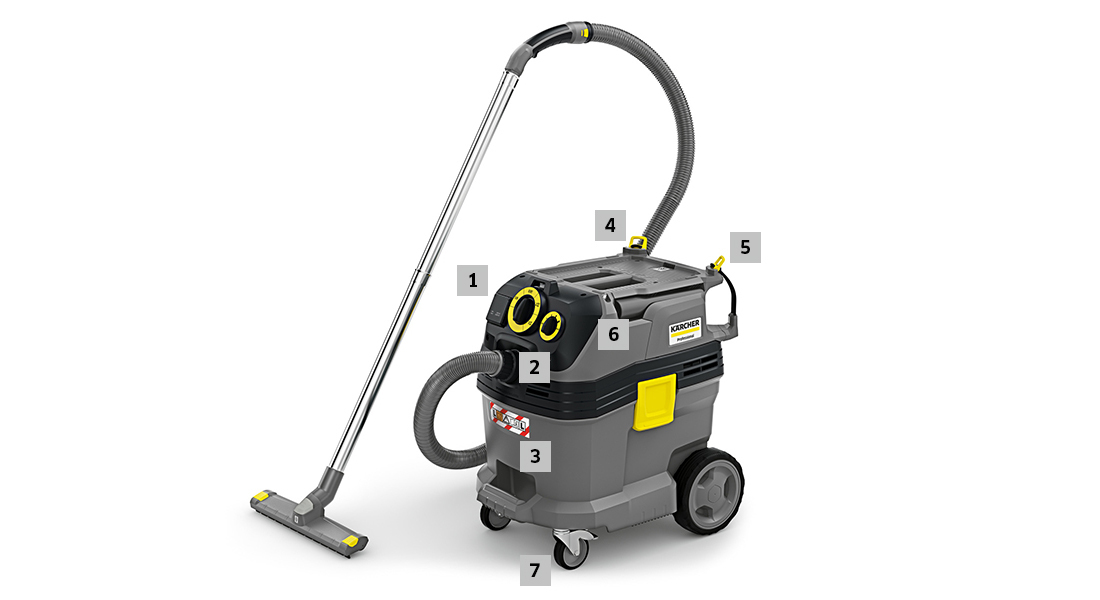 Overview of machine features
Central rotary switch for setting and adjusting filter cleaning to suit your needs


Suction hose connection in the machine head for an increased net volume and easy emptying


Robust container with bumper and handhold for a long service life and convenient handling


Case rack and fixing solution for tool boxes


Flexible hose and power cable storage to fix different hoses securely


Storage of crevice nozzle and tool sleeve at the side for increased safety against loss


Large and sturdy metal castors for optimal mobility, even in tough construction site use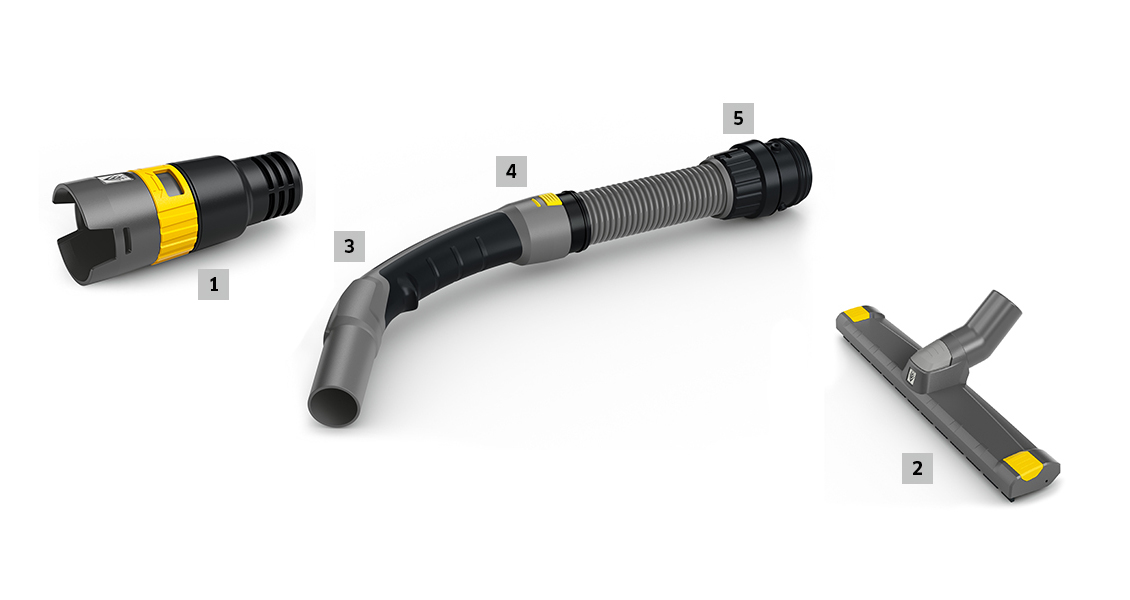 Overview of accessories features
Tool sleeve with air-flow regulator and rubber attachment for optimal compatibility with power tool


Wide floor nozzle with quick-change inserts for wet and dry applications


Ergonomic bend with handle area made from soft component for pleasant working


Improved clip system for easy change, e.g. from bend to tool sleeve


Dirt-resistant bayonet fastening to disconnect the hose easily from machine
Professional wet and dry vacuum cleaners: dust classes
What do the L, M and H classes stand for?
Dust is a complex mixture of air and solid particles of different shapes and sizes. The chemical composition and physical characteristics may also vary significantly. Dust is categorised into the L, M or H classes using these variables depending on the hazard levels. Fibres, such as the particularly dangerous asbestos and mineral fibres (when < 5 µm), can also penetrate deep into the respiratory tract. The exact identification of the individual dust classes is therefore important in order to be able to select the right vacuum cleaner when the danger has been assessed.
L class
Class L vacuum cleaners are particularly suited to vacuuming soft wood, chalk and plaster dust. Dusts in the L class represent a moderate risk. There are no particular precautionary measures for disposing of them.
M class
The L class, upgraded. Suitable for vacuuming dust and dirt generated by the following materials: hardwood, panel materials, paint dust particles, ceramics, concrete and brick. The M class is the lowest legally required class for use on construction sites.
H class
H class vacuum cleaners are ideal for vacuuming large amounts of both safe and hazardous/highly carcinogenic substances, such as asbestos dust, lead, coal, nickel, cobalt, copper, cadmium and mould.
Dust class
L
Permeation rate
≤ 1.0%
Suitable for
Dusts with MAC values > 1 mg/m³
Use for
---
Dust class
M
Permeation rate
< 0.1%
Suitable for
Dusts with MAC values ≥ 0.1 mg/m³
Wood dusts up to 1200 W/50 l
Use for
Wood dust (beech, oak)
Paint dust particles
Ceramic dusts
Dust from plastics
---
Dust class
H
Permeation rate
< 0.005%
Suitable for
Dusts with MAC values < 0.1 mg/m³
Carcinogenic dust (Section 35 of the German Hazardous Substances Ordinance)
Pathogen-containing dust
Use for
Carcinogenic types of dust (lead, coal, cobalt, nickel, tar, copper, cadmium, etc.)
Mould, bacteria
Germ spores
Formaldehyde
---
Dust class
Special requirement: Asbestos*
Permeation rate
< 0.005%
Suitable for
Use for
Asbestos dust from night storage heaters or firewalls
---
Dust class
Explosive types of dust (ATEX zone 22)
Permeation rate
Like dust class L, M or H with special requirements
Suitable for
Types of dust in the dust explosion class in Zone 22
Use for
---
Fine dust on construction sites
Construction dust is a general term to describe the types of dust that typically occur when working in the construction sector. If not properly controlled, the dust types may have serious negative impacts on your breathing and health. The new Kärcher wet and dry vacuum cleaners stand out from the crowd thanks to improved filter technology, which helps to control the dust in your environment, as well as protect you and others from it.
Prevention is always better than a cure
Dust that isn't created in the first place cannot endanger anyone. There are many different ways to prevent dust forming. And if we cannot prevent dust, we can still bind it, vacuum it or block it from entering our lungs with protective clothing and dust masks.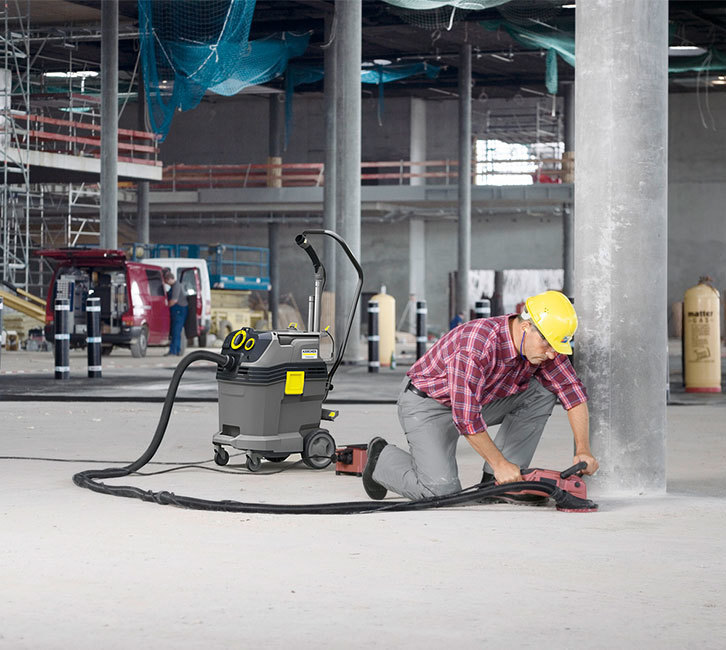 What can I do to prevent dust?
Vacuum dust as soon as it is formed. Many power tools have a port for connecting a vacuum cleaner. Vacuum cleaners with connector sockets turn on automatically when the connected power tool starts up. Always use a suitable filter.


Choose low-dust working methods, e.g. wet or damp operation.


Bind dust with water, e.g. during demolition work and grinding work outdoors.


Use low-dust products, e.g. mortar pellets, ready-mixed concrete and plaster.


Avoid stirring up dust unnecessarily. Instead of dry sweeping and using blowers, employ vacuum cleaners and vacuum sweepers.


Arrange and take advantage of occupational health screenings.


Regularly clean workstations, ventilate work rooms sufficiently, keep work clothes clean.


Remove waste immediately and without creating dust.


Check the vacuum cleaner's suction performance regularly. Clean or replace the filter as needed. Use vacuum cleaners with automatic filter cleaning for consistently high suction power.


Wear protective clothing and dust masks. While used as a matter of course for particularly dusty tasks, you should always wear a suitable dust mask at the very least, even when the dust impact is less severe.