Tact Class Industrial Vacuum Cleaners
TACT class built with automatic filter cleaning for uninterupted cleaning.
Wet or dry vacuuming capabilities.
Patented TACT automatic filter cleaning allows you to clean for longer without interuption.
Ideal for construction sites, automotive workshops and other commercial areas where tough vacuuming is needed.
Kärcher H-Class Vacuum - Australian Safety Standard Approved
Dangerous dusts on worksites can cause great harm to our health when inhaled. New workplace safety standards outline that H-Class filtration in professional vacuum cleaners is required when working with certain materials or on certain worksites. Kärcher has responded by launching a brand new H-Class Wet & Dry Professional Vacuum.
The NT 40/1 Tact Te H features:
Re-usable H-class Filter for guaranteed dust filtration efficiency of 99.995%.
Power tool take off that complies with Australian Standards.
Triggered Airdraft Cleaning Technology (TACT) for sensor controlled filter cleaning.
What do L, M and H classes mean?
Dusts are categorised into L, M or H classes according to the danger level they pose.
L Class
L class vacuum cleaners are ideal for extracting dust and debris from soft woods, lime and gypsum dusts. Dusts in L class present a moderate risk and there are no special precautions for the disposal of them.
Kärcher NT vacuum cleaners in this class include:
Protection against an electrostatic charge, which can occur when vacuuming dry dusts, thanks to its grounding conductor and conductive accessories
Power take-off tool so you can directly plug your power tool into the extractor, with auto start-up when the power tool is turned on
Delayed shut off by 10 seconds when the equipment is stopped to allow the dust to be cleared from both the tool and hose
Tact system for auto cleaning of the filter
M Class
The upgrade from L class, suitable for vacuuming dust and debris from hard woods, board materials, paint dust particles, ceramic, concrete and brick dusts - M Class is the minimum legal requirement when working on a construction site.
Kärcher NT vacuum cleaners in this class include:
All the features of L class machines
A warning signal sounds indicating when the suction rate decreases, a blockage occurs or the container is full
Electronic filter detection and air flow monitoring meaning the vacuum cleaner only starts when the filter is correctly installed
H Class
H class vacuum cleaners are suitable for the absorption of large volumes of safe as well as hazardous/highly carcinogenic substances, such as asbestos dust, lead, coal, nickel, cobalt, copper and cadmium and mould.
Kärcher NT vacuum cleaners in this class include:
All the features of L and M class machines
The PTFE-H flat pleated filter (HEPA 13) used in the H class models, is the first cleanable filter in a wet and dry vacuum cleaner for this dust class
Equipped with special safety filter bags for the reliable removal of substances harmful to health when emptying the machine
Safety, it's a matter of
Tact
We want to help protect those who work in the construction industry against the dangers of fine dust. As a result, we have developed a range of vacuum cleaners capable of picking up wet and dry dirt and dust, with the option to immediately collect it at source with a power tool take off. Now we have taken it one step further with our latest generation of Tact H and M class wet and dry vacuum cleaners.
What is Tact? Triggered Air-draft Cleaning Technology
Equipped with a host of features including our new sensor-controlled, automatic filter cleaning system (Tact), Kärcher's Professional wet and dry vacuum cleaners detect when the flat pleated filter needs to be cleaned and quickly reverses the air flow, to blow air through the filter, enabling continuous operation for the user without any loss of suction power. This revolutionary system enables unprecedented amounts of dust to be vacuumed without manual filter cleaning and has significantly reduced levels of noise when small amounts of dust occur.
These powerful Tact vacuum cleaners are suitable for both typical as well as hazardous dust thanks to their highly efficient filter cleaning. Their unique filter service life of 180 kg fine dust (mineral dust category A) captured the filter needs to be changed means even longer periods of uninterrupted operation with constant suction power and better protection against fine dust.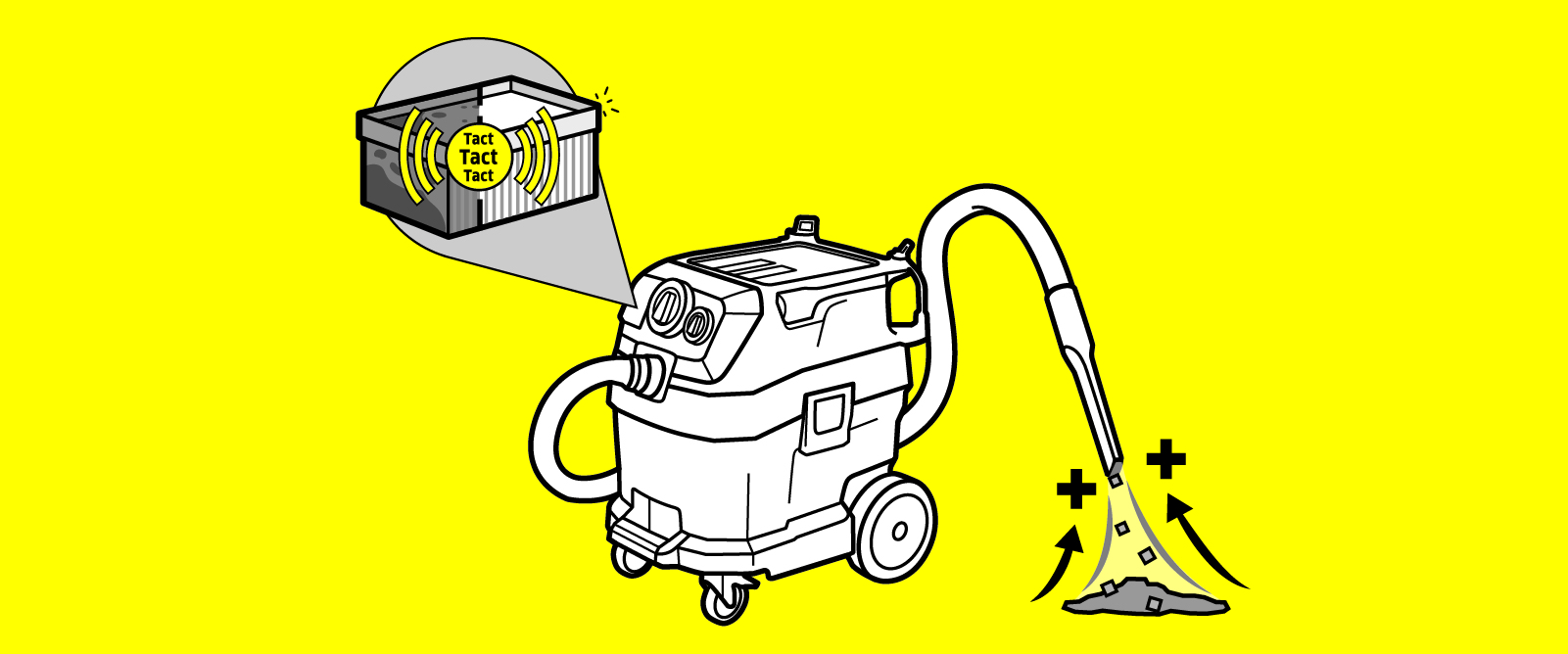 ---