Perfect first impressions all the time.
Regardless of whether your dealership is contract cleaned or self-cleaned, the right cleaning equipment makes a substantial difference to the way front-of-house areas are presented and the time it takes to clean them. Deep cleaning is often unavoidable but can be very disruptive to a business. Kärcher's professional cleaning machines deep clean every time they clean, maintaining higher standards of presentation on a daily basis and reducing the need for deep cleans. From floor scrubber driers and carpet vacuums for showrooms, to sweepers and pressure washers for forecourts, our products are simple and safe to operate, keeping cleaning time and downtime to a minimum.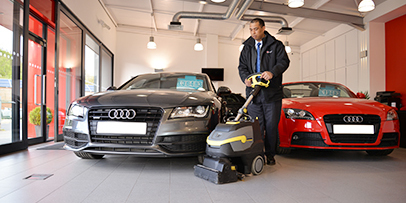 Keep tiled floors looking new, at any time.
Kärcher's scrubber dryers with roller brushes are perfect for tiled showroom floors, thoroughly cleaning grout lines and leaving floors looking like new after every clean, ensuring investments in CI are fully realised and protected, and that floors are safe and compliant with slip tests. Even dark tiles show tyre marks and footprints easily, so a compact scrubber drier is the best choice to keep floors looking like new throughout the day, and as the floor is left dry business can continue as normal. Kärcher scrubber driers are designed to be as narrow and easy to operate as possible, dramatically reducing the risk of damage to showroom stock.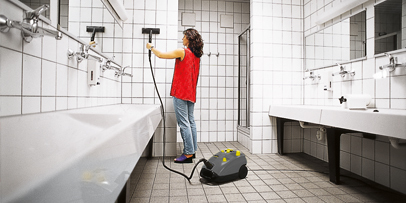 Deep cleaning in hygiene-critical areas.
Our compact steam cleaner cleans hygienically without the need for chemicals. Ideal for laminates, tiles, glass and WCs. It can also be used for detailing of vehicles and stain removal from upholstery. Our largest steamer also includes a vacuum function, making it ideal for fast, streak-free cleaning of laminates and other surfaces that reflect.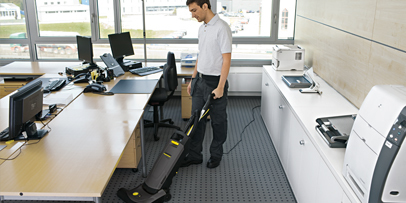 Quick and thorough vacuuming
Our tub and upright vacuum cleaners clean showroom and office carpets deep into the pile. Perfect for maintaining high-specification customer lounges.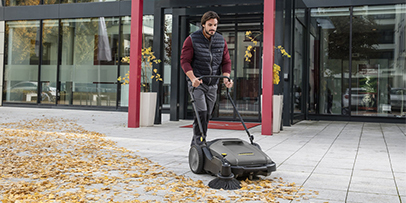 Front of House
Cleanliness begins at the entrance.
As the first part of your business a customer sees up close, keeping forecourts and other outdoor areas immaculate is massively important.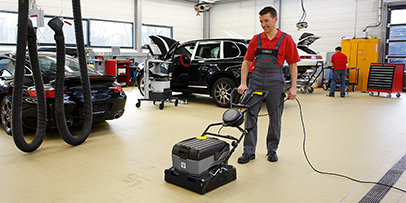 Workshops
Safe, productive and professionally-presented workshops.
As car manufacturers increasingly develop their dealership CI to make service a more integrated element of the customer experience, the workshop is increasingly becoming a customer-facing area and must be presented as such.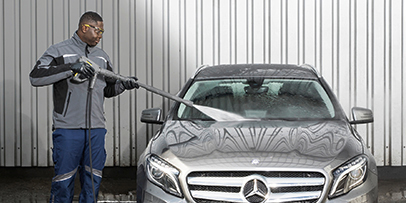 Valeting
Tailor-made vehicle cleaning solutions to suit your business objectives.
Regardless of the number of vehicles cleaned in your dealership each day, Kärcher has the right products and know-how to ensure superb cleaning results in the most efficient way for your business.