Tailor-made vehicle cleaning solutions to suit your business objectives
Regardless of the number of vehicles cleaned in your dealership each day, Kärcher has the right products and know-how to ensure superb cleaning results in the most efficient way for your business. As the inventor of and market leader in hot water high pressure cleaners, we understand that vehicle valeters want the simplicity, performance, reliability and toughness to ensure quotas are met.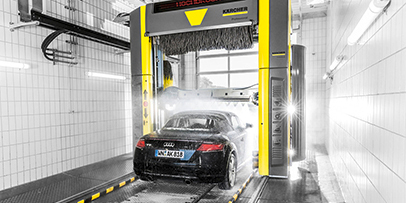 Fast turnaround with spotless results
For larger dealerships and bodyshops that need to clean 30 or more vehicles each day, our automatic rollover washes and water reclaim systems make sound financial sense and provide low costs per wash, supported by our expert consultation service to ensure that the installation is tailored perfectly to each dealership.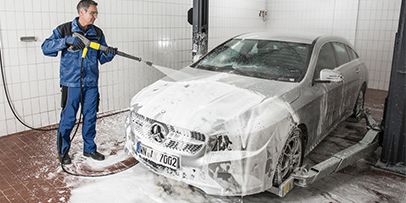 Effective cleaning with high pressure
Ideal for pre-washing or detail cleaning, our cold water high pressure cleaners are designed for maximum convenience and performance. Perfect for use where diesel emissions are prohibited or where hot water is not needed. Hot water shifts road dirt, grease and oil residues more quickly than cold water, and can reduce the need for detergent. Many of our hot water models feature a steam function for degreasing and dewaxing tasks.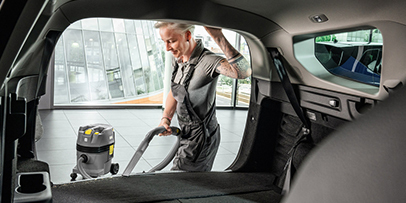 Fast interior cleaning
For fast but thorough interior cleaning, our ranges of wet & dry vacuums and spray-extraction machines rapidly remove dirt from carpets, upholstery and trim, ensuring the customer is left with a great impression of the service they are receiving.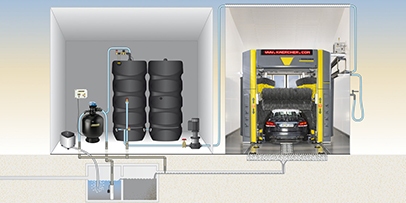 Slash water costs and environmental impact
Water reclamation using state-of-the-art water treatment systems helps to reduce fresh water consumption, as well as the cost to the environment.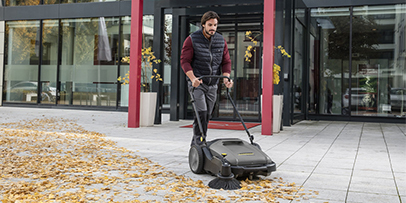 Front of House
Cleanliness begins at the entrance.
As the first part of your business a customer sees up close, keeping forecourts and other outdoor areas immaculate is massively important.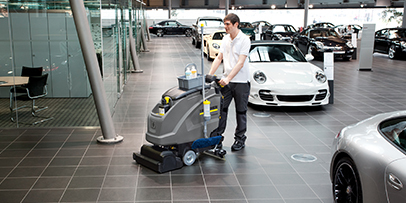 Showroom
Perfect first impressions all the time.
Regardless of whether your dealership is contract cleaned or self-cleaned, the right cleaning equipment makes a substantial difference to the way front-of-house areas are presented and the time it takes to clean them.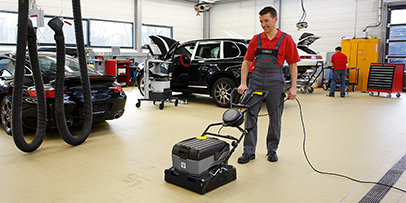 Workshops
Safe, productive and professionally-presented workshops.
As car manufacturers increasingly develop their dealership CI to make service a more integrated element of the customer experience, the workshop is increasingly becoming a customer-facing area and must be presented as such.