Mining
Stop the build-up of dirt. Robust, durable and effective – you can rely on Kärcher's innovative cleaning machines. Reliable, effective machines are essential when it comes to removing the various types of dirt found in the trades and mining industry. Whether for vehicle, machine, facade or floor cleaning: with Kärcher's efficient solutions, you are always ideally equipped. Easy to operate, powerful and designed for the toughest jobs. Kärcher's sophisticated technologies make cleaning tasks quicker and easier. Because after a hard day's work, cleaning should be effortless.

Cleaning to retain value
Professional production requires high-quality machines that can be relied on for years. It is therefore essential – particularly for high-performance machines for mining – to preserve their functionality in the long term through regular cleaning and maintenance. With Kärcher, retaining the value of your systems is easy: effective cleaning systems, a diverse range of applications, a full range of accessories and last but not least, lots of innovations, e.g. the time-saving. Consequently, our machines guarantee not just clean systems, but also fewer costs, since expensive new acquisitions are deferred.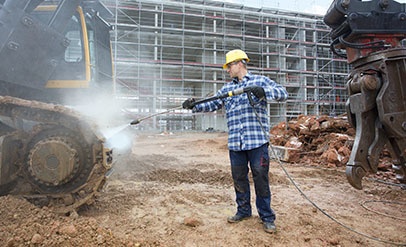 Clinging dirt
For dirt that clings to concrete residue: high-pressure appliances can remove even the most stubborn residual dirt.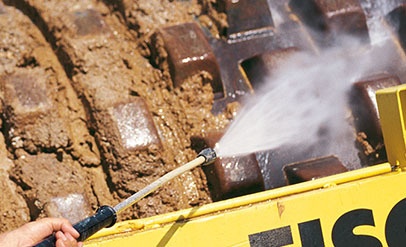 Large-volume dirt
High performance
To make sure that you lose no time in eliminating stubborn residues or large volumes of dirt, Kärcher products offer particularly high performance.
Remove sticky dirt easily
When dirt just won't come off, a bit of pressure helps. With Karcher hot- and cold-water high-pressure cleaners, you can remove even the most stubborn layers of any kind of dirt – such as dust, paint or even concrete. With up to 350 bar at your fingertips, you can clean building fronts, the ground and machinery quickly and effectively. The whole process can be carried out conveniently and, in some cases, without any cleaning agents at all. Various nozzle attachments ensure flexible use and diverse application, which, paired with extreme durability and robustness, make Karcher machines an investment that will pay off for many years.
Our products for adhesive dirt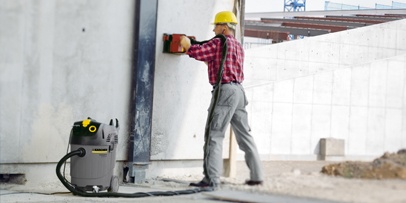 Dust-free working
Whether for sanding, milling or drilling – with Kärcher machines, dust can be extracted right at the source. Your tool can be connected directly and even works with the integrated start/stop function. The standard anti-static system ensures the highest level of safety.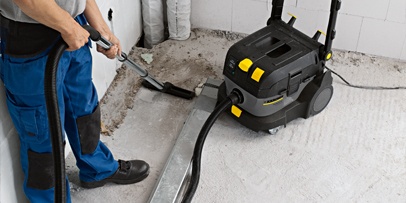 Dry vacuuming
There's no escape for dust, swarf and dirt: with up to three powerful turbines and up to 235 mbar suction, every last particle is vacuumed up without a trace. Innovative filter technology ensures consistently high suction power.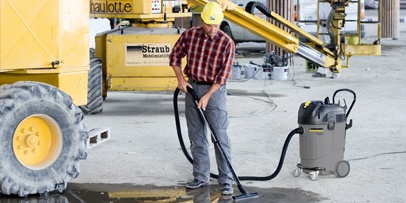 Wet vacuum cleaning
With the Eco filter system, you can switch between wet and dry vacuum cleaning without changing the filter or interrupting the cleaning process. A further advantage is that convenient access to the main filter makes servicing quick and easy.
Our products for loose dirt
Outstanding cleaning for large volumes
Whether inside or out – powerful Kärcher sweepers and vacuum sweepers are ideal for cleaning on construction sites, company site areas and warehouses. From compact machines for walk-behind operation to large-volume ride-on machines, Kärcher offers everything you need for light, ergonomic and efficient floor cleaning. Thanks to the straightforward operation and low-maintenance technology, the machines are ready to use in no time and large piles of dirt can be removed easily.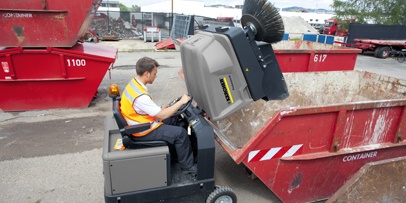 Sweepers
With easy operation, long work intervals and high power, Kärcher machines make sweeping outdoors more efficient. They are also very easy to service, as the filter and roller brushes can be replaced without tools.
Our products for large quantities of dirt
Extreme power
There's no denying it: Kärcher offers the best machines for the toughest jobs. For example, even the most stubborn dirt can be removed effortlessly with ultra-high-pressure units and up to 2,500 bar pressure. With this level of power, they can even be used to roughen concrete and expose steel reinforcements. Hazardous or explosive dusts don't stand a chance when Kärcher safety vacuums are used. Even sensitive surfaces can be cleaned gently and effectively using cutting-edge dry ice blasters.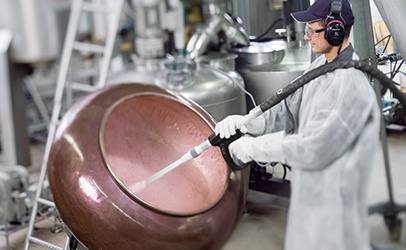 Remove stubborn dirt effortlessly
With dry ice blasters, not only can oil, grease and resin be removed gently from machines, but paint particles can also be removed quickly and effectively during facade cleaning. This can all be done without damaging the structure, without using additional cleaning agents and without leaving wastewater residues.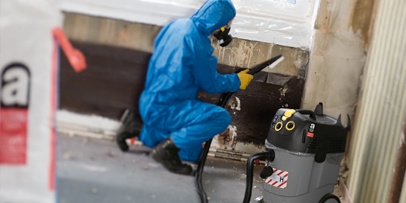 Hazardous dust
Safely remove hazardous substances: asbestos, charcoal, nickel, tar and mold are harmful to health. Kärcher safety vacuum systems are ideal for disposing of these kinds of hazardous substances and meet all of the safety standards required in the industry.
Our products for unusual dirt
For special requirements, extreme power helps.