Pressure washer
HDS 8/18-4 C Classic
The three-phase HDS 8/18-4 C is the most powerful hot water high-pressure cleaner in the Compact class. With 4-pole, water-cooled electric motor and eco!efficiency mode.
The HDS 8/18-4 C is the most powerful hot water high-pressure cleaner in our HDS Compact class. The three-phase machine with 4-pole, water-cooled electric motor offers everything you could expect when it comes to ease of use, ergonomics and efficient use of resources. Users will be impressed by features like the simple single-button operation and the high level of mobility provided by the large wheels and steering roller. While the EASY!Force high-pressure gun makes use of the recoil force of the high-pressure jet to reduce the holding force to zero, the EASY!Lock quick-release fasteners enable handling that is five times faster than with conventional screw connections, without losing any robustness or longevity. The hard-wearing chassis ensures optimum safety, as the tanks for cleaning agents and fuel are securely integrated. Handy storage compartments for accessories and tools completethe wide range of features offered by the HDS 8/18-4 C Classic.
Features and benefits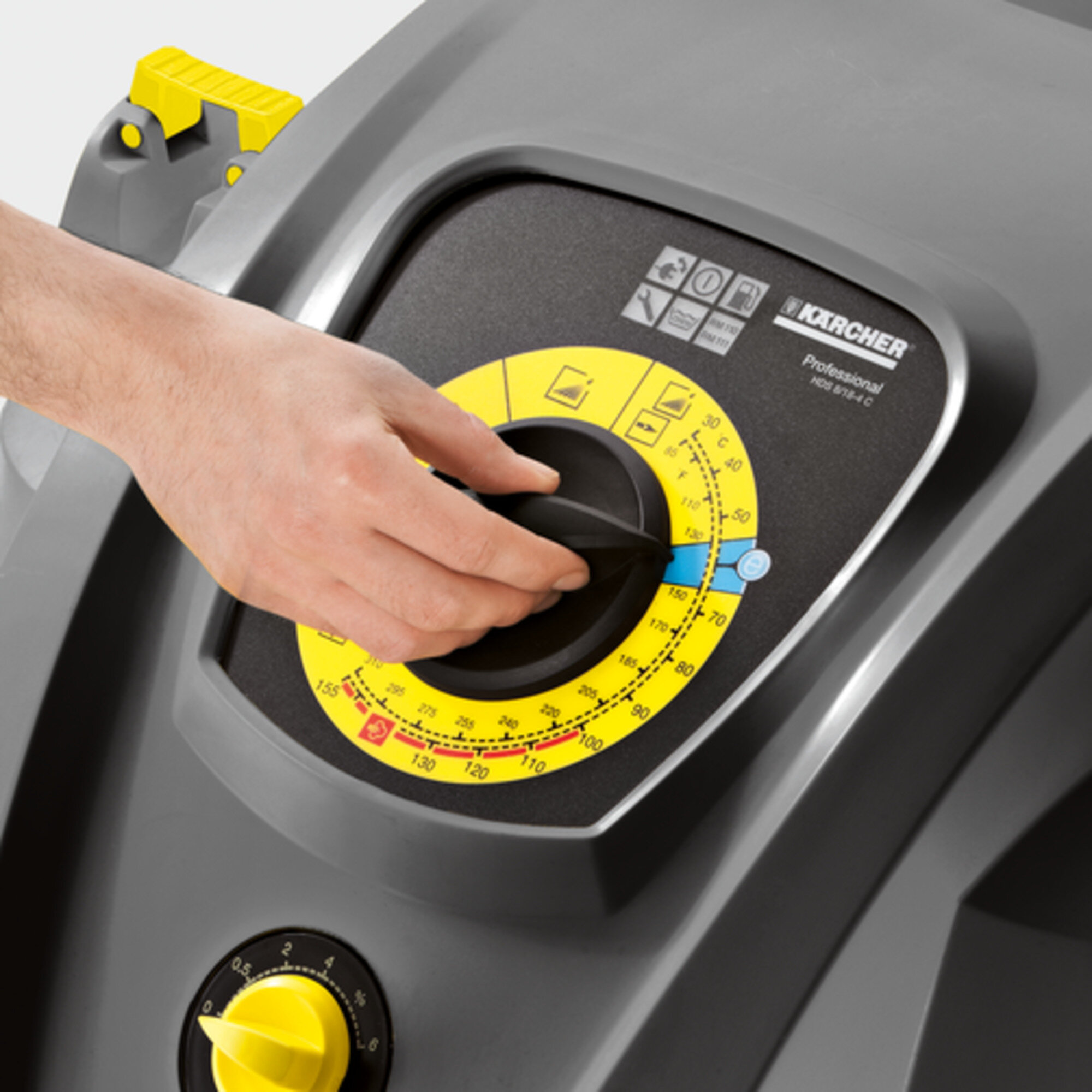 Economical
eco!efficiency
mode - economical and environmentally friendly, even during longer periods of use. Reduces fuel consumption and CO2 emissions by 20%. Accurate cleaning agent dosing unit with clear rinse function.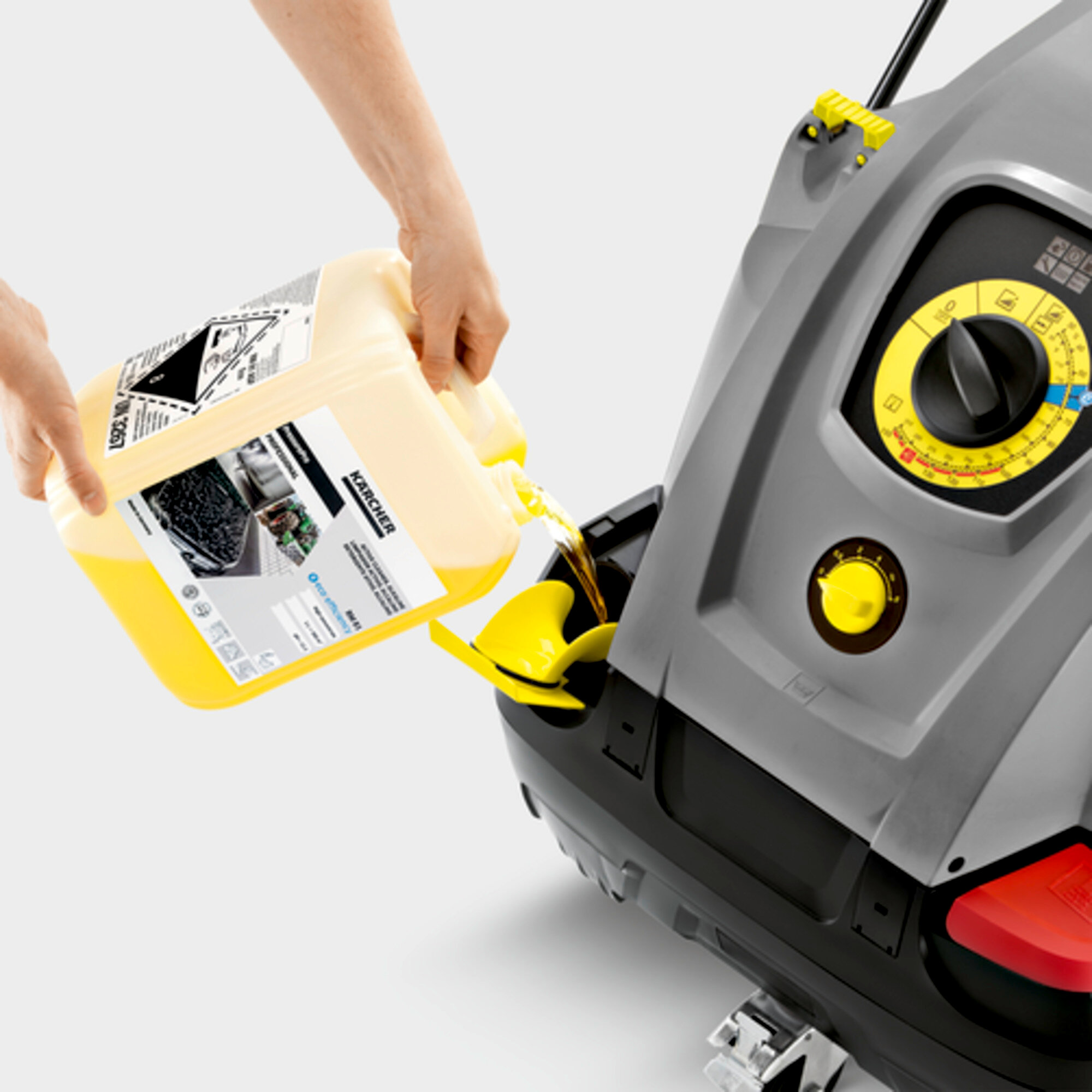 Ease of use
Intuitive operation with one-switch control. Intuitive operation with large single-button selector switch. Tanks for cleaning agent, limescale inhibitor and fuel can be conveniently filled from outside without opening the cover.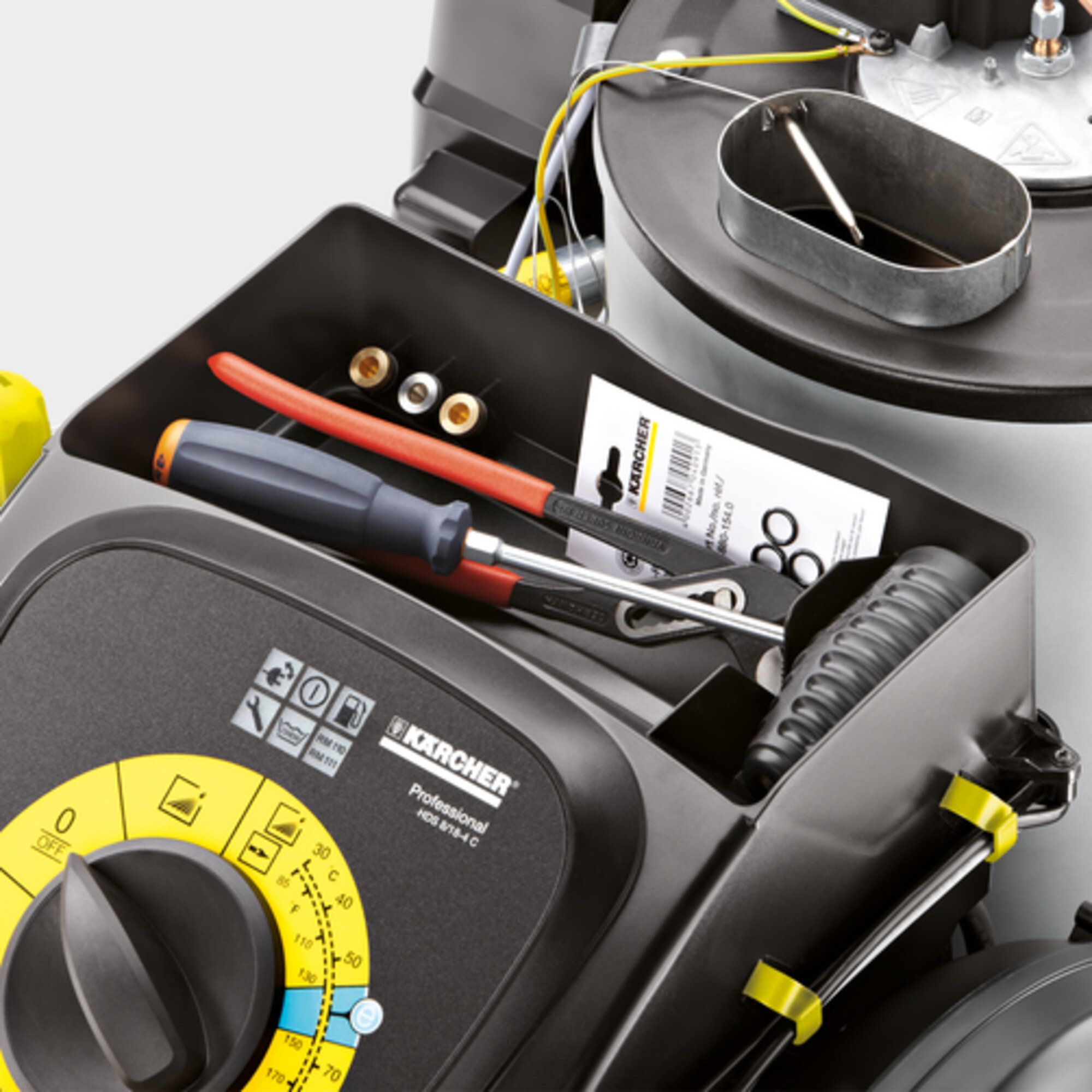 Storage
Lockable accessory compartment for nozzles, tools, etc. Storage hooks for power cord and high-pressure hose. Integrated lance holder for easy transport.
Reliability
The soft damping system (SDS) compensates for vibrations and pressure surges in the high-pressure system.
Portability
"Jogger" design with large wheels and castors.
Large integrated handles in the chassis.
Integrated tilting aid for effortlessly negotiating obstacles such as steps and kerbs.
Save energy and time:
EASY!Force

high-pressure guns and

EASY!Lock

quick-release locks.
At last – work without getting tired: the

EASY!Force

high-pressure gun.

EASY!Lock

quick-release locks: durable and robust. And five times faster than screws.
Specifications
Technical data
Type of current (Phases/Volt/Hertz)
3 / 400 / 50
Flow rate (Litres per hour)
300 - 800
Operating pressure (Bar/Megapascal)
30 - 180 / 3 - 18
Temperature (feed 12 °C) (Celsius)
Minimum 80 - Maximum 155
Power rating (Kilowatt)
6
Fuel oil consumption, full load (Kilograms per hour)
5
Heating oil consumption,

eco!efficiency

(Kilograms per hour)
4
Power cord (Metre)
5
Fuel tank (Litre)
15
Weight (with accessories) (Kilogram)
120.8
Weight incl. packaging (Kilogram)
129.6
Dimensions (L x W x H) (Millimetre)
1060 x 650 x 920
Equipment
Trigger gun:

EASY!Force

Advanced
High-pressure hose: 10 Metre, DN 6, 250 bar
Spray lance: 1050 Millimetre
Power nozzle
SDS system
Pressure cut-off
Integrated fuel and cleaning agent tank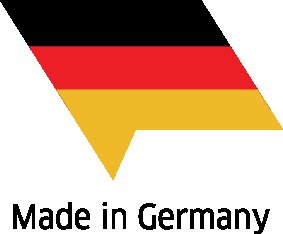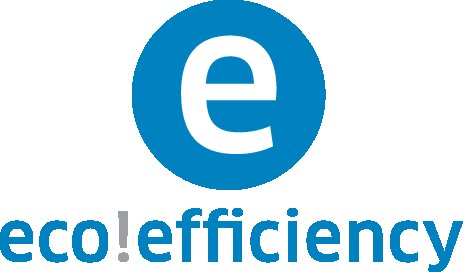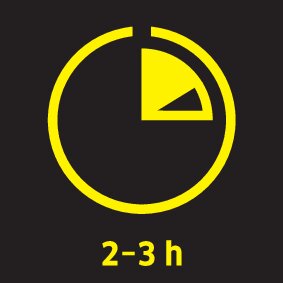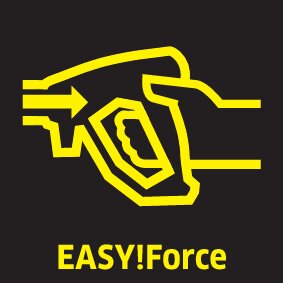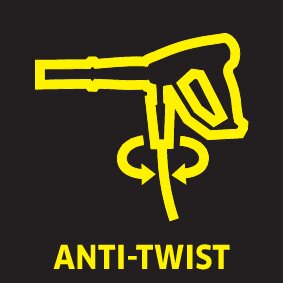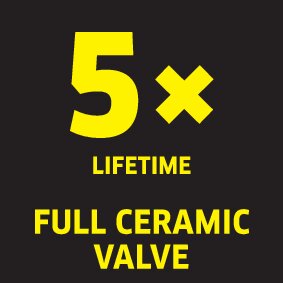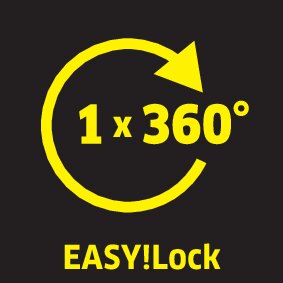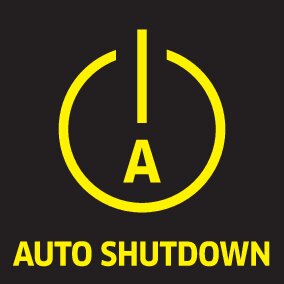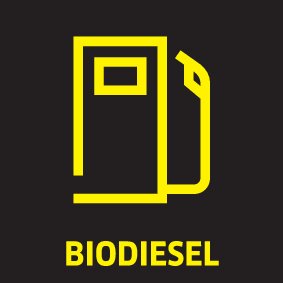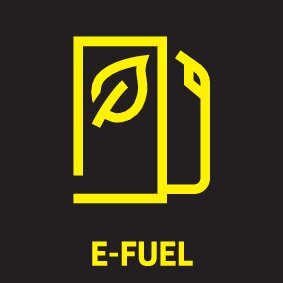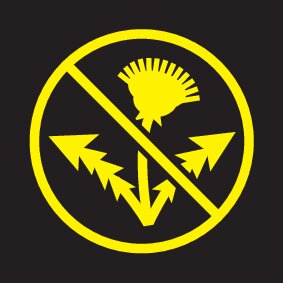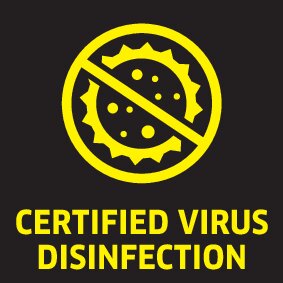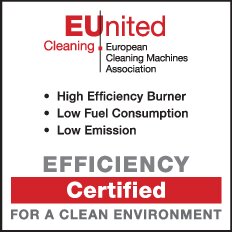 Application areas
Vehicle cleaning
Equipment and machinery cleaning
Workshop cleaning
Cleaning outdoor areas
Service station cleaning
Façade cleaning
Swimming pool cleaning
Cleaning of sport facilities
Cleaning in production processes
Cleaning production systems
Find parts
Find parts & diagrams for your Kärcher cleaning equipment. Select "Find Parts" to begin your search or contact your authorized Kärcher dealer or retailer.