Watertimer WT 5
The Kärcher WT 5 Water Timer enables you to precisely program your garden's watering every day of the week. Making this device especially useful if you are on a water meter.
The Kärcher WT 5 water timer has four selectable modes: automatic watering, manual watering, countdown watering, and 24-hour break. In automatic watering mode the WT 5 waters exactly as you wish at the programmed times with the previously set watering duration. The watering program can be activated for each day of the week and can run up to two cycles per day (morning and/or evening). The maximum watering duration is 120 minutes. Manual watering mode can be activated at any time. In countdown mode, the WT 5 waters for a defined period and stops watering automatically at the end of that period. The 24-hour break lets users interrupt the automatic watering program for up to 24 hours and can be cancelled at any time before the end of the 24-hour period. Tap adaptor and pre-filter included with the product. However, a 9-volt battery required (not included). Compatible with most connection systems.
Features and benefits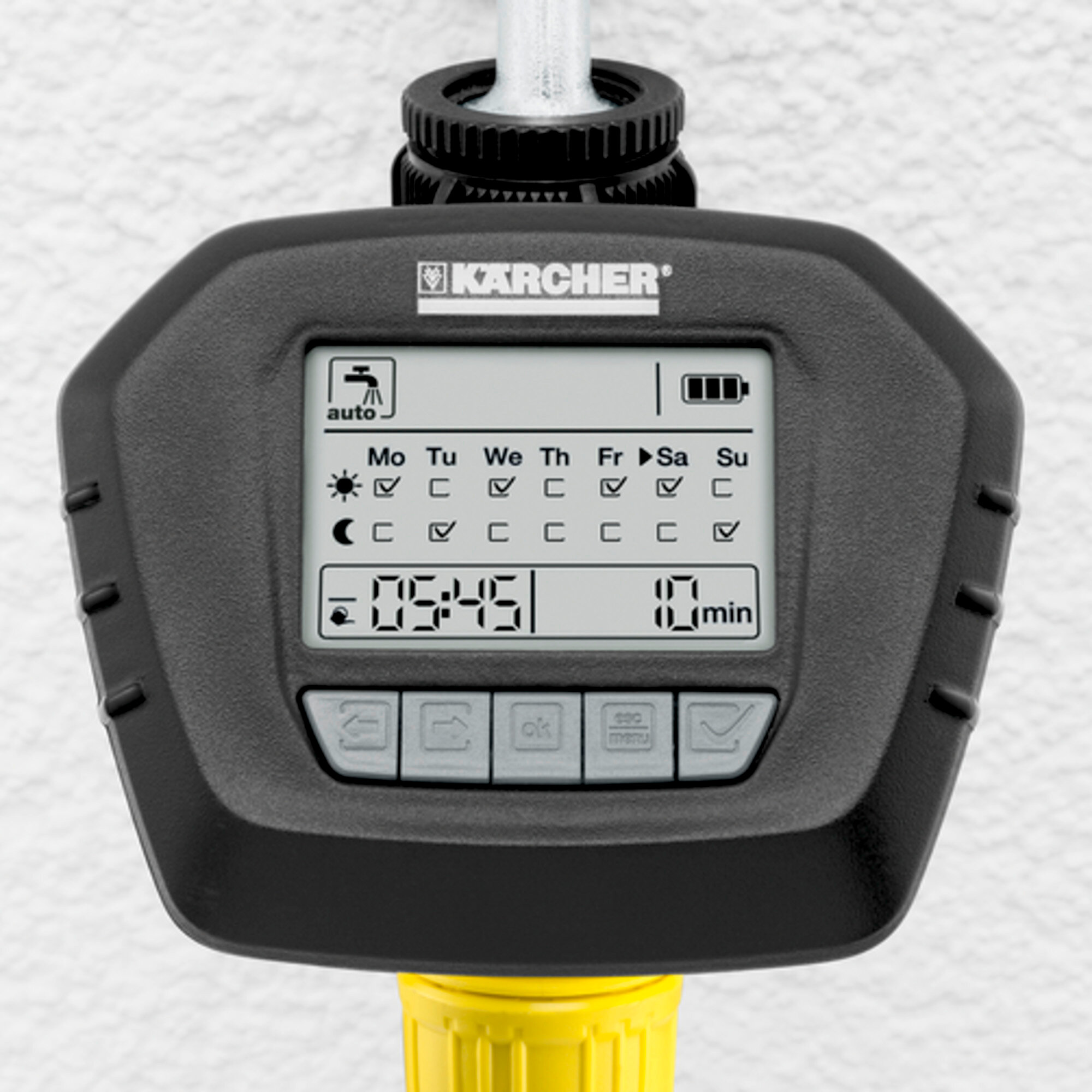 Selection of the weekdays and exact regulation of time and duration of each watering cycle (max. 2 per day)
Precise watering – ideal for regions with watering restrictions.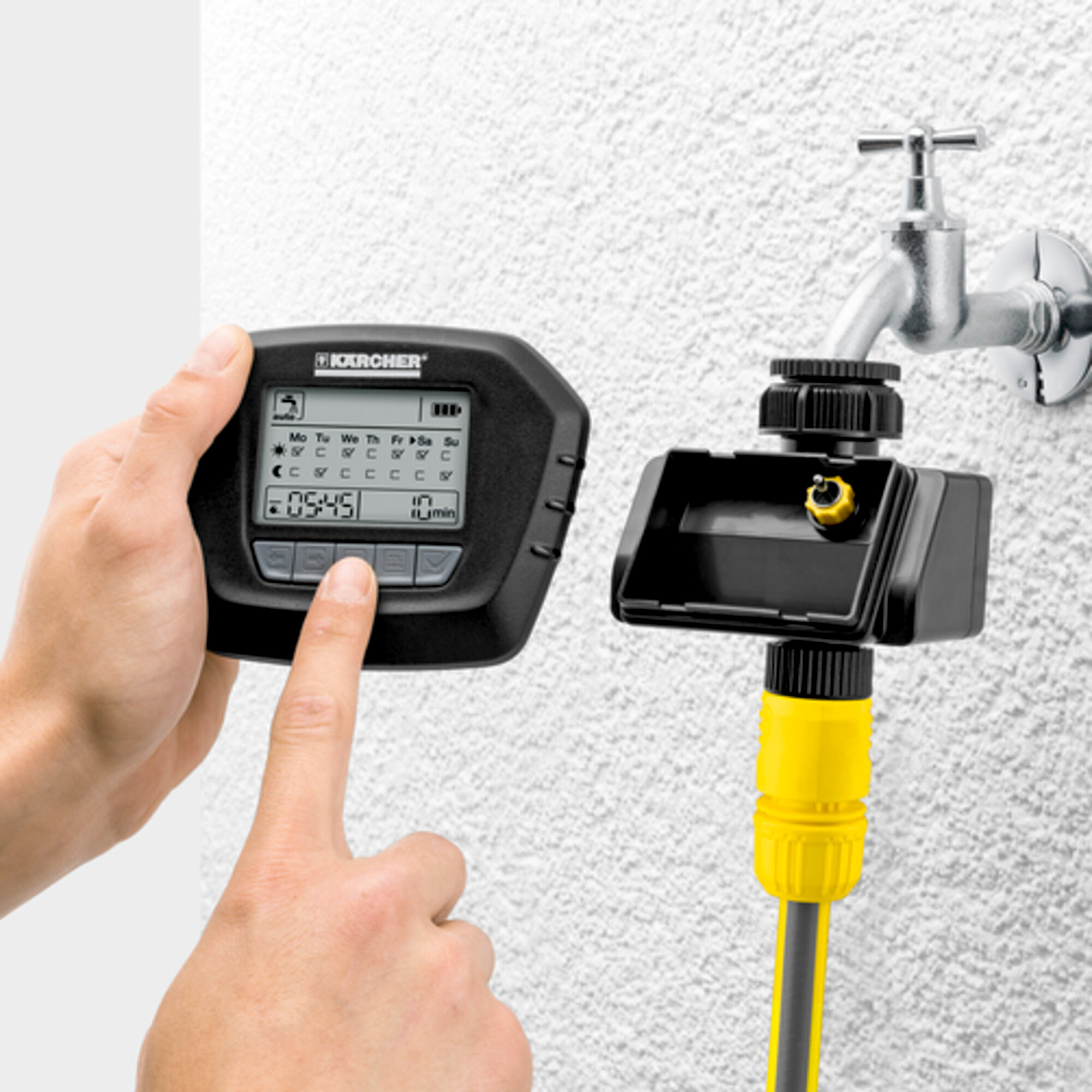 Removable display
Easy and convenient programming with good overall view of the complete watering programme.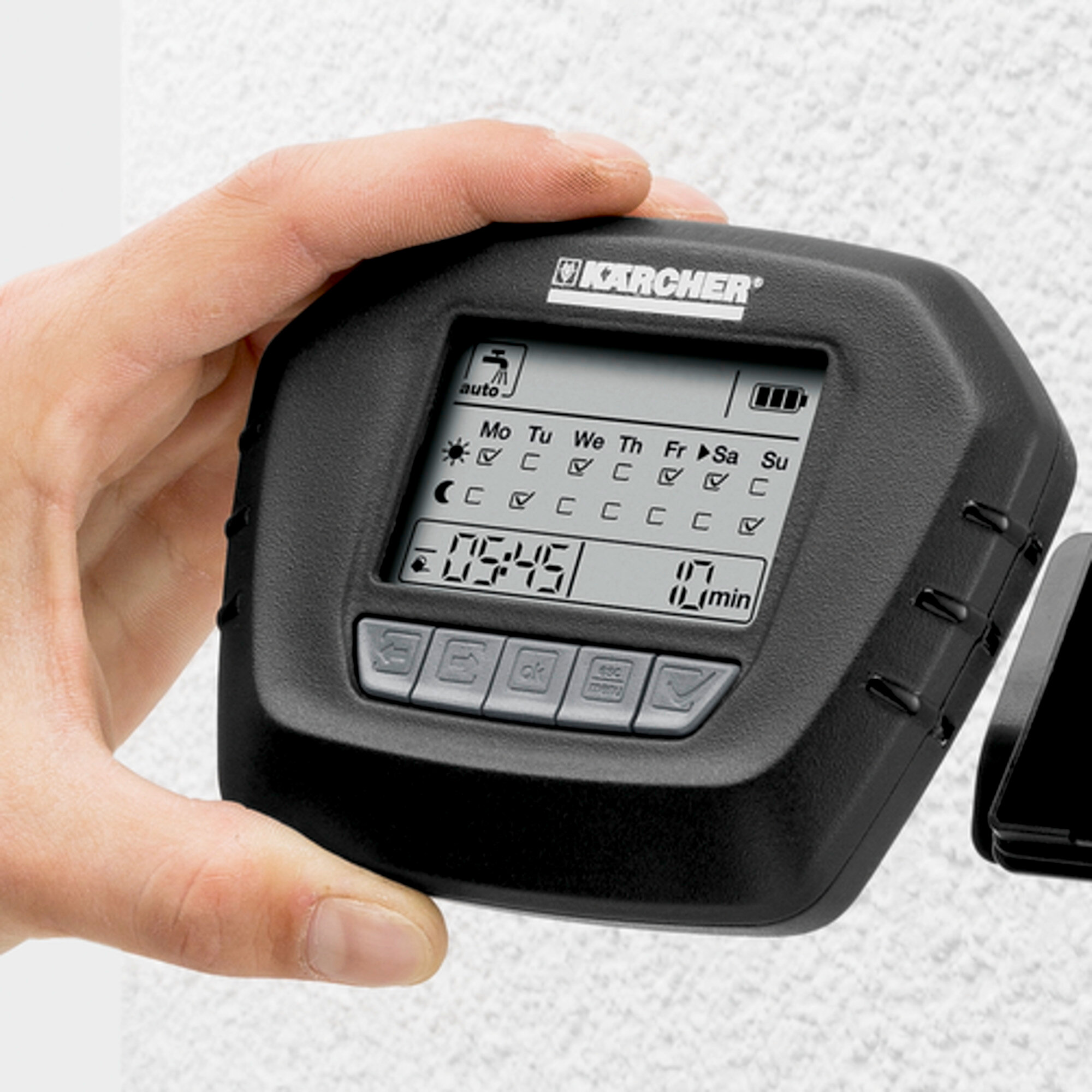 Battery level display and storage function for battery replacement
The control over functionality and programming is maintained after the battery is replaced.
Automatic On/Off
Convenient and regular watering.
Manual watering possible
Short-term water removal.
Countdown function for watering
One-time flexible watering with automatic switch-off.
Pause mode for watering
24-hour watering interruption (e.g. for uninterrupted garden parties).
Safety function: when the battery is empty, the valve and the water flow are stopped
Worry-free use of the water timer when absent.
Freely rotatable water connection
Simple installation on the tap.
Specifications
Technical data
| | |
| --- | --- |
| Connecting Thread | G3/4 + G1 |
| Max. Pressure (bar) | 10 |
| Weight (kg) | 0.3 |
| Weight incl. packaging (kg) | 0.6 |
| Dimensions (L × W × H) (mm) | 112 x 125 x 129 |
When connecting these products to the drinking water network, you must observe the requirements of EN 1717. If necessary, ask your sanitary specialist.
Equipment
programmable water outlet, 1 piece(s)
Batteries required
Batteries included in the scope of delivery, no
Number of batteries, 1 x 9 V Block
Application areas
Garden watering
Lawns, flower beds, vegetable patches, hedges