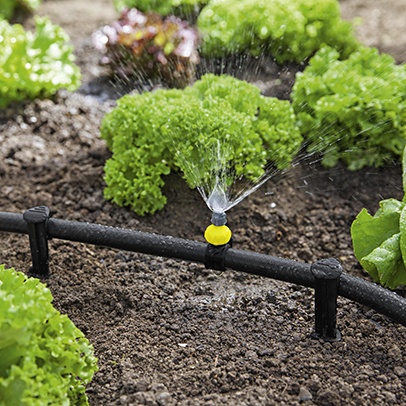 Rain, reinvented by Kärcher
Kärcher's extensive range of watering equipment will bring a smile to the faces of garden lovers everywhere. Our pumps and watering products are designed to work in perfect unison, so that you can make the most of your garden's natural resources in the most effective and economical way.
If you're looking for a high-tech solution, our innovative watering systems and high-precision sensors ensure that your plants are provided with exactly the volume of water that they require to grow. However if a more hands-on approach is preferred, Kärcher has a superb range of super-efficient sprayers, spray guns, sprinklers, hoses, water timers, pumps, hose connection systems and storage systems that make watering a pleasure rather than a chore. Whichever Kärcher product you use, you can be sure that it will be of the highest quality, and built to last.
Kärcher Rain System®
Hedges, flower beds, bushes or herbs – the new, intelligent watering system from Kärcher uses targeted, humidity-controlled distribution to supply each plant individually with precisely the volume of water it needs, combining the benefits of micro-dripping and conventional watering.
The system operates at pressures up to 4 bar, and includes a ½" PVC hose with drip and micro spray nozzles. A pressure reducer and filter for protection against excess pressure and dirt particles can also be installed. The Kärcher Rain System™ can be individually adapted to suit any garden and works perfectly together with the SensoTimer to provide a watering control system based on the requirements of your garden.
Suitable devices and accessories