Kärcher
SURFACE CLEANER, 15"
86410350
https://www.kaercher.com/au/accessory/surface-cleaner-15-86410350.html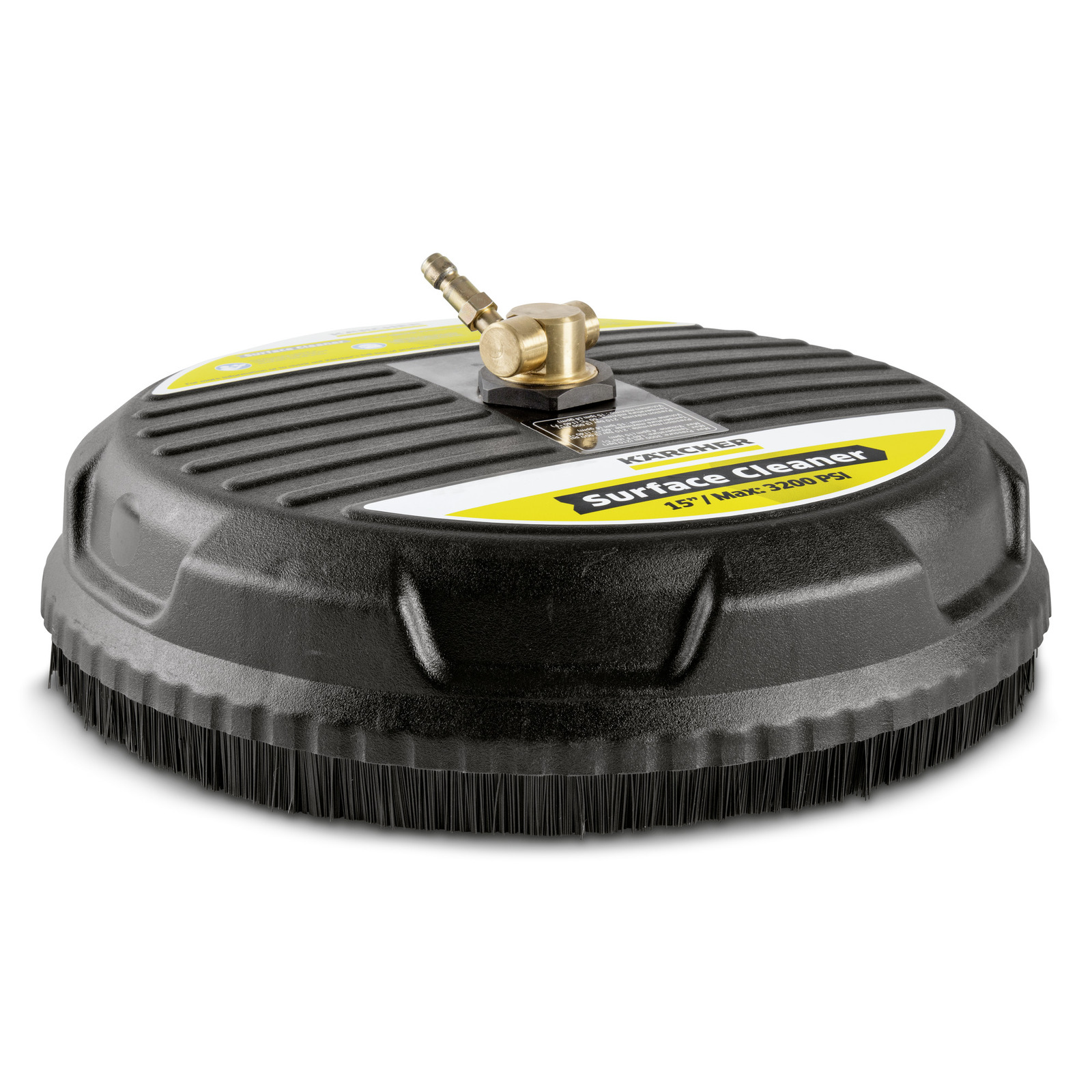 Specifications
Technical data
| | |
| --- | --- |
| Weight (lbs) | 3.8 |
| Weight incl. packaging (lbs) | 5.3 |
| Dimensions (L x W x H) (in) | 15 x 15 x 6.7 |
SURFACE CLEANER, 15"
is rated out of
5
by
11
.
Rated

5

out of

5
by
Cllark1
from
Well Built Suface Cleaner
After a lot of research I purchased this surface cleaner over other brands . The main consideration was it is constructed with replaceable bearings instead of Teflon washers used in most other models. The bearings are readily available on Amazon. Others have noted the large plastic washers tend to loosen over time . One solution noted in another review is to screw a self tapping screw through the upper nut body into lower nut therefore locking into place . I was very impressed at the speed and ease of cleaning my driveway . I was able to clean an area in 10 minutes that would have taken at least thirty minutes without it. For those with a lot of minerals in their water I would recommend filtering the water before the unit due to the small diameter of the jets. The jets are removable for cleaning or replacement.
Date published: 2019-07-31
Rated

1

out of

5
by
MikeW216
from
Works great if it wouldn't fall apart
Bought this last month but just getting around to using it. Started on the patio cement and about 5 minutes in the large black panel nut kept coming loose. On the next day I went to use it and on the initial trigger pull one of the threaded jet nozzels went flying out from underneath and no way to find it. All in all it would be ok for an electric presure washer but i'd keep it away from any of the more powerful gas ones.I think i will need to find a more durable surface cleaner if I want to have it for more than two jobs
Date published: 2019-07-09
Rated

5

out of

5
by
GunnerDen
from
Wanted a power cleaning tool to make it easier
I bought this 22" surface washer and it exceeded my expectations!! Cut my labor hours dramatically and it's easy to operate.
Date published: 2019-07-01
Rated

4

out of

5
by
Bill in Austin
from
Price point design elements has its problems.
The 15" surface cleaner is generally well built with two exceptions: 1) The central nut holding the the plastic shroud to the hub has two plastic nut "collars" that loosen with use, allowing the whole shroud to rotate therefore unscrewing itself further till the whole unit is unstable. (It basically will fly apart.) 2) The handling of the unit in a side to side sweeping motion would benefit from having the attachment point center of the unit, not off to the side. It's a small amount but it affects the control. NOTE: most inexpensive units like this model suffers from this same design issue. A positive note: the rotating bar with the two spray nozzles is STOUT and I'm glad the nozzles are serviceable/replaceable. At this price point, I don't expect a heavy duty machine, but I do expect something more than plastic nuts holding the unit together.
Date published: 2019-06-28
Rated

5

out of

5
by
Eric H
from
Worked like a charm!
Purchased to clean my nasty driveway, sidewalk, and front steps. Saved me hours of time and more importantly hundreds of gallons of water. I will clean it every year from now on which will take much less time and effort.
Date published: 2019-06-08
Rated

1

out of

5
by
Pots
from
Worked great the first time I used it
Surface cleaner worked great the first day, did a nice job on my deck. When I went to use it the next weekend, I could not get it to work right. It would start to run then lose power, pulsing high and low pressure. I cleaned the spray nozzles, hooked up to a different water source, no improvement. When I changed back to a regular nozzle the pressure was fine. I do not think it is the surface cleaner but an interaction with my 2650 PSI pressure washer. Have not had time to trouble shoot it yet.
Date published: 2019-06-05
Rated

5

out of

5
by
Joe993
from
Fantastic
Cleaning the drive way can't get any easier, now I just have to fix that darn pressure washer unload valve so it will hold pressure all the time
Date published: 2019-05-13
Rated

5

out of

5
by
JMay
from
Sheer Awesomeness!
This is an awesome product. I was in disbelief when I first began to use it, because it cleaned so well. Never dreamed it would clean so good. Made of durable parts. Used it apx 8 hrs at my home on the first day of use. That job would have taken three good working days to complete with a mere wand. I used a Craftsman gas pressure washer. The easiest thing for my setup was to buy the wand adapter from WalMart ($19). It screws right onto the pw handle. At this point I can not make any negative remarks. These three passes in the photo are at the beginning of use. I did get the hang of it as I progressed. Awesome, awesome, awesome!
Date published: 2019-03-12