Kärcher Center Parramatta
Services:
Demo center
Kärcher Shop
Home & Garden service drop-off (machines will be sent to Eastern Creek for service)
Contact Information:
Kärcher Center Parramatta
608 Church St, North Parramatta
NSW 2151
T: (02) 9890 3279
F: (02) 9890 4961
Email: receptionnswp@au.karcher.com
Opening hours:
Monday - Friday: 8:30am - 5pm
Saturday: Open only on the first Saturday of each month from 9am to 3pm. Closed on other Saturdays.
Closed on Sundays and Public Holidays
Easter period opening times:
Good Friday 19/04/19 (CLOSED)
Easter Saturday 20/04/19 (CLOSED)
Easter Sunday 21/04/19 (CLOSED)
Easter Monday 22/04/19 (CLOSED)
Anzac Day 25/04/19 (CLOSED)
Kärcher Center
In our Kärcher Center in Parramatta Sydney, you will find a wide selection of cleaning machines, accessories and cleaning agents for both private and professional use. We are always happy to advise you and will find the right cleaning solution to match your individual requirements. Whether you are looking for a high-pressure cleaner, vacuum cleaner or cleaning solutions for your business, we will find the right solution for you. Visit us at our Karcher Parramatta, Sydney center. We look forward to meeting you!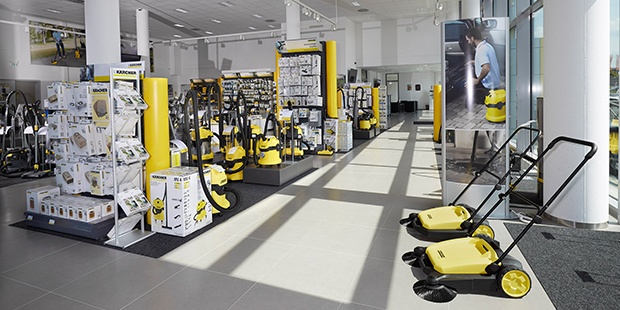 Kärcher Service - Home and Garden
Home & Garden fix price repair costs after warranty:
Simply drop your faulty device within opening hours at Kärcher Center Mount Waverley. Specially trained service engineers with repair stations for each product group and a full stock of replacement parts on-site ensure a high-quality repair and quick turn around time.
Home & Garden fix price repair costs after warranty:
Pressure Washer Series:
K2 Series Air Cooled – $139.00
K3 Series Air Cooled – $139.00
K3 Series Water Cooled – $189.00
K3 Eco Series Water Cooled – $219.00
K4 Series Water Cooled – $189.00
K5 Series Water Cooled – $219.00
K5 Eco Series Water Cooled – $259.00
K6 Series Water Cooled – $259.00
K6 Eco Series Water Cooled – $259.00
Other Products:
Steam Cleaner SC1x / SC2x – $189.00
Steam Cleaner SC3x to SC7x – $259.00
Multi-purpose vacuum cleaner – $139.00
Steam Vacuums – $319.00
Repair costs exclude GST. The repair price includes the repair of the device including the standard accessories (except surface cleaner T-Racer and / or hose reels). Please note that prior to the Repair, no separate quotation is created. Repair fixed price applies only to devices, where no economic total loss is present. The repair of special accessories is carried at quoted costs. Machines which are not listed above will be quoted.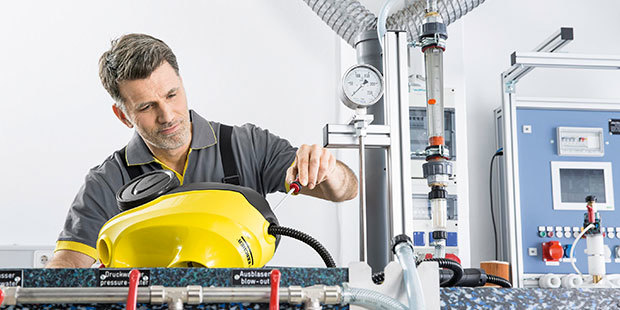 Kärcher Service – Professional
In-house or on-site! Getting your machine working again as quickly as possible is paramount – which is why we do not only offer in-house repair service at our state of the art workshop in Parramatta but also on-site.
Our vehicles – a travelling workshop!
Our fleet of fully equipped service vehicles are on standby throughout the Sydney area. Kärcher service vehicles have everything on board that service technicians need for inspections, services and repairs.
If a repair cannot be carried out on-site, our service engineer will organise for the machine to be picked up and transferred to our workshop – and if required provide a replacement machine via Kärcher Rental or as part of your Kärcher Full Service Plus package.
Service call: (02) 9890 3279
E-mail: service@karcher.com.au
Please note: e-mails are monitored between the hours of 08:30 am to 17:00 pm Monday to Friday

We aim to attend all breakdowns within 48 hours of the call being logged (excluding weekends). Priority will be given to contract customers.
Please have the following information ready to hand before you contact us to ensure that our technicians are as prepared as possible upon arrival:
Machine Model
Machine part number
Machine Serial Number
Detailed description of the problem
Site Contact
Purchase Order No.
You can find the machine name, part number and serial number on the silver name plate. Depending on the unit type, you will find the name plate on the rear, underside or inside the machine.
Professional service charges:
$100.00 per service call out (Metro area)
$110.00 per hour labour
Excluding GST