3-in-1 Wood Cleaner Detergent, 1l
The Kärcher 3-in-1 wood cleaner has a powerful 3-in-1 formula which offers you an exceptional cleaning performance thanks to its active dirt remover, UV protective formula and extensive care. This wood cleaning detergent offers you an outstanding cleaning performance, care and protection in one simple step. This Kärcher wood cleaning detergent is suitable for use on all treated and un-treated wooden surfaces outside, including your decking.
Specifications
Technical data
| | |
| --- | --- |
| Packaging size (l) | 1 |
| Packaging unit (Piece(s)) | 6 |
| Weight (kg) | 1 |
| Weight incl. packaging (kg) | 1.2 |
| Dimensions (L × W × H) (mm) | 100 x 100 x 215 |
Product
Powerful, intensive and gentle
For cleaning all sensitive wooden surfaces
Active dirt remover for quick and efficient cleaning of dirt and stains from emissions
Efficient UV protection formula delays the darkening of wood
Intensive care for all wooden surfaces such as decking, fences, houses etc.
Suitable for all water-resistant wooden surfaces.
The Plug 'n' Clean system is the easiest and quickest way to apply detergent using a Kärcher pressure washer
Tensides biodegradable in accordance with OECD
Ready to use cleaning agent (RTU)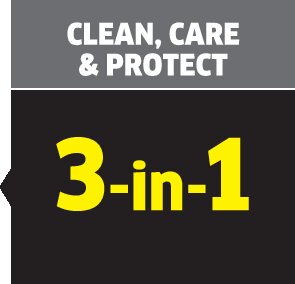 Warnings and safety recommendations according to EC Directives
Warnings and safety recommendations according to EC Directives
P102 Keep out of reach of children.
EUH 210 Safety data sheet available on request.
Application areas
Wooden surfaces
Wooden houses