Further processing of fruit and vegetables
Where fruit and vegetables are processed, cleaning tasks are varied. Production residues on the machines and ‰oor, outside areas and last but not least, transport connections, place high requirements on the machines and cleaning processes.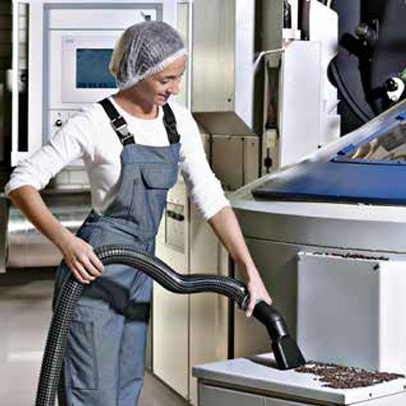 Clean as a whistle
When processing fruit and vegetables, avoiding crosscontamination, grime and corrosion are essential cleaning tasks.
Natural products often bring dirt in during delivery, but with our individually configurable machine carriers you can clean outside areas quickly and thoroughly. The toolless quick-change system for a variety of implements allows you to convert your sweeper for mowing the grass or winter service in no time at all. In interior areas you can use our manoeuvrable ride-on scrubber driers for floor cleaning, with a V-shape squeegee blade ensuring any dirt is removed. What's more, you achieve even better hygiene with the optional tank rinsing system, and see water savings of up to 70 % compared with cleaning with a water hose.
Hygiene in production and filling
Clean and disinfect your production systems quickly and effectively with our white Hygiene high-pressure cleaner with integrated hose reel, food-grade high-pressure hose, grey, robust wheels and accessories suited to the task. You can choose between high- pressure point stream, high-pressure flat stream (25°) and low-pressure flat stream (40°). The low-pressure flat stream (40°) is used for applying cleaning agent, while the cup foam lance is the right accessory for cleaning production systems. Our barrel cleaner offers a modular system with cleaning heads for up to 200 bar operating pressure, water temperatures up to 90 °C and alkaline or acidic cleaning agents for the cleaning of barrels, stainless steel containers and intermediate bulk containers. Large quantities of fruit and vegetable waste can be easily cleared with our wet/dry vacuum cleaners, and liquids can be thoroughly picked up using the wide nozzle. Finally, you can empty the container with ease thanks to the drain hose.