SAP Ariba Information
This area provides further information concerning SAP Ariba, the Supplier Guide, Bidder Agreement and the SAP Ariba Portal ToU.
Ariba Introduction Video
Here you can find the speech of Heiko Braitmaier (Executive Vice President Sourcing & Procurement) about the introduction of SAP Ariba at Kärcher.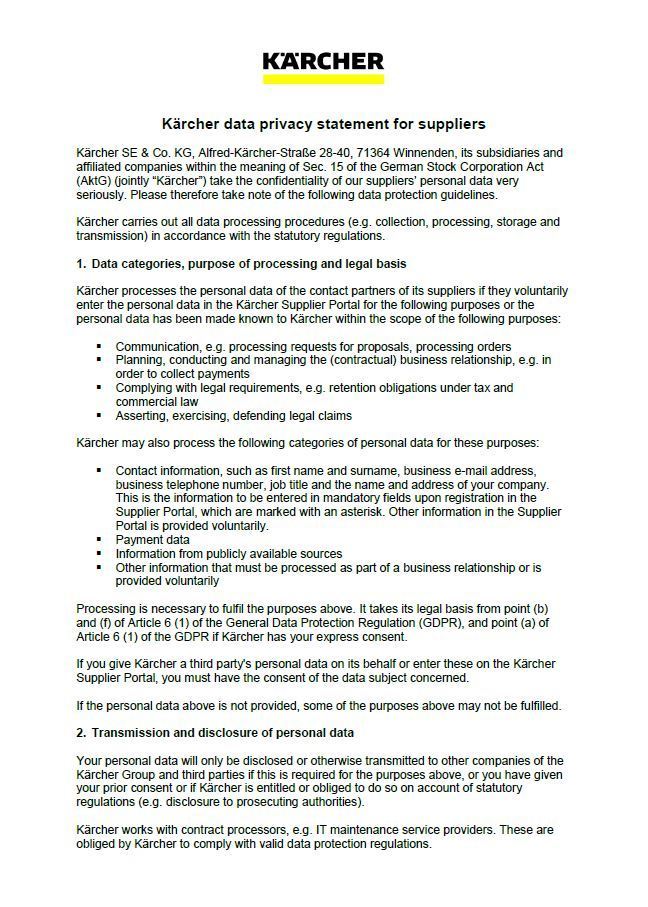 You don't need to create a new one. You can use your existing one. Just choose "login" instead of "register" for the initial setup.
However, you can also create an additional Ariba Network account to manage your different subsidiaries and plants separately. It depends on your business needs.
If you are logged into your Ariba Network account, toggle to the "Proposals and Questionnaires" module in the left upper corner to see upstream forms and data.

You might have stopped the process before getting to the Kärcher Registration Questionnaire. Please contact your Kärcher Purchaser to have the link resent to you and then to log in with your existing credentials.
You can update the content of the registration questionnaire at any time. Just enter your Ariba Network Account under supplier.ariba.com. Navigate to Questionnaires and Proposals on the left corner. Then go to the registration questionnaire. Once you have opened the area, you can click "revise response" and update your data there and submit again.
Once you have completed and submitted the Questionnaire, wait for the confirmation whether it has been approved. Upon approval, you will become eligible to be invited to a Sourcing event. Depending on the project scope, you might still need to complete the Qualification process.
The Kärcher Terms of Use are available in English (first section of the document) and German (second section of the document). Other languages are currently not available.