Warranty Registration Confirmation
Registration Received
This message confirms that you have successfully registered your Kärcher product! You will also receive an email for your records. (Please check your spam folder if you did not receive the email in your inbox) Please also remember to retain a copy of your original purchase receipt, which will be required should you need to obtain in-warranty repairs.
Need help setting up or using your new Kärcher equipment?
We are pleased to offer free technical support to our customers in the US and Canada at karcher-help.com. There you can search our Knowledgebase and "Submit a Ticket" to contact a member of our customer care team. Support is also available at 800-537-4129, 9am - 8pm Eastern, M-F.
We invite you to connect with us on social media (@KarcherMe). You'll see our best images, videos and tips, and we love to repost content from our customers around the world. From time to time we also offer sales and product giveaways. Please follow us on:
Please note
If you purchased a K2, K3, K4 or K5 electric pressure washer, it is important that the Quick Connect adapter is correctly attached to the water inlet. The yellow side of the adapter should be attached to your garden hose, and the black side of the adapter should be attached to your pressure washer. (See image on left) If the adapter is attached in reverse, it may leak or spray water. Please ensure the adapter is correctly attached before you begin cleaning.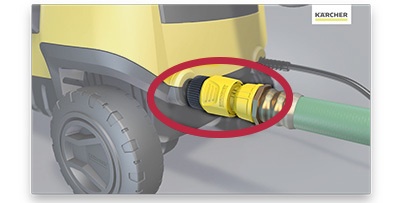 ---
---
Here's 10% off your first accessory order!
As a special thank you for registering your product with us, please use coupon code WELCOME10 for 10% off our Home & Garden accessories at kaercher.com/us/accessory. (Note: at this time we are only able to ship to customers in the contiguous United States)
Genuine Kärcher accessories enable you to clean more quickly and thoroughly, as well as tackle special cleaning tasks that may require unique tools. Examples include deck/driveway cleaners, extension wands and hoses, brushes and much more.
We greatly appreciate your business and hope you enjoy cleaning with your new Kärcher product!
Sincerely,
The Home & Garden Team
Kärcher North America