Kärcher Equipment Service
Successful partnerships for professionals. Trust your professional cleaning equipment to work when you need it to. Every day. Every night. Everywhere. To cover all of your service needs, we offer optimal service, advanced technologies, expert training, asset management tools, and spare parts and accessories. Rely on Kärcher's service programs for your one-stop aftermarket solution.

You manage your business. We give you security.
Security means being there for others. Where it's not the thought that counts, but your actual presence. Always with 100% commitment and a full range of services. That's got to be your standard. It's always ours. Because we see ourselves as a system provider that offers and performs a whole range of products and services.
We are ready: You will benefit from our service throughout the entire operating life of your Kärcher machine. Wherever you need us, we or one of our service partners will be there for you on site. At your business. Where your machine is used. Anywhere.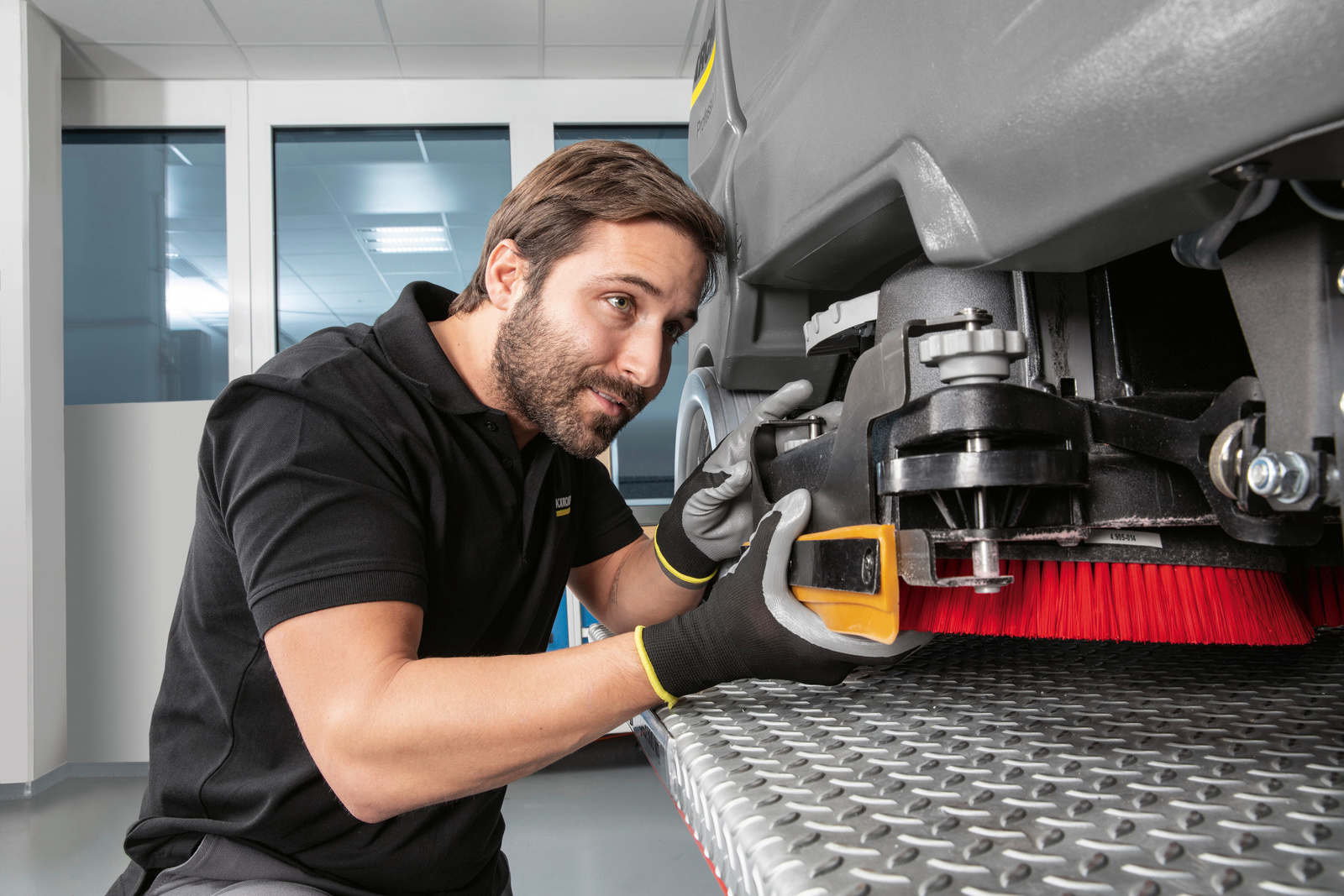 The Kärcher range of services
You work with professional cleaning equipment and have to count on your entire machine fleet to be ready for operation at any time. For this, you need a partner who offers more than just equipment. You need reliable cleaning machines and detergents, advanced technologies, expert advice, and training. Accompanied by a range of services that leaves nothing to be desired. With operative service on-site, quick and reliable. With all required tools, spare parts and wear parts. With optimally tailored packages for inspection, maintenance and full service. In short, Kärcher Service gives you peace of mind.
Our Unique Service Offering
Tailored service agreements
On-site repairs
Spare parts and accessories
Centralized dispatch center with extended hours (8am-8pm EST)
Trade-in/buy back programs
Repairs on site
In the event of any repair work, you will receive first-class, quick and effective service from us. It is our goal to successfully conclude every service order as quickly as possible and to your utmost satisfaction. The service process described here illustrates how efficiently our service system works. Customer service really can be that brilliant and simple.
The Repairs Procedure:
Need a repair?
No problem. Simply contact us by phone, through our Service app, by fax or e-mail. Your Kärcher machine will then be professionally repaired promptly and ready for use again as quickly as possible.
We'll keep you updated
Shortly after accepting the order, you will receive an order confirmation through the Service app, by e-mail or fax. You're in good hands with the Kärcher customer service team.
Quick appointment arrangement
We'll arrange an appointment with you. Thanks to our efficient route planning system, we'll be with you as quickly as possible. The appointment will be confirmed to you by e-mail or fax.
Kärcher quality repairs
A specially trained service technician will come to you and attend to your machine. Using the description of the fault you have provided, our service technician will bring the spare parts required.
Instant service report
As soon as our technician has eliminated the problem, you'll instantly receive a service report by e-mail or fax. This report provides you with the details of which spare parts were installed and what was repaired in your machine.
Simple processing
If your repair is not covered by a Kärcher service package or is not carried out free of charge under the warranty, you'll receive the invoice by e-mail or post. The best service is always straightforward.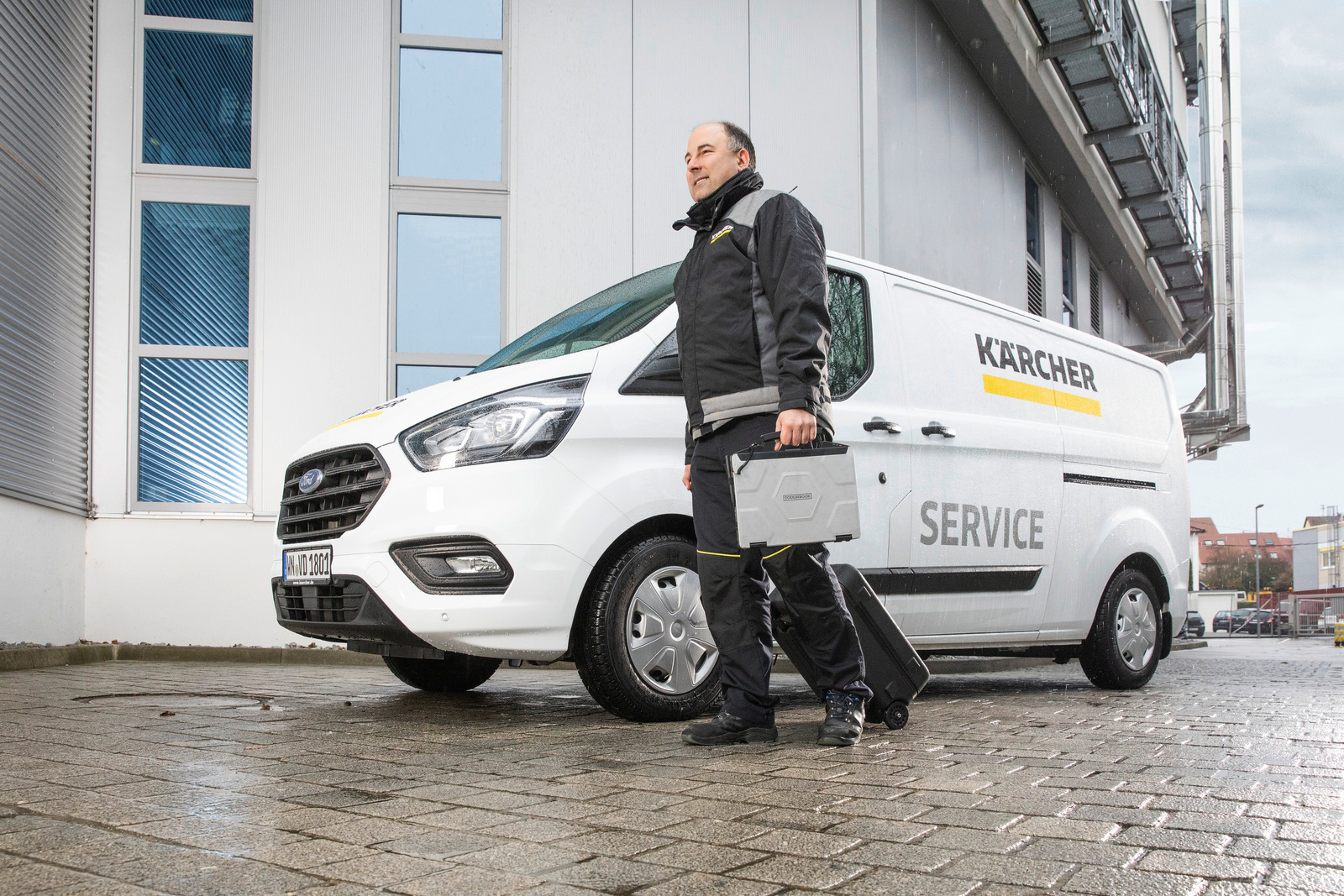 Perfectly Equipped – Our Vehicles & Workshops
Our ultimate objective is to repair your machine as quickly as possible in the event of a failure. If a repair cannot be carried out on site, we have the option of using our superbly equipped workshops. Our service technicians will organize the transport – no extra effort is required on your part. We'll provide you with a replacement machine through the Kärcher rental service if required.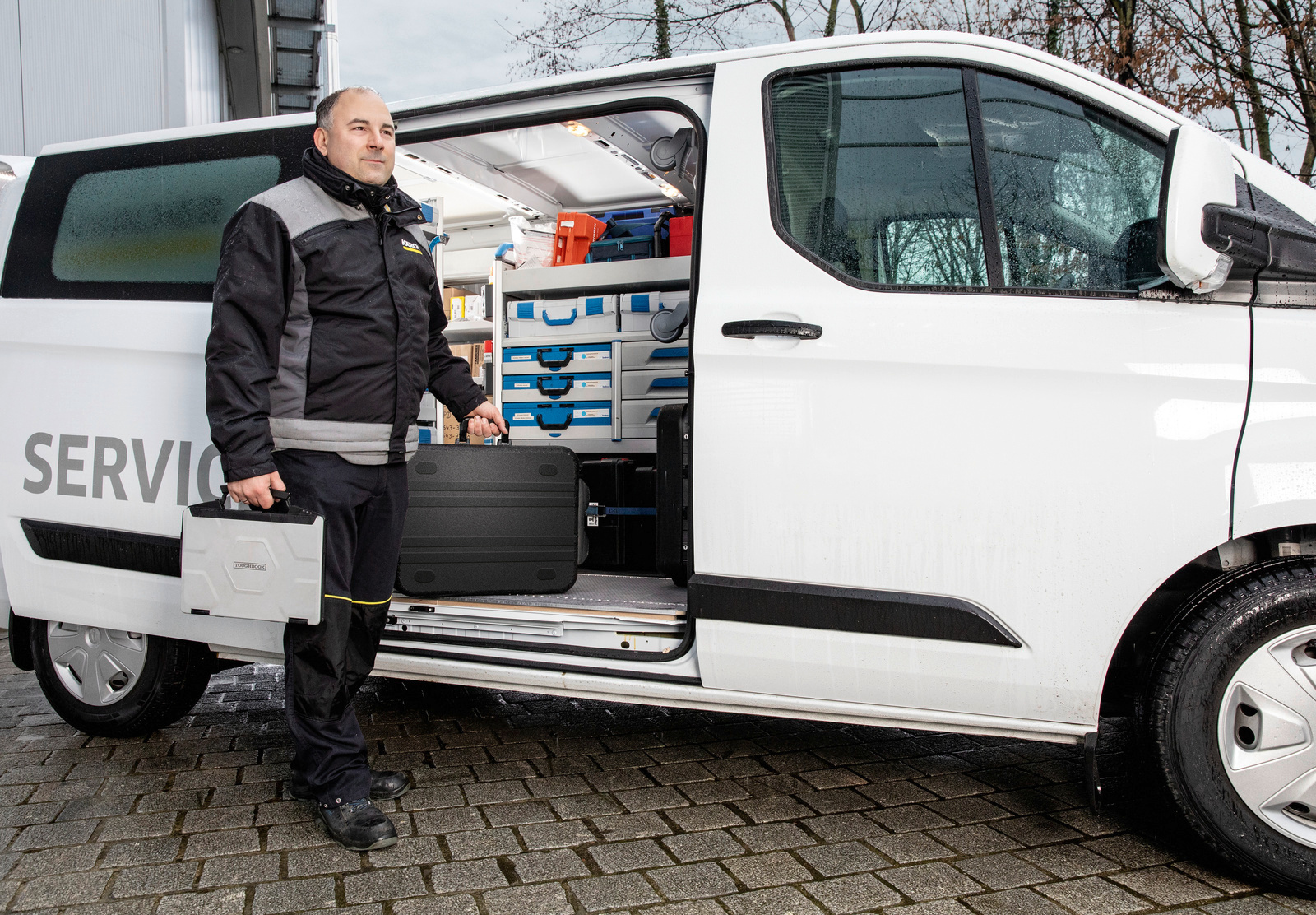 Our Service Vehicles – Workshops on Wheels!
Kärcher service vehicles have everything on board that the service technicians need for inspections, servicing and repairs. Along with the necessary measuring tools, standard tools, and Kärcher-specific tools, our vehicles are equipped with the most important spare parts and wear parts, as well as accessories and cleaning detergents. This equipment is complemented by laptops, with which the whole repair is handled. Additionally, for every available Kärcher machine, all technical documents are accessible in digital format.
Our Workshops
Repairs of large items of equipment or reconditioning of machines is carried out in our workshops. Of course, all the necessary measuring tools, standard tools and Kärcher-specific tools are there too, as well as the most common spare parts and wear parts.
Our People Make a Difference
Kärcher offers equipment care solutions for best-in-class service, maintenance programs, and asset management tools. You can trust our qualified technicians to deliver premium service when you need it. We have service technicians stationed coast to coast.
Depend on quality commercial equipment repairs with our trained technicians. No matter how big or small your repair, we offer dependable support for all your equipment needs. Kärcher technicians make on-site calls to keep machines from any brand performing at their best. Our service packages give you complete control of how you manage your service needs and cost requirements. We also offer free equipment installation and training.
The Kärcher Service Promise
If you work with professional cleaning machines, then you have to be able to trust that your fleet is fully ready for use at all times. That's why you need a partner who offers you more than just equipment: reliable cleaning machines, advanced technologies, expert consulting and training are essential. Additionally, you need a service provider that leaves no stone unturned: with fast, reliable operational service on-site; with all of the necessary tools, spare parts and wear parts; and with ideally tailored packages for inspection, servicing and full service. Kärcher service programs: A service that gives you security. That's our promise!
Meet Kärcher Lead Service Tech, Jason Quick
Jason has been servicing Kärcher equipment since 2012 in the West region. He prides himself on developing relationships with his customers, based on trust and respect. Learn more about his story by watching this short video.
Contact Us
We appreciate your business and strive to deliver the best experience while meeting your service needs. Karcher has a central dispatch center that handles all service request nationwide.
Dispatch Hours of Operation:
Standard Hours: 8am - 8pm (Eastern) Monday-Friday
Service Overtime Hours: Before 8am and after 5pm (Local) Monday-Friday and all day Saturday.
Double Time Hours: Sundays and Holidays
In an effort to expedite your call, we request that you provide the following:
Location name and complete address with business/access hours
Site contact name, phone number and email address
Estimate approver name, phone number and email address
Equipment information (make, model and serial number)
Detailed problem description
PO # / Work Order # (if required)
You can find the material and serial number on our service sticker or type plate. These are affixed to the machine in a clearly visible location. You can find the machine designation on the machine itself or on the type plate. Depending on the unit type, you will find the type plate on the rear, underside or inside the machine.