Commercial and Industrial Floor Sweepers
When it comes to cleaning, no job is too big or too small for Kärcher commercial and industrial sweepers. Featuring a wide array of compact manual sweepers, walk-behind floor sweepers, ride-on floor sweepers, and highly robust industrial ride-on sweepers, we have the perfect machine to fit your needs. Fast brushes and high performance ensure cleanliness in no time at all. In addition, Kärcher floor sweepers are flexible in use, easy to handle, and provide perfect cleaning results – everywhere and anytime.
Which Floor Sweeper is Right For Me?
From compact manual sweepers to walk-behind and ride-on machines, to highly robust industrial ride-on sweepers, Kärcher has the perfect machine to fit your needs. Click the links below to learn more about each of our floor sweeper categories and find the equipment that meets your unique cleaning challenges.
Compact Sweepers
An excellent choice for discrete and quick interim cleaning - low noise levels allow for daytime cleaning of quick spills.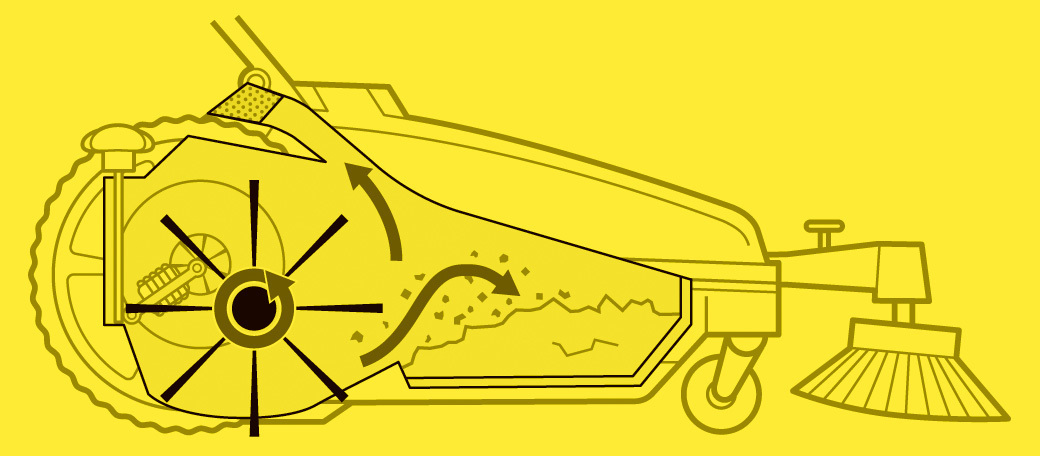 It's All in the Details
Every Kärcher sweeper features unique technology to make your job easier and save you both time and money.
Hit the ground running with EASY Operation.
Prevent incorrect operation and extend the life of your sweeper with EASY Operation, Kärcher's operating system featuring user controls with self-explanatory symbols. Included on all ride-on and most walk-behind sweepers.


Crescent side brushes make sweeping corners a breeze.
Our patented crescent side brush allows for the perfect cleaning of corners in just one pass, saving you time. Featured on models KM 105 and KM 125.


Built to meet the three pillars of quality.
We know flexibility, reliability and durability are three of the most important factors in a machine. That's why we construct our sweepers with materials that are proven to last, with added features like portability and simple, one-step waste disposal.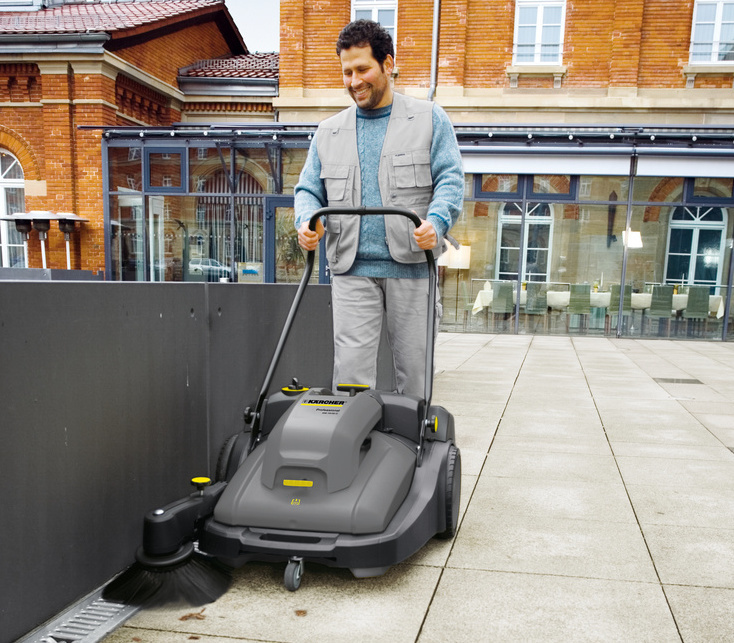 What is a Floor Sweeper?
High Performance Sweeping: Commercial floor sweepers remove dirt of all kinds from interior and exterior surfaces. When in use, floor sweepers pick up dust and debris using a roller brush, and deposit it into a container (hopper) for ease of disposal. Some sweepers are equipped with a passive vacuum system to filter out fine particles for improved air quality.
How Do Floor Sweepers Work?
Different models require different sweeping principles.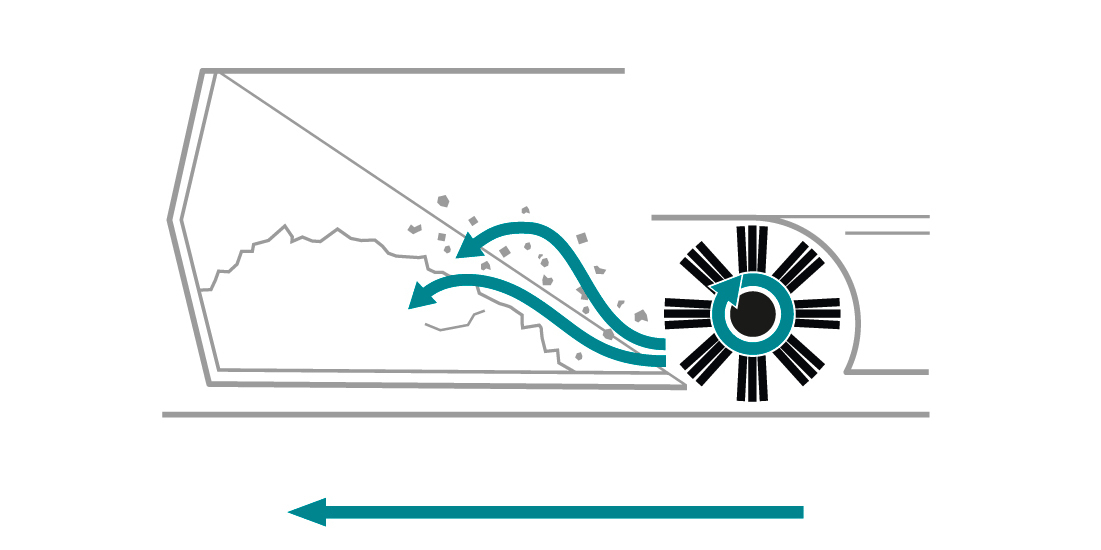 The Direct Throw Method
The Direct Throw sweeping method uses a cylindrical roller broom to sweep dirt into a forward-mounted hopper, utilizing 40-50% of the hopper's capacity.
Advantages:
Low-dust sweeping due to lower brush speeds and a short "sweep path"
Less brush wear
Ideal for expansive and heavy dirt as well as fine dust
The Overthrow Method
The Overthrow sweeping method utilizes a hidden, adjustable roller brush that rotates at high speeds, throwing dirt up and back into a trailing container, utilizing 85-100% of its capacity.
Advantages:
Container allows up to 100% fill level
Ideal for coarse and light dirt
Collects coarse dirt with ease using a coarse dirt flap
Good overview due to forward seating position
Cleaning Fact:
Studies show adding a sweeper to your exterior cleaning regimen reduces soil tracked indoors by up to 66%.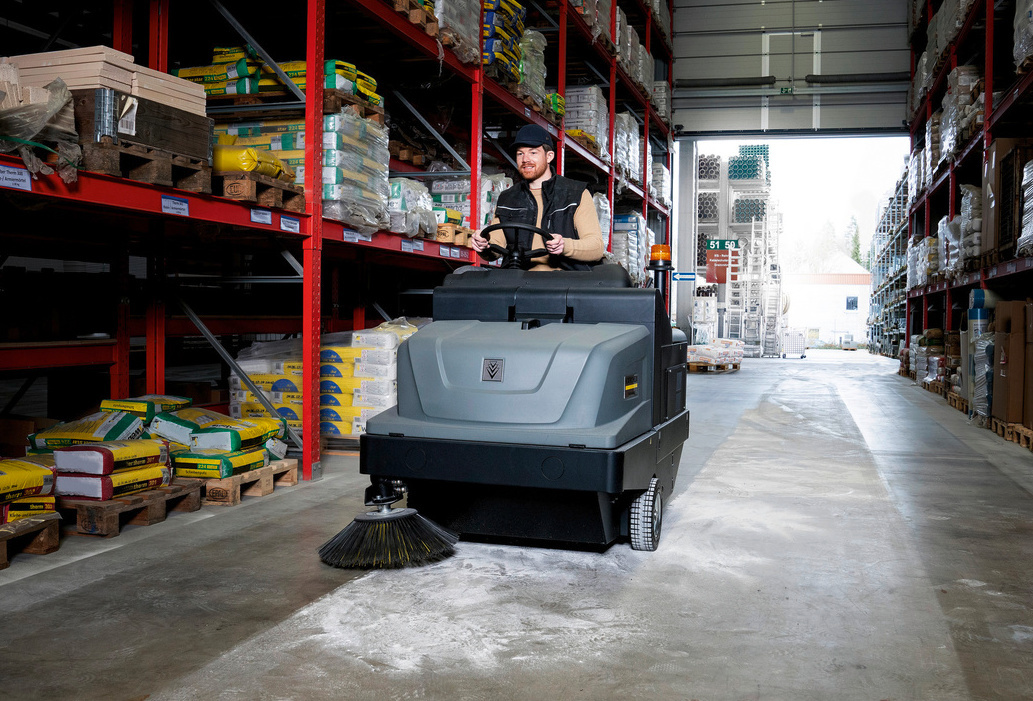 What Are the Areas of Application for Floor Sweepers?
One machine, many areas of application: commercial floor sweepers are used for larger interior and exterior surfaces. Compared to normal brooms, they remove stubborn dirt, dust and waste quickly and effectively – with minimal effort.
Typical areas of application for commercial floor sweepers include:
Warehouses and logistics facilities
Factories
Parking lots and loading ramps
Food and drink industry
Sport and leisure facilities
Steel and metal industry
Electronic industry
Pharmaceutical and chemical industry
Transport and transportation industry
Trade fair and conference centers
On Which Floors Can Floor Sweepers Be Used?
Different floor coverings and types of dirt also place different demands on the floor sweeper. The standard main sweeper roller is the usual choice and stands out with its flexibility and long lifetime. However, the same roller brush is not suitable for all floor coverings. This is why Kärcher offers various solutions to help you achieve optimal cleaning results.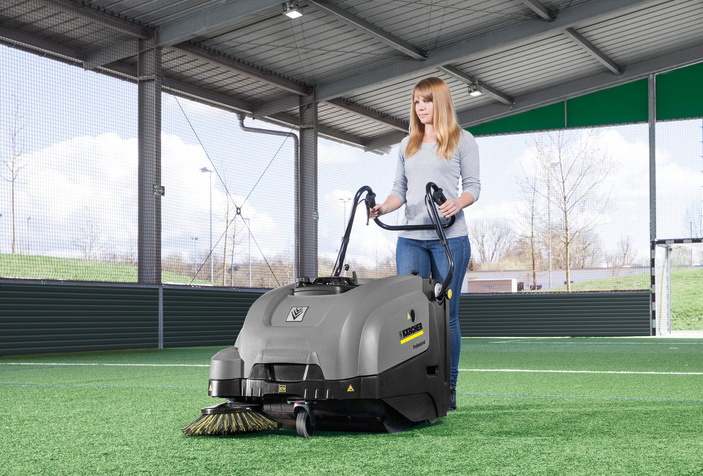 An Overview of the Various Roller Brushes
Standard Main Sweeper Roller
Medium bristle hardness
Used for: normal street dirt, leaves or dusty environments on asphalt, screed or interlocking stones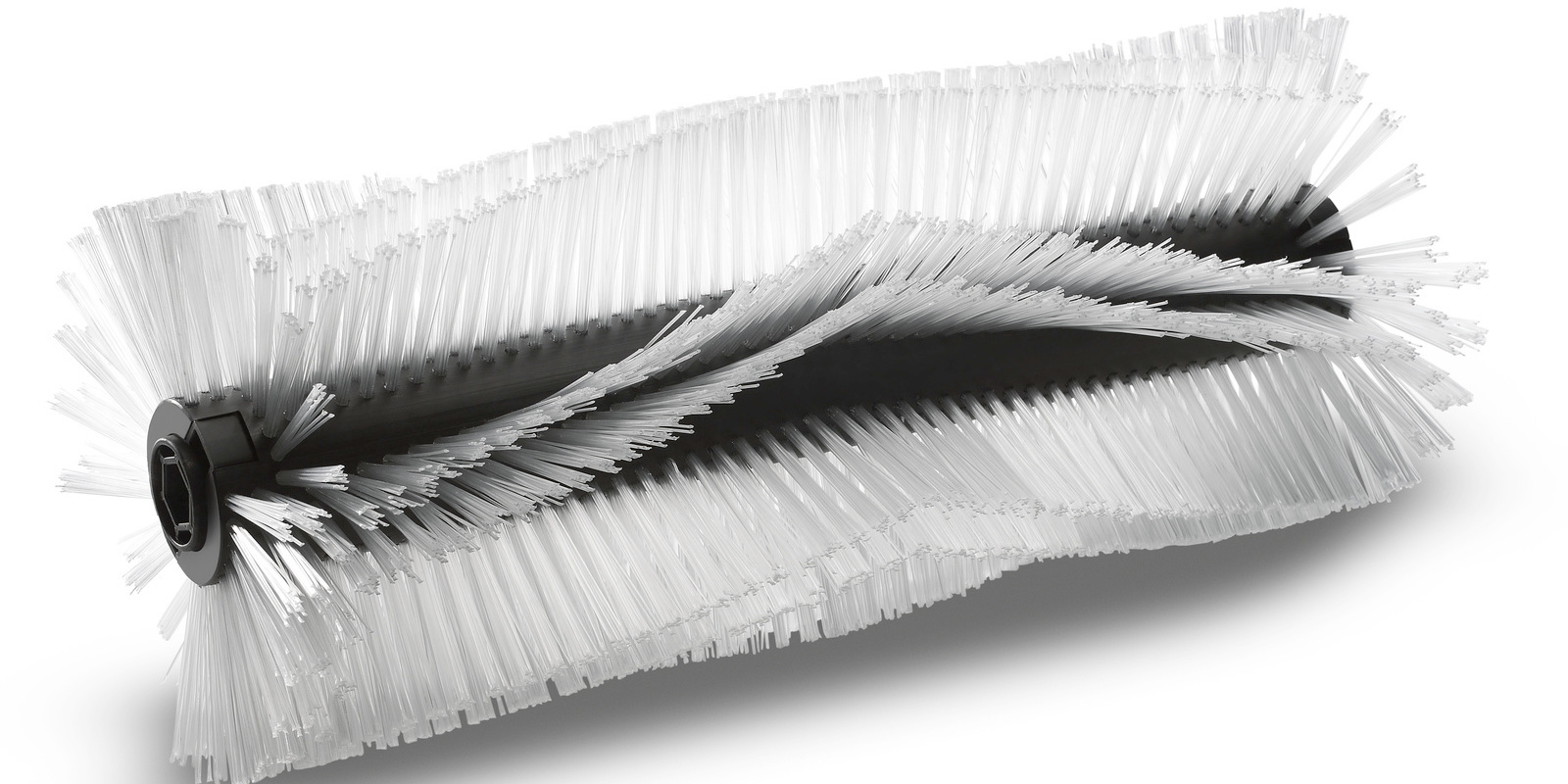 Main Sweeper Roller, Hard
Significantly harder bristles, some of which also have steel inserts
Used for: rough surfaces and stubborn dirt or heavy waste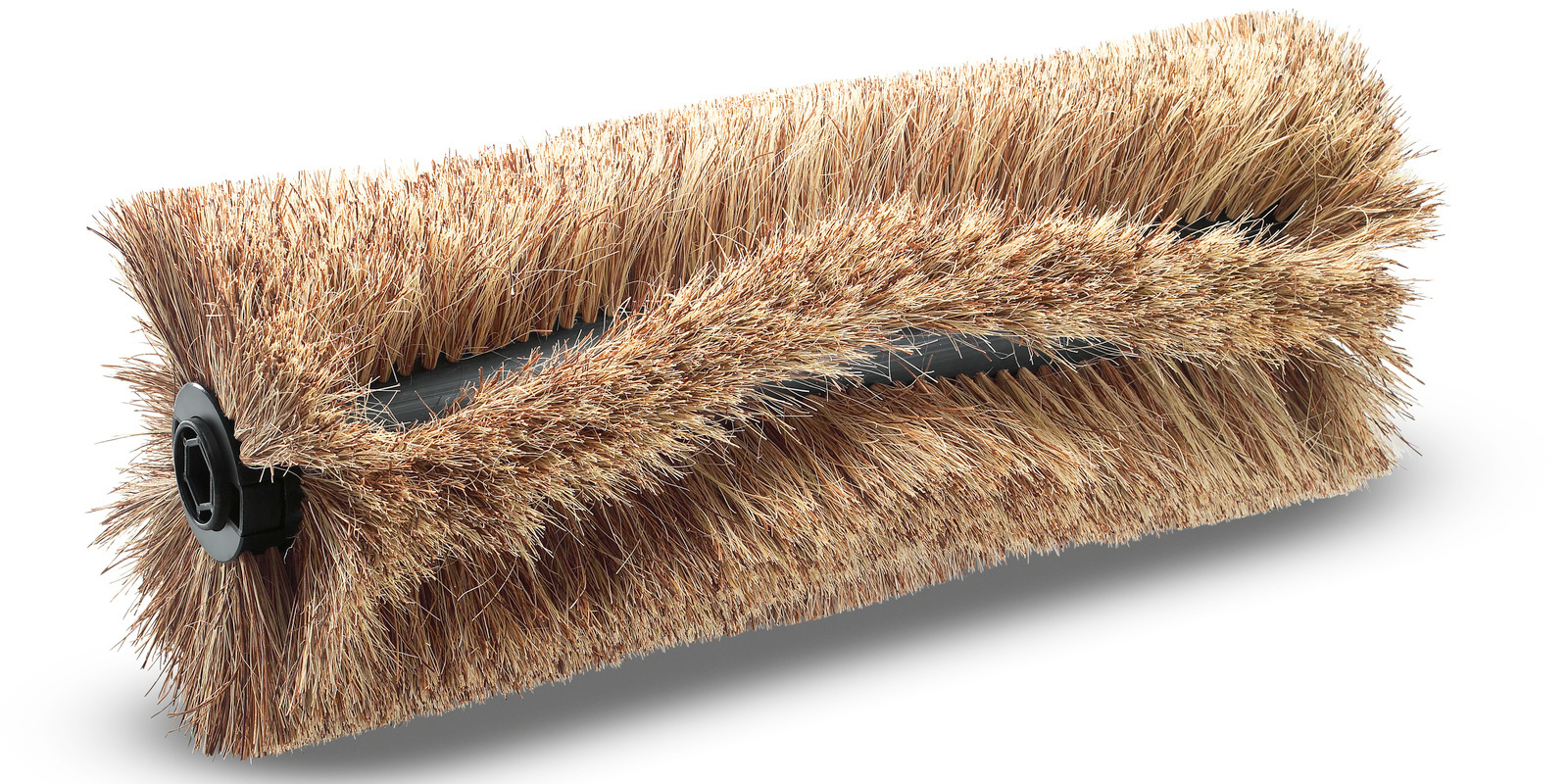 Main Sweeper Roller, Soft
Soft bristles
Used for: removing dirt and fine dust on smooth floors indoors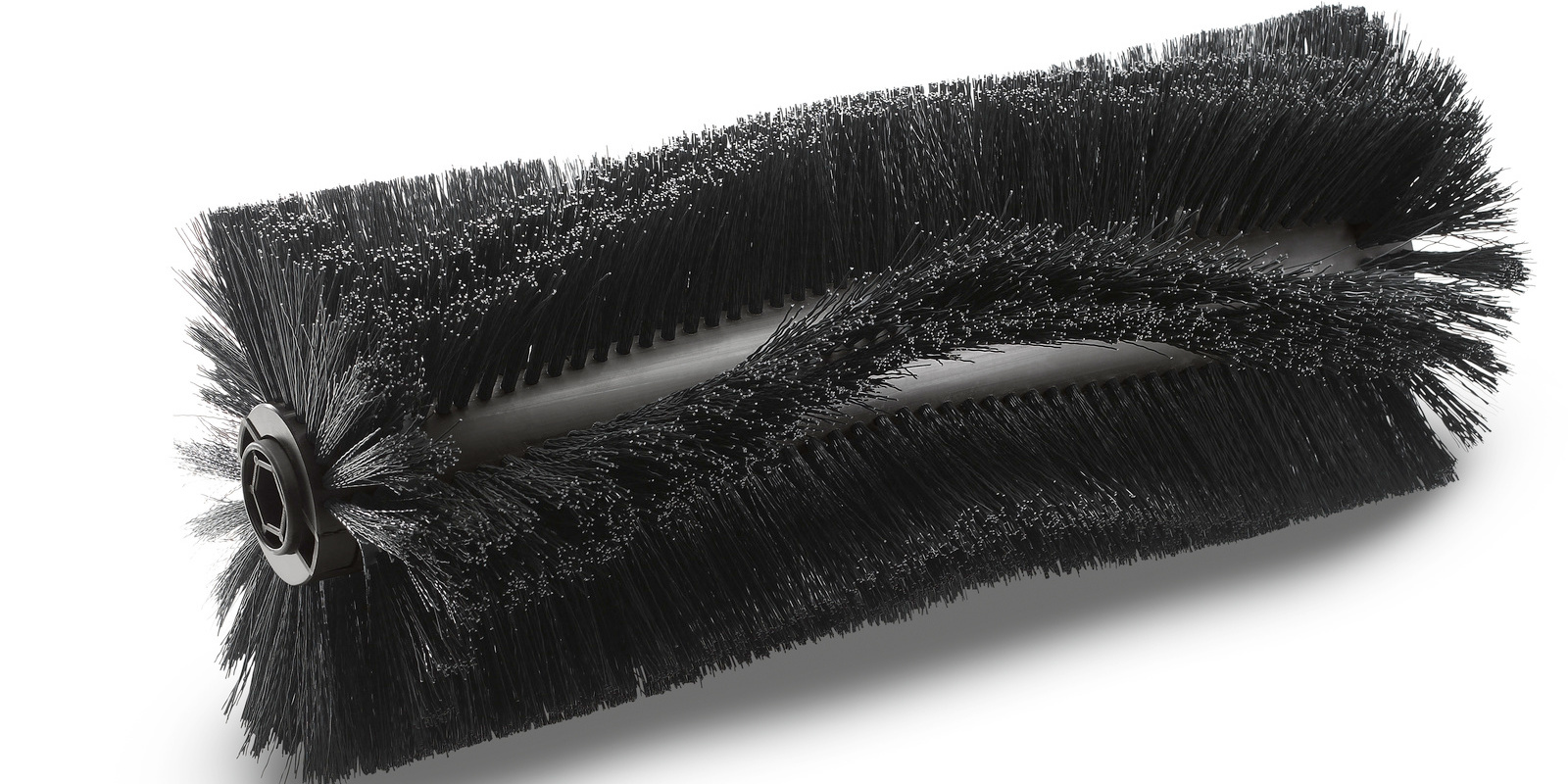 Main Sweeper Roller, Anti-static
Soft bristles
Used for: efficient carpet cleaning at trade fairs or sport facilities and hotels, for example
The following models are recommended for cleaning carpets and artificial turf: KM 75/40 W, KM 85/50 R, KM 90/60 R Adv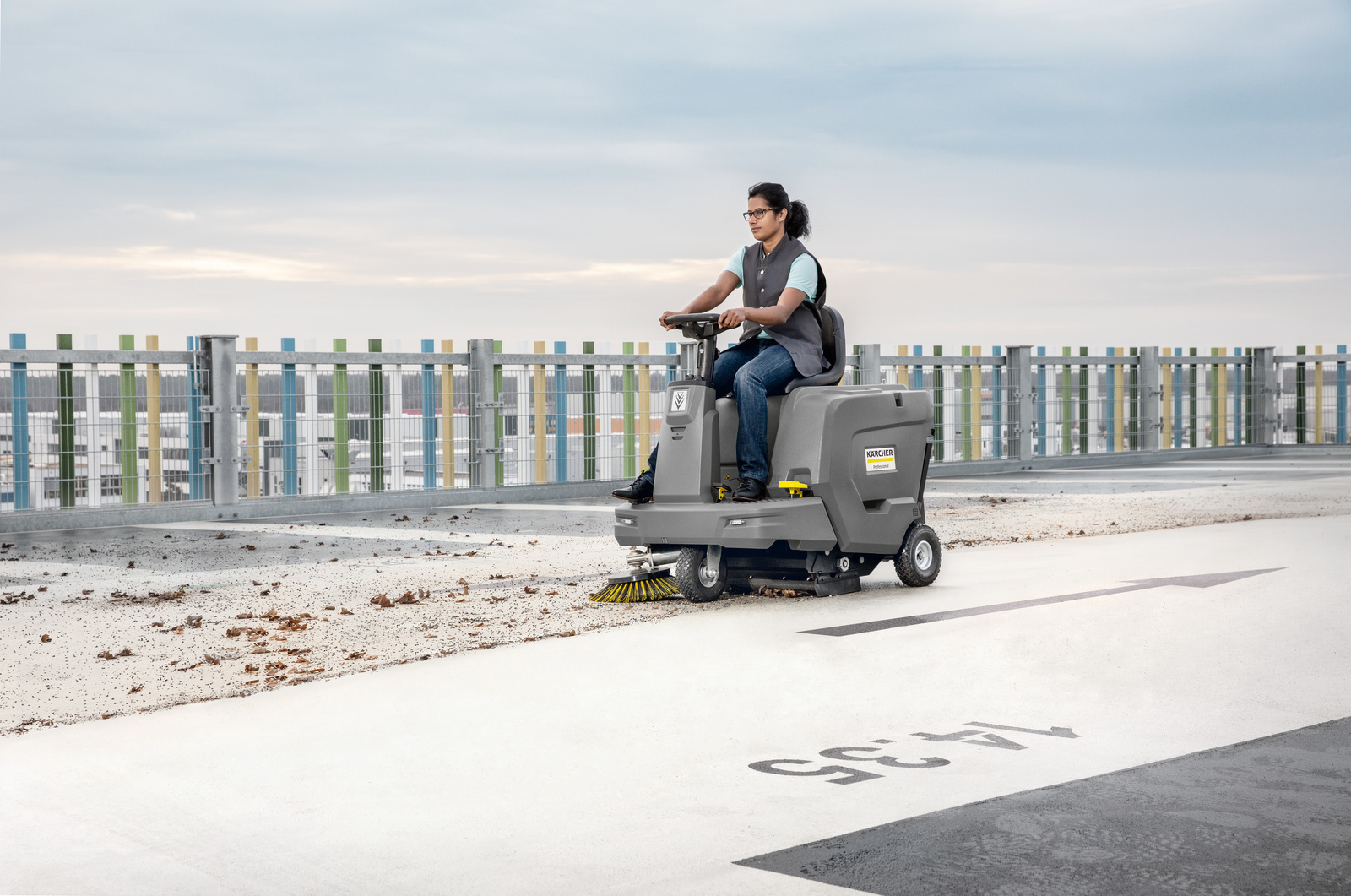 What Area Performance Do Floor Sweepers Have?
Commercial floor sweeper performance varies and is dependent on model and equipment. An overview of the area cleaning performance (per hour) of the various floor sweepers can be seen in the table below.
Sweeper category
Industrial floor sweepers
Area cleaning performance (per hour)
72,700 – 238,800 sq.ft/hr
---
Sweeper category
Ride-on floor sweepers
Area cleaning performance (per hour)
54,900 – 58,125 sq.ft/hr
---
Sweeper category
Walk-behind floor sweepers
Area cleaning performance (per hour)
30,000 - 36,328 sq.ft/hr
---
Sweeper category
Compact floor sweepers
Area cleaning performance (per hour)
2500 sq.ft/hr
---