Cordless electric brooms
Faster than a vacuum - more convenient than a brush. Cordless electric brooms are used wherever vacuuming is less suitable and conventional sweeping is difficult. Ideal for occasional cleaning of carpets, laminate or tiles. Without disturbing cord and unnecessary bending!
Highlights
Before dirt really starts to get on your nerves, the cordless electric broom provides a quick and convenient remedy. The height-adjustable and tiltable telescopic handle makes it possible to sweep floors clean in no time, even under very low furniture.
Power on by pulling back the handle
Removable sweeping container
Flexible uses thanks to battery technology
Telescopic handle with parking position
Ergonomic design
Easy-empty container
Quickly remove and empty the sweeping container without coming into contact with the dirt.
---
Sweep under furniture
Clean under furniture, in tight corners and other hard to reach areas
---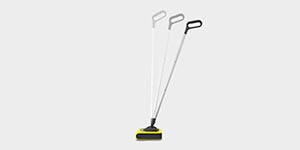 Pull back handle to turn on
No need to look for a power switch – simply pull back the handle to start the sweeper.
---
Small storage footprint
Upright parking position for easy, no-fuss storage that takes up minimal space.