Kärcher Maintenance Packages
Achieving more together. Kärcher Service maintenance packages are tailored to suit your specific needs. Our technicians will inspect your machinery and fix any problem so it does not happen down the road. Project planning, asset management and service life calculations are all utilized when evaluating your equipment.


Kärcher Service Programs
No matter your business size or experience, you need to feel taken care of in an efficient, effective, and professional manner. We are here to prevent problems before they occur, fix machines when needed, increase uptime, and provide the best recommendations to keep your equipment running well. We can be found from coast to coast across the U.S. Our experts are always nearby whenever you need service.
No one can predict the future, but costs for machine procurement and operation are always predictable. We do this within the framework of all our Kärcher Service Packages. Full cost control - guaranteed by contract. All service programs, maintenance plans, and pay as you go plans are subject to Not to Exceed (NTE) requirements.**
Every service package is precisely tailored to suit specific needs. Services include inspections as part of mandatory safety checks, timely servicing, and flat-rate full service. Depending on your requirements, you can also enhance any package with an optionalbattery replacement.
Kärcher Care
Kärcher Care is a pay-as-you-go service program available for all makes and models of equipment. With the freedom to pay as you go and no monthly fee, now you choose when to service your equipment. This no-obligation plan continues to offer world class service and parts – simply pay per service request based on the actual labor and travel hour, and parts used by a Kärcher certified service technician.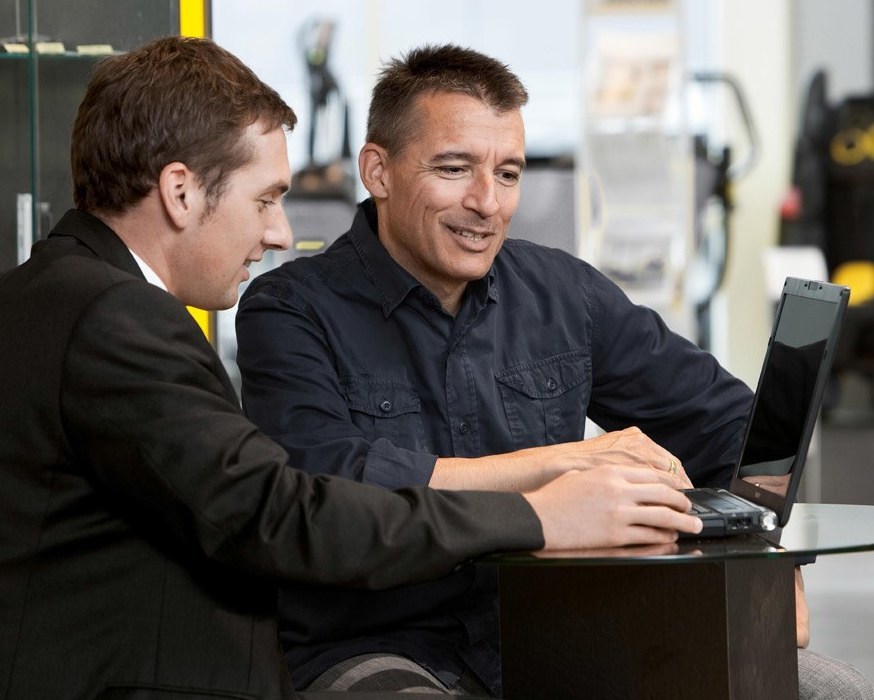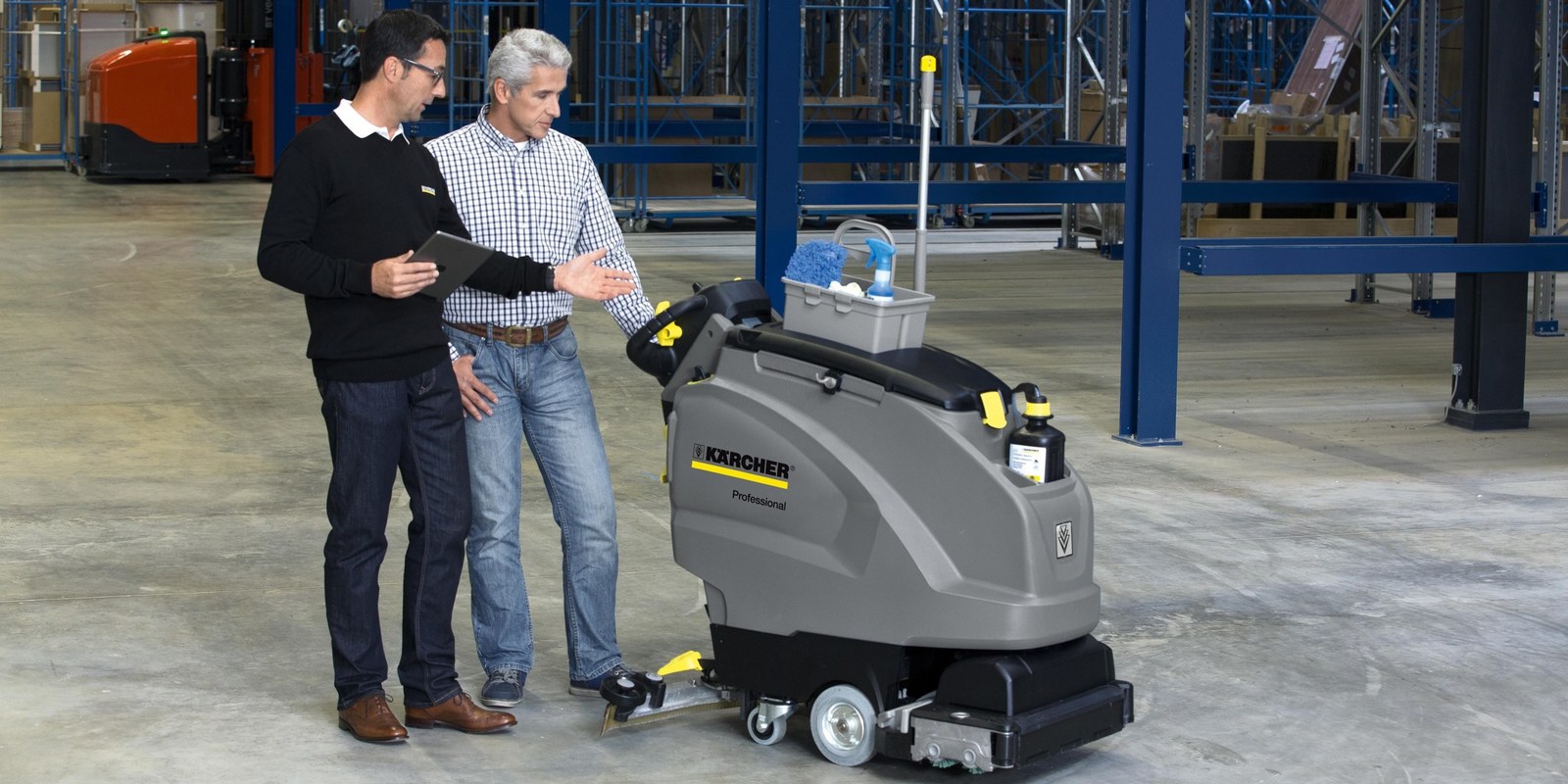 Kärcher Inspect
Kärcher Inspect is a fixed price program and includes pre-scheduled safety & operation checks. The number of visits is flexible and can be scheduled based on your needs. You will receive an inspection checklist showing the condition of each unit. The program is available for all makes, models, and age of equipment, and includes a fixed price per unit on each visit.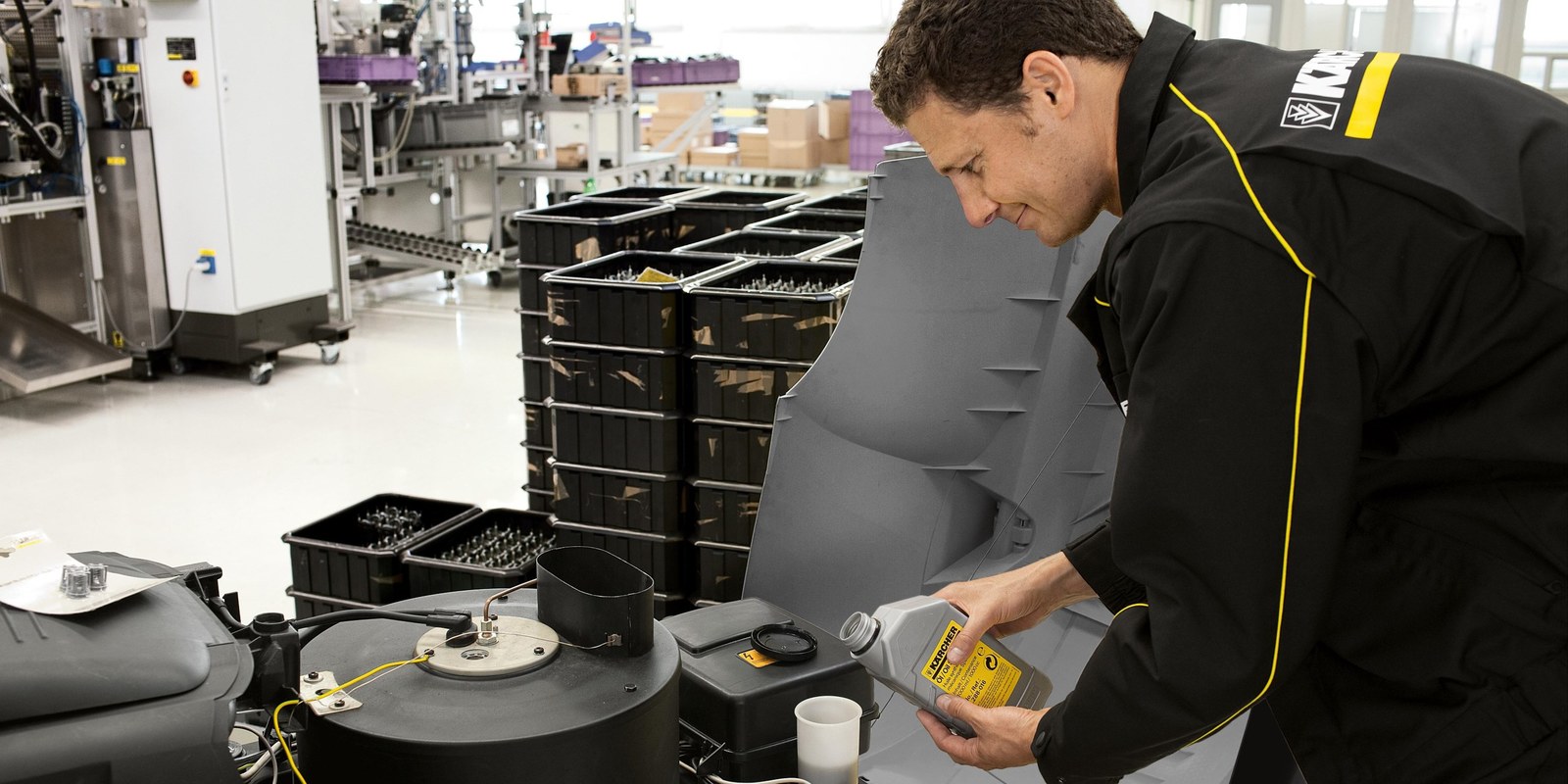 Kärcher Maintain
Kärcher Maintain is a fixed price planned maintenance program that is available for all Windsor Kärcher Group and Kärcher floor care equipment. Planned maintenance visits are included with a monthly fee.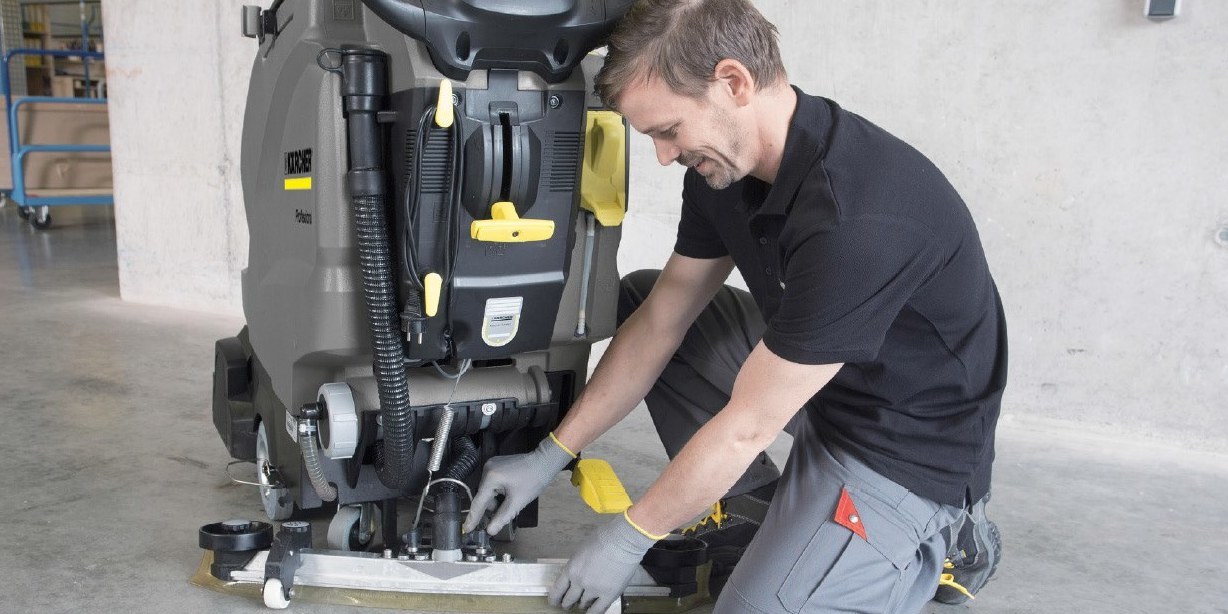 Kärcher Full Service
In addition to the services included in Kärcher Maintain, with the Kärcher Full Service program you get a functional guarantee ensuring the safe, economical, and reliable operation of your machine. If your machine malfunctions, we will prioritize the service within regular business hours* and repair it as quickly as possible. You will have full cost control. Breakdown repairs with a labor/travel/trip charge and spare parts are included with your monthly fee. Exclusions apply. You will also have the option to add battery replacement for an additional fee.
*Regular business hours are Mon to Fri 8am to 5pm local time
Inspection, safety testing
Kärcher Inspect
X
Kärcher Maintain
X
Kärcher Full Service
X
---
PM checklist
Kärcher Inspect
X
Kärcher Maintain
X
Kärcher Full Service
X
---
PM labor/travel/trip charge
Kärcher Inspect
X
Kärcher Maintain
X
Kärcher Full Service
X
---
Preventive replacement of defined wear parts in accordance with the manufacturer's maintenance plan
Kärcher Inspect
Kärcher Maintain
X
Kärcher Full Service
X
---
Breakdown repairs: labor/travel/trip charge*
Kärcher Inspect
Kärcher Maintain
Kärcher Full Service
X
---
Breakdown repairs: spare parts are included. See exclusions below*
Kärcher Inspect
Kärcher Maintain
Kärcher Full Service
X
---
Battery replacement*
Kärcher Inspect
Kärcher Maintain
Kärcher Full Service
(optional)
---
*Exclusions: The following goods and services are not covered by the monthly fee: repair of damages caused by negligence, abuse, accident, unauthorized modifications, or unauthorized service work; painting, refinishing, or body repair; batteries, detergent, chemicals, brushes, pads and any consumables; and daily routine maintenance as specified in the Equipment's Operator and Maintenance manuals (which are to be performed by the Customer). The determination of whether the Equipment has been misused or abused shall be made in KNA's sole discretion. Notwithstanding the foregoing, should KNA determine, in its sole discretion that Customer's Equipment is being used and stored in a harsh environment, impacting the amount of service necessary to keep the Equipment in normal operating condition, KNA may adjust the Fee at any time upon thirty (30) days written notice. Any parts requested by the customer outside of the scope of a service call will not be covered under the "Monthly Fee" and will be subject to the Service Rates and Parts Pricing. Any service required outside of the standard hours of operation are subject to additional charges.
**Standard Not-To-Exceed (NTE) amounts are set all service requests. Any repairs on commercial battery equipment under $500, corded equipment under $200 and industrial floor care equipment under $1,000 are considered pre-approved by the customer under the terms and conditions of this agreement and will be repaired without any further approval. Any repairs in excess of the NTE amounts will be quoted and submitted for approval, along with technician's recommendation for repair.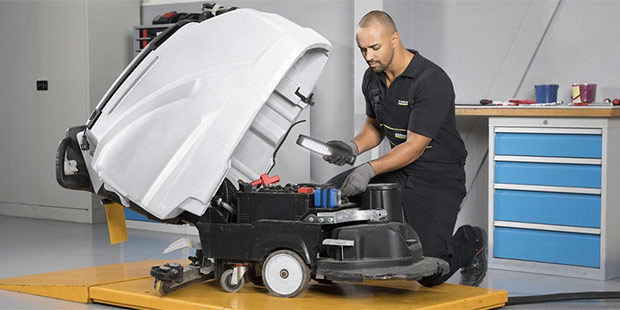 All Brands Service
Not only does Kärcher offer maintenance packages for its own equipment, we also service and repair machines from other manufacturers. Regardless of the brand of machines in your fleet, we can support you with competent, reliable and fast service.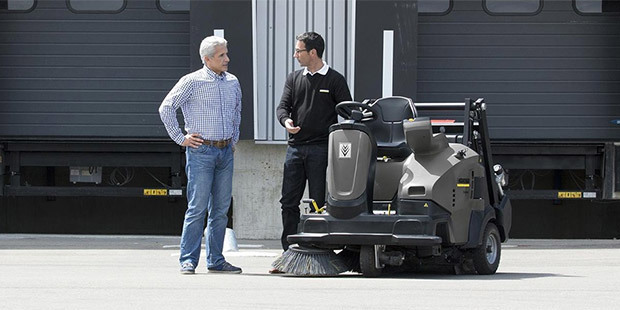 Certified Pre-Owned & Refurbished
From sweepers and scrubbers to extractors and vacuums, Kärcher specializes in repairing and testing used equipment to provide customers throughout North America with a cost-effective option.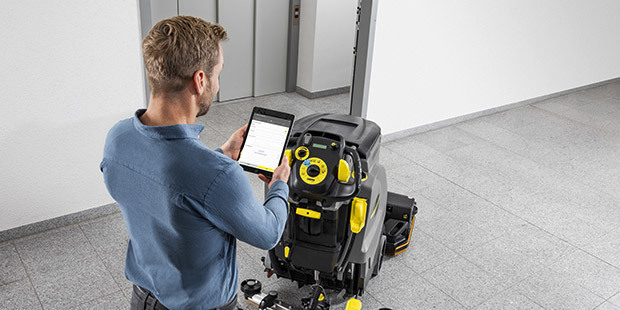 Online Service Management Tools
Manage your assets, request service online, track open calls, approve or decline open quotes, and receive historical information on your equipment through Kärcher's service web portal.