Commercial Floor Scrubbers are an Efficient Investment
Kärcher floor scrubbers are the perfect investment for your floor maintenance program. Not only do they increase worker productivity, our quick-cleaning floor scrubbers allow for lower labor costs, they help reduce the number of slip and fall hazards, and they make your floor surfaces look pristine and clean. With our wide assortment of compact and mid-size walk-behind scrubbers along with our stand-on and ride-on floor scrubbers, you are sure to find the right tool for your job.
Which Floor Scrubber is Right For Me?
When it comes to cleaning, no job is too big or too small for Kärcher scrubbers. Our floor cleaning machines are available in different sizes and come with many configuration options to fit a wide range of applications. Additionally, our specially developed accessories help you do more than just clean. Click the links below to learn more about each of our floor scrubber categories and find the equipment that meets your unique cleaning challenges.
Robotic Scrubbers
Commercial robotic scrubbers with automated cleaning capabilities provide increased safety, consistency, and cleaning coverage while adding value to your cleaning processes.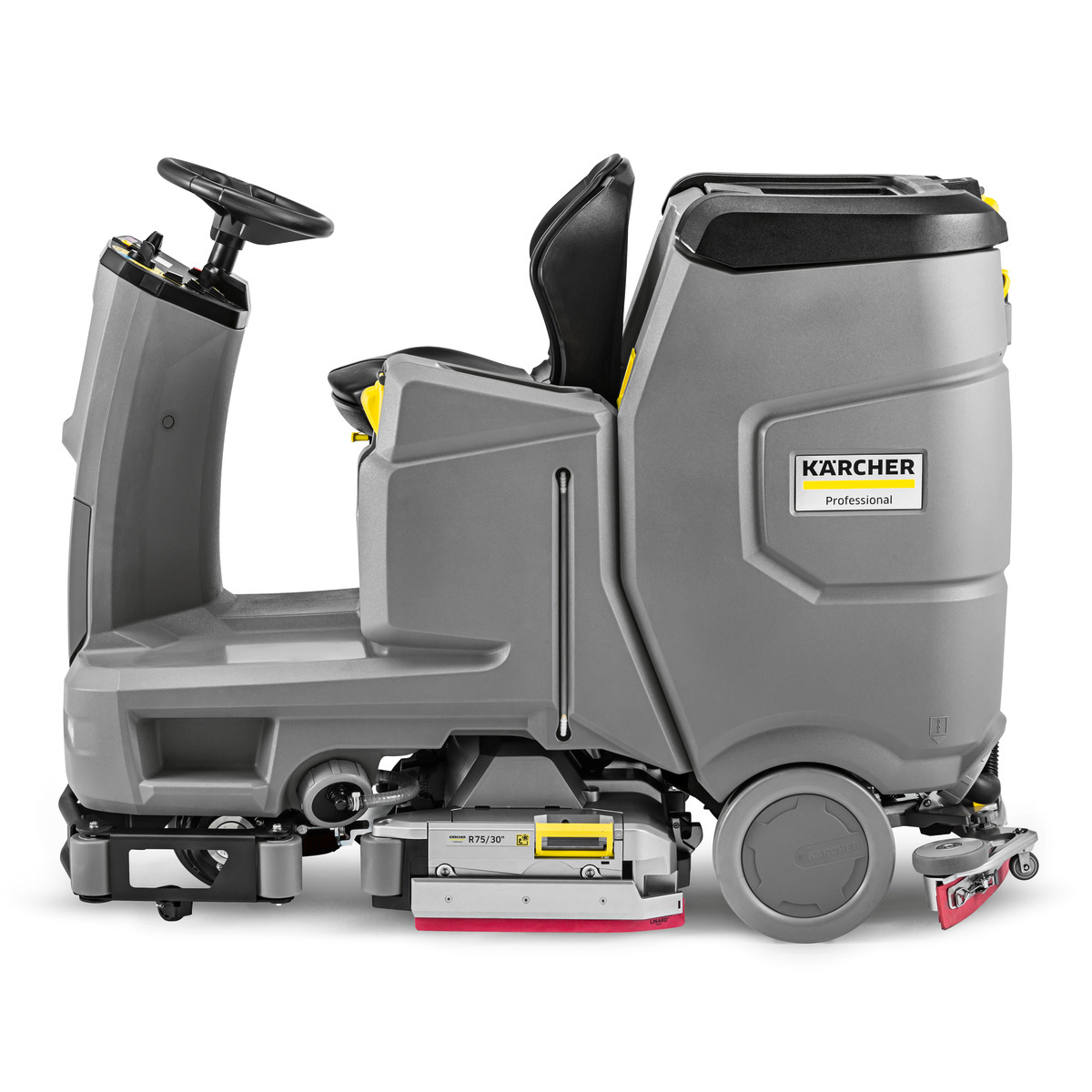 How Exactly Do Floor Scrubbers Work?
All modern floor scrubbers with a roller or disc brush head essentially work in the same way. The cleaning solution is mixed either in the fresh water tank when detergents are added to it or, in the case of automatic dosing systems, just in front of the brush head itself. The rotation and contact pressure of the brush work together to remove dirt. Thanks to the turbine's suction power, the dirty water is then absorbed by the squeegee and collected in the dirty water tank. Scrubbers on the other hand do not have a turbine or a squeegee. This is why loosened dirt is collected by, for example, Kärcher's wet/dry vacuum cleaners afterwards.
Not all floor scrubbers are the same.
Floor scrubbers are like cars – they all essentially work the same way, yet not every model is suited to each area of application. Yet, thanks to different designs, sizes, brush head systems and drive technologies, it is very easy to find a machine that can match your unique requirements. You know how large your surfaces are and whether they are filled with objects or not, and you're familiar with the structure of your floors and their degree of soiling. With dozens of floor scrubbers models available, Kärcher can help you find the right floor cleaning machine for what you need.
Which Auto Scrubber for Which Floor?
Whether you're removing multiple scuff marks or want to eliminate dirt from grout, Kärcher floor scrubbers are available with two different brush heads. Discs work best on smooth floors, whereas roller brushes create up to 10 times more down-pressure to provide a deeper clean.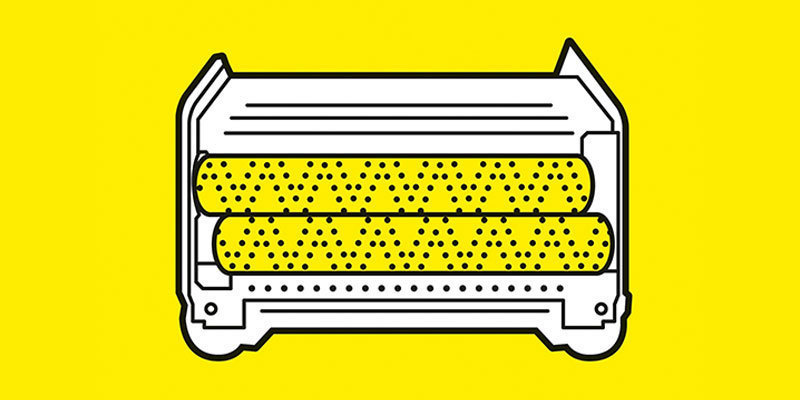 Cylindrical Brush Heads
Floor scrubbers with cylindrical roller brushes are particularly suitable for extensive, thorough cleaning of your structured and heavily soiled floors, thanks to their high brush speed and contact pressure. This brush head technology also has great advantages when dealing with coarse dirt as their counter-rotating rollers absorb the particles which are then fed to a coarse dirt container. With this technology, pre-sweeping is no longer needed.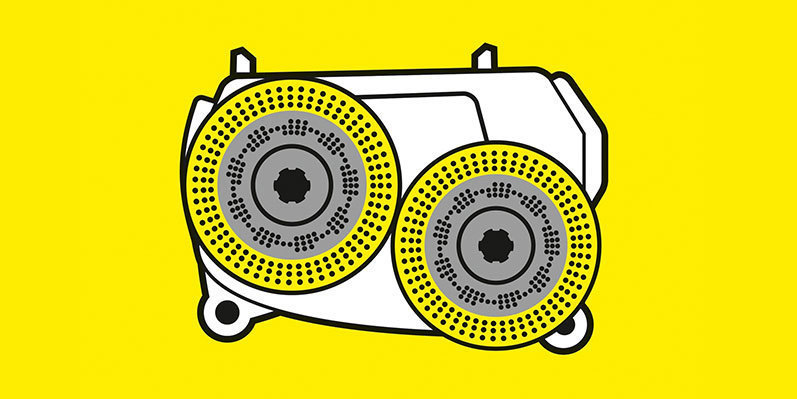 Disc Brush Heads
Floor scrubbers with disc brush heads are generally used for routine cleaning and lighter soiling. These floor cleaning machines are a great option for smooth floors and in noise-sensitive areas, including hospitals, hotels and restaurants.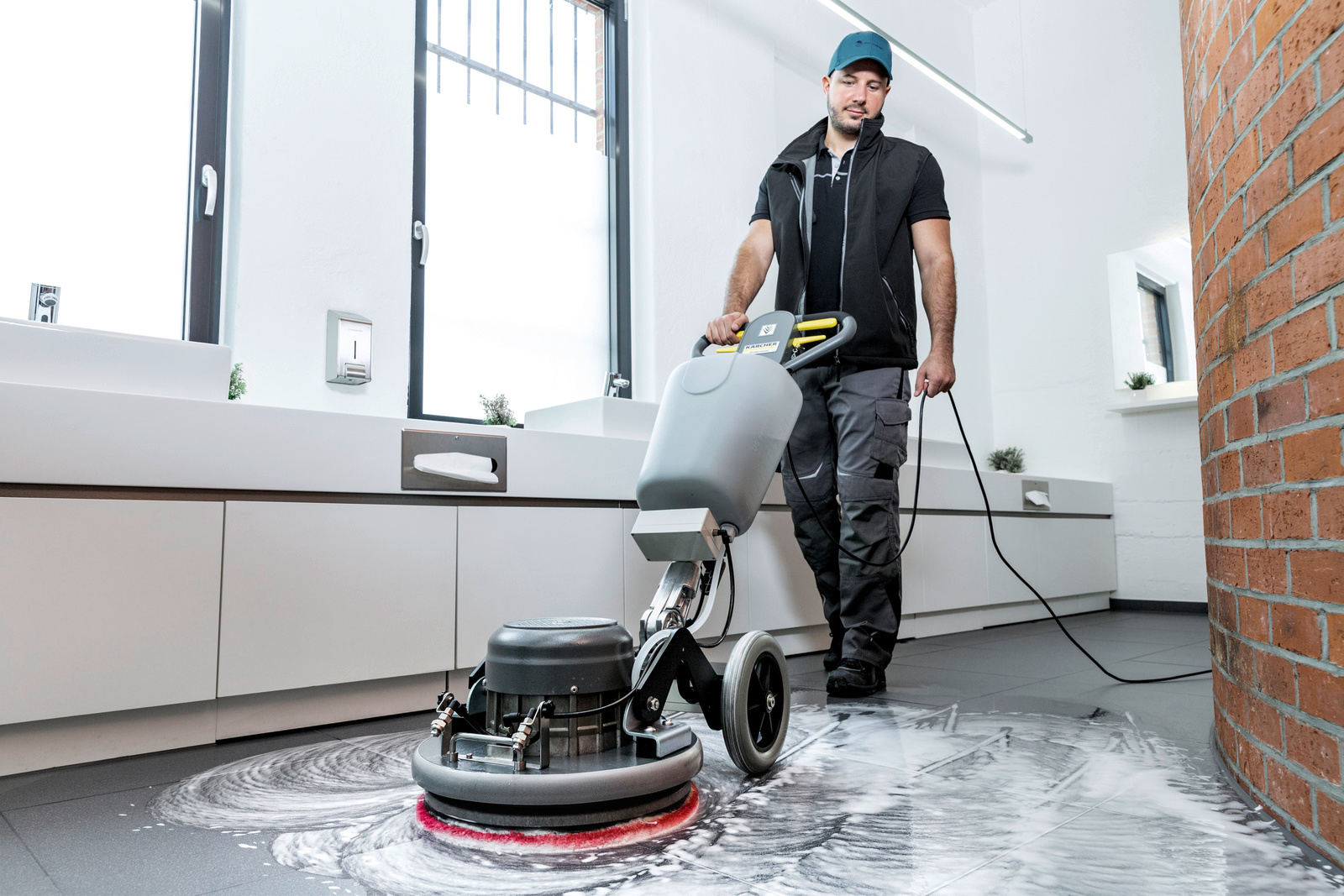 Which Energy Source for Which Floor Scrubber?
Depending on size and model, Kärcher's floor scrubbers are battery-powered, corded, or engine-driven. The cleaning application plays a key role in deciding what the most sensible drive technology is for you.
Available in the compact classes and in walk-behind floor scrubber only, corded machines are affordable and ideal for cleaning smaller indoor areas outside of business hours.
Battery-powered floor scrubbers offer maximum flexibility and prevent tripping hazards. Great and small: Kärcher offers battery-powered versions in every design.
We recommend our environmentally friendly combustion engine versions (diesel or LPG) for large outdoor or well-ventilated indoor areas. Combustion engine floor cleaning machines by Kärcher are only available in the ride-on scrubbers design.
Floor Scrubber With or Without Integrated Traction Drive?
Comfort, weight and user-friendliness are crucial factors in deciding whether the machine should be equipped with or without integrated traction drive. A lighter floor scrubber with a tank volume of up to approximately 13 gallons can easily be operated without traction drive. We recommend integrated traction drive on larger models as it is not possible to operate a machine of that size using your own body weight for longer periods of time without tiring.
Floor cleaning machines without traction motors use the rotation of the brushes to propel the machine forward. The amount of effort required by the operator to do so is kept to a minimum.
The active and adjustable traction motor on a floor cleaning machine with traction drive, on the other hand, moves the machine forward, making very long periods of operation possible without tiring.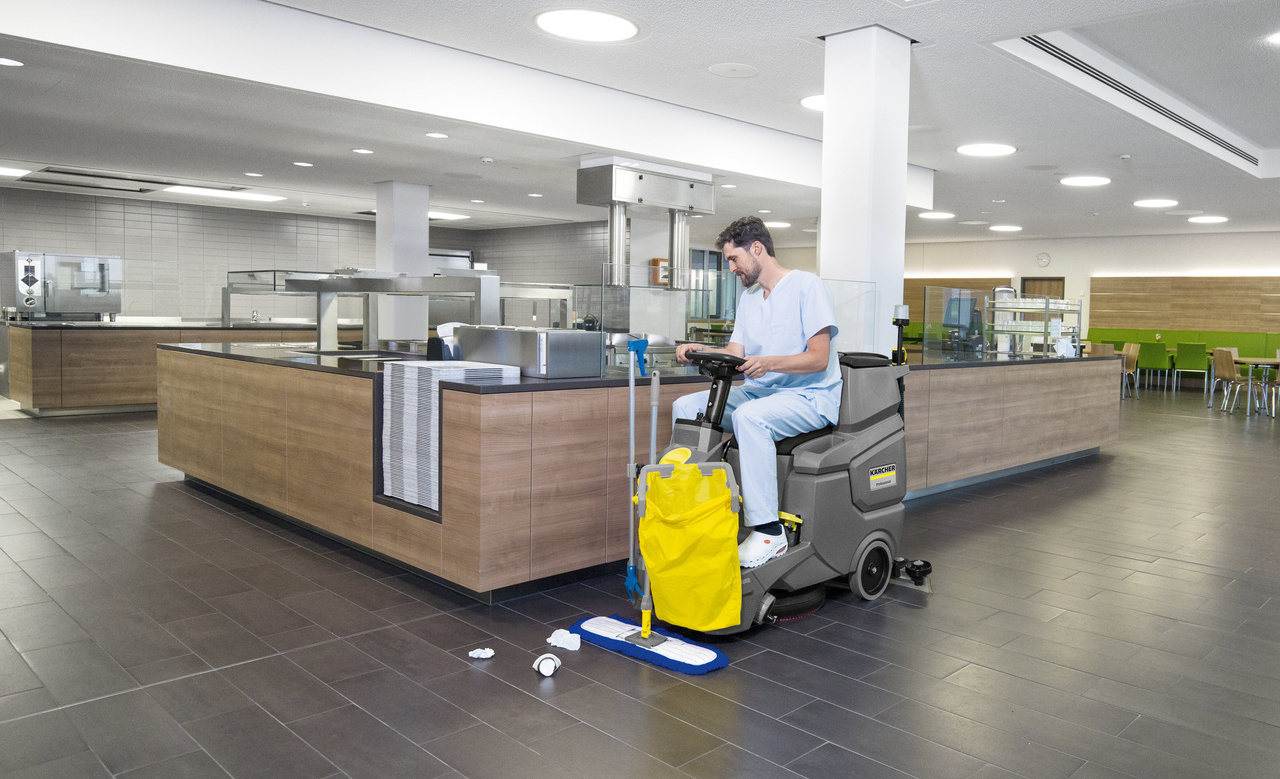 Kärcher's Innovative Cleaning Technology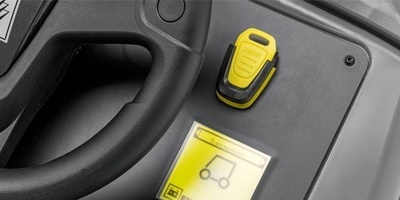 Protection against incorrect use
Prevent machine misuse, keep familiarization time for the user to a minimum, and ensure optimum cleaning efficiency with Kärcher's Intelligent Key* system (KIK) which enables machine speed, brush pressure, and water and detergent dosing to be pre-set to each operator.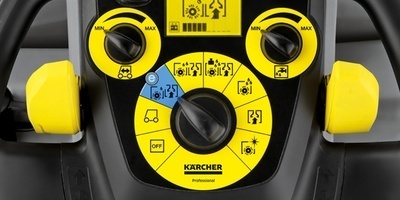 Simple and safe operation
Choosing the right cleaning program is simple thanks to the EASY!Operation panel. The clear, at-a-glance view via pictograms makes it easy for anyone to use the machine, reducing the need for training and removing any language barriers.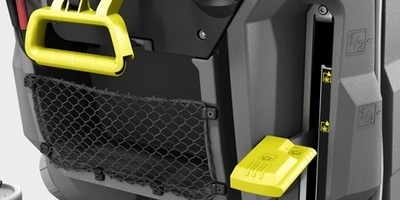 Every touch point color-coded for ease of use
Users can quickly see what is relevant to them thanks to the color-coded access elements on the machine. This makes using and maintaining the machine simple: yellow for the operator, gray for the service technicians.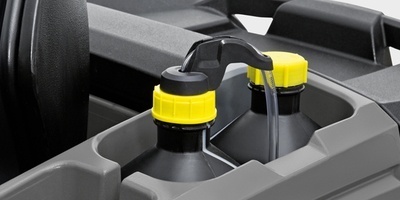 Save money and be more environmentally friendly
Manual calculations of how much detergent to use are no longer necessary with our Dose* system which automatically and precisely meters the correct detergent quantity from the onboard bottle into the clean water.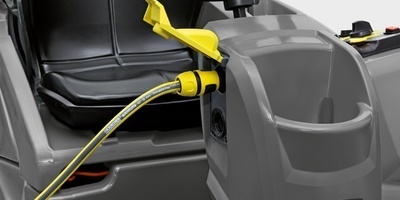 Increased productivity through innovation
Auto-Fill* means you can simply connect the machine to the water supply and let it automatically stop when the tank is full, freeing up your operators' time. Tank-rinsing ensures that the machine is quickly and effectively cleaned after use with the operator having no contact with dirty water.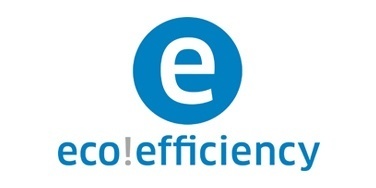 Reduce water and detergent usage
Achieve more for less with Kärcher's eco!efficiency mode which reduces energy, water and detergent consumption. Minimize wear and tear on the machine and lower noise levels, all at the turn of a dial.
*Available on select Kärcher scrubbers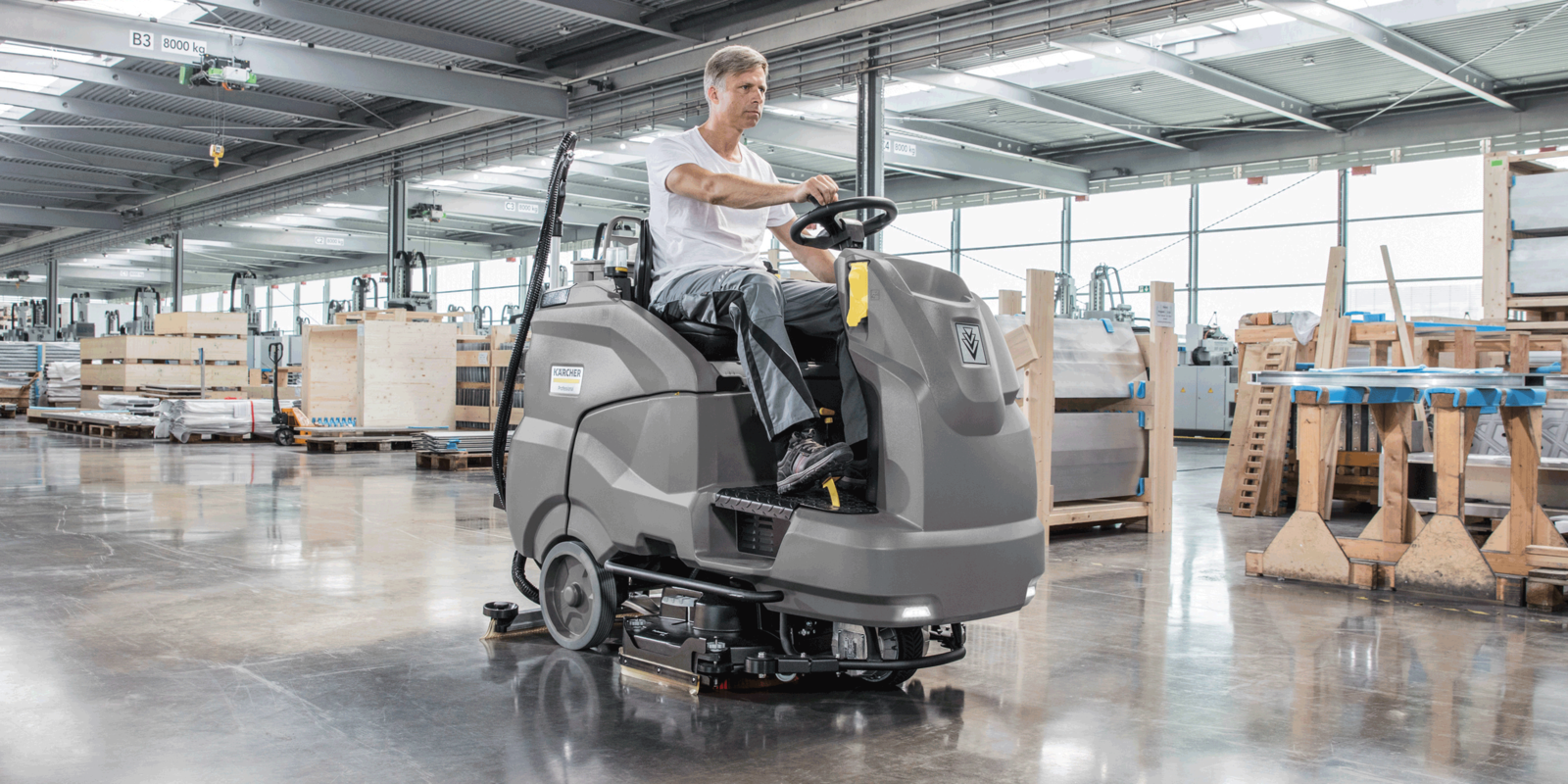 Efficiency of the Future: Sweeping and Scrubbing in One Step
Our scrubbers and vacuum sweepers clean confined spaces as well as large areas more efficiently.
Save time and costs
Clean large areas quickly and thoroughly
Effective against dirt
Brilliant outlook
Compact, maneuverable, convenient: our ride-on auto scrubbers can easily clean large areas found in warehouses, parking garages, or shopping centers. The high seating position ensures a good overview of the areas to be cleaned. And when space gets a little tight, the small turning circle ensures incredible maneuverability. Thanks to the intuitive control panel, these machines are easy to operate – so just take a seat and off you go.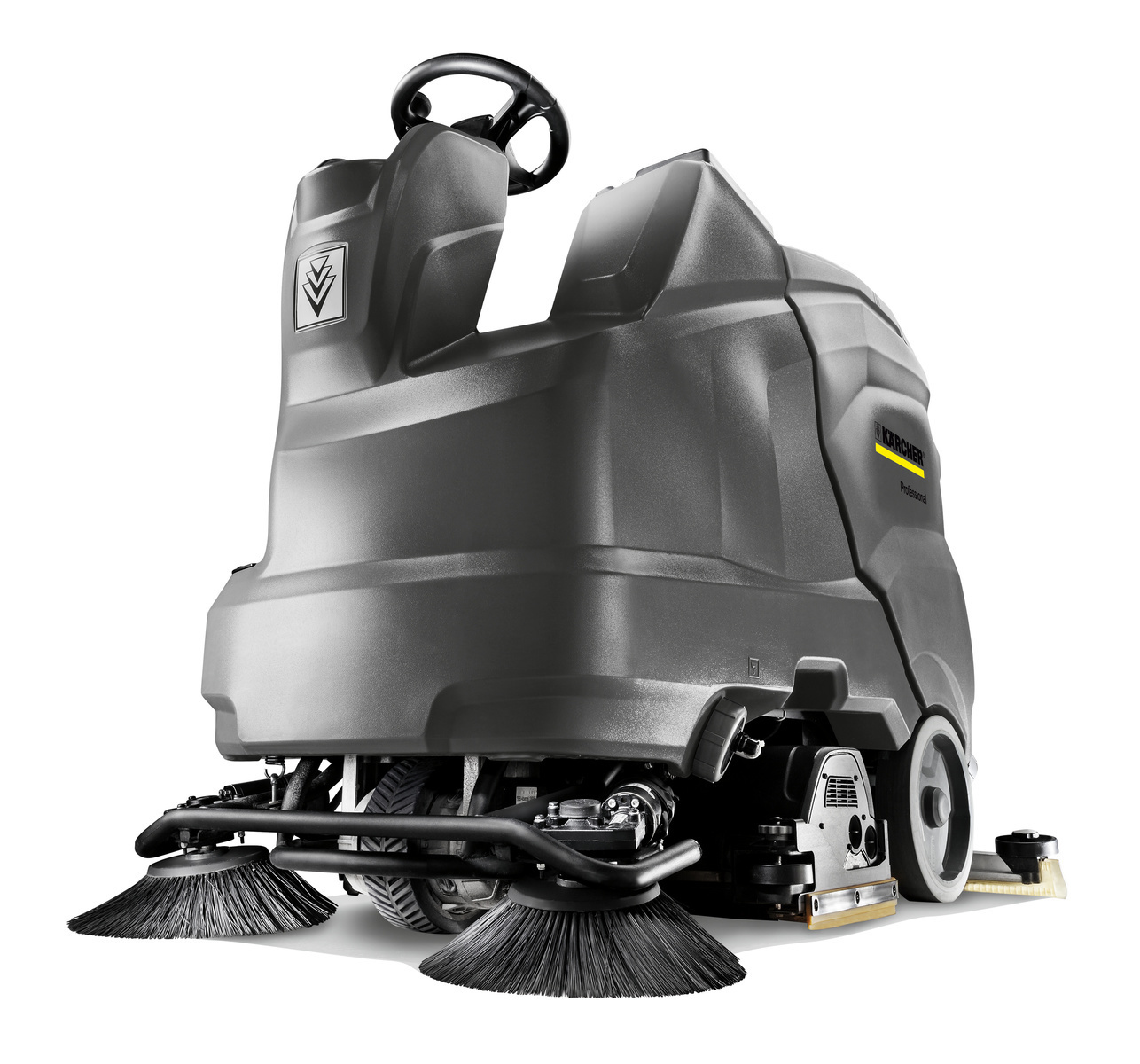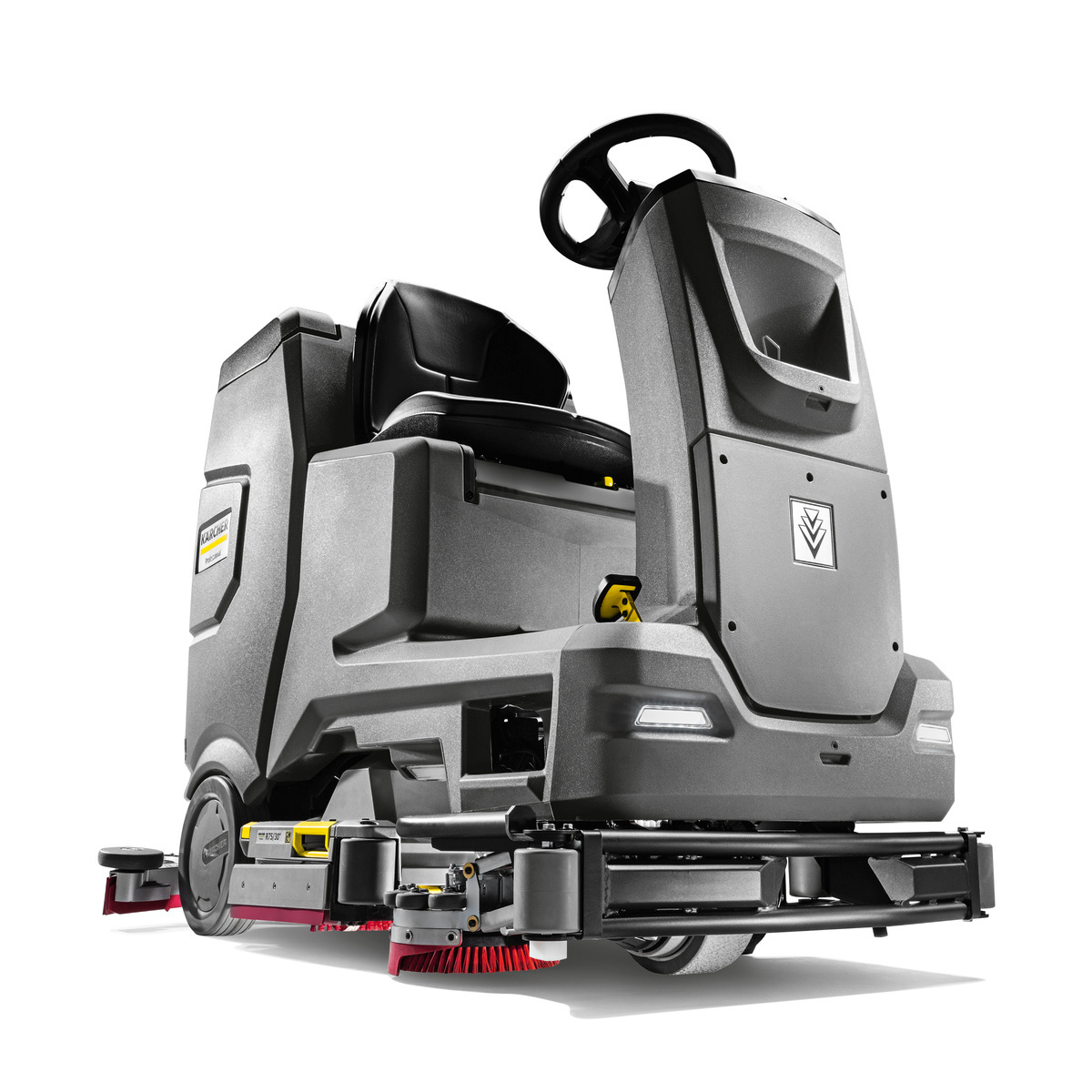 Now even better
Efficient, long-lasting and economical – the new B 110 R ride-on floor scrubber makes cleaning large areas, such as supermarkets, airports and warehouses, even easier. Thanks to its updated components, it now offers an even better cleaning result for maximum convenience.
Quick and flexible in no time at all
Obstacles and areas filled with objects are no longer a problem when cleaning: Kärcher compact walk-behind floor scrubbers instantly clean small to medium-sized areas, such as in restaurants, kitchens, shops and hotels. Their maneuverability makes them easy to drive – even narrow passages can now be cleaned easily. The different models achieve optimal results on a wide variety of surfaces and bring back the shine to all floor coverings. Thanks to their suction lip technology, floors are not just clean, but also dry and can be walked on immediately afterwards.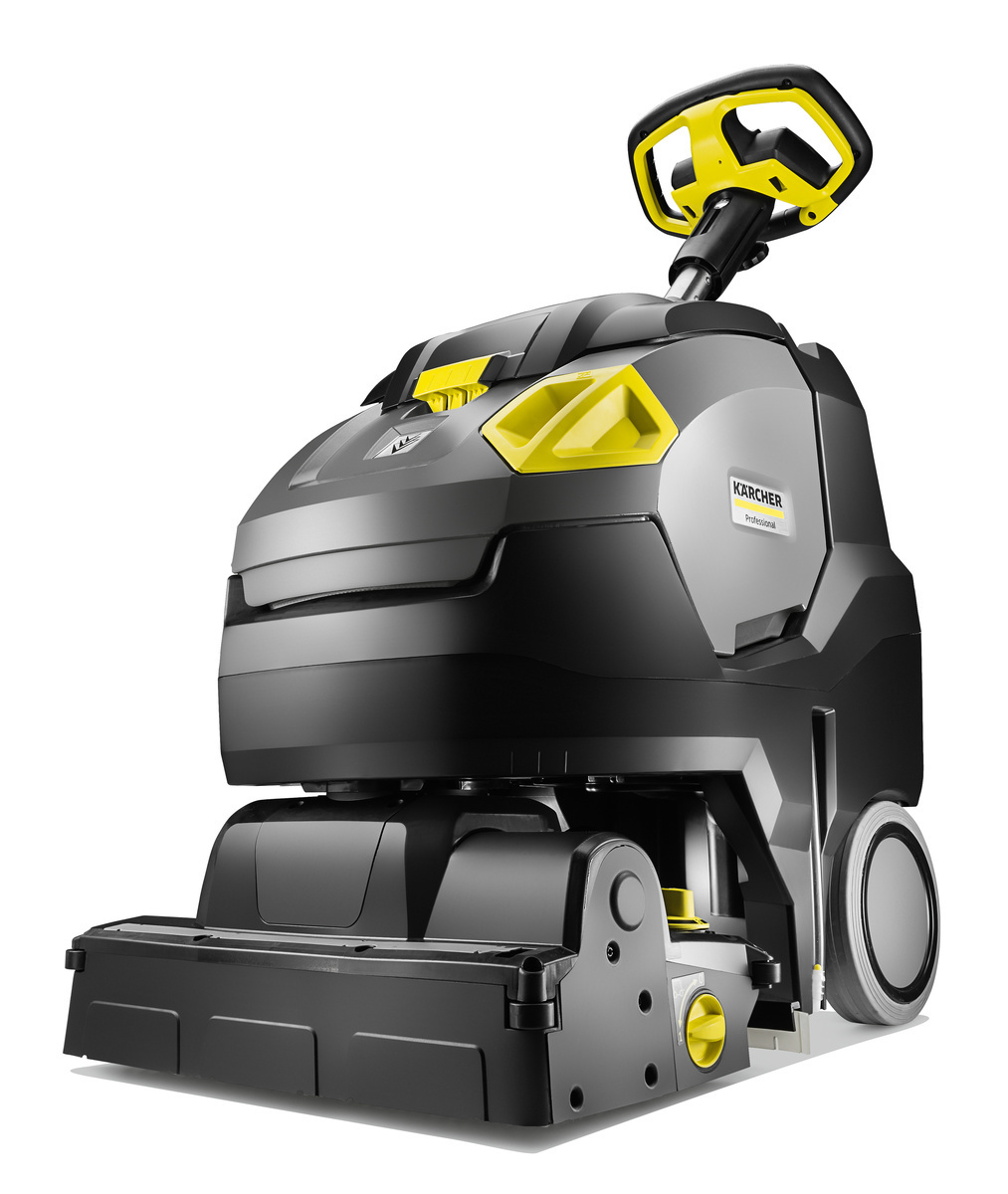 Floor Scrubbers Tailored For You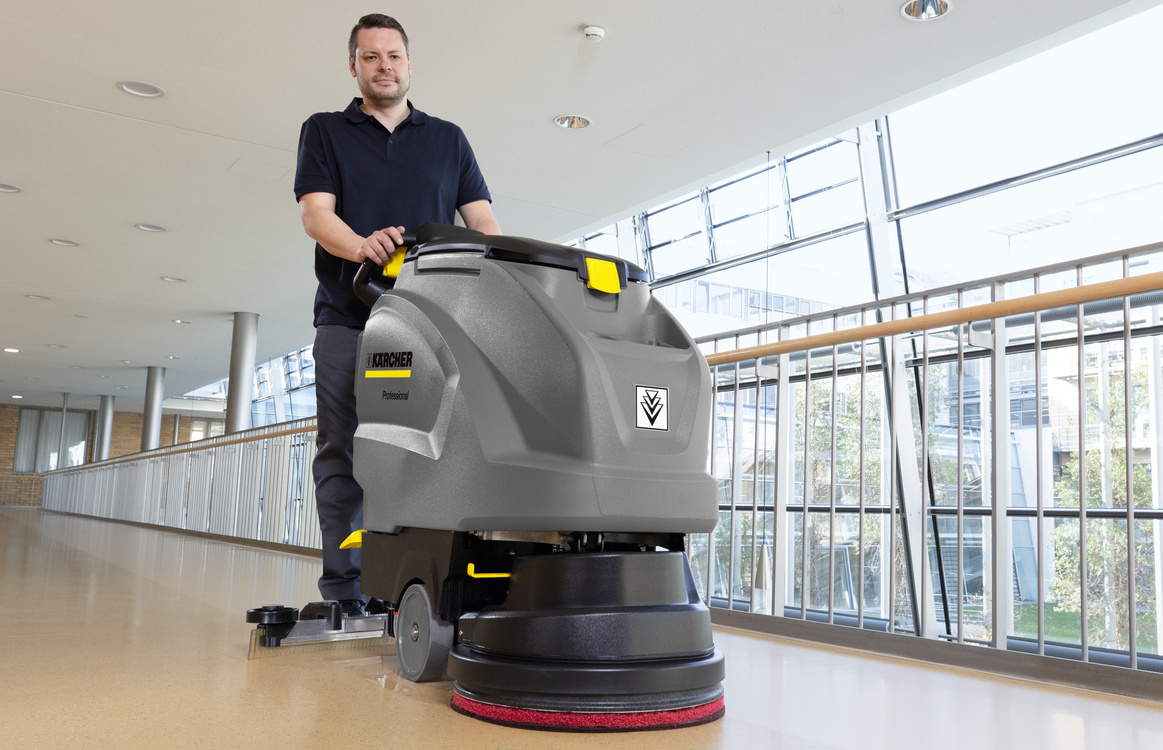 Floor care accessories for your cleaning needs
A Kärcher floor cleaning machine can also be used for special applications, such as crystallization or coating removal, if equipped with the right accessories. We also offer an extensive range of replacement parts, including pads, disc and roller brushes, suction lips, squeegees, batteries and battery chargers, to equip your machine for your exact cleaning requirements. Various attachment kits, such as our Home Base Kit for easily transporting manual cleaning tools, are also available. Kärcher makes it easy to tailor our floor scrubbers to meet your exact needs.
The right cleaning detergents for your floor scrubber
Regardless of floor type, floor cleaning machine or level of dirt, Kärcher offers a breadth of cleaning detergents, developed to meet your various requirements perfectly. Not only economical in use and highly effective against every type of dirt, but also environmentally friendly and gentle enough to meet the latest standards in research.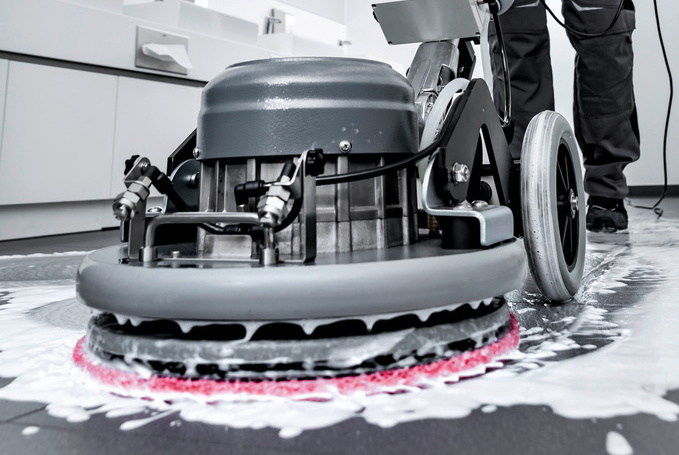 The Cost-Effective Cleaning Solution for Any Application
Compared to manual floor cleaning, floor scrubbers are quicker, more cost-effective, and more thorough when it comes to cleaning all types of floors. A floor scrubber saves you time and cleaning detergent, and this protects employees as well as your purse. The machines are also easy to use and they are low-maintenance. We have the right design for each application, each one ideally suited to the type and size of your floor and your requirements. Whether it's a small business, pub or restaurant, a large supermarket or shopping center, or a very large surface in an airport or production hall, floor scrubbers are the most efficient cleaning solution for all floors.