WOMA Ultra-High Pressure Water Systems
Water as a Tool. WOMA Kärcher Group is a leading manufacturer of high-pressure plunger pumps, ultra-high pressure (UHP) systems, and water tools. Through our focused research and development, WOMA has mastered systems with water pressures in excess of 58,000 psi (4,000 bar), which is four times the water pressure at the deepest point in the oceans.
Whether cleaning, removing material or cutting, WOMA's innovative system solutions unify precision with high power and lower fuel consumption.
For over 50 years, WOMA engineers have developed world-class cleaning and maintenance solutions.
Since joining Kärcher in 2011, we have developed and improved our customized solutions for all sectors of industry and commerce. That is why we are able to provide a range of products that excel in terms of quality, reliability, and economic efficiency. Our service ensures that our customers always have a contact person at any time and anywhere in the world.
Ultra-High Pressure Water Jetting Applications
EcoTherm
The hot water EcoTherm trailer excels in its performance. Cleaning with hot water is in some cases more effective than with cold water. This means there less pressure is needed to carry out similar cleaning.

Advantages:
With up to 98 °C facades, small tubes, easy to clean industrial floors and other surfaces, oil and grease can be washed off easily and can easily remove coatings.
The compact and lightweight trailer can be transported by almost any medium size car.
Robust diesel engine (38 kW) and a stable design.
High environmental standards thanks to a 5-chamber tank system including a safety trough which ensures fuel, oil or plasticizers cannot escape.
The highly accessible and long-life high-pressure pump 70Y has a compact construction and a low weight.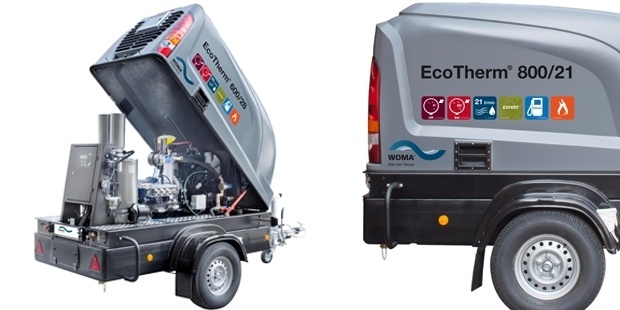 EcoMaster MK3
The EcoMaster MK3 is a compact powerhouse for the cleaning and maintenance of large civil projects and industrial plants, and it is used with many other applications throughout industry, construction and municipal services. This ultra-high pressure water jet unit comes as a mobile trailer with diesel drive.

Advantages:
Particularly suitable for the removal of coatings and concrete renovation, as well as for the separation and cutting of various materials.
Available in three variants with maximum operating pressures of up to 43500 psi.
The easy to operate WOMATIC 4 controller ensures a high degrees of safety through operational status monitoring, and pressure control and pressure circulation increase reliability. It also provides low wear, long service life, and low fuel consumption.
Highest environmental standards: Potential leaks of operational liquids can be prevented by a safety standard supplied trough.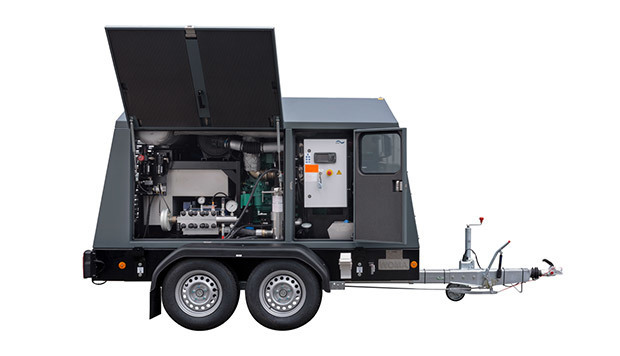 EcoMaster Classic
The EcoMaster Classic has been specifically developed for use in harsh conditions. It features a compact, robust and low-maintenance design for easy operation. The high-pressure units are diverse, flexible and usable, even in extreme climates or difficult environmental conditions.

Advantages:
The EcoMaster 250M D Classic offers the optimum material for the remodeling and removal of concrete or coatings, and separating and cutting various materials.
For particular ingrained dirt and residue in the industry which is often found in heat exchangers, screens, filters and pipes. The EcoMaster D 250Z Classic has for this type of work has long been proven up to 21750 psi.
The EcoMaster D 1502 Classic is ideal for external cleaning of tanks to remove dirt and corrosion, and removal of coatings.
The application of the EcoMaster D 150Z Classic are the internal cleaning of tanks, containers and cleaning of large pipes.
All devices are equipped with robust, low maintenance, and strong WOMA high pressure pumps.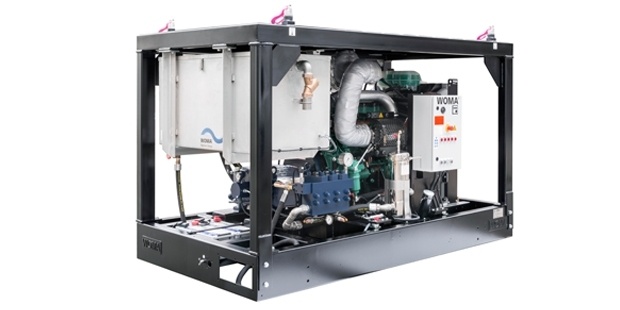 EcoMaster Large Unit Series
Powerful systems for high requirements. The large unit series of WOMA is characterized by their flexibility and robustness. The modular design allows quick and flexible use for all tasks with high-pressure water. With reliability and a wide range of services, the WOMA Large Unit Series master the most demanding tasks both in mobile and stationary applications.
EcoMaster ZWG
Powerful and efficient in every situation. The EcoMaster ZWG is controlled by an integrated intermediate gearbox in a power range from 50 to 500 kW. It covers the full range of high-pressure applications in the industry while optimizing fuel consumption during the operation.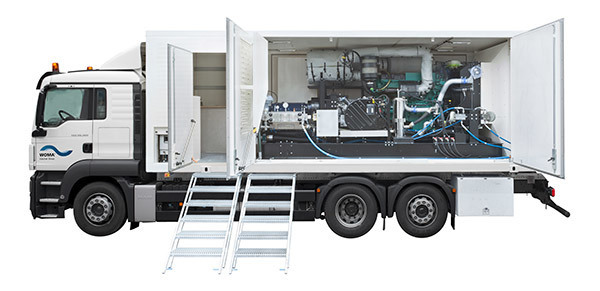 Contact Us
For more information on WOMA ultra-high pressure solutions and to have a representative contact you, please submit the form below. For additional product information, please also visit www.woma-group.com.