Sales Training
The Kärcher Academy Sales School helps students understand their customers' cleaning needs and learn how to determine which equipment best meets various cleaning requirements.
Who should attend Kärcher Academy sales classes?
Sales Managers and Representatives of Kärcher, Windsor Kärcher Group, and Landa Kärcher Group distributors
Equipment Specialists of Kärcher and Windsor Kärcher Group distributors
Why attend Kärcher Academy training?
In today's market, salespeople are faced with many challenges. Kärcher Academy's sales training teaches how to tackle the art of selling commercial cleaning equipment in the field by focusing on customer needs and matching them to solutions through Kärcher, Windsor Kärcher Group, and Landa Kärcher Group equipment.
Our floor care sales classes are built around the theme of our trademarked "PDIR Process" which focuses on helping customers understand how soil flows into their facility. Through an understanding of each step of the maintenance process (Preventative, Daily, Interim and Restorative Maintenance), the salesperson can help guide the customer to the best solution for them. Our classes are designed to be hands-on and interactive with attendees encouraged to exchange experiences and share tools that will fine-tune sales skills. Kärcher floor care and Windsor Kärcher Group classes are designed for both rookies and veterans in the cleaning industry. Kärcher Academy attendees have a proven track record of increased equipment sales by up to 30% over the course of the following year, and even maintain that level moving forward.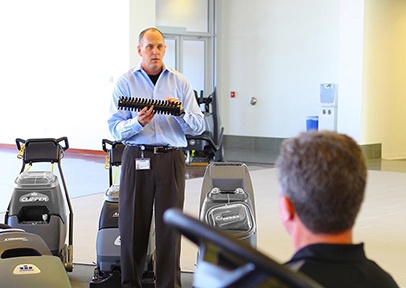 ---
---
Basic Machine Sales
The Basic Machine Sales class focuses on hands-on training with the entire line of Kärcher and Windsor Kärcher Group floor care equipment. This course is ideal for anyone who is new to selling equipment, and it will provide students with a solid understanding of how the equipment operates and where it is commonly used. Topics include: Machine overview, Basics of accessories, Intensive hands-on and PDIR+ maintenance process. (2.5 days)
Solution Selling
The Solution Selling class is an advanced course that provides an overview of our entire lineup of Kärcher and Windsor Kärcher Group floor care products and focuses on target markets of which the students are calling, the cleaning areas and challenges that exist in those markets, and solutions to those challenges. The PDIR+ concept is introduced and students are given opportunities to operate the equipment within our Customer Experience Center. This class is ideal for experienced reps who want to increase their equipment sales. (2.5 days)
Advanced Selling Skills
The Advanced Selling Skills class focuses on a deep understanding of the PDIR+ process and how to use it as a consultative selling tool. The class also focuses on topics such as "right-sizing" the equipment for the area the customer is cleaning, understanding how to calculate production rates and translate that to labor savings, calculating total cost of ownership of flooring, and locating waste in their customers' processes.
Kärcher Industrial Sales Training
The Kärcher Industrial Sales Training class focuses on hands-on learning with the equipment in our industrial line of products. Workshops are designed to help the salesperson understand where to look for opportunities and how to position the equipment. Topics include: Industrial scrubbers, Industrial sweepers, Target markets and Applications and solutions. (3.5 days)
Landa Kärcher Group Sales Training
The Landa Kärcher Group Pressure Washer Sales Training class is designed for sales representatives selling the Landa Kärcher Group and Kärcher product lines. Topics include: selling skills/techniques, territory management, Landa Kärcher Group pressure washers, Kärcher Floor Care equipment, detergents, and accessories. This training prepares sales representatives to be better equipped when offering complete cleaning solutions to their customers. (3.5 days)
Important Information
Classes
Registration is limited. Course dates and curriculum are subject to change. See individual course descriptions for any prerequisites.
Online Registration
Register each attendee via our online form for Kärcher Academy classes. A confirmation email will be sent verifying registration was received and further instructions for attending class.
Registration Fee
Registration fee is $200 per session.
Travel Expenses
Attendees are responsible for airfare to attend training. Kärcher North America will cover hotel and most meals during training classes held at our corporate training centers. For classes conducted at our corporate training centers, we will make hotel reservations for attendees and send a confirmation via email.
Registration
The registration deadline is 4 weeks (28 days) prior to the training class. You will receive a confirmation of your participation 4 weeks prior to training. Please do not book airfare until you receive this confirmation. We reserve the right to cancel any training up to 4 weeks prior to training.
Cancellation Policy
Within 14 days of the training the cancellation fee is 50% of the registration fee.
Participants
Kärcher employees and distributor partners can participate in product training classes.
Training Hours
8am to 5pm each full training day. Some trainings include half training days (see course descriptions for details).
Questions
For information on any of the training events hosted in Denver, you may contact us at (800) 444-7654, ext 6024 or send an email to schools@karcherna.com. For information on events that are not held in Denver, please email tom.burgwin@karcherna.com.
Registration Details
All classes are held in Denver, Colorado. Registration is limited. Course dates and curriculum are subject to change. For more information, call (800) 444-7654, ext 6024 or send an email to schools@karcherna.com.
Category
Floor Care
Brand
Kärcher/Windsor
Kärcher
Course
Solution Selling Class
Scrubber/Sweeper Basics Class for Pressure Washer Salespeople
Location
Denver
Denver
Dates
Oct 15-17
Nov 12-14
Aug 28-30
---
Category
Pressure Washers
Brand
Kärcher/Landa
Course
Pressure Washer Sales Training
Location
Denver
Dates
Sept 11-14
---