The new FlexoMate cleaning trolley
No time for compromise. The FlexoMate helps you to finish all your cleaning tasks more quickly. Reduce the physical strain on your staff members and meet all your customers' needs, no matter how varied, with just one cleaning trolley.
More efficient, more flexible, more ergonomic: a trolley that redefines manual cleaning.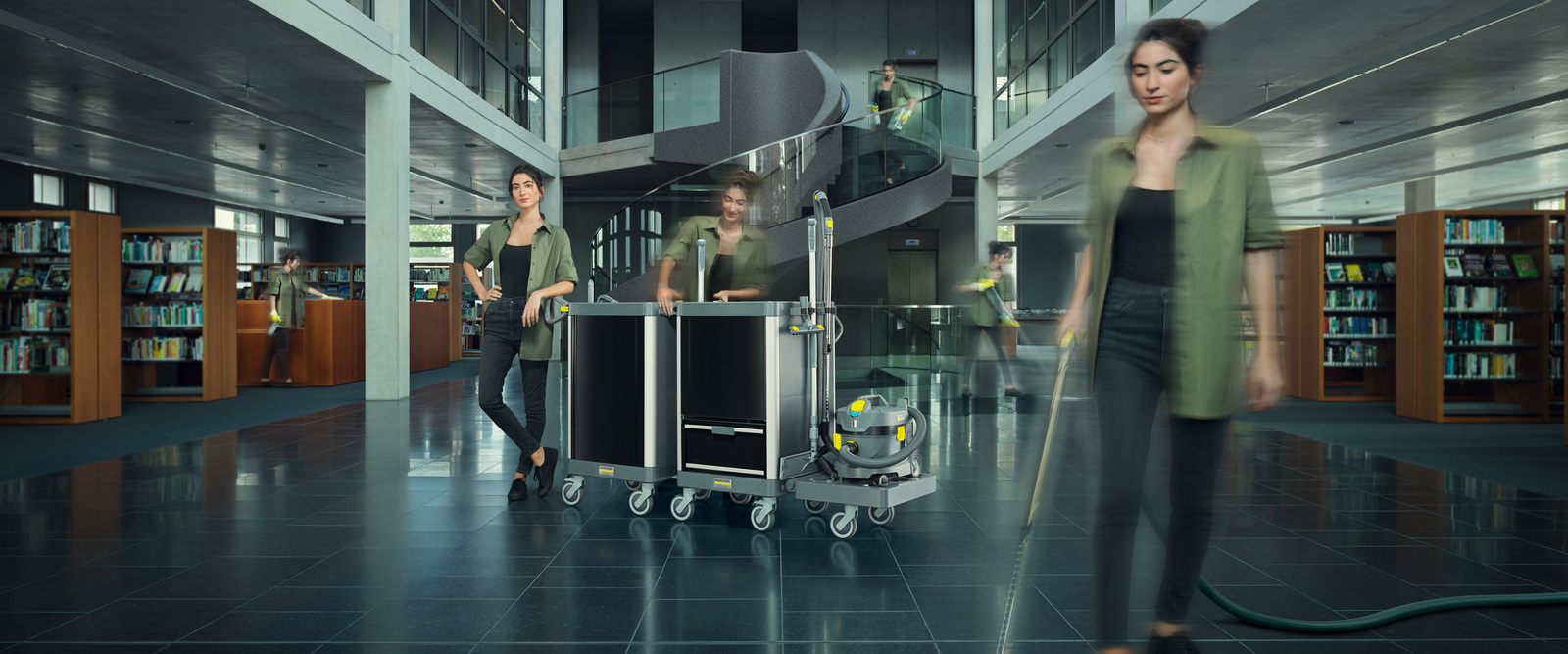 UPGRADE YOUR CREW!
THE FLEXOMATE IS HERE
No time for compromise. The FlexoMate helps you to finish all your cleaning tasks more quickly. Reduce the physical strain on your staff members and meet all your customers' needs, no matter how varied, with just one cleaning trolley.
The clock is ticking – every movement counts. Start your journey into the future of manual cleaning now.
Upgrade your Crew! With the new FlexoMate from Kärcher.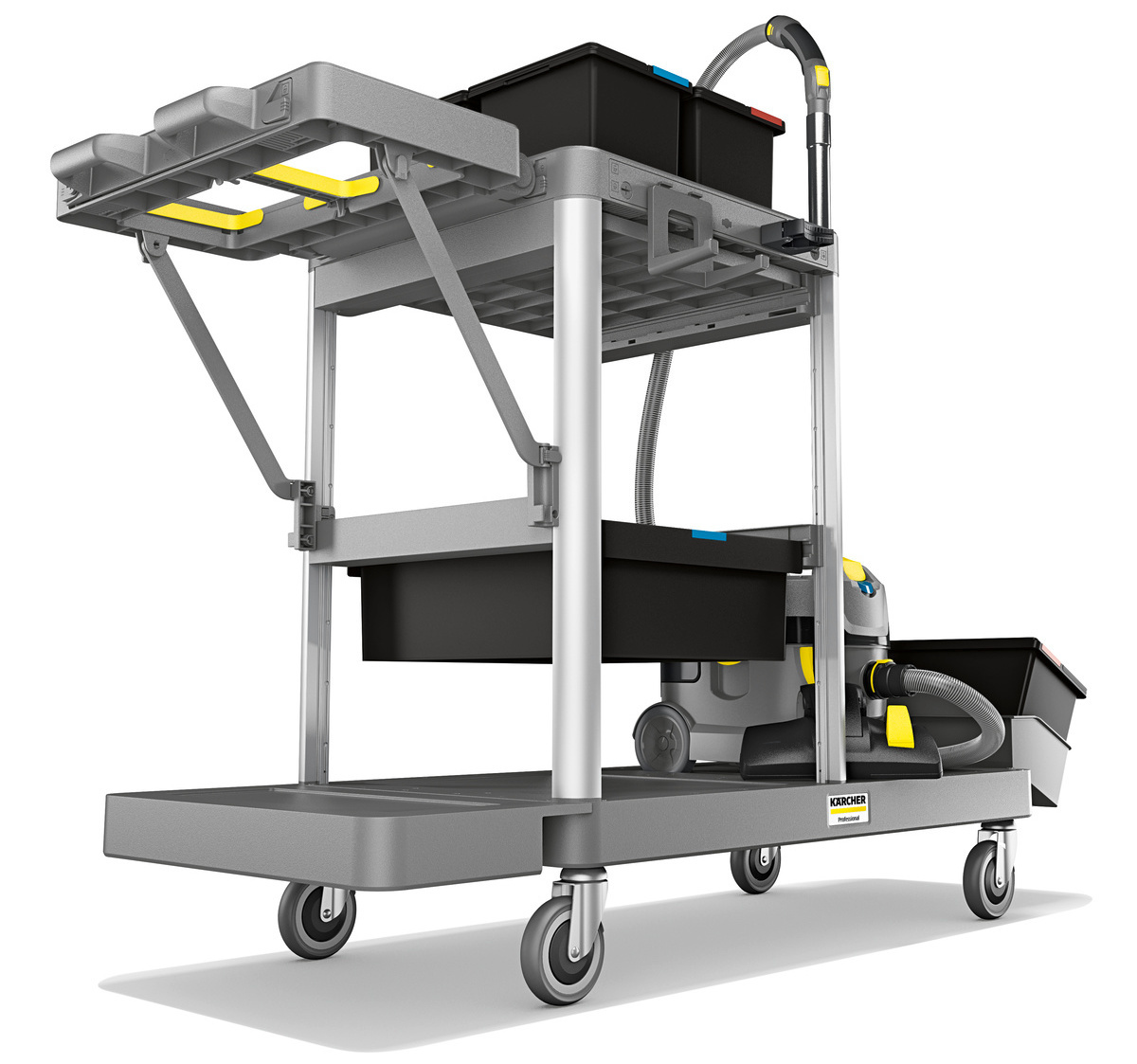 MADE TO ADAPT
How often is it not the job itself that presents challenges, but the equipment? To ensure that your cleaning equipment doesn't hinder you, we have developed three models to help you master the most diverse cleaning tasks. Which model suits you best?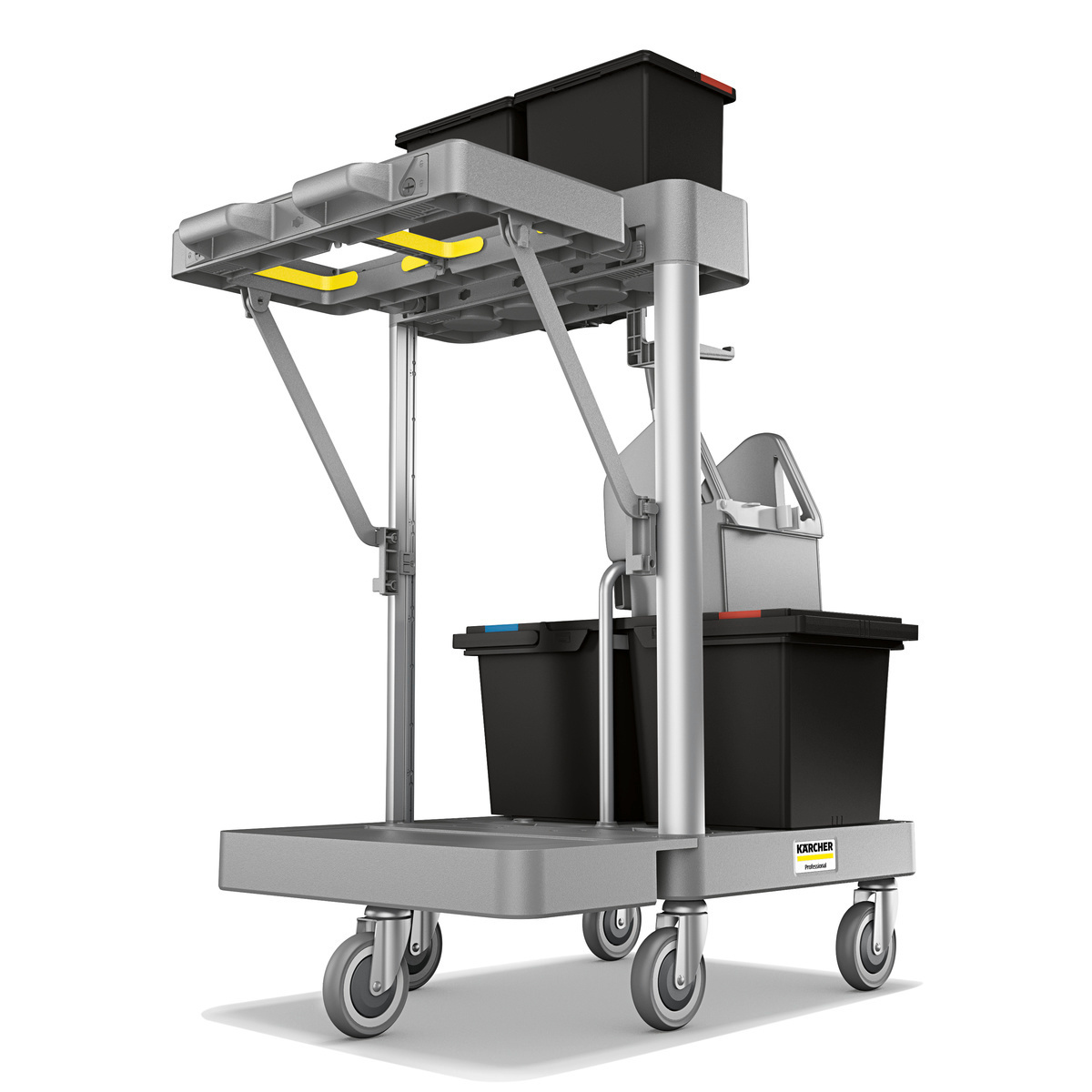 FlexoMate Swift
The Swift is the basic version of the FlexoMate. This cleaning trolley is perfect for properties with around 35 offices - and is particularly strong in small spaces.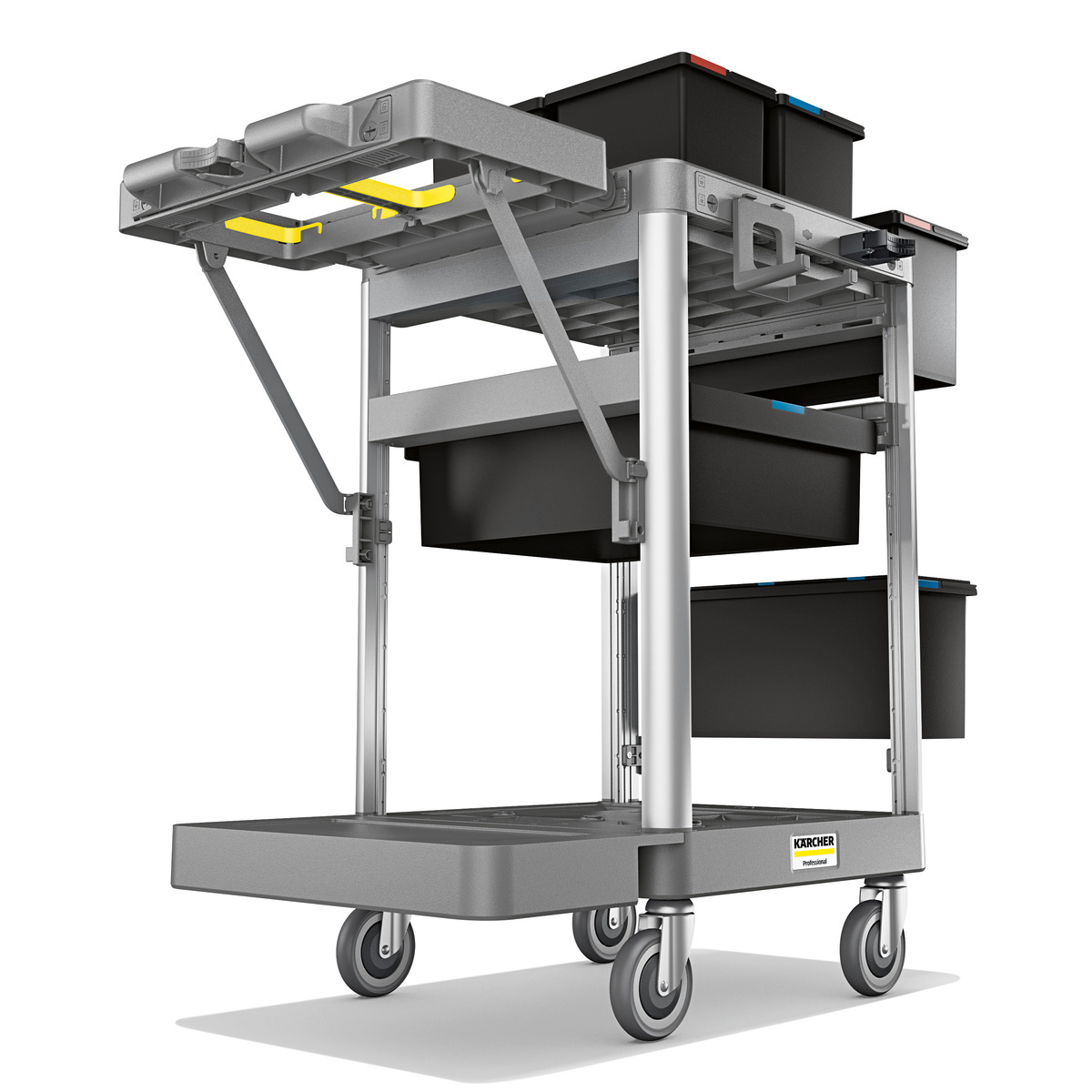 FlexoMate Expert
Enough space for the most important cleaning products and a bit more: choose the FlexoMate Expert for properties with about 10 sanitary facilities and 10-15 offices.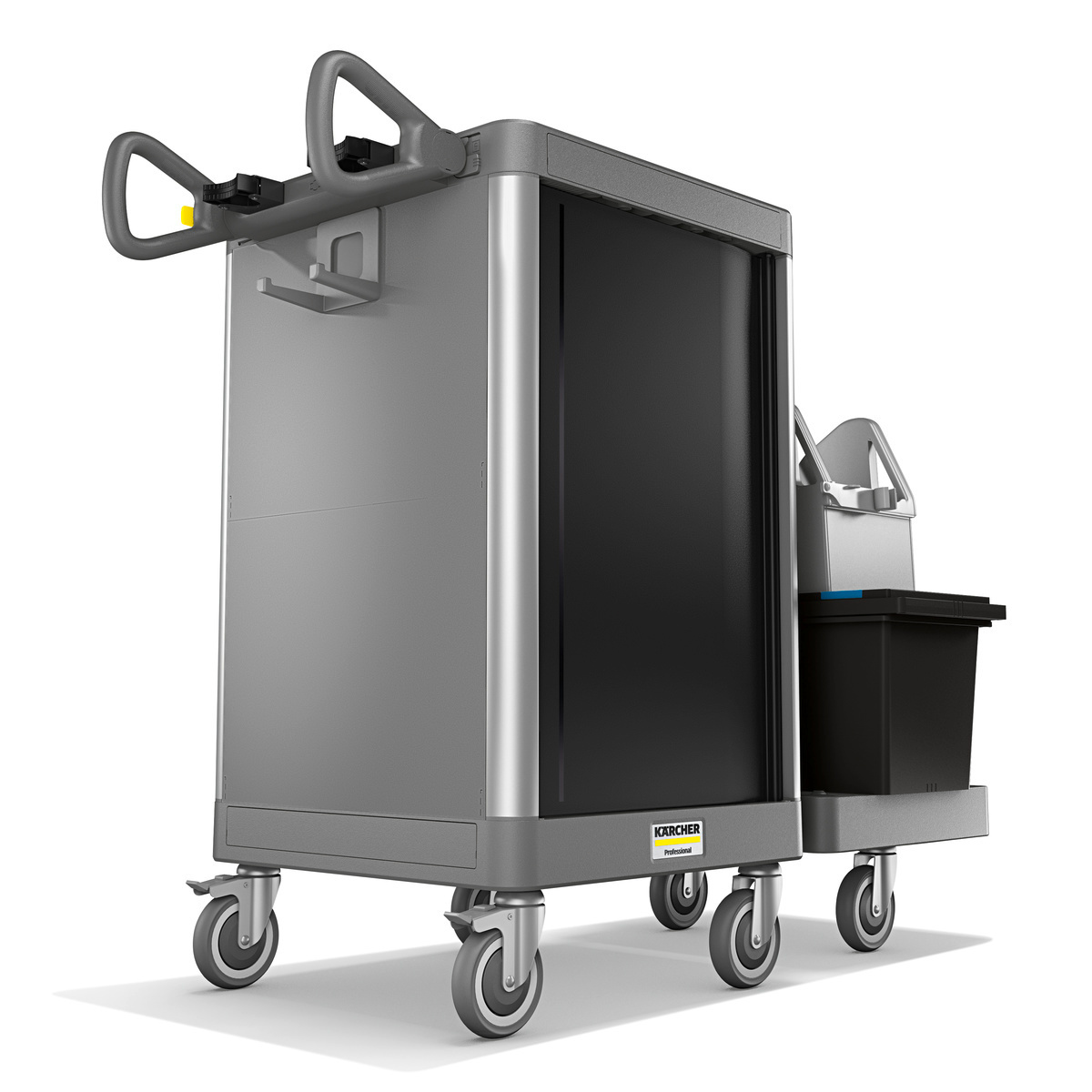 FlexoMate ExpertPro
Ideal for properties with 15–20 sanitary facilities, 2–3 kitchenettes and about 15–20 offices: you can equip the FlexoMate ExpertPro with everything you need for demanding jobs.
Advantages with Flexomate
PRODUCTIVITY
Intuitive design and easy access to tools increase the efficiency of the cleaning process and allow your cleaners to work more quickly.
FLEXIBILITY
A FlexoMate - the possibilities are endless: simply adapt the cleaning trolley to your requirements, whenever you need it. Whether it's additional boxes or cleaning equipment - with FlexoMate, it's all there.
ERGONOMICS
Less strain when working: with its adjustable handles and tilting boxes, the FlexoMate reduces strain in the arm and shoulder areas and makes working easier for you.
THE HIGHLIGHTS
Are you curious to find out what makes FlexoMate so unique? Discover the features of this cleaning trolley.
Modular system
FlexoMate adapts to your needs. You can attach and remove equipment to suit your individual needs – for example, boxes, a folding bin liner holder, a mop, a mop press, cleaning machines as well as other trolleys, which can easily be 'docked', due to the modular system.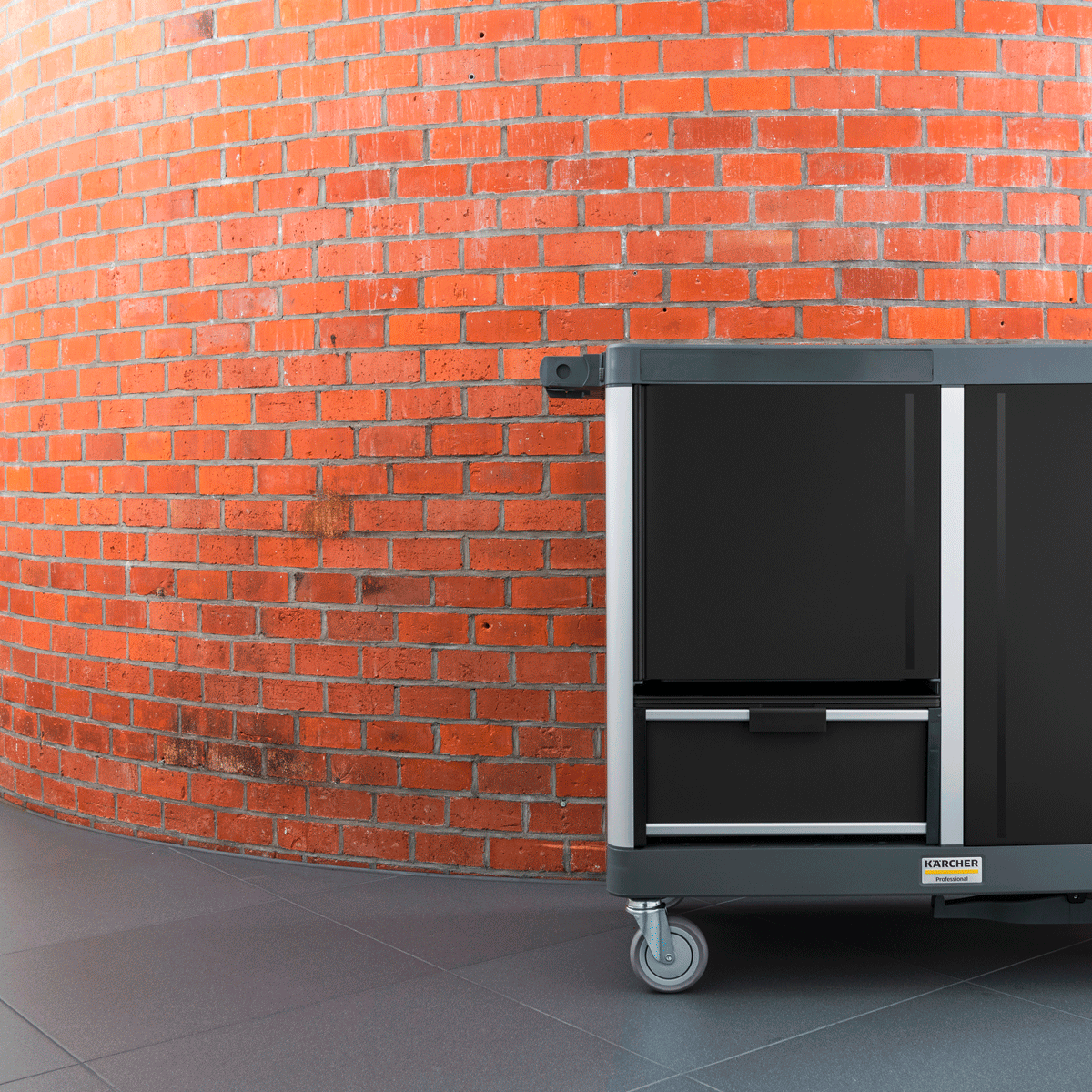 Machine integration
With FlexoMate you will save yourself multiple trips, as you always have your machine with you. FlexoMate has special attachment kits, such as an equipment holder which allows you to integrate five different cleaning machines, from compact battery-powered scrubber dryers, through window and surface vacuum cleaners, to dry vacuum cleaners.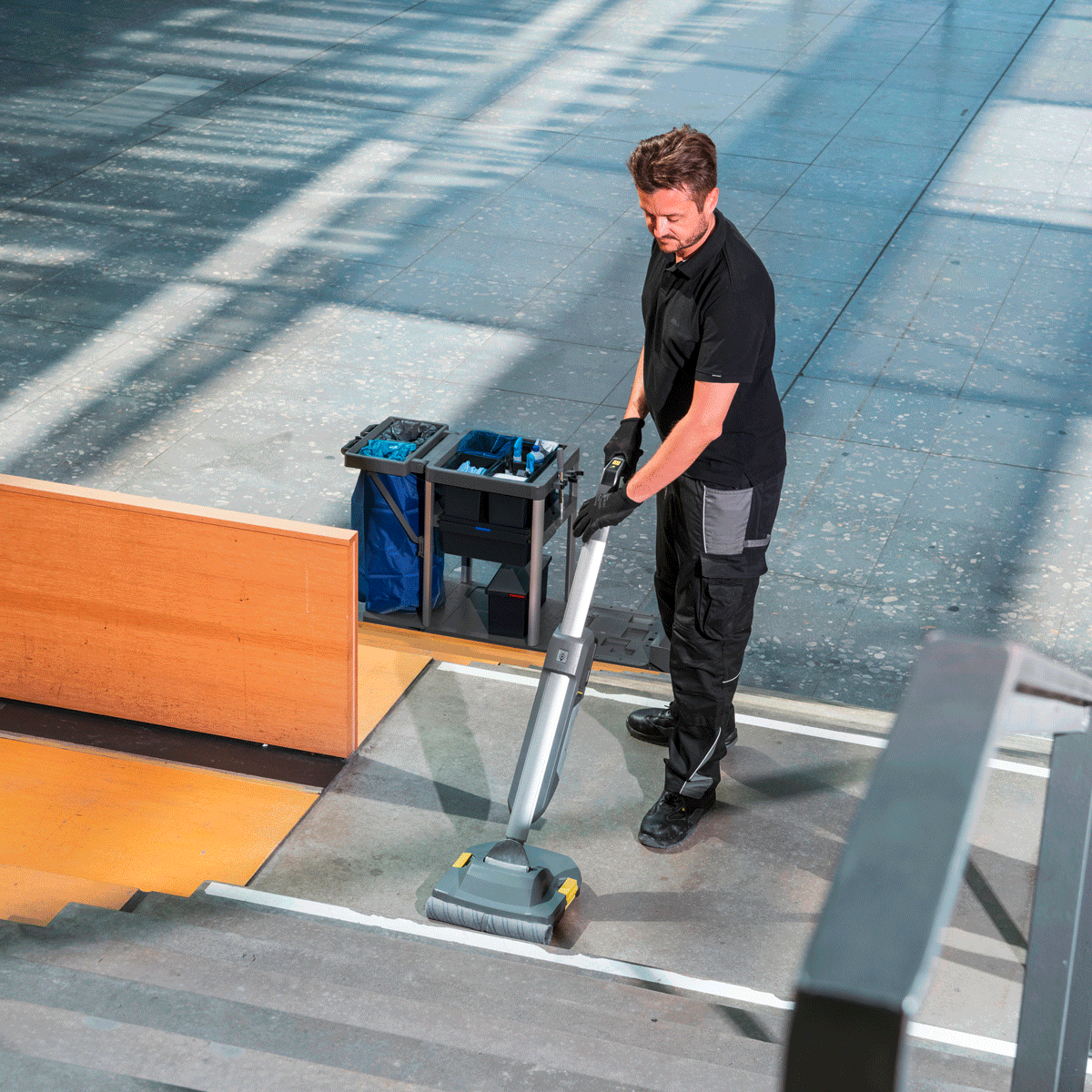 Patented tip-boxes
Less strain on the back, better access to cleaning products: thanks to boxes that tilt forward, you can avoid movements that cause strain on the body. Simply swing out to take cleaning agents or a mop out, then swing back in again to get from A to B. Without bumping into anything.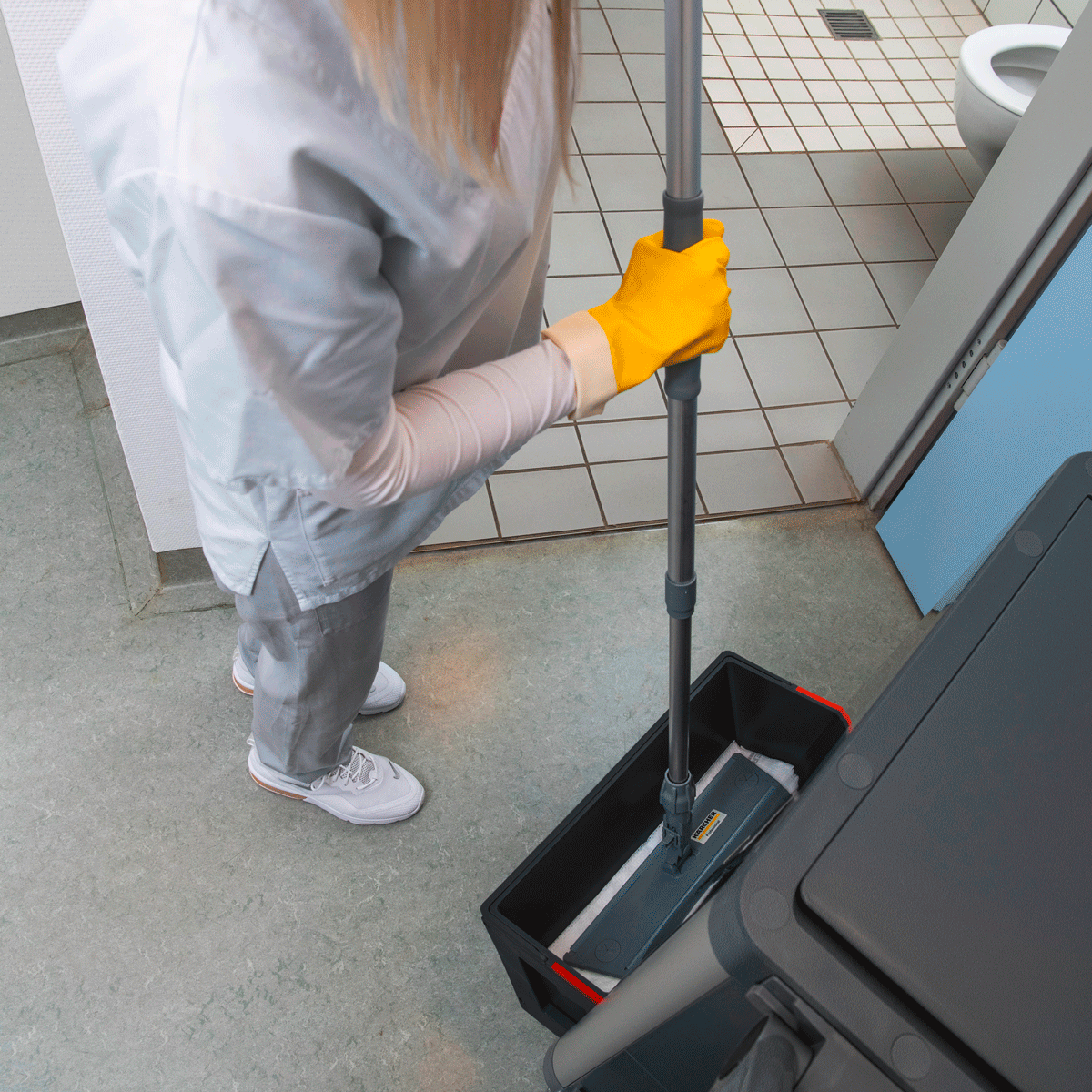 Ergonomic design
FlexoMate adapts to your body. Elements that carry health risks therefore have a patented, Red Dot-winning ergonomic design. For example, the ErgoGrip, which can be adapted to various body heights. Not to forget the tilting boxes, which relieve additional strain on your body during cleaning, thanks to their tilt angle.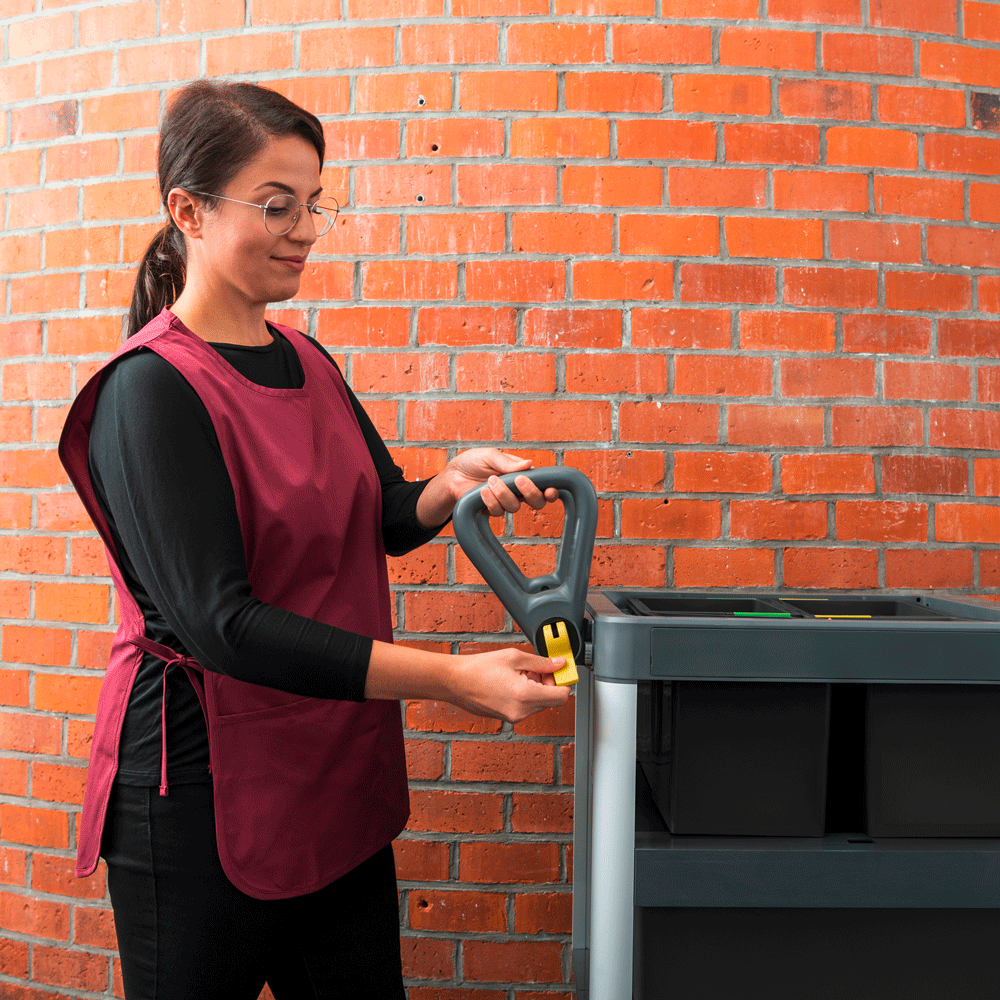 Sustainability
The FlexoMate meets the highest standards awarded with the Green Dot. It is 100% recyclable and can be combined with accessories made with at least 50% recycled material.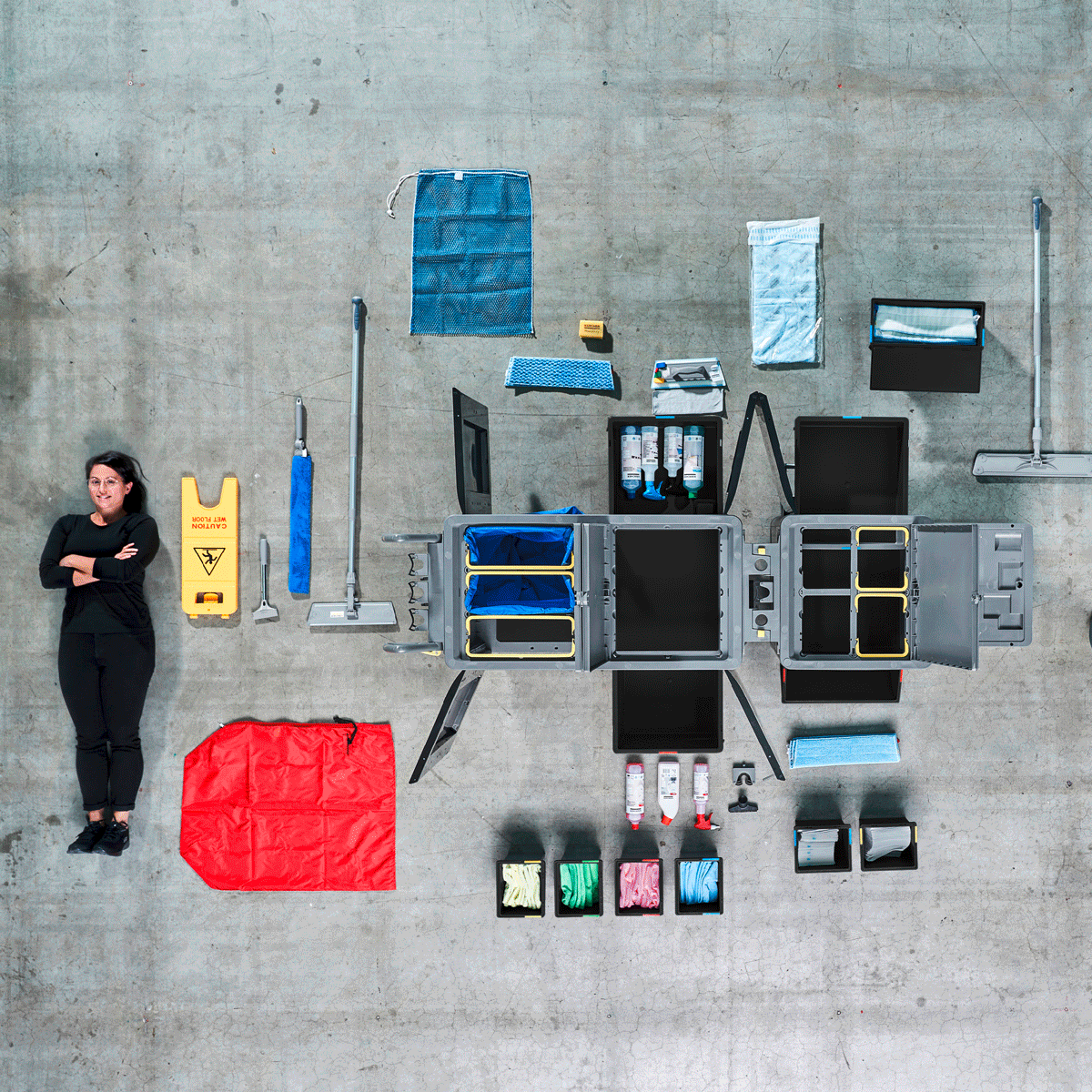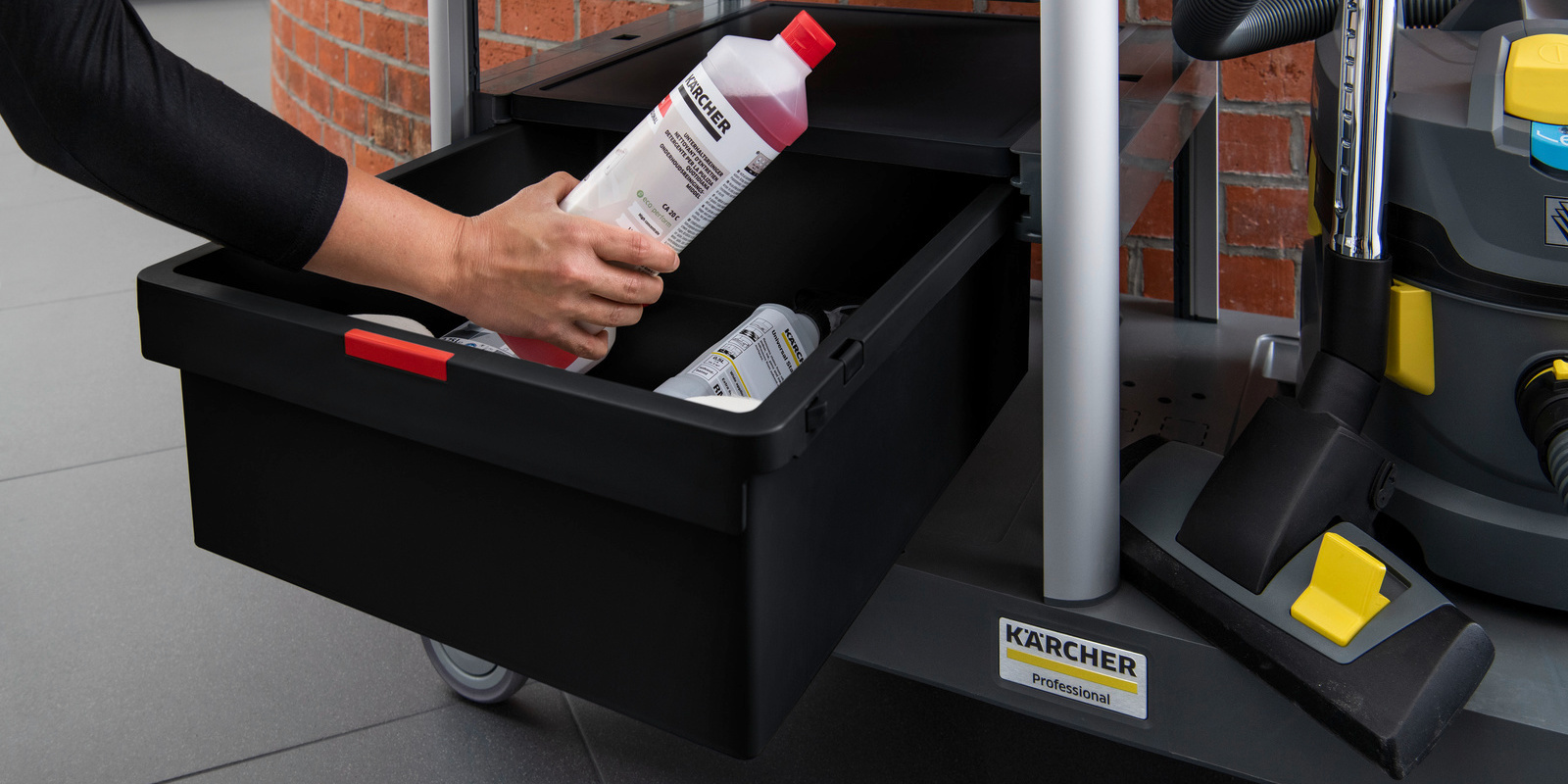 More sustainability
With FlexoMate, you get a cleaning trolley that is sustainable in design and function. When choosing our materials, we look for a high recycled content. And the modular system and high quality of material ensure a long product lifetime.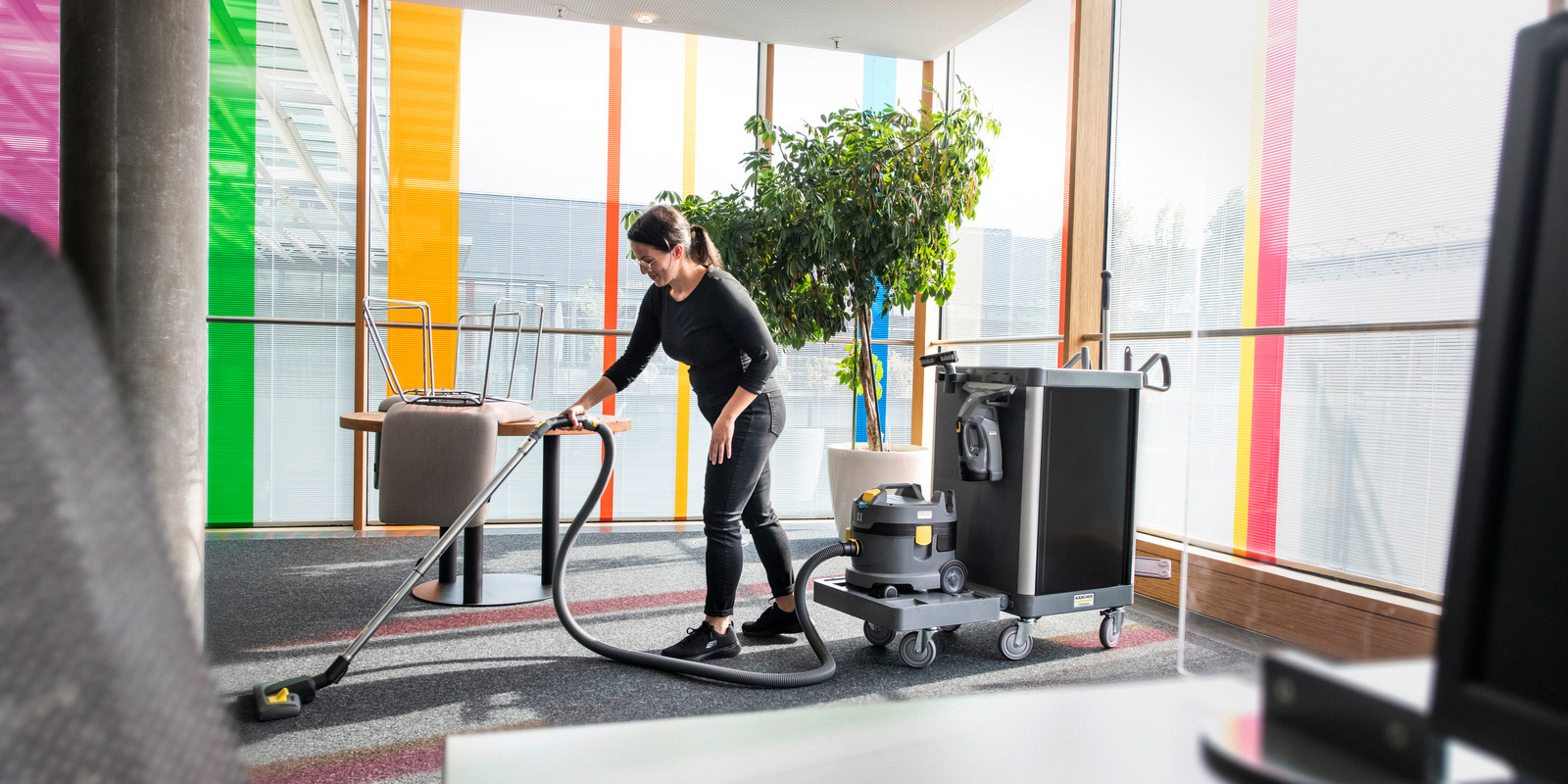 More productivity
The FlexoMate is designed to enable access to all boxes from all sides – from the front, from the back, from the left and the right. This makes it easier to work and speeds up the cleaning process.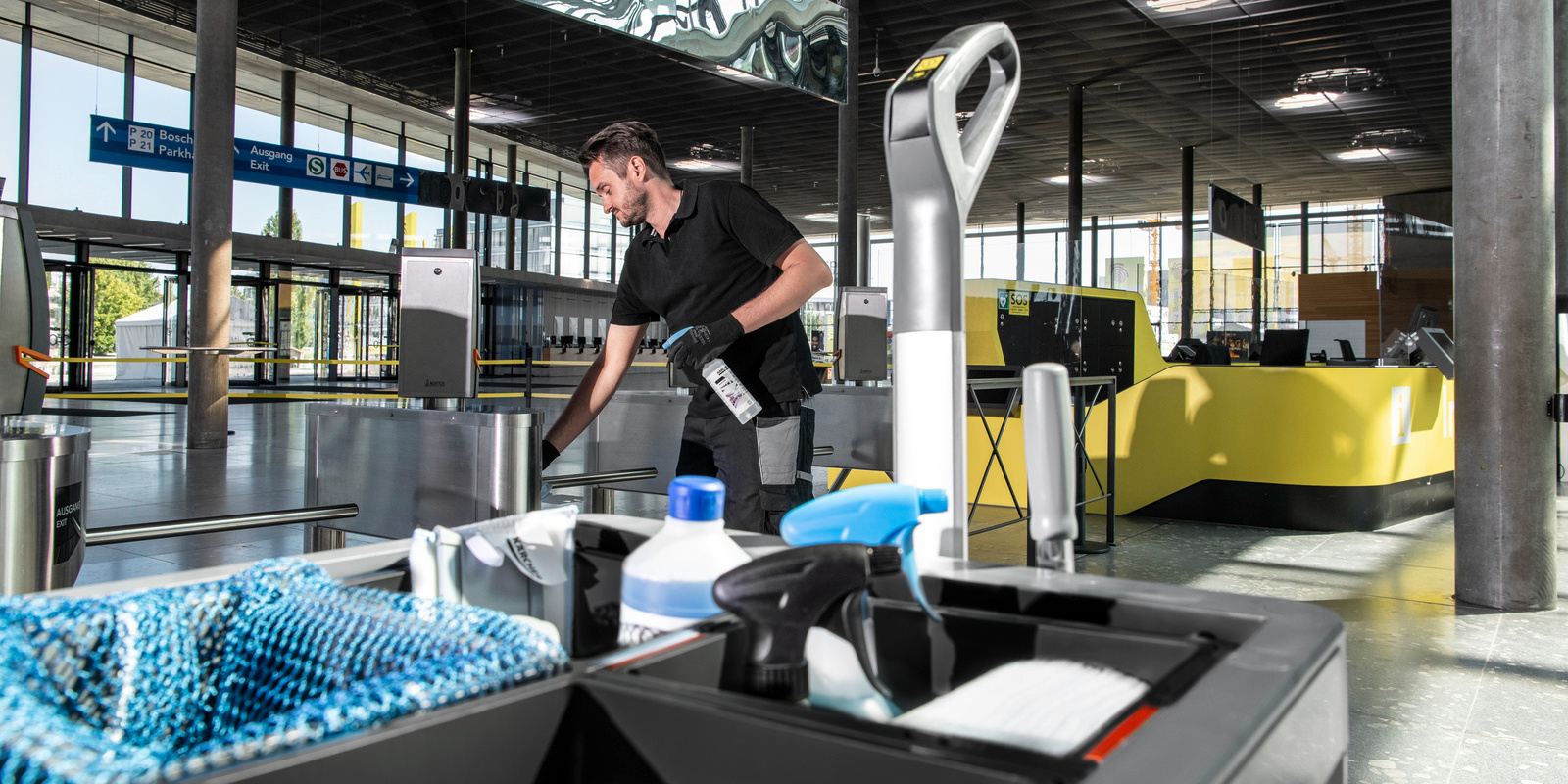 More choice
As the FlexoMate is modular in design, it has a whole universe of accessories. Add and expand with boxes, storage surfaces and Kärcher professional machines, to ensure you are perfectly prepared for your cleaning tasks.
THE RIGHT CHOICE FOR EVERY SECTOR
No sector is the same as any other. Regardless which sector you work in - we will help find the right cleaning trolley for you.
CLEANING AGENTS AND ACCESSORIES
MANUAL CLEANING EQUIPMENT
UPGRADE YOUR CURIOSITY
Don't hesitate - take a look into the future. Experience the FlexoMate live on site and discover for yourself the unique advantages of this cleaning trolley. Make an appointment with a Kärcher retailer near you now.