Mobile Outdoor Cleaner OC 3 Plus Car
The Kärcher pressure washer with lithium-ion battery and 7-litre water tank for mobile applications. Easy to transport and store. With car adapter for extended application period.
For everyone who also needs a cleaning solution on the go: the compact and lightweight pressure washer from Kärcher. Thanks to the integrated lithium-ion battery and the removable, convenient 7-litre water tank, you can also clean, for example, your bicycle and dirty hiking boots without a power or water connection. With a gentle yet efficient low pressure flat jet, the pressure washer is ideal for sensitive surfaces. A LED display also signals if the battery is almost empty or is charging. The Kärcher car adapter can be easily connected to the cigarette lighter in the car and the charging socket of the OC 3 Plus. The OC 3 Plus can thus be powered (not charged) via the car battery – for example, when the battery is empty. Various accessory boxes are available as optional equipment for diverse applications and extension options.
Features and benefits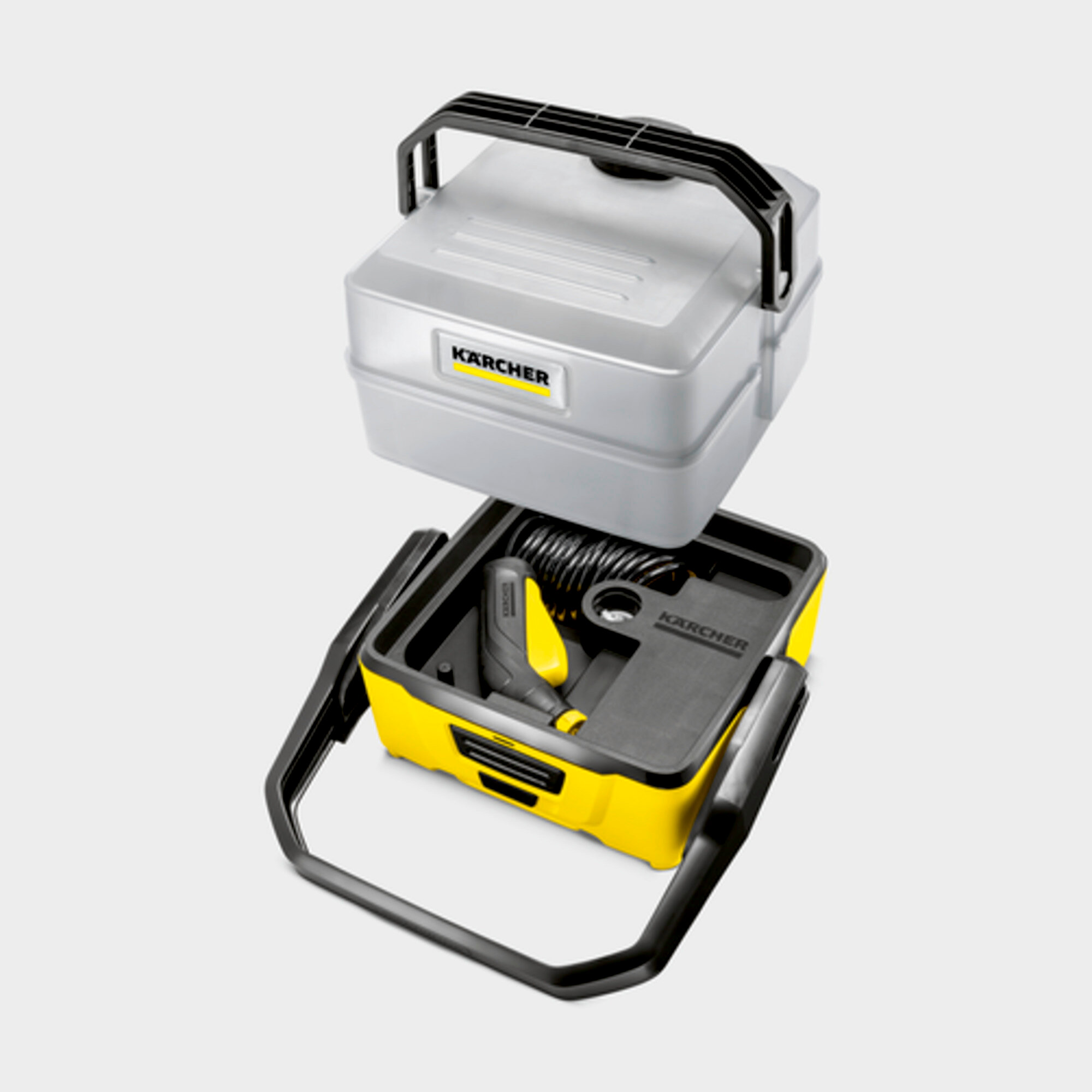 Compact device design
Convenient storage of the spiral hose and trigger gun under the removable water tank. Easy to transport, with space-saving storage.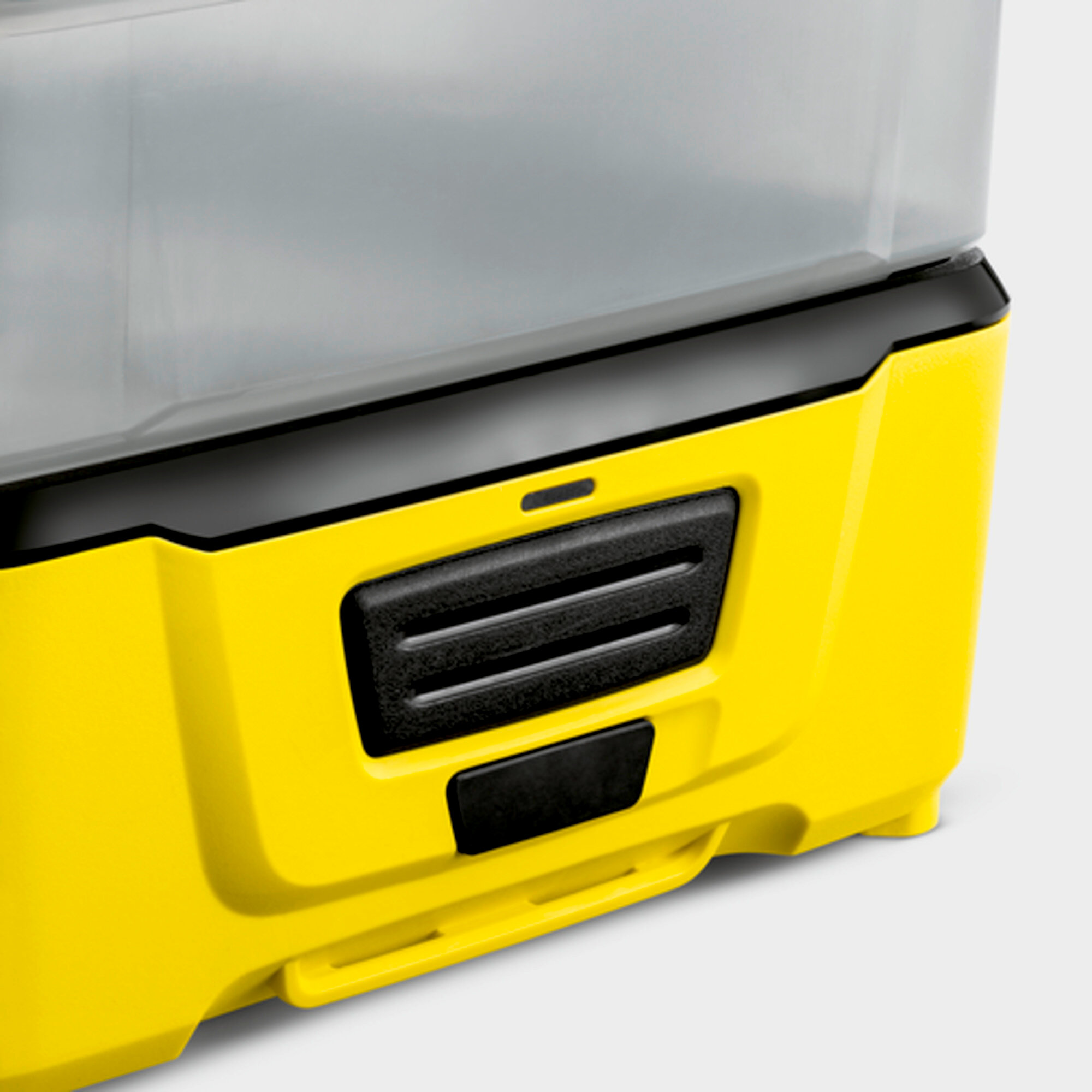 Integrated lithium-ion battery
Mobile cleaning independent of a power source. Long battery runtime, meaning it can be used several times before it must be recharged. The LED warns you when the battery is low.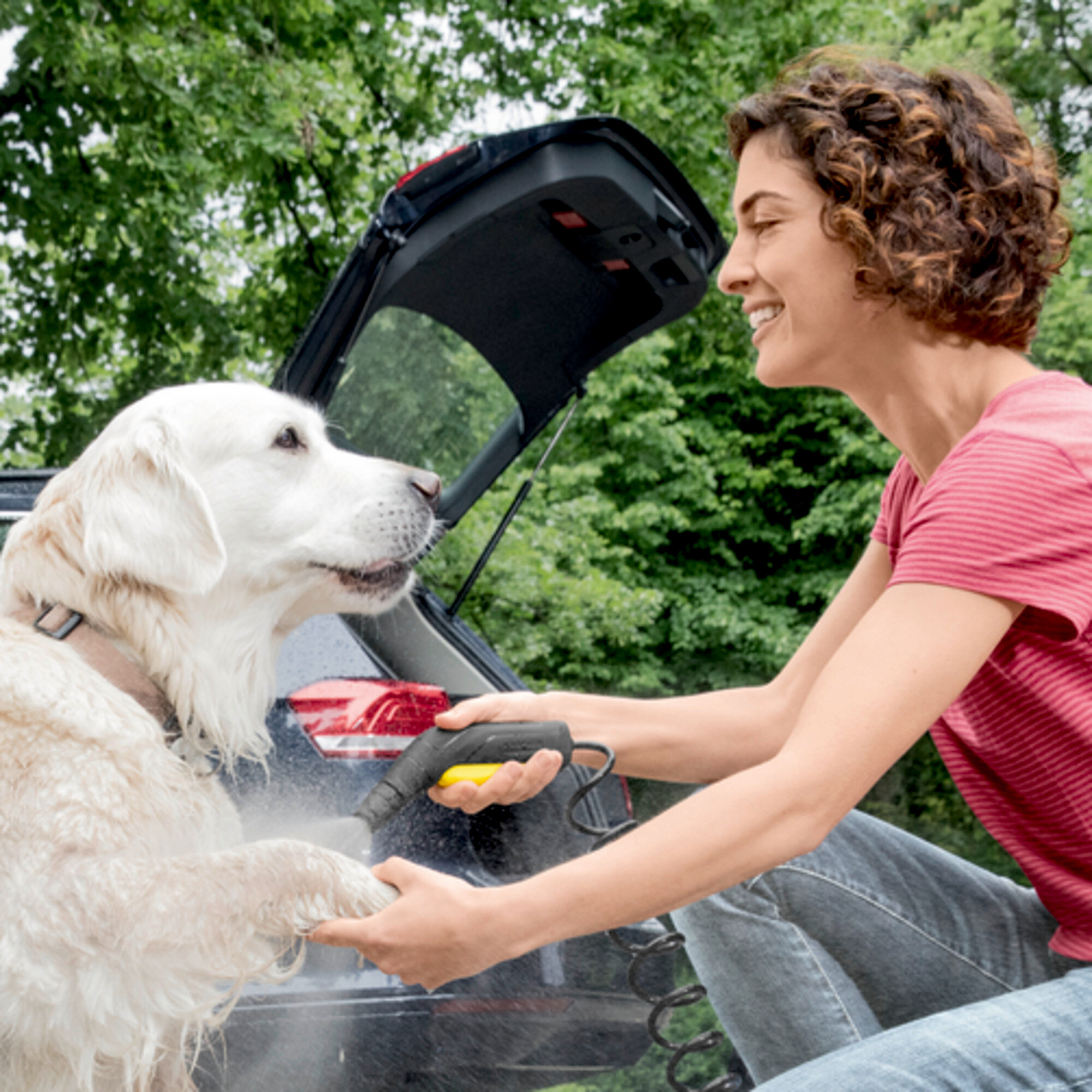 Efficient, but gentle low pressure
Low pressure offers the advantage that cleaning is both efficient and extremely gentle at the same time. The standard nozzle with flat jet makes possible a visible cleaning performance. The cone jet nozzle is for even more sensitive cleaning of, for example, dog paws.
Detachable water tank
Can be easily filled up in the house.
The 7-litre water tank allows a longer cleaning time. One tank is enough for 2-3 bicycles or several small objects, such as toys or shoes.
Wide range of accessories
Various applications can be expanded and perfected with additional accessories.
An adventure box, bike box and pet box, as well as a practical storage box, are available and can be mounted on the device. All accessories are also available individually.
Specifications
Technical data
| | |
| --- | --- |
| Pressure range | Low pressure |
| Flow rate (l/min) | max. 2 |
| Battery powered device | |
| Battery type | Lithium-ion battery |
| Battery run time (min) | 15 |
| Battery charge time (min) | 180 |
| Weight without accessories (kg) | 2,3 |
| Weight incl. packaging (kg) | 3 |
| Dimensions (L x W x H) (mm) | 283 x 236 x 261 |
Equipment
Water tank volume: 7 l
Lithium-ion battery
Spiral hose: 2.8 m
Flat jet nozzle
Device filter
Battery charging cable
Integrated water filter
Car adapter
Application areas
Bicycles
Garden equipment (shovel, etc.)
Pets/dogs
Strollers/buggies
Tent/camping equipment
Shoes/hiking boots
Children's toys/Bobbycar®/running wheels